Posts Tagged 'Richard Himmer'
Friday, February 27th, 2015
Richard Himmer, WBI Affiliate and Workplace Bullying University graduate, leads bullied targets on a unique journey beginning on March 19 from 7 to 8 pm at Extendicare Health 3220 Rosedale St., Gig Harbor, Washington. Richard has a unique process designed to restore targets' lost dignity. He is endorsed by WBI.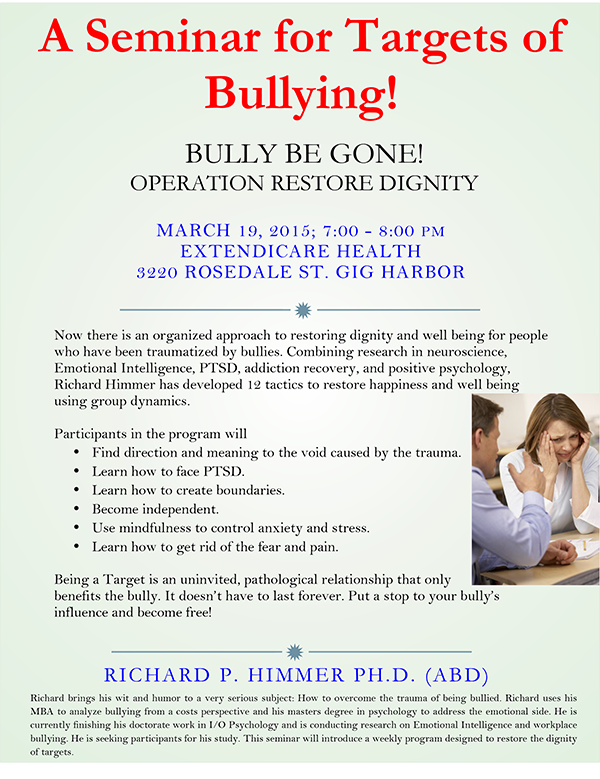 Tags: bullied targets, Dignity, recovery, Richard Himmer, trauma, WBI, workplace bullying
Posted in Events & Appearances, Hear Ye! Hear Ye! 2 | 1 Archived Comment | Post A Comment () »
Friday, June 13th, 2014
By Richard P. Himmer, an Emotional Intelligence Consultant and Affiliate of the Workplace Bullying Institute. He is conducting research for his dissertation and will soon be soliciting for volunteers to be part of the study. He can be reached at EQMicroSkills.com.
---
For many employees, going to work each day requires all their strength — not because they are physically challenged, but because they have a bully in their life. Fifty-two percent of a target's day is spent avoiding the bully. Workplace bullying is described as psychological terror and it continues to escalate.
In 1996, 75 percent of surveyed organizations said they had no bullying in their organization, executives in sum denied that it existed. In a recent 2014 survey by the Workplace Bullying Institute (WBI) more than 65 million American workers are affected by what is called the American Cancer and public awareness is 72 percent.

Tags: emotional intelligence, Richard Himmer, workplace bullying, Workplace Bullying Institute, Workplace Bullying University
Posted in Tutorials About Bullying, WBI Education | No Archived Comments | Post A Comment () »