Posts Tagged 'right to work'
Monday, January 11th, 2016
A most important 80 minutes of oral argument is heard today, Jan. 11 2015 by the nine justices of the U.S. Supreme Court. The case is Friedrichs v. California Teachers Association (CTA), Docket No. 14-915.
The case was brought by a group of California teachers who don't want to pay any fees to unions for anything. Essentially, they want to enjoy benefits of having a contract — wages and other work condition protections (alas, not full protection from bullying yet) that are negotiated — for free. The CTA represents teachers in public schools; public school districts are government employers.
There are 39 years of history dealing with this issue. A May 1977 unanimous U.S. Supreme Court (SCOTUS) decision, Abood v. Detroit Board of Education [431 U.S. 209 (97 S.Ct. 1782, 52 L.Ed.2d 261)] divided union dues into two parts. One part is costs associated with providing union workers with a contract, the collective bargaining agreement with the employer, and its administration, the subsequent services of representation at adversarial meetings with management, grievances and arbitrations. Fees for those services are called "fair use" or "agency" fees. In other words, Abood said that non-members who benefit from union services have to help cover costs.
The second part of union dues is "expenditures for ideological causes not germane to its duties as a collective-bargaining." This has been dubbed the political activity of the union, including overt politicking, lobbying lawmakers for specific legislation and financial support for political candidates. People who object to this part of union activity can refuse to pay that portion of dues to the union.
In the specific case before SCOTUS today, Friedrichs, plaintiffs are challenging California law. If a teacher wants to protest the political portion of the CTA dues, she or he can give the union a written objection — an "opt out" declaration. That portion of the contested fee is then refunded or a portion is reduced. The anti-union plaintiffs want that teacher to have to "opt in" and agree to the fees. Plaintiffs frame the issue as one of free choice and the First Amendment (whether or not the non-administrative fees constitute speech).
The Case's Strange Origin
The union-busting groups, typically with a libertarian or right-wing political bent, found this case in order to abolish the last bastion of unionization in America — in government. The private sector unionization rate is now under 7%. If government, public sector, unions can be further weakened, the U.S. labor movement will be effectively gutted.
According to Maryann Parker, SEIU Associate General Counsel, speaking at an American Constitution Society expert panel, Friedrichs v. California Teachers Association made it to the Supreme Court in two fast years without any facts associated with the case. The reason is that the plaintiffs filed the case in both District and Appellate courts and asked for a verdict against them just so they could take the case to the Supreme Court. Since the union-busting groups are well funded, the case raced to the Roberts pro-employer court. Unlike any other case, no facts have been argued in court before a judge or jury. No discovery of evidence on either side was completed.
The only facts have come via several amicus briefs written by advocates for both sides. The list of briefs filed before the Nov 6, 2015 deadline can be found here. On the anti-union side are organizations such as Pacific Legal Foundation
National Right to Work Legal Defense Fund, Mackinac Center for Public Policy, Goldwater Institute, Former California Governor Pete Wilson, Cato Institute and the NFIB. On the defense side, briefs were filed by Kamala Harris, California Attorney General (who also argued the case before SCOTUS today), California State Employees Association, and several California and New York cities that, as government employers, described the benefit of having a unionized workplace.
The other unusual aspect of the origin of the case is that the five majority justices in the 2014 Harris v. Quinn decision called for a reconsideration of Abood. In other words, the doctrine of stare decisis, of letting earlier case decisions stand, is betrayed by calling out for a case to challenge Abood.
The Anti-Union Argument
Here's the argument by the union busters in Friedrichs v. California Teachers Association. Collective bargaining in the government context is inherently political because government worker wages are public funds. Therefore, if the government compels "fair use" fees collection, it is a violation of a worker's First Amendment rights. It forces an association with a political cause (bargaining with the state) with which a worker might not agree.
Abood had separated the functions of the union, administrative work versus political activity. Fredrichs says that ALL activity of unions is political.
If the Supreme Court decision agrees with Friedrichs, it will overturn Abood. It will end the practice of a "union shop." The absence of any requirement to pay unions for services rendered will make it too easy to be a "free rider." In turn, unions will wither and die from not having a budget.
Remember, even with a negotiated union contract, employers — only governments in this case — are entitled to all rights over workers which are not covered in the contract. With this line of reasoning, without unions, employers will have unchallenged, unbridled control over workers with no ability to contest mistreatment or abuse.
The undermining of unions, the only organizations that advocate for rights of workers, will contribute to the Republican-led state legislatures' move to right to work laws. Currently 25 states have right to work provisions. The RTW advocates characterize states where unions represent government workers as "forced-unionism" states.
Advocates for "free bargaining" states label the right to work as the "right to work for less." The quality of life for workers in RTW states is lower than in public sector union states — lower wages, more low wage jobs, higher rates of workers without health insurance, higher poverty and infant mortality rates. And if working in a RTW state, you have a 54% higher chance of dying at work.
Finally, by gutting union budgets, opponents will also thwart overt political activity by unions. Unions support Democratic candidates. Union-busting groups are partisan. By reversing Abood, the law of the land since 1977, Republicans will be able to reduce funding for Democratic opponents. However, this is not a realistic fear by Republicans. It seems closer to a zero-sum game in which Republicans want to eliminate all opposition. According to the Center for Responsive Government, 2015-16 interest group donations to the upcoming elections finds that labor has given to date a total of $19.2 million compared to $839.6 given by donors other than unions. Non-labor groups outspend unions by 43.7 times. A successful Friedrichs SCOTUS decision would nearly eliminate the influence of unions on candidates. Rights of workers will be driven further underground buried in a corporate post-Citizens United deluge of cash.
If the Court does not overturn Abood, the plaintiffs could still win a partial victory. Its a nuanced part of the practice in California. Contained in the fees charged to non-members are other expenses not involved with the costs of collective bargaining. If a teacher wants to protest that portion of the fee, she or he can give the union written objection — an opt out declaration. That portion of the contested fee is refunded or a portion is reduced. The anti-union plaintiffs in the case also argue that an employee should have to "opt in" and agree to the fees.
Stay tuned. The decision should be announced in June.
###
You can listen to the oral arguments and read the transcript of Jan. 11 hearing here.

Tags: agency fees, collective bargaining, fair share, free-riding, Friedrichs v. California Teachers Association, right to work, U.S. Supreme Court, Unions
Posted in Fairness & Social Justice Denied, Rulings by Courts, Unions | No Archived Comments | Post A Comment () »
Thursday, September 25th, 2014
For 12 years we have led advocacy for state laws to prohibit health-harming abusive conduct (workplace bullying). The bill — the WBI Healthy Workplace Bill — has no hidden agenda. It is straightforward in its purpose and language. We are trying to right a wrong. Opponents are apologists for employer abuse, plain and simple. They choose to protect employers' rights over workers' rights to employment free from abusive interference. When they oppose the HWB, they distort and pervert the terms of the bill. They lie in their testimony without consequences. Lawmakers blindly appease the business lobby.
Michigan, a state dominated by Republicans in recent years, became a right to work state. That means if unions exist, they must serve all workers whether or not they pay union dues. It is a tactic designed to bankrupt unions. Now comes Michigan State Rep. Kevin Daley with an "anti-bullying bill" (HB 5847) that purports to "protect" workers from unions who post names of workers who opt out of union membership.
We are mired in distorted semantics. The moniker "right to work" is promoted as freedom while it actually discourages unions who can bargain with employers for more rights and privileges than workers as individuals can never attain.
Opting out of union membership violates the free market concept of fairness in that one must pay for services received. Benefits of union membership should accrue only to those who belong to unions. If you want the benefits without paying for them, you are a freeloader. So, while proponents of "free markets" and unbridled capitalism feel no sympathy for those lowest on the economic rung, even calling them lazy (as Speaker of the House John Boehner did while on a 7 week vacation), they are the same people who want workers in right to work states to bleed unions dry by forcing services to be provided to non-members.
If Rep. Daley cares about workers not being bullied, then he should introduce the HWB! We dare him.

Tags: freeloading, Healthy Workplace Bill, Kevin Daley, Michigan, right to work, Unions, workplace bullying
Posted in Healthy Workplace Bill (U.S. campaign), Unions, Workplace Bullying Laws | No Archived Comments | Post A Comment () »
Thursday, December 13th, 2012
Many lies are spread by RTW advocates, none of who represent workers. Here is a thorough refutation using facts. Below is a graphical portrayal of some of these facts.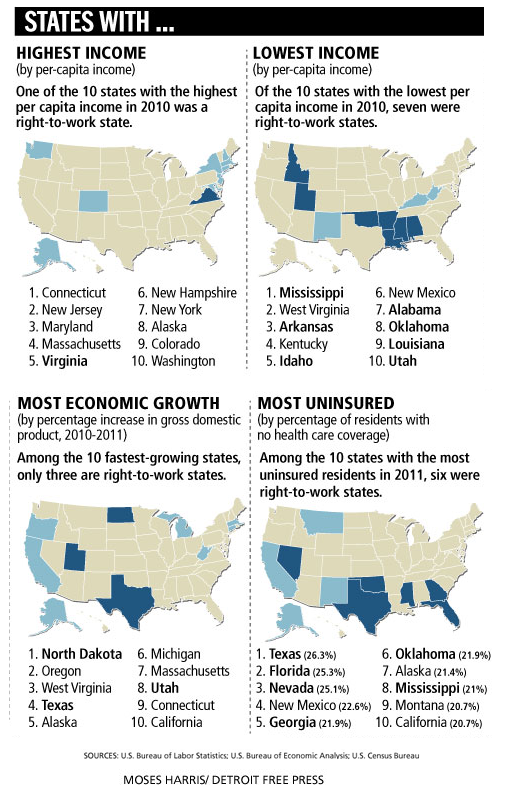 See the story about 2012 passage of RTW laws in Michigan.

Tags: right to work, RTW less insurance, RTW lower income
Posted in Commentary by G. Namie, Fairness & Social Justice Denied, The New America, Unions | 1 Archived Comment | Post A Comment () »
Thursday, December 13th, 2012
Ever notice that it takes social justice pioneers generations to create positive change here in America, the land of the "brave and free"? Civil rights, labor rights, criminalizing child abuse and domestic violence are strongly opposed in Congress and state legislatures.
Snuffing out hard-won social gains, sadly, comes easily and quickly when mean-spirited lawmakers are in charge. The halcyon days for American trade unions was in the 1930's through WWII. Many strikes were called in the year after the war. An angry Republican Congress reacted in 1947 with union-curbing tools via the Taft-Hartley Act carried with enough votes to overcome President Harry Truman's veto.
One effect of the T-HA was that states could enact so-called "right-to-work" laws. RTW is a union-busting tool. It drains scarce union resources until unions crumble. Here's how it works. In RTW states, employees cannot be made to join a union to work at a particular employer (closed union shops). Sadly, Michigan has just become a RTW state.

Tags: employee slavery, Michigan, right to work, workplace bullying
Posted in Commentary by G. Namie, Fairness & Social Justice Denied, The New America, Unions | 2 Archived Comments | Post A Comment () »