Posts Tagged 'right to work'
Thursday, December 13th, 2012
Many lies are spread by RTW advocates, none of who represent workers. Here is a thorough refutation using facts. Below is a graphical portrayal of some of these facts.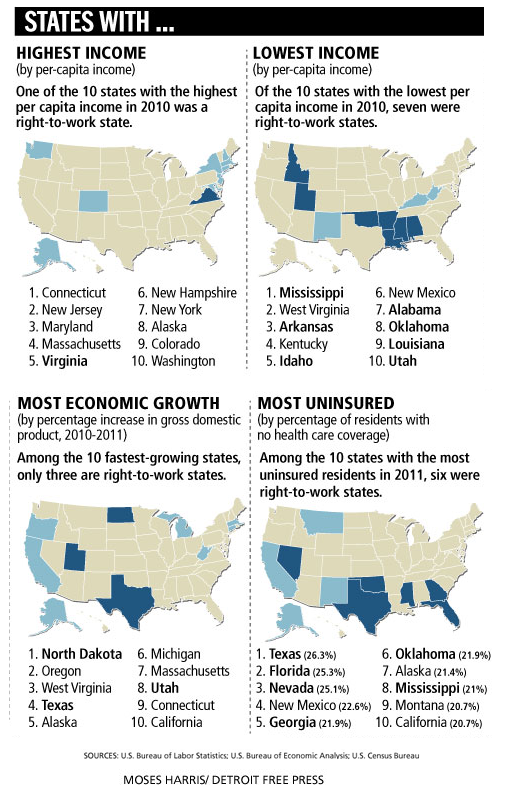 See the story about 2012 passage of RTW laws in Michigan.
Tags: right to work, RTW less insurance, RTW lower income
Posted in Commentary by G. Namie, Fairness & Social Justice Denied, The New America, Unions | 1 Archived Comment | Post A Comment () »
Thursday, December 13th, 2012
Ever notice that it takes social justice pioneers generations to create positive change here in America, the land of the "brave and free"? Civil rights, labor rights, criminalizing child abuse and domestic violence are strongly opposed in Congress and state legislatures.
Snuffing out hard-won social gains, sadly, comes easily and quickly when mean-spirited lawmakers are in charge. The halcyon days for American trade unions was in the 1930's through WWII. Many strikes were called in the year after the war. An angry Republican Congress reacted in 1947 with union-curbing tools via the Taft-Hartley Act carried with enough votes to overcome President Harry Truman's veto.
One effect of the T-HA was that states could enact so-called "right-to-work" laws. RTW is a union-busting tool. It drains scarce union resources until unions crumble. Here's how it works. In RTW states, employees cannot be made to join a union to work at a particular employer (closed union shops). Sadly, Michigan has just become a RTW state.
Tags: employee slavery, Michigan, right to work, workplace bullying
Posted in Commentary by G. Namie, Fairness & Social Justice Denied, The New America, Unions | 2 Archived Comments | Post A Comment () »