Posts Tagged 'Ruth Namie'
Wednesday, September 30th, 2015
The Workplace Bullying Institute (WBI), which began as the Campaign Against Workplace Bullying in mid-1997, was born in the kitchen (a tad more comfortable than the garage) of our Benicia, California home. Benicia is in the San Francisco Bay Area. Dr. Ruth had been bullied in the region at a psychiatry clinic in the state's largest HMO. With the help of volunteers, the scope of our ability to help bullied targets took over our living and dining rooms. Our initial presence on the web was at workdoctor.com, then bullybusters.org. When Oprah called in 1998, we hustled to write our first book — BullyProof Yourself At Work. We published it ourselves and became way too intimate with giant rolls of bubble wrap and shipping envelopes. In 2000, the publisher Sourcebooks in Naperville, IL acquired an expanded version of that book. It became the book The Bully At Work: What You Can Do to Stop the Hurt and Reclaim Your Dignity on the Job.
In 2000, the Georgetown Law Journal published the seminal legal article on workplace bullying by Suffolk Law Professor David Yamada. As an early WBI affiliate-friend-colleague, Yamada wrote draft legislation that we dubbed the Healthy Workplace Bill. It fell upon WBI to find ways to get the bill introduced in the states. California was the first to introduce it, in 2003, based on lobbying by WBI starting in 2001 when we were in California.
We left Benicia in 2001 to move to the great Pacific northwest, to Bellingham, Washington, a small town 18 miles south of the Canadian border. Dr. Gary returned to teaching university for two years (back to teaching youngsters and psychology again). There, he created and taught the first college course on bullying in the U.S. — Psychological Violence At Work. With lots of student help, the name WBI was adopted to reflect the expanded commitment to conducting research online. WBI was temporarily academic. After the stint ended, Gary returned to form, as a "recovering academic."
The years in Bellingham were ones of continuous growth. Volunteers gave way to paid staff funded by speaking and consulting engagements. Calls from bullied targets came in monthly by the hundreds. Free advice was given to callers. Then, WBI hired a licensed counselor to offer fee-based coaching. Jessi still conducts coaching for those seeking her help. Between the Drs. Namie and staff, we have heard tales of bullying directly from over 10,000 individuals. No other entity can claim a comparable level of contact. Thus, we became the unrivaled experts in the bullied targets' experiences.
In 2008, we designed the only comprehensive training for professionals in all aspects of the workplace bullying phenomenon — Workplace Bullying University®. Physicians, union officials, nurses, counselors, psychologists, attorneys, consultants, trainers and HR reps from around the world attend the quarterly sessions. We wrote the second edition of The Bully At Work in 2009.
On the research front, we conducted three national prevalence surveys that became the gold standard in the field. With help from talented staff, all websites were modernized, online surveys were conducted, and we developed products for the first time.
Free podcasts and webinars were produced. The WBI YouTube channel grew to over 200 videos.
For employers, we wrote a book to guide their internal steps to eliminate workplace bullying (The Bully-Free Workplace: Stop Jerks, Weasels & Snakes from Killing Your Organization. Wiley, 2011)
Pseudo-academic endeavors included making presentations in research conferences in South Africa, Berlin, Adelaide, and across the U.S. We also were invited to write chapters in academic texts. We published a few peer-reviewed journal articles.
Over the years, WBI, without resources to market its services, relied on media attention. The tally of interviews by print, internet, TV and radio outlets now number over 1,200, making WBI the dominant go-to resource to educate the public about workplace bullying and its consequences for workers and employers.
In 2015, Gary was recognized as one of the most influential organizational psychologists alive today (#5). He is still alive and writing this.
WBI's third era began the summer of 2015. The Drs. Namie moved to Boise, Idaho. Two WBI staff remain in Washington. Others left to pursue personal goals and we were sad to part.
WBI continues to train professionals at University sessions and to conduct research.
The one-stop resource for bullied individuals remains this WBI portal website. But without employers changing their practices, targets are doomed to fight uphill, fruitless battles costing them their livelihoods and health.
2015 marked a change in emphasis. It is time to bring American employers into the movement. They must voluntarily do something about the plague that eats into their profits and damages workers' health. Thus we are now focusing on services for employers. Employers will certainly comply when a law addressing health-harming abusive workplace conduct is enacted. We await the day. Until then, actions employers take are necessarily voluntary.
The Healthy Workplace Bill has been introduced in 29 states and Puerto Rico and the U.S. Virgin Islands. Two states mandate training in abusive conduct (California – for supervisors; Utah – for all state agency employees). The full bill has yet to become law, but a strong network of volunteer lobbyists for the HWB works tirelessly every year in over 30 states. WBI coordinates the State Coordinators.
Thank you for 18 glorious years of support. And thanks to the wonderful folks in Bellingham who got us this far. You remain in our hearts forever — Dave, Jessi, Daniel, David, Noelle, Carly, Noel, and the student volunteers.
Tags: Bellingham, Benicia, Boise, Gary Namie, Ruth Namie, Workplace Bullying Institute
Posted in Products & Services, WBI Education | No Archived Comments | Post A Comment () »
Friday, September 25th, 2015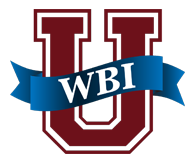 November 13-14-15
In Boise, Idaho
Workplace Bullying University® Training for Professionals
The only intensive, research-driven, comprehensive seminar in all aspects of the Workplace Bullying phenomenon in the world. Created in 2008 by the Drs. Namie, founders of the Workplace Bullying Institute. Three days of exceptional learning, an entirely unique experience.
For Leaders, Nurses, Physicians, Union advocates, Psychologists, Psychotherapists, Consultants, Trainers, HR
For a limited time, we offer an unprecedented tuition discount.
Read all the program details and testimonials at the Workplace Bullying University® website.
Tags: education, Gary Namie, Ruth Namie, seminar, training, Workplace Bullying University
Posted in Hear Ye! Hear Ye! 2, WBI Education, Workplace Bullying University | No Archived Comments | Post A Comment () »
Monday, March 9th, 2015
What To Do About Your Jerk of a Boss Before You Get PTSD
Millions of workers are suffering from anxiety, depression and even PTSD because of bully bosses.
By Alyssa Figueroa, AlterNet, March 5, 2015
There's something dangerous happening to millions of Americans nationwide. It is happening in places where many people spend at least 40 hours a week. It is causing severe physical and mental illness. It runs off fear and manipulation. But its victims are not talking it about.
So what is it?
Work abuse.
Look around the average American workplace and it's not too hard to find. Twenty-seven percent of all adult Americans report experiencing work abuse and an additional 21 percent of Americans report witnessing it, meaning some 65 million Americans have been affected.
"Anything that affects 65 million Americans is an epidemic," said Gary Namie, co-founder of the Workplace Bullying Institute. "But it's an un-discussable epidemic because employers don't want this discussed."
Not talking about work abuse has, in turn, normalized the violence, fear and power structure inherent to the phenomenon.
As Namie said, "Work abuse doesn't shock Americans anymore."
Tags: abusive conduct, Carrie Clark, Gary Namie, Healthy Workplace Bill, Ruth Namie, work abuse, workplace bullying, Workplace Bullying Institute
Posted in Media About Bullying, Print: News, Blogs, Magazines, WBI in the News | 1 Archived Comment | Post A Comment () »
Monday, October 27th, 2014
Kind words of recognition for me and Dr. Ruth from my undergraduate alma mater, Washington & Jefferson College, published in Change Agents The remarkable ways alumni are making the world a better place, Fall 2014.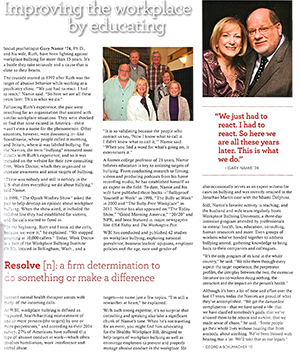 Tags: change agents, Gary Namie, Ruth Namie, Washington & Jefferson College, Workplace Bullying Institute
Posted in Print: News, Blogs, Magazines | No Archived Comments | Post A Comment () »
Saturday, October 18th, 2014
On Monday Oct. 20 Noon to 3 pm.
Nevada State Coordinator Kassina McClary leads a rally
in front of Las Vegas City Hall
495 S. Main St., Las Vegas
Join us for this local celebration of Freedom from Workplace Bullies Week.
The event will include testimony by bullied individuals and education about the WBI anti-bullying Healthy Workplace Bill to be introduced in 2015 in the Nevada State Legislature.
Also attending and speaking will be Drs. Ruth and Gary Namie, founders of the Workplace Bullying Institute and leaders of the U.S. Workplace Bullying movement and campaign to enact state laws in the U.S. Come meet them in person. They are scheduled for 1:30 pm.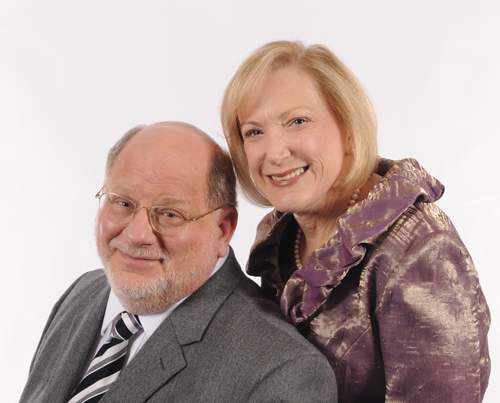 The Namies are authors of The Bully At Work (the book for bullied individuals) and The Bully-Free Workplace (the book for employers). Visit the extensive WBI YouTube channel for hundreds of bullying-related videos.
Tags: Freedom from bullies at work week, Gary Namie, Las Vegas, Ruth Namie, The Bully At Work, The Bully-Free Workplace
Posted in Events & Appearances, Freedom Week, WBI Education | No Archived Comments | Post A Comment () »
Wednesday, July 23rd, 2014
Dear Kalola,

I began a job a few months ago as a bookkeeper for a medium size company. There are 8 bookkeepers in the company. There is one bookkeeper that is terrorizing everyone and the owner of the company is doing nothing about it. She screams, swears, throws things and decides what part of her job she is going to do. The best I can figure is the owner is afraid of her because he hasn't fired her. Instead he takes her work and makes other people do it. If you approach her on a bad day to give her work that belongs to her, she will throw it at you and tell you she isn't doing it. Then she will sit there sing real loud or start laughing like something you would see in a horror film. She is doing it on purpose. She has told me the owner isn't going to fire her so she will do whatever she wants. I have seen her make another employee cry and I know people have quit because they can't deal with her.

My concern is a safety issue, what if one day she really does flip out? what if someone gets serious hurt. Who is going to be held responsible? I don't have patience for bullies and I can't believe in the year 2014, we do not have laws to protect us from such treatment. I really hope pressure can be put on our elective officials to get things moving.

I really enjoy the work I do but I refuse to allow someone to treat me like garbage or throw things at me. Not sure what will happen when she thinks she can treat me like she does everyone else.

Linda
(more…)
Tags: Gary Namie, Let's Talk with Kalola, Ruth Namie, screaming mimi, The Bully At Work, workplace bullying, Workplace Bullying Institute
Posted in Let's Talk with Kalola | No Archived Comments | Post A Comment () »
Thursday, May 2nd, 2013
Are bullies demons? Bully apologists abhor "demonizing" abusers in the workplace. What's the alternative? Revere them. Thank them for showing us how loathsome and dark can be the human condition? Ignore their cruelty foisted on the best and brightest workers whose principal goal of every day is to be "left alone" to do their jobs? Of course, that's exactly what bully apologists do. We think they stand on the wrong side of the moral fence.
We at WBI are target-centric. We've chosen the other side. We didn't start the U.S. Workplace Bullying movement to treat it as an academic exercise in neutrality. Targets deserve and need support. Institutions do a fine job of defending perpetrators.
Tags: bullies, courage, coworkers, demons, EFT, EMDR, evil, Gary Namie, Ruth Namie, witnesses, workplace bullying
Posted in Target Tale, WBI Education | 1 Archived Comment | Post A Comment () »
Monday, April 22nd, 2013
By Cathy Jett, (Fredericksburg, VA) The Free Lance-Star, April 20, 2013
Dr. Ruth Namie thought she'd be helping families solve their problems when she began working in a private clinic in 1995.
Instead, the clinical psychiatrist ran into one of her own. Her name was Sheila, and she proved to be the proverbial "boss from hell."
Sheila was nice for the first three weeks, then began complaining that Namie was "worthless," said Namie's husband, social psychologist Gary Namie.
The bullying ratcheted up when Sheila overheard clients say that they drove an hour just to see Namie, and were urging others to go to her instead of Sheila. Sheila stripped Namie of her clinical work and gave her clerical work instead.
The Namies hired a lawyer, but discovered to their dismay that there was nothing illegal about one woman bullying another. They figured there must be some organization that could help, but there wasn't one. So the couple started the Campaign Against Workplace Bullying.
Tags: Gary Namie, Healthy Workplace Bill, Ruth Namie, The Free Lance-Star, workplace bullying, Workplace Bullying Institute
Posted in WBI in the News | No Archived Comments | Post A Comment () »
Monday, April 1st, 2013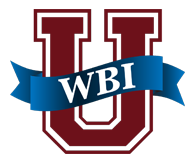 It's time for the next quarterly training for professionals, the unique Workplace Bullying University® created and delivered by the Drs. Namie, WBI founders. Small group 3-day immersion in the research and all aspects of the phenomenon. Join us!
May 10-12 in Bellingham, WA
Tuition fee discounts available, enroll by April 10 to guarantee your seat
Participants come from a variety of disciplines
• Healthcare – physicians, nurse leaders, counselors, psychologists
• Legal
• Management & HR
• Consultants & Trainers
Program details at the University website.
Tags: Gary Namie, Ruth Namie, training for professionals, Workplace Bullying University
Posted in Events & Appearances | No Archived Comments | Post A Comment () »
Wednesday, January 9th, 2013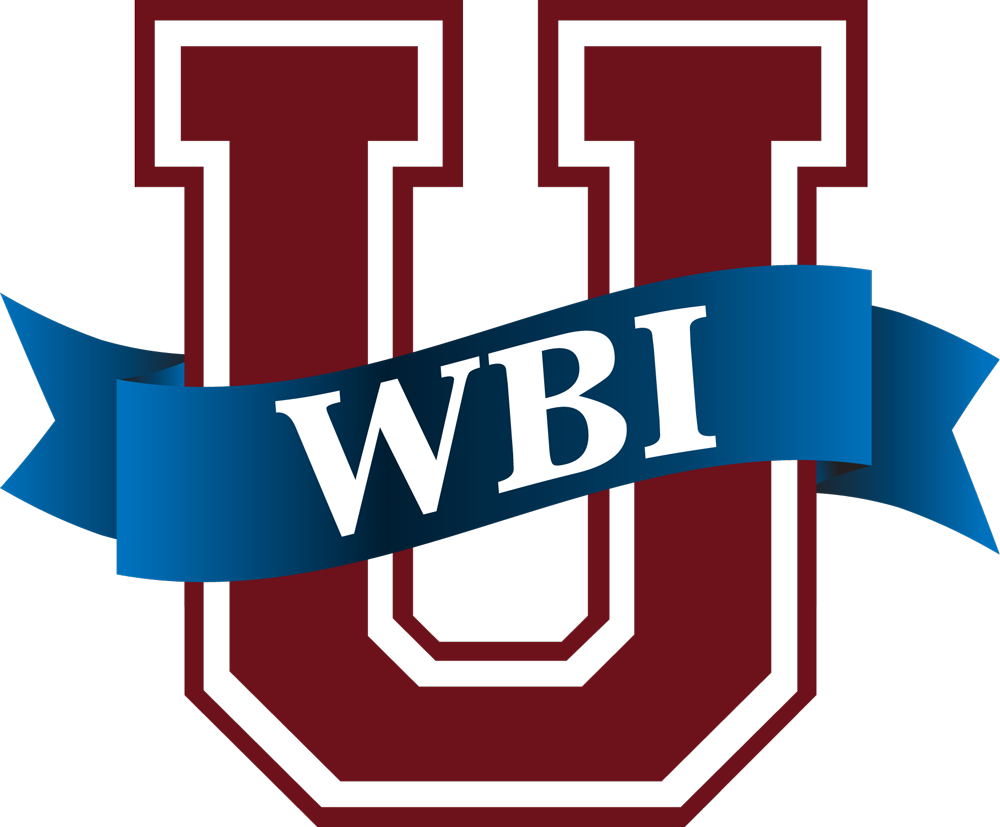 Workplace Bullying University®, begun in 2008, is WBI's unique, intensive 3-day experience that prepares professionals in mental health, law, management, human resources, life & executive coaching, unions, speaking & training with graduate-level instruction and materials to gain incomparable knowledge in Workplace Bullying to use in their practices, businesses or jobs. Facilitators are Dr. Gary Namie & Dr. Ruth Namie.
The 2013 Bellingham, Washington sessions will be held:
February 22-24 and May 10-12 and August 16-18 and November 15-17.

Visit the WB University website for details.
Tags: Gary Namie, Ruth Namie, Workplace Bullying University
Posted in Events & Appearances | No Archived Comments | Post A Comment () »