Posts Tagged 'Ryūjirō Takami'
Thursday, April 24th, 2014
On April 25, 2005 at 9:19 am, a 7-car Japanese commuter rapid train 5418M derailed at high speed on a curved stretch of track and slammed into a parking garage of an apartment building. The train was operated by 11 month veteran driver 23-year old Ryūjirō Takami in front car. A second rail employee, the conductor, was in the rear car.
It was the second worst rail disaster in the country's history. 562 people were injured and 107 died, including Takami. 99 of the fatalities were in the front car. In all, four cars derailed.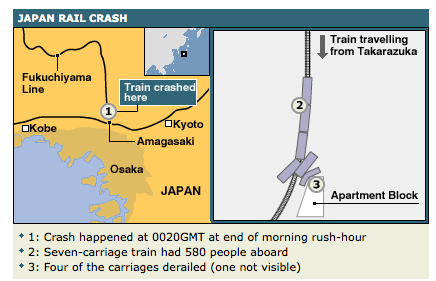 The morning commute to Osaka on the West Japan Railway Company (JR West), the end of the rail line, was over and the train was heading in the other direction. On the way to the Itami station, an alarm sounded that the train was over the speed limit, traveling at 120 km/hr. Takami was speeding. As the station approached, Takami applied the emergency brake. The train overshot the platform by three cars, about 30 meters. Takami reversed the train to align the cars with the platform.
The conductor warned Takami that he would have to immediately report the mistake to headquarters from the phone on the train. Takami asked him to lie, to minimize the distance overshot. The conductor said that he called in an 8-meter mistake. Mistakes of 5 meters bring company punishment.
Takami knew JR West punishment. When Takami was in his third week of driving a train ten months earlier, he was subjected to 13 days of Nikkin Kyoiku, re-education, for having overrun a platform by 100 meters. Overshooting the Itami platform had to have filled his mind with horror, anticipating another round of Nikkin Kyoiku.
Tags: accident, culture, death, disaster, Nikkin Kyoiku, Ryūjirō Takami, torture, West Japan Railway Company, workplace bullying
Posted in Bullying & Health, Employers Gone Wild: Doing Bad Things, Tutorials About Bullying, WBI Education | No Archived Comments | Post A Comment () »