Posts Tagged 'SCOTUS'
Tuesday, March 29th, 2016
Today, well ahead of the expected June decision, the U.S. Supreme Court split 4-4 in the decision regarding Friedrichs v. California Teachers Association.
The SCOTUS is short one member since the passing of Antonin Scalia. The tie vote allows previous appellate court verdicts to stand. As described in earlier posts — here and here, the cocky anti-union plaintiffs were so confident of using SCOTUS to bankrupt public sector unions that they asked both trial and appellate courts to rule against them so they could expedite the process to get to the Supreme Court.
Justice Scalia's death was unexpected. His vote would have delivered an anti-union majority vote. The tie, however, allows the lower court decision (made at plaintiffs' request with no evidence ever presented as in a real trial) to stand. The anti-union plaintiffs lose. Unions win (for now). Here is the entire SCOTUS decision.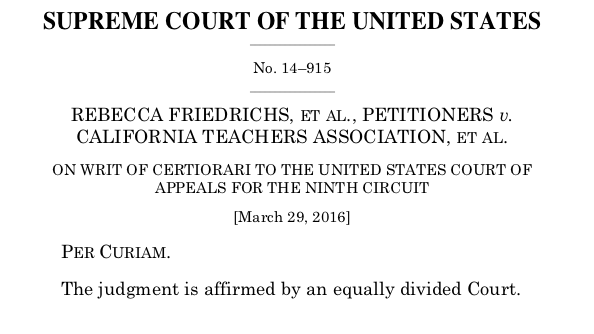 (more…)

Tags: bullying unions, Friedrichs, SCOTUS, Unions
Posted in Rulings by Courts, Unions | No Archived Comments | Post A Comment () »
Tuesday, July 15th, 2014
WBI friend Lewis Maltby wrote convincingly in his book, Can They Do That?, that American workers have very few rights. Without a union bargained contract, all rights are owned by management unless state or federal laws provide specific protections. Among the industrialized nations (members of the OECD), US workers have the fewest rights.
Robert Fuller, another WBI friend, speaks and writes eloquently about somebodies and nobodys, the hierarchy in our lives. For him, the issue is rankism. It makes good sense in our nation of ever-expanding income inequality.
From the work of stress guru, Robert Sapolsky, Stanford University professor and researcher, we learn that simply organizing social groups in hiearchical ways with rank playing a role in how all resources are unevenly divided is stressful. Those dominated by others are doomed to lives of ongoing stress. Social subordination generates distress, that in turn, triggers major life-threatening diseases through disruption of the adrenocortical, cardiovascular, reproductive, immunological, and neurobiological systems (Sapolsky, 2005).
Workers bullied by higher ranking bosses (56% of all targets) will find it nearly impossible to avoid contact. That toxic contact is the exposure to stress that causes health harm.
I say all this to put into context the June 30, 2014 decisions by the U.S. Supreme Court (SCOTUS). By majority votes of the conservative-dominated court, the rights of company owners were expanded. The (chief justice) Roberts Court has never ruled against corporate interests.
The two cases decided upon were Sylvia Burwell, Secretary of HHS v. Hobby Lobby Stores, Inc. (13-354) and Conestoga Wood Specialties Corporation v. Sylvia Burwell, Secretary of HHS (13-356) — jointly dubbed the Hobby Lobby decision.

Tags: California Healthy Workplace Advocates, distress, Hobby Lobby, Lewis Maltby, Robert Fuller, Robert Sapolsky, SCOTUS, stress, US Supreme Court
Posted in Bullying-Related Research, Rulings by Courts, Social/Mgmt/Epid Sciences | 1 Archived Comment | Post A Comment () »
Monday, June 30th, 2014
Unions have certainly become punching bags recently for anti-union zealots — Republican Governors, mainstream media, the US Supreme Court (SCOTUS) and their long-standing arch enemy, the National Right to Work foundation. The right to work meaning without union protections so you can work for minimum wages and absolutely no say in how your work is organized and assigned. Incredibly, 24 states have adopted "right-to-work" legislation that undermines unionism. The NRTWF is the organization that sues unions on behalf of workers fed up with their unions.
So arose the court case Harris v. Quinn (the State of Illinois). The SEIU has been organizing low-paid workers in the home health industry for years. Those workers are typically women of color. They serve disabled individuals in their home — hard work by compassionate underpaid people. When they unionize, wages rise a bit.
Unions, like corporations, engage in political activity. Unions contribute to politicians' election campaigns at a fraction of the amount corporations do, given that the latter have all the cash. Two SCOTUS decisions — Citizens United decision and one this session — made limits of corporate giving disappear. Anti-union groups like the NRTWF exaggerate the amount of union dues spent on political activity and have successfully separated union funds set aside for that activity from funds to run the business of the union — being advocates for their members. Some states require non-members to pay a "fair share fee" to the union in order to take advantage of workers' benefits negotiated in collective bargaining agreements between unions and government employers. In other states, anti-union legislation has allowed public sector employees to benefit without having to join or to pay the union. Unions call this "free riding." Alito thinks the phenomenon is "something of an anomaly."

Tags: fair share, Harris v Quinn, home health care workers, political activity, SCOTUS, seiu, Supreme Court
Posted in Rulings by Courts, Unions | No Archived Comments | Post A Comment () »
Friday, June 24th, 2011
We launched The Work Doctor® radio on June 23, 2011. Gary Namie is the host.
In this debut show, Gary discusses the recent Supreme Court decision dropping the job discrimination class action lawsuit against WalMart by six women, representing 1.5 million current and former women employees of the giant retailer.

Joining Gary in conversation is guest Lewis Maltby, Director of the National Workrights Institute,
and author of Can They Do That? Retaking Our Fundamental Rights in the Workplace. Purchase the book on Amazon.com.
Lew is a U. Penn Law graduate, attorney, former HR director, and former ACLU project director. He is the definitive expert.
Mr. Maltby sounds a warning about hidden surprises in employment law that can hurt American workers. He discusses social media and how GPS-equipped, company-owned devices extend employers' control over workers' lives.
Listen to the 1 hour show archived on the PWRN website.

Tags: Can They Do That, Dukes, Gary Namie, GPS, Lewis Maltby, PWRN, SCOTUS, social media, The Work Doctor radio
Posted in Employers Gone Wild: Doing Bad Things, Events & Appearances, Fairness & Social Justice Denied, Tutorials About Bullying | No Archived Comments | Post A Comment () »
Tuesday, June 21st, 2011
The June 20, 2011 Supreme Court decision in the Wal-Mart v. Dukes case (1) insulted any worker who dares complain about discriminatory mistreatment at work, (2) made it harder for individuals to join together for lawsuit efficiency in a class action to go up against a behemoth multinational employing corporation, (3) ignored and rewrote a 45-year legal precedent, and (4) cemented Justice Scalia and the conservative block's motivation to serve corporate interests over those of ordinary working Americans.

Tags: Betty Dukes, Brad Seligman, Ginsburg, Gisel Ruiz, Impact Fund, Rule 23, Scalia, SCOTUS, VP People, Wal-Mart v. Dukes
Posted in Employers Gone Wild: Doing Bad Things, Events & Appearances, Fairness & Social Justice Denied, Rulings by Courts | 3 Archived Comments | Post A Comment () »