Posts Tagged 'sexual harassment'
Saturday, May 19th, 2018
Shoemaker Nike landed in the news for a good reason. CEO Mark Parker suddenly started listening to employees. The Board heard from departing female executives that Nike had a toxic work environment, at least for women. There was an internal anonymous survey about misconduct. It listened to other women acting as an internal #MeToo task force who called out the corporation for years of treating sexual harassment and coercion complaints with indifference. They outed their own version of Harvey Weinstein, Trevor Edwards, a man being groomed to succeed Parker. He was branded an undesirable sexual predator like so many other high-profile men. Despite having been shamed into expulsion, Nike gave Edwards a soft economic landing — $525,000 payout and almost $9 million worth of stock.
Edwards was allegedly responsible for "behavior occurring within our organization that do not reflect our core values of inclusivity, respect and empowerment," Parker wrote to employees. He saluted the "strong and courageous employees" who had come forward. The reporting attached below found that Nike has an anti-bullying policy that addresses misconduct in addition to legally mandated protections for special status group members. Hence, the negativity associated with disrespect.
Following the breaking news about the ejection of Edwards, a rarity in American business, Nike announced the termination of five others — including one woman executive. To WBI this meant that the MeToo complainants had reached beyond the narrow bounds of illegal sexual harassment. The primarily women complainants had had it with abusive practices by more people than Edwards, including the woman, Gina. By firing a woman on the advice of women employees, same gender abuse must have been practiced. That's workplace bullying.
We hope for two outcomes: (1) that the Nike awakening to the much more prevalent and damaging practice of generalized workplace abuse in addition to sexual harassment is real and sustainable, and (2) that American employers see the challenge posed by early adopter Nike and start to replicate the corrections in their own C-suites.
Purging high-level bullies will never likely be a fad, but it is certainly time that major corporations (and stagnant government agencies at all levels) discover bullying and choose to eradicate it for the psychological safety of the vast majority of its workers. Stop protecting and defending abusers.
Could this be an American employer awakening? We wait to see.
###
The Bloomberg News and France 24 reports about Nike …
Bloomberg
Companies Have an Aha! Moment: Bullies Don't Make the Best Managers
by Matthew Townsend and Esmé E Deprez, Bloomberg, May 9, 2018
Nike's ouster of a top executive casts new light on the hard-knuckled behavior common in many offices.
After Nike Inc. ousted a handful of male executives for behavior issues over the past few months, some media reports tied the departures to the #MeToo movement and its revelations of sexual harassment and assault. Interviews with more than a dozen former Nike employees, including senior executives, however, paint a picture of a workplace contaminated by a different behavior: corporate bullying. The workers say the sneaker giant could be a bruising place for both men and women, and that females did bullying, too. On May 8, Nike signaled as much when it confirmed four more exits stemming from an internal misconduct inquiry, including the departure of a woman with more than 20 years at the company.
The surprise announcement in March that 55-year-old Nike brand president Trevor Edwards—who had a reputation for humiliating subordinates in meetings—would leave following an internal investigation about workplace behavior issues suggests the coddling of tough guys may have come to an end. "Some companies are realizing that a bullying boss isn't the best way to manage a company," says David Yamada, a professor at Suffolk University Law School in Boston who's authored antibullying legislation. "Maybe we're starting to see a tipping point."
Gary Namie, co-founder of the Workplace Bullying Institute, who consults with businesses on workplace issues, says one reason some companies have long tolerated or even encouraged such behavior is that many American managers believe the workplace is by nature rough around the edges. "Bullying is inextricably interwoven with capitalism," he says. "It creates a zero-sum, competitive work environment where people feel they need to obliterate their competitors."
Some former employees say that was the case at Nike, particularly among managers who used abusive tactics to safeguard their own position or authority. "There are a lot of very talented people deeper in the organization who have been marginalized both by senior and middle management trying to protect their domain," says Shaz Kahng, who was a senior executive at Nike for six years through 2010. "People are often promoted based on relationships, not on results."
In response to complaints, including from departing female executives, Nike ousted Edwards, who'd been a favorite to become the company's next chief executive officer. Edwards, according to some of the former employees, at times bullied workers through insults and disparaging comments. More important, once he set the tone, other people mirrored his behavior, they say. A handful of executives who worked for Edwards have since left Nike.
"I've been disturbed to hear from some employees of behavior inconsistent with our values," CEO Mark Parker said in an emailed statement. "When we discover issues, we take action."
Nike also provided Bloomberg with the transcript of a town hall Parker held on May 3, in which he vowed the environment will change. "We all have an obligation—and it's non-negotiable—to create and cultivate an environment of respect and inclusion," he told employees. "And that starts with me. I apologize to the people on our team who were excluded. … We're going to move from a place where the loudest voices carry the conversation to [one where] every voice is heard."
The company declined to make Edwards available for an interview. He's acting as an adviser to Parker until he retires in August, when he'll receive a $525,000 payout, according to public filings.
Nike says it's reviewing how it deals with complaints, redesigning management training, and beginning unconscious bias awareness education for employees this year. It's also vowed to promote more women and minorities into leadership roles. Currently, managers are 38 percent women and 23 percent nonwhite.
Workplace bullying is often defined as behavior—including verbal abuse, derogatory remarks, humiliation, and undermining work performance—that results in physical or mental harm. About 1 in 5 Americans say they've been the target of it, according to a 2017 survey by Zogby Analytics that was commissioned by the Workplace Bullying Institute. Men make up 70 percent of the perpetrators and 34 percent of the targets. "It's a significant and still underreported problem," Yamada says. Surveys have shown such behavior is four times more prevalent than legally actionable sexual harassment, he says. "Bullying looms large."
Ironically, Nike is one of the minority of companies that has a formal antiharassment policy that calls out bullying behavior such as verbal abuse, intimidation, humiliation, and retaliation, according to a copy obtained by Bloomberg. It also notes that harassment not based on a legally protected characteristic, such as gender or race, can still violate company rules.
One reason few companies have specific antibullying policies is that there aren't federal or state laws in the U.S. outlawing the behavior, which makes America a laggard when compared with Western Europe, Canada, and Australia.
"Some companies are realizing that a bullying boss isn't the best way to manage a company"
A lack of legal protections greatly reduces the possibility of liability for employers. It's difficult to bring a lawsuit based on bullying, and businesses have worked to keep it that way. Over the past decade, antibullying bills were introduced in about 30 states, but they've all been defeated after opposition from corporate lobbying groups, Yamada says. A workplace bullying bill is gaining sponsors in Massachusetts' legislature, but its future is uncertain. If there were antibullying laws, companies would be liable and do more to deter the practice, according to Namie. "It's the only form of abuse that hasn't been addressed by law," he says. "It goes beyond gender to 'I'm powerful, I can do any damn thing I want.' "
When executives feel entitled or untouchable, that often leads to bullying and then to other inappropriate behavior, Yamada says. In many of the workplace environments that resulted in some of the high-profile #MeToo moments, such as that at Weinstein Co., an "undercurrent" of bullying created a belief that mistreatment would go unpunished, he says. "It's that bullying atmosphere that helps to enable and empower sexual harassment."
According to the former Nike employees, the lack of a fear of reprisal created an environment where male executives, many married, could pursue and have sexual relationships with subordinates and assistants—behavior Nike says it tries to prevent but doesn't prohibit. Many times the careers of those involved were unaffected, which only normalized the behavior, they say. And when there were repercussions, the men received little if any punishment, while women often faced consequences. In one instance several years ago, they say, an executive was caught having sex with his assistant on a conference table. He wasn't disciplined, some of the people say, but the woman was reassigned.
Several former female employees describe similar experiences of encountering several slights and offenses—not one egregious incident—that increased as they moved up the ladder. One woman says her boss, a senior director, had derogatory nicknames for female staffers and would overtly favor men on the team with better opportunities. A former female manager says a male colleague had multiple complaints of bullying made against him to human resources, but the only punishment meted out was a delayed promotion. Eventually, frustration with Nike's handling of such incidents persuaded several women to leave the company, they say.
The situation was particularly galling to employees who'd been drawn to Nike because of its cool and progressive reputation, burnished by such advertising slogans as "If You Let Me Play" and its T-shirts adorned simply with the word "equality." "We always wished the company would live up to its marketing," says one former female executive. "But it didn't."
BOTTOM LINE – Nike's marketing positioned the company as a promoter of self-expression and equality. But former employees say it allowed a culture of workplace bullying to flourish.
###
France 24
Five More Executives Fired as Nike Confronts Workplace Harassment
by Agence France-Presse (AFP), May 10, 2028
Nike has dismissed additional executives as it moves to address a workplace culture marred by sexual harassment and bullying, embarrassing a brand that has self-defined around equality and empowerment.
The latest departures, confirmed Wednesday by a Nike spokeswoman, consist of five executives, including one woman, and raise the total departures to around a dozen. This includes former president Trevor Edwards, who had been seen as a CEO in waiting.
Since Edwards' departure was announced in March, US media reports have chronicled myriad cases in which women were subjected to sexual harassment and often passed up for promotions in a boorish frat-like culture.
The revelations have come amid a broader rethink in US society over gender relations following the downfall of Hollywood mogul Harvey Weinstein and the ensuing #MeToo movement that has toppled numerous figures across business, politics and entertainment.
Remaining Nike brass have said little publicly about the staffing overhaul beyond chief executive Mark Parker's remarks in March emphasizing the need to address "some behavioral issues" that clashed with Nike's culture.
"I'm committed to ensure that we have an environment where every Nike employee can have a positive experience and reach their full potential," Parker said on a March 22 earnings conference call.

"Shocking" revelations
The upheaval comes as Nike has experienced sales stagnation in North America, offset in the most recent quarter by a strong performance in China and other overseas markets.
CFRA Research analyst Victor Ahluwalia said it was too soon to know if the problems would further dent North Americans sales, but he predicted the company's travails could trouble consumers.
Nike's famous "Just Do It" slogan emphasizes empowerment, as do sponsorships of iconic athletes such as Michael Jordan and Serena Williams.
"The company was viewed as progressive and kind of millennial friendly, so for something like this to happen with a brand that comes with that kind of a message was shocking," said Ahluwalia.
But Ahluwalia praised the company for "being proactive", in contrast to other companies that responded to workplace scandals only after problems publicly surfaced, usually in media reports.
"Clearly work needs to be done and I think it will take time," Ahluwalia said. "Being proactive does position the company much better for the future."
"It is just cruelty"
Since Edwards' departure was announced in March, others to leave have included top executives in digital marketing, diversity and inclusion and Nike basketball.
The housecleaning was spurred by a survey of frustrated female workers in Nike's Oregon headquarters who polled their peers, finding widespread sexual harassment and discrimination and presenting the data to CEO Parker, according to a New York Times expose.
The Times article also cited women who reported problems ranging from being cursed at by an abusive male boss to excluded from key meetings, and passed up for promotions.
The staff dismissals follow an initial investigation into workplace conduct launched in March, according to a person familiar with the matter.
The latest group of outgoing executives includes Helen Kim, a vice president for North America, whose departure suggested to some experts that Nike's focus was no longer strictly about addressing sexism but had broadened to countering the problem of bullying.
"The larger problem is the workplace bullying, or as we call it, abusive conduct in the workplace, because that ignores gender boundaries and it ignores race," said Gary Namie of the Workplace Bullying Institute. "It is just cruelty."
"Apparently Nike's workplace culture is a very competitive, aggressive one that may sometimes deteriorate into bullying behaviors and sexual harassment and discrimination," said David Yamada, a professor at Suffolk University Law School.
"Perhaps the departures signal a core shift in management philosophy and practice for the better, but it's obviously premature to make that determination."
Some analysts worry the problems will prevent Nike from reaching a target of $50 billion in annual revenues, compared with $34.4 billion in 2017.
"Any time you see a large group of senior people leave very quickly for any reason, you better hope they have a very strong bench that can step in quickly," said Sam Poser, analyst at Susquehanna Financial Group.

Tags: Agence France-Presse, Bloomberg, David Yamada, Gary Namie, Mark Parker, Nike, sexual harassment, Suffolk University Law School, Trevor Edwards, workplace bullying, Workplace Bullying Institute
Posted in Employers Doing Good | No Archived Comments | Post A Comment () »
Thursday, December 14th, 2017
On a nearly daily basis, another man is accused of past sexual transgressions against a woman or women (Tavis Smiley and Russell Simmons among the most recent) and they lose their jobs or company.
Rather than commenting piecemeal on each new report we chose to write a short book on the topic. We are applying lessons from the MeToo phenomenon to workplace bullying situations. In this way, bullied targets can fight back capitalizing on MeToo successes. Watch for its Jan. 2018 release.
However one of the stories about politicians caught our attention. And it illustrates bullying, not simply sexual harassment.
The male idiot this time is U.S. Congressman Blake Farenthold (R-TX). He was targeted by Bill Maher in past years for being a stupid lawmaker. This is the same congressman who is the former owner of the domain "BlowMe.org," and who admitted in 2014 to "having wet dreams" about a staffer.
Now CNN has details of his abusive conduct while in office directed toward both women and men. The source is his former communications director Michael Rekola.
Rekola said that Farenthold routinely exploded with rage and anger, slamming his fists down, swept everything off his desk, leaving staffers to clean it up. He called staffers names — idiot or f**ktard. Rekola described the work environment as so toxic and stressful that he suffered a stomach ailment causing him to vomit daily. This, of course, is very familiar to bullied targets.
According to Rekola, Farenthold routinely made lewd comments about the appearance of women including reporters and lobbyists, remarking on the size of women's breasts and buttocks. There were references to the "redhead patrol," something which was also mentioned in the lawsuit Farenthold settled with over $80 million taxpayer dollars. Apparently Blake has a thing for redheads, or so he would like us to think.
To appease the MeToo proponents demanding his head, Farenthold has agreed to not run for re-election. That may well not be sufficient, given the zeitgeist. Farenthold must resign. This behavior is an unnacceptable abuse of power whether directed toward men or women.
What was required of Al Franken must be required of any lawmaker accused of such abusive conduct with an underlying sexual harassment history. Let's hear from Rep. Jackie Speier, Sen. Kirsten Gillebrand, Rep. Nancy Pelosi, and House Speaker Paul Ryan.
In these times, there is no other socially responsible position than to condemn abusive conduct.
This could strike a blow for justice for bullied, not just harassed, targets.

Tags: Blake Farenthold, MeToo Revolution abusive conduct, Michael Rekola, sexual harassment, US Congress, workplace bullying
Posted in Target Tale, WBI Education | No Archived Comments | Post A Comment () »
Tuesday, November 14th, 2017
Written by Laurie Ruettimann after the Uber and Weinstein harassment scandals, but before Alabama's Roy Moore's misconduct.
Let's Face It. HR is Powerless to Help Women Who are Harassed.
I'm a 20-year Veteran of HR. Something Needs to be Fixed
By Laurie Ruettimann, Vox.com, Oct 18, 2017
Women are a human resources nightmare.
The national conversation has once again turned to women's experiences of sexual harassment. Nearly two weeks ago, the New York Times and the New Yorker published allegations of rape and sexual assault by Harvey Weinstein against actresses in Hollywood and beyond. These experiences go back decades, and they are often, but not exclusively, related to women who met Weinstein in a professional capacity and felt pressured, out of fear for their safety and their careers, to comply.
In other words, these women were harassed in the workplace.
Earlier this year, Susan Fowler blew the whistle on sexism and harassment at Uber. Fowler and her colleagues complained to Uber's leadership about the culture of harassment within the organization, and they were routinely dismissed by everybody — including the HR department.
It was only when Fowler wrote a viral blog post detailing her complaints that Uber got serious. The company hired former US Attorney General Eric Holder to launch an investigation to understand why so many women had such bad things to say about their employee experience. The report was damning, and more than 20 people were fired for inappropriate conduct, including allegations of sexual harassment and management ignoring multiple reports of sexist behavior and harassment. Former CEO Travis Kalanick, who was not accused of harassment himself but reportedly did nothing to stop it when allegations came in, as well as other sexist and toxic behavior, resigned under pressure from investors.
That could've been a watershed moment for women in the workforce, but it wasn't. That's because corporate America, and human resources in particular, don't care about women. They care about minimizing risk to enhance the value of a brand, which ultimately leads to greater revenue and stronger profits.
In short, nobody cares about women. Once the shock-and-awe of Harvey Weinstein is over, very little will change for the average worker in America. I know this because I'm a 20-year veteran of human resources. In that time, I worked at big organizations like Pfizer, Kemper Insurance, and Monsanto. I left my corporate job in 2007 and started writing and speaking about HR in an attempt to transform the entire function. I haven't done a very good job because HR still sucks.

Tags: HR, HR fails women, HR is useless, human resources, Laurie Ruettimann, sexual harassment
Posted in Employers Gone Wild: Doing Bad Things, Fairness & Social Justice Denied, Tutorials About Bullying | 1 Archived Comment | Post A Comment () »
Tuesday, April 11th, 2017
We recently received the following note here at WBI. Writer's words are in bold.
I feel like your website is extremely one sided. I came to it because an HR colleague referred me to it however she warned me the site was negative, anti-HR and anti-employer and she is correct.
We are not anti-employer. We are anti-abuse. When an employer abuses as general operating procedures or treats the rare complaint about abuse with indifference, then we oppose that particular employer. We have consulted and helped organizations since 1985, long before our 20 years in workplace bullying began. And we continue helping employers who give a damn about their employees. See here how we help. In court, I even help defend employers who wisely terminated abusers. We like good employers. Hate bad ones, don't you?
Why did you come to visit us in the first place?
You pretty much tell the person they are being abused and the company will fire you.
We describe the predictable pattern that bullying follows. The sad experience mirrors what battered spouses go through. Do we make targets out of site visitors? No, 97% of site visitors come to us self-diagnosed as victims of workplace bullying. We simply report what over 12,000 targets have told us to bolster the mental health of visitors and inquiring family members. Admittedly, we have heard descriptions of two (2) heroic HR folks from all of those anecdotal tales. You are correct, HR is not all bad. In fact, several progressive, compassionate and thoughtful HR practitioners have attended the WBI Workplace Bullying University training for professionals and left with an in-depth knowledge of the phenomenon.
However, WBI research, based on polling individuals who suffer the mistreatment and not your guess about what outcomes are, shows that once targeted bullied workers face a 77% chance of losing their jobs. Read the study results here. And there is international research showing that bullies do not lose their jobs (Glambek, M., Skogstad, M.A., & Einarsen, S. (2016) Do the bullies survive? A five-year, three-wave prospective study of indicators of expulsion in working life among perpetrators of workplace bullying. Industrial Health, 54, 68-73.) Targets do lose their jobs (Glambek, M., Skogstad, M.A., & Einarsen, S. (2015) Take it or leave: A five-year, three-wave prospective study of workplace bullying and indicators of expulsion in working life. Industrial Health, 53, 160-170.).
In another study, we specifically asked what happened to people after they reported the bullying incidents to HR. Doing so proves to be a mistake. It seems, according to the one group who would know how and if HR helped them — individuals targeted for bullying — they were either retaliated against, lost their job, or ignored. On the plus side, nearly 2% of respondents said HR did help. Read the study results here.
This has not been my experience in the business world, nor many of our colleagues.
Those of us in the trenches in the war against workplace abusive conduct tend to share a common wisdom about HR. Colleague and friend Law Professor David Yamada (who is much more diplomatic than I, being careful to never offend unlike me) wrote recently in his blog, Minding the Workplace, that he hears reports such as "HR was useless," "HR threw me under the bus," and "HR protected the bullies." He added, "in the worst instances, HR has actively furthered, supported, and enabled the abuse."
And dear HR professional, in case you think it is only WBI-affiliated persons who hold such negative perceptions of HR, read on.
From the headlines, you may have heard about the costly corporate liability faced by Fox News for sustaining Bill O'Reilly's employment. Fox or O'Reilly has paid $13 million in settlements to five of his accusers. One accuser of Roger Ailes won a $20 million settlement.
A central tenet in the Fox defense is that accusers of Bill O'Reilly and Roger Ailes never filed complaints with Fox Human Resources or called the company hotline.
Here comes attorney Nancy Erika Smith who represented Gretchen Carlson in her harassment lawsuit and now represents Julie Roginsky against Fox and Roger Ailes.
Smith was asked on CNN about the Fox defense. Some women at Fox News have said they are afraid the line is being monitored. Smith said calling the hotline is a good idea "only if you think it would be good to call the KGB to complain about Putin." "HR is not your friend. HR will not help you," Smith said.

Tags: abusive conduct, attitudes toward HR, Bill O'Reilly, Fox News, Gretchen Carlson, HR, HR inaction, human resources, KGB, Nancy Erika Smith, sexual harassment
Posted in Advice for Employers | 3 Archived Comments | Post A Comment () »
Saturday, April 1st, 2017

We at WBI have labored to convince employers that if they view bullying through their "loss prevention" perspective, the only rational action is to purge the one or two destructive individuals who have tormented many more others over the years. It is the rational choice because it stops the losses and prevents future ones.
Still, American employers who face no legal workplace bullying standard are safe to ignore it, when and if they wish. Ignoring and treating it with indifference or flat-out denial that bullying happens on their watch are the typical responses. They do so out of loyalty to the abuser. Simultaneously this sends the message that everyone else is expendable, dispensable and worthless.
We list the following tangible bully-related costs: undesirable turnover, absenteeism, increased utilization of healthcare-workers comp-diability insurance, and litigation-related expenses. This is not simply theoretical.
The New York Times reports that Fox News has paid out over $13 million in case settlements to five women who claimed that network host Bill O'Reilly sexually harassed them. Some of the women worked for him; others were guests on his show.

Tags: Bill O'Reilly, bullied targets, Fox News, payouts, settlements, sexual harassment
Posted in Employers Gone Wild: Doing Bad Things, Media About Bullying, Print: News, Blogs, Magazines, Tutorials About Bullying | No Archived Comments | Post A Comment () »
Monday, November 3rd, 2014
We have long said that mediation is the wrong tool to resolve workplace bullying problems. Mediators are inserting themselves into bullying in growing numbers as if the situations originated in traditional conflict. But bullying involves violence (non-physical varieties), an unequal level of power (real or perceived), and contempt by one person for the other. No serious problem solver believes a credible and fair middle ground can be found. Why further compromise the already compromised target? It is cruel.
A reporter tipped me off to the spring 2014 GitHub scandal. One of the former co-founders, Tom Preston-Werner, had given his CEO position to the other co-founder, Chris Wanstrath in January. GitHub engineer, Julie Ann Horvath, alleged sexual harassment by one of the company founders and his wife and quit. The wife's threats (of informing husband's decision making, of engaging spies at company, and intimidating and verbally attacking her) might have been more bullying than harassment, given its same-gender nature. The venture capitalist who invested $100 million in GitHub defended Preston-Werner. Preston-Werner resigned. Wanstrath cleared Preston-Werner of illegal harassment but did say "mistakes" were made.
Of interest to us here at WBI are the tweets Horvath sent recalling the actions of the GitHub-paid mediator who obviously was sent to protect GitHub.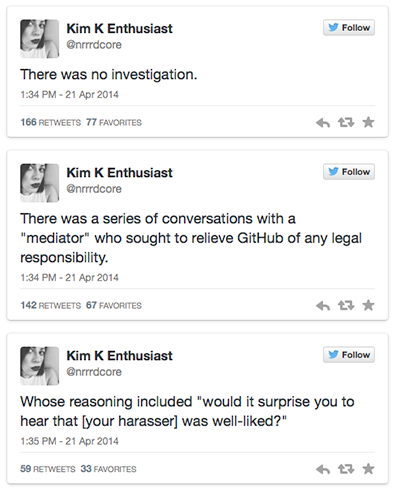 Tags: GitHub, intimidation, Julie Ann Horvath, sexual harassment, Theresa Preston-Werner, threats, Tom Preston-Werner, workplace bullying
Posted in Employers Gone Wild: Doing Bad Things, Tutorials About Bullying, WBI Education | 1 Archived Comment | Post A Comment () »
Wednesday, October 29th, 2014
Hollaback — the movement to stop sexual harassment of women simply walking in public — features a video of Shosana Roberts walking in New York City for 10 hours filmed by Rob Bliss who produced the PSA below. And men think women's experiences are no different from theirs — get real. Watch the humiliation hurled at Roberts.

Tags: Hollaback, Rob Bliss, sexual harassment, Shosana Roberts, street harassment
Posted in Fairness & Social Justice Denied | 3 Archived Comments | Post A Comment () »
Tuesday, October 7th, 2014
Law Takes Aim at Workplace Bullying, Raises Questions
By Laura Hautaia, Los Angeles Daily Journal, Sept. 17, 2014
What counts as bullying in the workplace?
While the concept may be relatively new, managers will have to undergo training on preventing abusive conduct at work once a new law goes into effect in January. The training will come along with other required lessons on preventing sexual harassment and discrimination, but it's different in one important way: bullying isn't illegal in California. For now.
Attorneys say AB 2053, which Gov. Jerry Brown signed in August, might open the door to making abusive conduct illegal, opening a new category of liability for employers.
"There's a feeling that there should be a way to prevent that kind of destructive behavior, because it does hurt people when it's extreme enough, and it causes economic damage," said Margaret H. Edwards, a shareholder at Littler Mendelson PC who has researched the advent of anti-bullying laws worldwide.
At the moment, the required training might still come into play in a court case if workers sue for harassment or intentional infliction of emotional damage in the workplace, attorneys said.
Whether or not employers provided adequate training on abusive conduct, said Chaya M. Mandelbaum, a partner at Rudy, Exelrod, Zieff & Lowe who represents workers, "could be a very relevant piece in looking at the culture of the workplace." Edwards said the new requirement heralds wider recognition of bullying as a problem that can be addressed with laws. Indeed, other states are considering bills that address bullying in schools, and Tennessee passed a law encouraging public employers to create anti-bullying policies.
What's more, she noted, laws have passed in Canada, the UK and Europe that address bullying in the workplace. "I think part of this is because of work that has been done that comes out of the harassment arena and a desire to try to address destructive behaviors in the workplace that don't quite fall into the traditional harassment and discrimination categories," Edwards said.
Some of that work has been done by Gary Namie, a Washington State social psychologist who advocates for anti-bullying legislation. He worked to get a more comprehensive law banning workplace bullying in California in 2003, but the law didn't pass. Namie said his organization, the Workplace Bullying Institute, talked with California Assemblywoman Lorena Gomez as she authored AB 2053, but that the resulting bill was watered down from what he hopes to see eventually become the law.
"The law is a baby step toward recognizing the impact of workplace bullying defined as abusive conduct," Namie said. Namie compares abusive conduct at work to domestic abuse. Rather than isolated incidents of cruelty, he said, bullying is a pattern that systematically beats down an employee.
Employment attorneys agreed with this description. "It's vicious a lot of times," said Kathryn B. Dickson. What's more, she said, everyone at the workplace can suffer when bullying takes place. "It has impact on morale and productivity." But Dickson also noted that while the law defines abusive conduct, naming it in the workplace might still be difficult." "It gets very mushy around the edges," she said. However, she compared the task of defining workplace bullying to the questions that surrounded the idea of sexual harassment when it was first litigated in courts. "People said how are we going to say what harassment is? That worked out."
One test case emerged in 2006, when a judge in London ruled in favor of a former employee of DB Services (UK) Ltd., a UK subsidiary of Deutsche Bank, who said she was systematically bullied at work until she suffered two bouts of Major Depressive Disorder. In a detailed, 46-page decision, High Court Justice Robert M. Owen said the bullying was harassment under the country's Protection from Harassment Act of 1997, and that the company should have done more to prevent it.
The plaintiff, Helen Green, said coworkers engaged in "petty" bullying conduct and went out of their way to exclude her from conversations, lunches, work-related email chains and more. Green even recounted that one coworker made a raspberry sound every time she took a step while walking across the office. "Many of the incidents that she describes would amount to no more than minor slights," Owen wrote. "But it is their cumulative effect that has to be considered." What's more, the company was privy to information about Green's mental health history and could have known she would be vulnerable to such bullying, he ruled.
Such situations aren't uncommon in American workplaces, plaintiffs' attorneys said. Mandelbaum said many people call seeking legal representation, only to learn what they experience at the hands of a coworker or supervisor is not illegal. What's more, often it's bullying that motivates someone to sue for sexual harassment or discrimination in the first place, he said. "It's that kind of conduct that underlies their feelings and their motivation to go through what they need to go through to enforce their rights legally." Mandelbaum said.

Tags: AB2053, abusive conduct, california, education, sexual harassment, supervisor training, workplace bullying law
Posted in Healthy Workplace Bill (U.S. campaign), Workplace Bullying Laws | 1 Archived Comment | Post A Comment () »
Thursday, September 19th, 2013
WBI review of an academic research study:
Diekmann, K.A., Walker, S.D.S., Galinsky, A.D., & Tenbrunsel, A.E. (2012) Double victimization in the workplace: Why observers condemn passive victims of sexual harassment. Organization Science, 2012, 1-15.
A well practiced tendency of observers of workplace harassment, coworkers of the targeted person, is to declare that they themselves would have taken more action to stop the harassment than the victim did.
The researchers in this study call this prediction "forecasting," and people claim they would do more than they actually do. They have an optimism bias, especially with respect to moral or socially desirable conduct. No one wants to admit they would not do "the right thing" when opportunities present themselves. And there is an equal underestimation of how likely they would be to yield to social pressure and self-interest.
A common consequence of such observer hubris is the subsequent condemnation of victims for failing to have acted — to resist, to confront, to report, to reverse the harassment. Of course, as WBI research shows, confrontation fails to stop the negative conduct and leads to retaliation of the victim which exacerbates the suffering.
Staying passive is the preferred choice of both sexual harassment victims and bullied targets. From their perspective, it is safer than alternatives. However, observers may interpret passivity as weakness. Thus, harassment victims are harmed twice over.

Tags: A.D. Galinsky, A.E. Tenbrunsel, bullied targets, double victimization, fundamental attribution error, Gary Namie, K. A. Diekmann, S.D.S. Walker, sexual harassment, social forecasting, social science research, victim denigration, workplace bullying
Posted in Bullying-Related Research, Social/Mgmt/Epid Sciences, Tutorials About Bullying, WBI Education | 1 Archived Comment | Post A Comment () »
Thursday, August 8th, 2013
By Susan Kreimer, Main Street, August 7, 2013
Bullies exert control in schools, playgrounds, cyber space—and in the workplace, too. But adults typically don't expect as much empathy as kids do. Many suffer in silence.
"Ideally, coworkers should intervene," says Gary Namie, who co-founded the Workplace Bullying Institute with his wife, Ruth, in Bellingham, Wash. in 1997. "However, research shows that this happens in less than 1% of incidents." Compounding a bullied worker's misery, "employers seem reluctant to act."
Bullying on the job occurs four times more often than sexual harassment or racial discrimination, according to the institute, which is leading a national campaign to enact the anti-bullying Healthy Workplace Bill in all 50 states.

Tags: anti-bullying legislation, coworkers, David Yamada, Gary Namie, Healthy Workplace Bill, Main Street, North Dakota State University, Pamela Lutgen-Sandvik, sexual harassment, Susan Kreimer, workplace bullying
Posted in Tutorials About Bullying, WBI Education, WBI in the News | 1 Archived Comment | Post A Comment () »