Posts Tagged 'Sharon Block'
Friday, January 25th, 2013
Steven Greenhouse, New York Times Labor Reporter, writes that a 3-judge panel from the US court of appeals for the DC circuit just ruled unconstitutional President Obama's Jan. 2012 recess appointments to the National Labor Relations Board (NLRB). A full year of NLRB decisions, including some that restored balance to the employer-employee relationship, will be invalidated.
Only one NLRB member, Mark Pearce, will be left standing and the agency cannot rule without at least 3 members. Therefore, there will be no NLRB — it's the employers' dream. Sharon Block and Richard Griffin will be cut.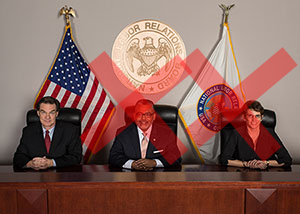 Tags: Gary Namie, labor relations, NLRB, Obama, recess appointment, Republicans, Richard Griffin, Sharon Block, Unions
Posted in Unions | No Archived Comments | Post A Comment () »
Tuesday, August 7th, 2012
For decades, the NLRB has been under republican control and served employers' needs to look the other way as union organizers are indiscriminately fired for doing what should be protected by law. On Jan. 9, 2012, President Obama made a recess appointment of Richard Griffin, a long-time union attorney, to the Board. Griffin joined Sharon Block, winner of the JFK Labor Law Award, and Chairman Mark Pearce whose prior legal experience was with labor. In May, disgraced republican member Terence Flynn resigned after two Inspector General reports concluded that he had leaked information about NLRB deliberations prior to decisions to Mitt Romney's adviser. There are now 3 democrats and one republican, Brian Hayes, on the Board.
Now come two recent decisions that make employers and HR livid.

Tags: confidential investigations, HR, Mark Pearce, NLRA Section 7, NLRB, Richard Griffin, Sharon Block, Terence Flynn, union organizing
Posted in Rulings by Courts, Tutorials About Bullying, WBI Education, Workplace Bullying Laws | No Archived Comments | Post A Comment () »