Posts Tagged 'social security'
Thursday, January 8th, 2015
WBI: Because of the extreme health harm bullying causes, some targeted individuals, with help from their physicians and psychotherapists, were granted paltry amounts of monthly Social Security Disability payments on which their survival is entirely dependent. Republicans in the House included an obscure rule change on opening day of the 114th Congress that altered how Social Security trust fund transfers money to fund SS Disability. They made transferring funds (reallocation) contingent upon either increasing the SS tax or cutting benefits. It is estimated that starting in 2016, disability recipients will suffer a 20% decrease in their benefit.
Dear disinterested/apathetic/dim-witted American voters — pay attention to elections and who you send to Congress and your state legislatures. This is what we have brought upon ourselves.
From the office of Sen. Sherrod Brown: Reallocation is a simple procedure used by Congress to rebalance how Social Security payroll tax revenues are apportioned between the two trust funds – the equivalent of transferring money from a checking to a savings account. Reallocation is commonsense, bipartisan policy that has been utilized by both parties 11 times since 1957 – most recently in 1994, including four times under Ronald Reagan. It was projected that the 1994 reallocation would keep the trust fund solvent until 2016.

Tags: bullied targets, disability, psychological health harm, social security
Posted in Commentary by G. Namie, Fairness & Social Justice Denied, The New America | 1 Archived Comment | Post A Comment () »
Friday, January 25th, 2013
The richest and most powerful Americans — corporate titans — are working together to deprive the oldest and poorest Americans of a social safety net created in the 1930's — Social Security — and extended in the 1960's — Medicare and Medicaid. Shamelessly making the false connection between SS and the national deficit, the corporate front group, Fix the Debt, wants to "reform" the two indispensable programs for the elderly sick and poor. One suggestion is to raise the retirement age to beyond age 65. Reformers glibly state "everyone is living longer." Turns out to not be true.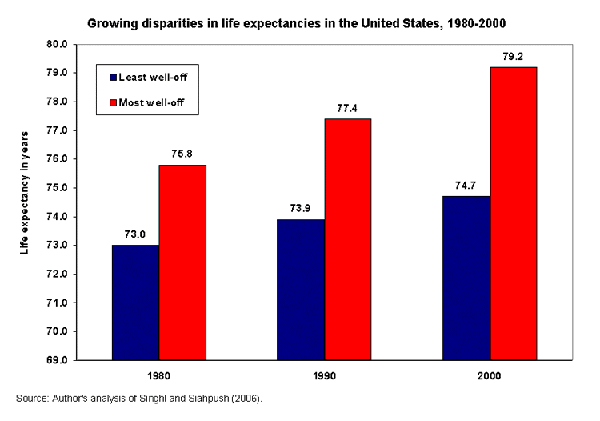 Tags: deprivation index, epidemiology, Gary Namie, Gopal Singh, life expectancy, Mohammad Siahpush, retirement age, social security
Posted in Commentary by G. Namie, Fairness & Social Justice Denied, Social/Mgmt/Epid Sciences | No Archived Comments | Post A Comment () »