Posts Tagged 'Stephen Harper'
Thursday, September 5th, 2013
At the launching convention this past Labour Day weekend of a new Canadian union — Unifor — Naomi Klein, author of The Shock Doctrine: The Rise of Disaster Capitalism, spoke.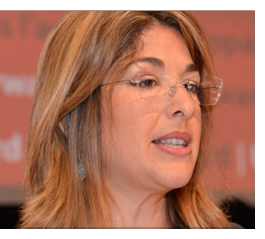 Her book describes the international conservative movement to privatize governments, to bust unions and to commodify natural resources for corporate profits. The Shock Doctrine is the impetus for removing public control of the city of Detroit and putting it in the hands of a financial manager prepared to sell off nearly all public assets and privatize all services. The Shock in her doctrine is the false claim that we are broke and cannot afford to help citizens anymore. [If only we weren't so busy making expensive wars that sap taxpayer funds.] Governments then impose austerity on the public and worsen their situations. Then, they make the argument that corporations know better how to run businesses so they should take over where government "failed."
Tags: Canada, extract, extractivism, mining industry, Naomi Klein, overburden, Shock Doctrine, Stephen Harper, Tar Sands, unifor, Unions
Posted in Employers Gone Wild: Doing Bad Things, Fairness & Social Justice Denied, Unions | No Archived Comments | Post A Comment () »
Thursday, September 5th, 2013

Leave it to Canada to lead the way to rejuvenate the labor movement. A new 300,000 member union, Unifor, was launched when the CAW (auto workers) and CEP (energy and paper workers) merged. The timing — "when our economy is being hollowed, our democracy eroded and when governments have abandoned social progress in the name of austerity" — is a warning shot to austerity-mongerers that this union will still stand for social justice.
The new union was created to be "a modern, inclusive approach to serve members better and participate more effectively in our workplaces and communities."
"As the largest private sector union in Canada, Unifor will advocate for and defend the rights of working people, in more than 20 economic sectors and in communities across Canada. We will stand for safer workplaces, secure employment, wages and benefits that provide a decent standard of living, and dignity and mutual respect in the workplace."
"We will be a union for workers, a union for the unemployed, a union for women, a union for new Canadians, a union for young workers and the precariously employed – a union for everyone."
In Unifor's Constitution, one of its founding Principles is to be Progressive.
Our goal is transformative. To reassert common interest over private interest. Our goal is to change our workplaces and our world. Our vision is compelling. It is to fundamentally change the economy, with equality and social justice, restore and strengthen our democracy and achieve an environmentally sustainable future. This is the basis of social unionism — a strong and progressive union culture and a commitment to work in common cause with other progressives in Canada and around the world.
Naomi Klein was a speaker at the launch. Read about her contributions.
Tags: austerity, Canadian auto workers, Canadian energy and paper workers, Fairness & Social Justice Denied, Naomi Klein, private sector unions, progressive, social unionism, Stephen Harper, unifor, union
Posted in Unions | No Archived Comments | Post A Comment () »