Posts Tagged 'surveys'
Tuesday, February 25th, 2014
2014 WBI U.S. Workplace Bullying Survey
February 2014
National Prevalence & Awareness
Gender of Perpetrators & Targets
Perpetrator Rank
Race & Ideology
Employer Reactions
Coworker Actions
Stopping the Bullying
Support for a Law
Causal Factors
About Bullied Targets
Methodology

Funding by 93 Indiegogo Contributors and major support from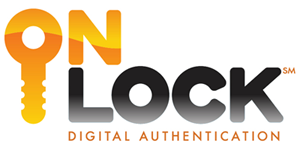 Gary Namie, PhD, Research Director
Assistance from Daniel Christensen & David Phillips
© 2014, Workplace Bullying Institute, All rights reserved.
360.656.6630
Key Findings
– 27% of adult Americans have directly experienced "repeated abusive conduct that is threatening, intimidating, humiliating, work sabotage or work abuse."
– Counting witnesses, 48% have been affected
– 72% of Americans are now aware of workplace bullying
– 93% of Americans want a law to protect them from abuse in addition to anti-discrimination laws
– Employers are lagging far behind and doing relatively nothing voluntarily to stop abusers on the payroll
– Women bullies still target women at a disproportional rate (68%)
– Women are still the majority of targets (60%)

Tags: 2014 U.S. Workplace Bullying Survey, Daniel Christensen, David Phillips, Gary Namie, research, surveys, Workplace Bullying Institute
Posted in Bullying-Related Research, Social/Mgmt/Epid Sciences, WBI Education, WBI Surveys & Studies | 4 Archived Comments | Post A Comment () »
Monday, December 2nd, 2013
Loading ...

Tags: Gary Namie, surveys, WBI research, workplace bullying, Workplace Bullying Institute
Posted in Bullying-Related Research, WBI Surveys & Studies | No Archived Comments | Post A Comment () »
Thursday, March 28th, 2013
UPDATE: To write a great workplace bullying policy and enforcement procedures, go here.
When fuzzy facts (first generation distortion) are allowed to pass for actual data and circulated widely by media (2nd gen distortion) they used by critics to undermine the anti-bullying campaign. Let's clear the air about current American employer engagement in stopping workplace bullying.
SHRM (the HR trade association) conducted a 2011 study about workplace bullying and reported results in Feb. 2012. The non-scientific survey of members had a low response rate of 15% (the final 401 respondents meant SHRM randomly polled 2,673 members). The results shed light on HR's view about the prevalence of workplace bullying policies in the U.S. When asked if respondents' organizations had specific anti-bullying policies in place, 44% of HR respondents defiantly stated their organization has "no policy and has no plans to put a workplace bullying policy in place." The answer, "No, but we plan to put a formal policy in place in the next 12 months," was chosen by 13%. Another 40% said, "Yes, our workplace bullying policy is part of another workplace policy." Only 3% of SHRM members said "Yes. We have a separate workplace bullying policy" in our organization.

Actual slide from 2012 SHRM survey results from which 56% statistic was plucked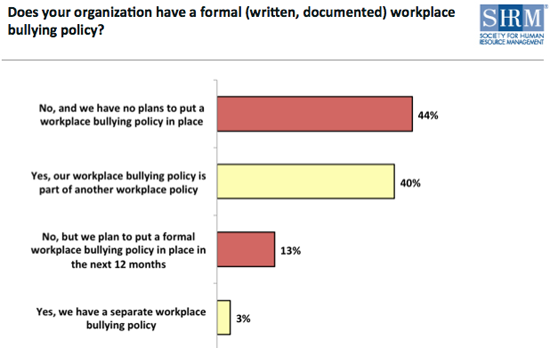 You can download the slide show from here.
(more…)

Tags: Gary Namie, HR, human resources, SHRM, surveys, WBI research, workplace bullying, workplace bullying policies
Posted in Employers Gone Wild: Doing Bad Things, Media About Bullying, Print: News, Blogs, Magazines, WBI Education, WBI Surveys & Studies | 7 Archived Comments | Post A Comment () »
Friday, August 17th, 2012
2012 has been a busy year of research here at the Workplace Bullying Institute. We already have 8 studies archived at the site. All 2012 surveys to date are online (non-scientific, self-selected samples), relying on site visitors to be respondents (known to be predominantly a group of bullied individuals) so we can teach others how bullying affects innocent workers. We have analyzed 7 Instant Polls (IP, single-question surveys) and one large multiple-item questionnaire with the biggest sample of the year. Here is the easy guide to finding the result of each study.
| Survey | Title of the Study | Sample size | |
| --- | --- | --- | --- |
| | Strategies' Effectiveness: What Works for Targets & What Doesn't? | 1,598 | Results |
| IP-A | Why Bullying Happens | 658 | Results |
| IP-B | Employer Bullying Policies | 311 | Results |
| IP-C | Aftermath of Contacting HR for Help | 372 | Results |
| IP-D | Impact of Workplace Bullying on Employee Health | 516 | Results |
| IP-E | Employers' Attitudes Toward Responsibility to Stop Workplace Bullying | 250 | Results |
| IP-F | Is Justice Attainable for Bullied Targets? | 331 | Results |
| IP-G | When & Why Employers Will Stop Bullying | 338 | Results |
Visit the WBI RESEARCH COLLECTION, including National Surveys.

Tags: surveys, WBI research, workplace bullying research
Posted in Bullying & Health, Tutorials About Bullying, WBI Education, WBI Surveys & Studies | No Archived Comments | Post A Comment () »