Posts Tagged 'teachers'
Thursday, January 21st, 2016
On January 11, SCOTUS heard oral arguments in a case designed to overturn a 39-yr. precedent involving public sector unions. Since the 1977 Abood decision, government workers had the right to enjoy all the benefits of union membership without paying all of the dues owed to unions. That is, Abood split dues into "fair share" fees and expenses ostensibly not related to collective bargaining and the mere protection of workers' rights. Non-members were to pay only the bargaining-related fees.
The Friedrichs case found 10 California teachers who wanted to claim the right to refuse to pay any dues, even costs associated with protecting their workplace rights. Right-wing, anti-union groups used the case to bring to the pro-corporate/pro-employer Roberts SCOTUS to put what might be the final nail in the coffin of the strongest unions left in the country, public-sector unions.
You can read the NY Times SCOTUS watcher, Linda Greenhouse, as she interprets the oral testimony.
Details of the case can be read here.
You can read the entire transcript here.
Or listen to the audio of the oral arguments.
Audio clip: Adobe Flash Player (version 9 or above) is required to play this audio clip. Download the latest version here. You also need to have JavaScript enabled in your browser.
Decision is expected in June.

Tags: agency fees, collective bargaining, fair share fees, freeriding, Friedrichs v. California Teachers Association, government workers, public sector, public sector unions, teachers, U.S. Supreme Court, Unions
Posted in Rulings by Courts | No Archived Comments | Post A Comment () »
Wednesday, April 1st, 2015
Dispatch from WBI colleague Francesco A. Portelos, New York City teacher
Sometimes workplace bullying affects only the victim. Sometimes it propagates to surrounding colleagues, morale and family members. In all cases though, the work is negatively affected. As you can imagine, when workplace bullying hits schools, the students are hurt as well.
Recently, a group of bullied New York City educators, known as Don't Tread on Educators (DTOE), got together and created a list of administrators that have been known to bully and harass their employees. The Administrators in Need of Improvement (ANOI) list has grown in recent months and is now at about 85 administrators throughout New York's five boroughs. It even has an interactive map to locate these bullies by geographic area. The list has given teachers a platform to share their stories and concerns about workplace harassment. The curtain has been pulled back and the harassment exposed.
Many of these stories are similar and show a pattern of harassment that exist in the NYC Department of Education. The ANOI list gives teachers who are being bullied the power to hit administrators where it hurts. ON SOCIAL MEDIA. Visit the DTOE website.
###
Hear Francesco's personal story

Tags: abusive conduct, administrators, ANOI, DTOE, educators, Francesco Portelos, New York City schools, perpetrators, teachers, workplace bullying
Posted in Guest Articles, Hear Ye! Hear Ye! 2, Target Tale, WBI Education | 10 Archived Comments | Post A Comment () »
Monday, December 8th, 2014
By Deidra A. Sorrell Ed.D., NCC, LPC
Summarizing her newly completed doctoral dissertation …
The research examined the lived experiences of elementary school educators facing workplace bullying within public schools.
The researcher recruited six elementary school educator-participants from WBI volunteers. All participants were female and over forty-years-old. All of the participants experienced bullying after taking medical leave due to preexisting health issues, which caused more stress and anxiety. As a coping mechanism, all of the participants found the teachers union ineffective in solving their disputes. The educators were interviewed at length to gain extensive descriptions of their experiences.
Three major themes emerged from the data. The themes included: (a) experiences with workplace bullying, (b) coping, and (c) environmental factors contributing to workplace bullying.

Tags: Deidra A. Sorrell, dissertation, educators, teachers, workplace bullying
Posted in Fairness & Social Justice Denied, Guest Articles, Tutorials About Bullying, WBI Education | 3 Archived Comments | Post A Comment () »
Tuesday, June 24th, 2014
Talk about "values" is cheap. Living them is a tad more difficult. When budgets are tight, as all public school districts claim they are, where they spend those limited funds clearly demonstrates what Superintendents and School Boards believe is most important.
In southwest Missouri Christian County, Sheriff Joey Kyle believes he has the correct response to school shootings. Kyle told RiverFront Times reporter Sam Levin, "Gun ban talk is a hot topic, but I've got statistics out the ying-yang that shows gun bans are ineffectual. If these [shootings] are gonna get stopped, who's gonna be the people to stop it? You're there when the incident occurs. Let's empower people."
So far, Kyle convinced three of the eight school districts to agree to the 40 hours of training by Shield Solutions. The Kansas City Star reports that school districts are signing up fast from other regions of Missouri.
Two volunteers from a school are trained for $17,500. They will act as non-uniformed on-site respondents in the event of shootings, much like air marshals on commercial aircraft.
Odd how these districts found the funds for this unproven approach to school safety.

Tags: Christian County, guns, Joey Kyle, Missouri, public schools, school districts, shooting training, teachers
Posted in Commentary by G. Namie, The New America | No Archived Comments | Post A Comment () »
Tuesday, June 17th, 2014
This article UPDATES A California Judge guts teachers union.
By Jordan Weissmann – Slate – June 12, 2014
This week Los Angeles Superior Court Judge Rolf Treu handed the education reform movement a stunning legal victory, when he struck down California's teacher tenure laws for discriminating against poor and minority students. The statutes made it so onerous to fire bad teachers, he wrote, that they all but guaranteed needy kids would be stuck in classrooms with incompetent instructors—rendering the laws unconstitutional.
As evidence, Treu cited a statistic that sounded damning: According to a state witness, between 1 and 3 percent of California's teachers could be considered "grossly ineffective." Here was the passage:
"There is also no dispute that there are a significant number of grossly ineffective teachers currently active in California classrooms. Dr. Berliner, an expert called by State Defendants, testified that 1 to 3% of teachers in California are grossly ineffective. Given that that the evidence showed roughly 275,000 active teachers in this state, the extrapolated number of grossly ineffective teachers ranges from 2,750 to 8,250. Considering the effect of grossly ineffective teachers on students … it therefore cannot be gainsaid that the number of grossly ineffective teachers has a direct, real, appreciable, and negative impact on a significant number of California students, now and well into the future for as long as said teachers hold their positions."
This seemed like a fairly important piece of the decision — if you're going to argue in court that a state law is dooming children to second-rate educations, you ought to be able to quantify the problem. Politically, it also seemed liked a pretty awful indictment of the state government if officials knew for certain that so many useless teachers were lounging around California's classrooms. But where did this number come from?
Nowhere, it turns out. It's made up. Or a "guesstimate," as David Berliner, the expert witness Treu quoted, explained to me when I called him on Wednesday. It's not based on any specific data, or any rigorous research about California schools in particular. "I pulled that out of the air," says Berliner, an emeritus professor of education at Arizona State University. "There's no data on that. That's just a ballpark estimate, based on my visiting lots and lots of classrooms." He also never used the words "grossly ineffective."
The expert cited in the ruling doesn't even necessarily believe that low test scores qualify somebody as a bad teacher.

Tags: AFT, California constitution, California Federation of Teachers, grossly inefficient, Students Matter, teachers, Vergara
Posted in Fairness & Social Justice Denied, Rulings by Courts | No Archived Comments | Post A Comment () »
Wednesday, June 11th, 2014
A lawsuit funded by Silicon Valley rich guy, David Welch, is shaking the public education world. A California Superior Court judge, Rolf Michael Treu, found for the plainitffs — nine students backed by the group Students Matter.
The ruling was filed on June 10, 2014.
Teachers think students matter, too. But the pitched battle between non-educators who once went to school which they think qualifies them to know everything about K-12 education, and those who train just to teach schoolchildren has been fought for years. The tack is to beat up teachers publicly, blame teachers, call them bad. And in this case, Vergara vs. California, bad teachers are branded "grossly ineffective."
Nine students were named as plaintiffs.
The plaintiff's attorneys were from Gibson, Dunn & Crutcher. The defense was represented by the Attorney General, joined by the California Teachers Association and the Calfornia Federation of Teachers.

Tags: AFT, California constitution, California Federation of Teachers, California Teachers Union, disadvantaged students, equal schools, grossly inefficient, Jonathan Kozol, Students Matter, teachers, Unions, Vergara
Posted in Fairness & Social Justice Denied, Rulings by Courts, Unions | No Archived Comments | Post A Comment () »
Thursday, October 24th, 2013
Town School Board rejects public discussion as inappropriate part of formal grievance process
By Olga Peters, The Commons, October 23, 2013
BRATTLEBORO —The five-member Brattleboro (Vermont) Town School District Board returned from their closed executive session to an empty room that had teemed with some 40 audience members only an hour earlier.
Four members of the Windham Southeast Supervisory Union administration waited outside the Academy School auditorium, ground zero for a tense five-hour grievance hearing on Oct. 16 for a teacher who says that she wants to shine a light on an alleged pattern of bullying and intimidation in the school's teaching environment and who is alleging that her treatment is part of an orchestrated effort to drive her from her job.
Chair Margaret Atkinson said the board will issue its written decision on teacher Lauren Ashley's formal complaint by Oct. 24, within six school days.
Ashley, a fourth-grade teacher at Academy School with 27 years teaching experience, filed a formal grievance requesting the removal of a corrective action plan (CAP) from her official personnel file based on a teaching evaluation conducted during the 2012-13 school year.

Tags: Ashley, Brattleboro, brattleboro town school district, bullying, grievance, Lauren Ashley, teachers, the commons
Posted in Broadcasts: Video, TV, radio, webinars | No Archived Comments | Post A Comment () »
Friday, September 13th, 2013
UPDATED Sept. 16, 2013
Because school teachers comprise such a large group of targets bullied in the workplace, we at WBI care very much about the systemic government assaults on public schools in the name of education "reform." Elsewhere, we've shown readers how the U.S. "Common Core" curriculum is destructive to education rather than positive as advertised under the label of "reform."
The Mexican government under President Enrique Pena Nieto (PRI party) is conducting raids of the Mexican education system similar to those in the U.S. The Mexican Constitution was written after the revolution of 1910-1920.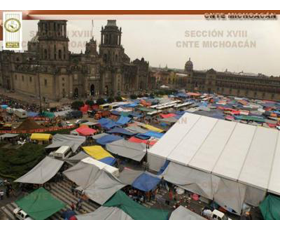 Article 3 established free, public, secular education. Nieto amended Article 3 to mandate teacher evaluation based on student test scores (sound familiar?). Changes included standardization of the responsibilities and salaries of school principals and other supervisors.
The Mexican Teachers Union (SNTE) has been run by a president (Elba Esther Gordillo) who has wielded power for 30 years. Within SNTE a militant caucus called the National Coordinating Committee (CNTE) has taken action on behalf of teacher members. CNTE organized protests in 13 states. Teachers have occupied public buildings, blocked the Mexico City international airport for several hours, and seized highway toll booths. For several days 30,000 have sat in at Mexico City's main square. Tens of thousands have camped out in Mexico City's main square (pictured here by CNTE).

Tags: CNTE, education reform, Mexico, Nieto, SNTE, teachers, workplace bullying
Posted in Employers Gone Wild: Doing Bad Things, Tutorials About Bullying, Unions | No Archived Comments | Post A Comment () »
Monday, March 11th, 2013
Two articles with downloadable reports about the disturbing trend, and least discussed aspect, of school bullying — students bullying their adult teachers.
Edina Teacher Settles for $100,000, Resigns by: Mary Jane Smetanka, Minneapolis Star Tribune, February 24, 2011
When Teachers Are the Bully's Target by Stephanie Goldberg, CNN Schools of Thought Blog, March 11, 2013

Tags: Deborah York, Dorothy Espelage, K-12 students, teachers, teachers as targets, workplace bullying
Posted in Bullying-Related Research, Social/Mgmt/Epid Sciences, Tutorials About Bullying | No Archived Comments | Post A Comment () »
Monday, January 14th, 2013
From United Public Workers for Action announcing Jan. 17 press conference at SF Unified School District HQ regarding retaliation against UESF teachers, specifically Tobias Crane, who complained about former Martin Luther King Middle School principal, Natalie Eberhard. (415) 867-0628
###
Trouble at MLK Middle School seems rooted on bullying tactics of principal Eberhard.

Tags: Natalie Eberhard, school superintendent, teachers, Tobias Crane, UESF, workplace bullying
Posted in Employers Gone Wild: Doing Bad Things | No Archived Comments | Post A Comment () »