Posts Tagged 'teachers'
Thursday, October 24th, 2013
Town School Board rejects public discussion as inappropriate part of formal grievance process
By Olga Peters, The Commons, October 23, 2013
BRATTLEBORO —The five-member Brattleboro (Vermont) Town School District Board returned from their closed executive session to an empty room that had teemed with some 40 audience members only an hour earlier.
Four members of the Windham Southeast Supervisory Union administration waited outside the Academy School auditorium, ground zero for a tense five-hour grievance hearing on Oct. 16 for a teacher who says that she wants to shine a light on an alleged pattern of bullying and intimidation in the school's teaching environment and who is alleging that her treatment is part of an orchestrated effort to drive her from her job.
Chair Margaret Atkinson said the board will issue its written decision on teacher Lauren Ashley's formal complaint by Oct. 24, within six school days.
Ashley, a fourth-grade teacher at Academy School with 27 years teaching experience, filed a formal grievance requesting the removal of a corrective action plan (CAP) from her official personnel file based on a teaching evaluation conducted during the 2012-13 school year.
Tags: Ashley, Brattleboro, brattleboro town school district, bullying, grievance, Lauren Ashley, teachers, the commons
Posted in Broadcasts: Video, TV, radio, webinars | No Archived Comments | Post A Comment () »
Friday, September 13th, 2013
UPDATED Sept. 16, 2013
Because school teachers comprise such a large group of targets bullied in the workplace, we at WBI care very much about the systemic government assaults on public schools in the name of education "reform." Elsewhere, we've shown readers how the U.S. "Common Core" curriculum is destructive to education rather than positive as advertised under the label of "reform."
The Mexican government under President Enrique Pena Nieto (PRI party) is conducting raids of the Mexican education system similar to those in the U.S. The Mexican Constitution was written after the revolution of 1910-1920.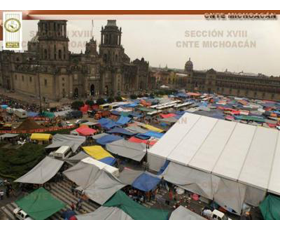 Article 3 established free, public, secular education. Nieto amended Article 3 to mandate teacher evaluation based on student test scores (sound familiar?). Changes included standardization of the responsibilities and salaries of school principals and other supervisors.
The Mexican Teachers Union (SNTE) has been run by a president (Elba Esther Gordillo) who has wielded power for 30 years. Within SNTE a militant caucus called the National Coordinating Committee (CNTE) has taken action on behalf of teacher members. CNTE organized protests in 13 states. Teachers have occupied public buildings, blocked the Mexico City international airport for several hours, and seized highway toll booths. For several days 30,000 have sat in at Mexico City's main square. Tens of thousands have camped out in Mexico City's main square (pictured here by CNTE).
Tags: CNTE, education reform, Mexico, Nieto, SNTE, teachers, workplace bullying
Posted in Employers Gone Wild: Doing Bad Things, Tutorials About Bullying, Unions | No Archived Comments | Post A Comment () »
Monday, March 11th, 2013
Two articles with downloadable reports about the disturbing trend, and least discussed aspect, of school bullying — students bullying their adult teachers.
Edina Teacher Settles for $100,000, Resigns by: Mary Jane Smetanka, Minneapolis Star Tribune, February 24, 2011
When Teachers Are the Bully's Target by Stephanie Goldberg, CNN Schools of Thought Blog, March 11, 2013
Tags: Deborah York, Dorothy Espelage, K-12 students, teachers, teachers as targets, workplace bullying
Posted in Bullying-Related Research, Social/Mgmt/Epid Sciences, Tutorials About Bullying | No Archived Comments | Post A Comment () »
Monday, January 14th, 2013
From United Public Workers for Action announcing Jan. 17 press conference at SF Unified School District HQ regarding retaliation against UESF teachers, specifically Tobias Crane, who complained about former Martin Luther King Middle School principal, Natalie Eberhard. (415) 867-0628
###
Trouble at MLK Middle School seems rooted on bullying tactics of principal Eberhard.
Tags: Natalie Eberhard, school superintendent, teachers, Tobias Crane, UESF, workplace bullying
Posted in Employers Gone Wild: Doing Bad Things | No Archived Comments | Post A Comment () »
Tuesday, September 18th, 2012
By voice vote, teachers suspended their strike against Chicago Public Schools. Classes resume on Wed. Sept. 18. Download a comparison of original CPS demands with terms in the final agreement.
Three major points. (1) CPS wanted principals to have unlimited teacher termination privileges. Instead, CTU inserted an anti-bullying clause that prohibits abusive and demeaning conduct by principals.
(2) On teacher evaluation, CPS (and all other public education "reformers") wanted 45% of a teacher's performance to be determined by her or his students' test scores. No appeals process would apply. With career-ending evaluations beginning year 1. Additionally, teachers were to evaluate each other. In the final agreement, CTU preserved 70% of teacher ratings based on practice, not student performance. Appeals for unsatisfactory ratings allowed. No evaluation by colleagues. The insertion of student survey data will be by choice, not mandatory.
(3) The proposed raising of employee health care premiums by 40% and co-pays was frozen.
Tags: Charles M. Blow, Chicago, contract, CPS, CTU, Marc Tucker, strike, teachers
Posted in Commentary by G. Namie, The New America, Unions | No Archived Comments | Post A Comment () »
Thursday, September 13th, 2012
A Chicago Tribune editorial today declared
Chicago Teachers Union officials aren't merely fighting City Hall. They're fighting the inevitability of education reform. They are denying the arc of history.
We challenge the inevitability of the erosion of workers' rights. Let's start with some history. What brought us to the point where the public sides with anti-union forces?
Tags: CTU, public schools, teachers, teachers strike
Posted in Commentary by G. Namie, Fairness & Social Justice Denied, The New America, Unions | No Archived Comments | Post A Comment () »
Thursday, August 23rd, 2012
Professors and K-12 public school teachers alike are under unprecedented assault. At a time when good paying jobs are at a premium, the appearance of guaranteed employment for poorly performing teachers is misrepresented by union busters as indefensible. The claim is mostly false because teachers with seniority and tenured professors CAN be terminated.
The teacher unions, NEA, AFT and AAUP for professors, have much less clout to influence public opinion than billionaires. Everyone thinks they know how to reform schools because we all attended one. Well, eating at a restaurant doesn't make one a chef.
Tags: AAUP, AFT, Gilmour, NEA, professors, teachers, tenure, Wayne State University, Won't Back Down
Posted in Commentary by G. Namie, The New America, Unions | No Archived Comments | Post A Comment () »
Friday, April 20th, 2012
School district administration vows to investigate claims
By Marc Freeman, South Florida Sun-Sentinel, April 20, 2012
Palm Beach County public school principals are intimidating and harassing teachers in "alarmingly rampant" numbers that pose a serious threat to student achievement, union President Debra Wilhelm says.
Tags: Palm Beach County, principal bully, Sun Sentinel, teachers, workplace bullying
Posted in Employers Gone Wild: Doing Bad Things | 1 Archived Comment | Post A Comment () »
Tuesday, April 17th, 2012
Stop Bullying Teachers
Teachers, as public sector workers with pensions, are under attack in the U.S. The attacks need to stop for two reasons: (1) student bullying can never stop until the adult bullying stops, and (2) the best teachers inspired me to become a professor, they are among the most memorable people in our lives.
Audio clip: Adobe Flash Player (version 9 or above) is required to play this audio clip. Download the latest version here. You also need to have JavaScript enabled in your browser.
Tags: bullied targets, Louise Fischer, teachers
Posted in Employers Gone Wild: Doing Bad Things, Fairness & Social Justice Denied, Podcasts, Unions | 4 Archived Comments | Post A Comment () »
Monday, October 26th, 2009
Podcast 11:
The Plight of Bullied Teachers
Guest Podcast: Teachers Bullied at School — Observations About Teachers as Targets a Teacher
Carrie Clark, MA — WBI-Legislative Campaign spokesperson, Co-Coordinator of the California Healthy Workplace Advocates, and CHWA Blogger, former English school teacher, veteran of 20+ years, and WBI Consultant for the Workplace Bullying in Schools Project
Part 1: When Teachers Are Bullied, 6'27″
The special case of teachers, who they are and why they get bullied
Audio clip: Adobe Flash Player (version 9 or above) is required to play this audio clip. Download the latest version here. You also need to have JavaScript enabled in your browser.
Part 2: Solutions for Bullied Teachers, 2'14″
Audio clip: Adobe Flash Player (version 9 or above) is required to play this audio clip. Download the latest version here. You also need to have JavaScript enabled in your browser.
Watch the video of Carrie narrating a 2008 BNET production on workplace bullying — Calling a Bully a Bully
Tags: Carrie Clark, teachers
Posted in Podcasts, Tutorials About Bullying | 1 Archived Comment | Post A Comment () »