Posts Tagged 'torture'
Sunday, December 21st, 2014
At WBI we consistently draw the analogy between domestic violence and abusive conduct at work (the most serious forms of workplace bullying). Our rationale is based on the following commonalities shared by these two forms of abusive relationships:
• The abuser has more power to wield over the abused person
• The abuser unilaterally controls when, where and what method
• Abusers objectify, dehumanize and show contempt for victims
• Society tends to blame victims for their fate
• Victims are expected to solve their problem themselves
• Witnesses rarely intervene
• Institutional responses are delayed, inadequate and not helpful
• Root causes, often embedded societal values, remain unexplored
Advocates working to end domestic, or partner, violence described the myriad of tactics used by abusers using the 8-factor Biderman "chart of coercion." Albert Biderman interviewed US Air Force pilots who had been captured and tortured during the Korean war. The Chinese taught interrogation techniques to the North Koreans. The piolots described their experiences and Biderman distilled the range of techniques to eight fundamental methods designed to break the will of, and brainwash, the pilots. In 1957, Biderman published his report "Communist Attempts to Elicit False Confessions From Air Force Prisoners of War." [Note that Biderman recognized that torture produces false confessions. The 8-factor report became the model for US torture of prisoners at Guantanamo.] That article was the origin of the Biderman Chart of Coercion.
Domestic violence and child abuse advocates use the Biderman Chart to describe abusers' tactics in their specialty domains.
Therefore, it is logical for us to apply Biderman's Chart to workplace bullying, given the parallels with domestic violence. In its most extreme forms, bullying is torture. See the chart below.
Tags: abuse victims, abusers, abusive conduct, abusive relationships, Biderman, Chart of Coercion, interrogation methods, torture, workplace bullying
Posted in Bullying & Health, Tutorials About Bullying, WBI Education | No Archived Comments | Post A Comment () »
Thursday, April 24th, 2014
On April 25, 2005 at 9:19 am, a 7-car Japanese commuter rapid train 5418M derailed at high speed on a curved stretch of track and slammed into a parking garage of an apartment building. The train was operated by 11 month veteran driver 23-year old Ryūjirō Takami in front car. A second rail employee, the conductor, was in the rear car.
It was the second worst rail disaster in the country's history. 562 people were injured and 107 died, including Takami. 99 of the fatalities were in the front car. In all, four cars derailed.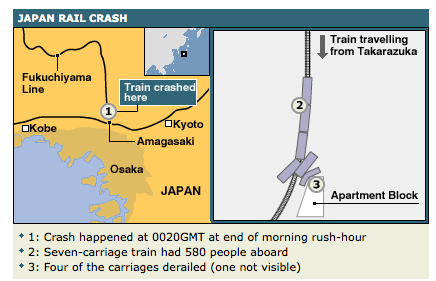 The morning commute to Osaka on the West Japan Railway Company (JR West), the end of the rail line, was over and the train was heading in the other direction. On the way to the Itami station, an alarm sounded that the train was over the speed limit, traveling at 120 km/hr. Takami was speeding. As the station approached, Takami applied the emergency brake. The train overshot the platform by three cars, about 30 meters. Takami reversed the train to align the cars with the platform.
The conductor warned Takami that he would have to immediately report the mistake to headquarters from the phone on the train. Takami asked him to lie, to minimize the distance overshot. The conductor said that he called in an 8-meter mistake. Mistakes of 5 meters bring company punishment.
Takami knew JR West punishment. When Takami was in his third week of driving a train ten months earlier, he was subjected to 13 days of Nikkin Kyoiku, re-education, for having overrun a platform by 100 meters. Overshooting the Itami platform had to have filled his mind with horror, anticipating another round of Nikkin Kyoiku.
Tags: accident, culture, death, disaster, Nikkin Kyoiku, Ryūjirō Takami, torture, West Japan Railway Company, workplace bullying
Posted in Bullying & Health, Employers Gone Wild: Doing Bad Things, Tutorials About Bullying, WBI Education | No Archived Comments | Post A Comment () »
Wednesday, July 3rd, 2013
John Kiriakou worked for both the CIA and FBI. During the president of George W. Bush, he was the first CIA officer to admit that torture was official U.S. policy. He was convicted and sentenced to a 30-month prison sentence for providing the name of an officer involved in the CIA's rendition program. He sent an open letter to Edward Snowden from his Pennsylvania prison. It was published by Kevin Gosztola July 2 at Firedoglake.com.
One of the lessons for bullied targets is that trusting and staying within the system does not work for brave individuals who describe corrupt people or corrupt practices to the same masters responsible for inventing those practices and rewarding those people.
Here's his advice which features the admonition to never cooperate with the FBI (or by extension, federal authorities) because they lie, trick and deceive to get their way.
Tags: CIA, Edward Snowden, FBI, John Kiriakou, torture, whistleblower
Posted in Tutorials About Bullying, WBI Education | No Archived Comments | Post A Comment () »
Tuesday, August 21st, 2012
We always try to be polite so as to not offend. That's what we were taught, right? But that rulebook is for suckers and victims. There is a group of mean-spirited S.O.B.s who care not one whit what they say. They speak, revealing their ignorant, science-loathing, compassionless minds, and they are never forced to give up their jobs. Lately, many are elected representatives of the People. Example — U.S. Congressman Todd Akin.
Tags: bullying as rape, bullying as torture, legitimate rape, rape, Todd Akin, torture, workplace bullying
Posted in Commentary by G. Namie, The New America | 5 Archived Comments | Post A Comment () »
Wednesday, September 15th, 2010
Sept. 15, 2010 marks the 7th anniversary of Alyssa Peterson's death in Iraq.
Alyssa Peterson, 27, a Flagstaff Arizona native served in a military intelligence unit of the 101st Airborne in Iraq in 2003. She formally and loudly objected to techniques used against prisoners (which we have all since learned were torture). She was trained in Arabic and interrogation techniques.  She was a Mormon who, prior to deployment, reportedly was questioning her faith. Her family and fellow trainees remembered her as extremely empathetic and kind.
Tags: Alyssa Peterson, Army, Greg Mitchell, Kevin Elston, military intelligence, suicide, torture
Posted in Employers Gone Wild: Doing Bad Things, Fairness & Social Justice Denied | 1 Archived Comment | Post A Comment () »