Posts Tagged 'training'
Friday, November 27th, 2015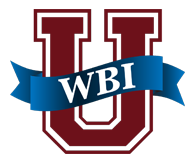 The nation's only comprehensive training in the phenomenon of workplace bullying designed for professionals — Workplace Bullying University®
An early registration discount is available until Friday Dec. 18 for the January 15-16-17 session in Boise, Idaho.
Call today to reserve your seat in the small group.
360-656-6630
Visit the WBI Workplace Bullying University website for program details. Taught personally by Dr. Gary Namie & Dr. Ruth Namie.
Designed for professionals in Healthcare, Mental Health, Counseling, Management, Higher Education, HR, Training, Consulting, and those in life & career transition.
Past graduates have said …
"Like that infernal whack-a-mole game in carnivals, bullies keep popping up in our organizations. Drs. Gary and Ruth Namie have blown the cover of off this game to show us exactly how bullying works, its devastating effects on employees and the negative impact it has to the bottom line. The Workplace Bullying Institute University program has given me the tools to protect our employees from bullying and to permanently disconnect the bully's power source. Definitely the most value-added program to organizational development I have attended in my 30-plus years in the business."-Greg H.
"I acquired a treasure trove of historical and current data on the subject, and detailed explanation of every term and dataset along with a substantial amount of supporting material for use in future presentations of my own. This is the first time in my 17 years as a professional that I attended training and walked away with a turn-key program. I highly recommend this program to any professional who wants to be on the leading edge of preventing, training, and correcting one of the leading detractors to workplace health and productivity."-D.I.G.
"I came away with an in-depth perspective that permeated my being. I received more information in 3 days than in the previous 2 years of research. Gary and Ruth Namie bring a perspective to organizational culture, leadership, and HR that can only be derived from personal experience coupled with scholarly research and study."-Richard H.
"This is more than a course, a class, or a training. It is truly an experience. I have been in HR for 20 years and I can tell you that attending WBU was one of the most fulfilling and gratifying experiences of my life. It even motivated me to seek my PhD and to write my dissertation on workplace bullying."-Nathalie D.
"This is the best training I have attended in my 22 years of being a union advocate." -Judy C.
Tags: education, Gary Namie, Ruth Namie, training, workplace bullying, Workplace Bullying Institute
Posted in WBI Education, Workplace Bullying University | No Archived Comments | Post A Comment () »
Tuesday, October 20th, 2015
Unions are the only genuine advocates for workers worldwide. They all share the mission of protecting the safety and security of their members at work sites. European, Australian and Canadian unions keenly pay attention to members' "psychological safety." Some smart American unions are following suit (MAPE, UNAC-UHCP, IAM, NAGE). However, many are ambivalent about workplace bullying.
Here's the account of one Canadian union in Nova Scotia, the National Union of Public and General Employees (NUPGE) that developed an education program — Bully-Free Workplaces: Shifting Cultures. The union effort begins its fifth year this October and has spread to other provinces.
The program offerings include: 2-hour awareness sessions, 6-hour workshops, and 2-hour, four-module format which increases the options for employers and employees who want more information but with greater flexibility to schedule.
WBI respects this union's program because it does not stop at awareness raising.
The union also offers training for supervisors, managers, human resources, and occupational health professionals who are responsible for policies and procedures, investigations of workplace bullying, and progressive discipline.
The union also strives to heal afflicted work teams, guide bullies through self-reflection, and special assistance for bullied complainant-members.
Hats off to NUPGE/NSGEU which has reached, to date, over 14,000 participants! Read the press release presenting program facts.
###
All of the services NUPGE provides to its members and host employers can be made possible through the training of key American or Canadian Union leaders at the WBI Workplace Bullying University® by WBI founders, Drs. Ruth and Gary Namie.
Tags: education, NUPGE, shifting cultures, training, Unions, workplace bullying, Workplace Bullying University
Posted in Unions, Workplace Bullying University | No Archived Comments | Post A Comment () »
Friday, September 25th, 2015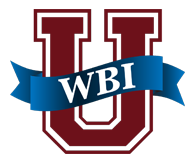 November 13-14-15
In Boise, Idaho
Workplace Bullying University® Training for Professionals
The only intensive, research-driven, comprehensive seminar in all aspects of the Workplace Bullying phenomenon in the world. Created in 2008 by the Drs. Namie, founders of the Workplace Bullying Institute. Three days of exceptional learning, an entirely unique experience.
For Leaders, Nurses, Physicians, Union advocates, Psychologists, Psychotherapists, Consultants, Trainers, HR
For a limited time, we offer an unprecedented tuition discount.
Read all the program details and testimonials at the Workplace Bullying University® website.
Tags: education, Gary Namie, Ruth Namie, seminar, training, Workplace Bullying University
Posted in Hear Ye! Hear Ye! 2, WBI Education, Workplace Bullying University | No Archived Comments | Post A Comment () »
Saturday, March 14th, 2015
On March 12, the Utah Senate unanimously passed HB 216 on a vote 24 ayes -0 nays -5 not voting. The bill, introduced by House Rep. Keven Stratton and sponsored in the Senate by Todd Weiler, sailed through both House and Senate committees and floor votes in both chambers. The bill becomes law with Gov. Gary Herbert's signature.
Though the HB 216 is not the complete Healthy Workplace Bill that carries employer liability for fostering an abusive work environment, it is stronger than two previous state laws — CA and TN — that mildly approached the epidemic of workplace bullying, abusive conduct as defined by the Workplace Bullying Institute.
Features of the Utah bill, soon to become law, are that it:
• applies to state agencies only
• mandates training of employees AND supervisors
• states that training will include description and "ramifications" of abusive conduct
• training to include resources available to abused workers
• and training to cover the internal grievance process details (WBI: to hold abuser accountable)
• also training in Ethical Conduct
• also training in Organizational Leadership with Integrity
• training every other year
• State may allocate funds to develop policies for agencies
• State may support development of agency training
Visit the Utah State Page at the HWB website for details. State Coordinator Dr. Denise Halverson deserves credit for shepherding this bill through the legislative process while providing her expertise on the topic so lawmakers could confidently and unanimously pass this HWB-related bill.
Tags: abusive conduct, Denise Halverson, Healthy Workplace Bill, Keven Stratton, legislation, Todd Weiler, training, Utah, workplace bullying, Workplace Bullying Institute
Posted in Good News, Healthy Workplace Bill (U.S. campaign), Workplace Bullying Laws | No Archived Comments | Post A Comment () »
Saturday, January 31st, 2015
In 2015, California law mandates that supervisors in all firms with 50 or more employees receive "training" in abusive conduct. The term "abusive conduct" was lifted from the WBI Healthy Workplace Bill language we have been using since 2003 to introduce and pass a comprehensive law against workplace bullying.
Training done right can overcome deficits in skills. Training is the wrong tool to reverse immoral conduct. But training is useful to make everyone aware that misconduct is happening.
Training backfires when it teaches there is a problem and the organization has no procedures in place to deal with the misconduct. It's clear that only a small (5.5%) of American employers have the will to actually prevent or correct health-harming abusive conduct. No effective state laws have yet been enacted to compel employer compliance. So, few have good policies. Even fewer have the voluntary desire to stop it. No laws; no policies; lazy employers.
When supervisors get trained, in the best possible way — live, interactive, Q&A sessions, employee expectations will rise. Everyone will wonder when and how the bullying will end in their workplace. If employer actions are limited to supervisor training, very little will be done. Employee distrust and disengagement will follow.
Another concern is how will the training be conducted? The new law based on AB 2053, adds training in abusive conduct (which is currently legal) to the requisite training in sexual harassment (which is illegal). The mix will not only confuse employees; most employers don't know the difference. Workers will be expecting policies for bullying to apply that don't exist.
It is alarming to find that many employers post online slide shows to educate workers about sexual harassment. It's a joke that no one takes seriously. A slide show with little content and no interaction. Really, how lazy can employers be. It's called "compliance." Given the complexity of bullying's effect on the entire workplace and the fact that current sex harass trainers and conflict resolution professionals don't understand bullying, we fear for the future.
In other words, disembodied training can do more harm than good. Beware of premature awareness!
Training should be preceded by a commitment by leadership to stopping bullying. Then, organizational prevalence should be determined. Next, a code or policy or set of behavioral expectations must be created along with procedures to correct confirmed violators. Then, and only then, should training be undertaken.
If you know of, or are, a California employer, contact WBI for help addressing the problem that will comply with the law and help your organization at the same time. We have also produced a 20 min. DVD to introduce Abusive Conduct to organizations.
Tags: abusive conduct, DVD, education, Gary Namie, Healthy Workplace Bill, supervisors, training, Workplace Bullying Institute
Posted in Healthy Workplace Bill (U.S. campaign), Workplace Bullying Laws | No Archived Comments | Post A Comment () »
Monday, January 5th, 2015
Attention California (& all other) Employers
California AB2053 extracted one paragraph from the WBI Healthy Workplace Bill — the definition of "abusive conduct" and made it mandatory to acquaint supervisors and managers with the phenomenon every two years beginning Jan. 1, 2015.
WBI is the source of the phrase and the U.S. movement. There is no better qualified vendor to provide the necessary information to augment your sexual harassment training than WBI.
WBI produced a brief 20 min. video introduction that can be streamed for intranet posting or run during in-person education sessions.
Only $499. Order today.
Products for HR and employers from the originators of the workplace bullying consulting specialization in America.
Order online or call 360-656-6630
Tags: AB2053, abusive conduct, Gary Namie, supervisors, training, workplace bullying
Posted in Products & Services, WBI Education | No Archived Comments | Post A Comment () »
Monday, November 3rd, 2014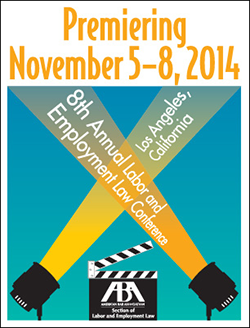 A workshop "Eliminating Bullying and Incivility: Training the Trainer" on Thursday Nov 6 is part of the 8th Annual ABA Labor & Employment Law Conference in Los Angeles.
The session: 2:15-3:30 pm in rooms Platinum H-J, JW Marriott Hotel
Bullying and incivility in the workplace raise concerns that go beyond whether the behavior is illegal, and affect all aspects of the working environment. This program features an expert in anti-bullying training and is designed to provide practical, hands-on training to participants such that they will be able to train others in the workplace.
MODERATOR:
Monique Gougisha Doucette, Ogletree, Deakins, Nash, Smoak & Stewart, P.C.,
New Orleans, LA
SPEAKERS:
Luanne M. Peterpaul, Gluck Waltrath, LLP, Red Bank, NJ
Gary Namie, PhD, The Workplace Bullying Institute, Bellingham, WA
Tags: American Bar Association, attorneys, employment attorneys, Gary Namie, labor law, Luanne M. Peterpaul, Monique Gougisha Doucette, training, workplace bullying, Workplace Bullying Institute
Posted in Events & Appearances | No Archived Comments | Post A Comment () »
Wednesday, October 1st, 2014
Workplace Bullying & Abusive Conduct:
The Other Harassment DVD
We know time is valuable. Educate all employees with this 20 min. training DVD. Distinguish abusive conduct from lesser forms of mistreatment that do not cause the same level of disruption in productivity.
This DVD video training is appropriate for non-supervisory employees or managers. Produced in August 2014.
It is the ideal video to accompany sexual harassment training. Can be streamed for online viewing by employees.
Complies with Section 12950.1, California Government Code required as of 1/1/2015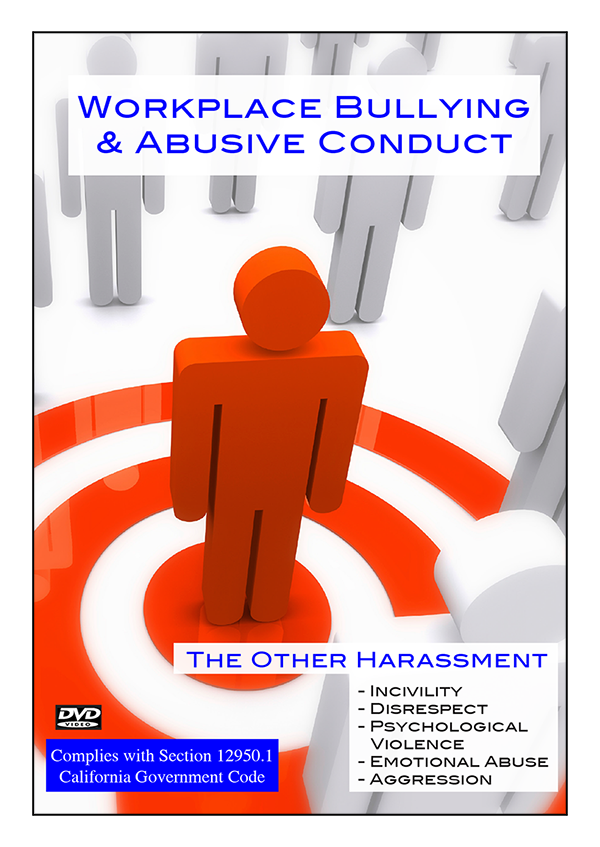 Twenty-seven percent of adult Americans report being bullied at work; an additional 21% witness it (an est. 65 million workers) and vicariously are made miserable (according to the scientific national 2014 WBI U.S. Workplace Bullying Survey). It's time to examine the real costs for employees (health consequences) and for employers (unwanted turnover, absenteeism, lawsuit or complaint settlements, workers comp and disability claims).
Dr. Gary Namie, recognized as North America's foremost authority on workplace bullying, personally introduces the topic, citing the latest prevalence statistics and the newest and most relevant research findings.
Program Topics
1. The Phenomenon
2. Examples
3. Perpetrators
4. Who Gets Bullied
5. Health Impact
6. Impact on Organizations
7. What Employers Can Do

DVD available for purchase now.
Tags: abusive conduct, California section 12950.1, compliance training, DVD, education, employer, Gary Namie, training, training DVD, Workplace Bullying Institute
Posted in Products & Services | No Archived Comments | Post A Comment () »
Tuesday, May 13th, 2014
According to the WBI 2014 U.S. Workplace Bullying Survey 72% of employers do nothing to mitigate workplace bullying. Most employers deny and discount that repeated abusive conduct occurs within their ranks. Bullying goes unrecognized and therefore unaddressed.
Work Doctor® consulting created the Toolkit Seminar to raise employee awareness of workplace bullying to reverse this trend.
The one day Seminar covers the phenomenon in depth and includes materials to allow employers to train staff. Companies may send participants to Bellingham, WA Seminars for $1,500 per person. This one day train-the-trainer Seminar is also deliverable on site for groups of any size. Fees are $5,000 for corporations, $4,000 for non-profit organizations, and $3,500 for unions.
"Employers do not know how to respond well to bullying and they are reluctant to spend money on a solution when bullying is still legal in the U.S.," said Dr. Gary Namie, senior consultant for Work Doctor. "The new program is so inexpensive that no employer can again use cost as an excuse to do nothing."
The new Toolkit Seminar complements the three-day Workplace Bullying University®, offered since 2008.

The Drs. Namie established the Work Doctor® consulting firm in 1985 and the Workplace Bullying Institute in 1997. Since then, the firm has worked only on employer solutions to correct and prevent Workplace Bullying. The Namies' professional background, consulting experience and unwavering focus on Workplace Bullying give them an unrivaled, comprehensive perspective of the phenomenon which they introduced to the U.S.
Tags: employer solutions, Gary Namie, training, workplace bullying, workplace bullying training
Posted in Hear Ye! Hear Ye! 2, Products & Services, WBI Education | No Archived Comments | Post A Comment () »
Tuesday, November 12th, 2013
Our human ancestors, the Neanderthals, last walked the earth 28,000 years ago. (Sorry, creationists.) To be a "neanderthal" means to lag behind modern practices, to cling onto outdated ways. (Sorry, neanderthals who were more sophisticated than the namesake.)
It's getting harder to find apologists among the sports cognoscenti at ESPN to defend the Miami Dolphins designated bully Richie Incognito. The Miami Dolphins post-game panel after Monday Night Football on Nov. 11 stated unanimously that the locker room culture in every team would have to change just as surely as approaches to concussions have changed. They spoke of "neanderthals" in the locker room growing extinct. That the league has to evolve because other workplaces don't behave abusively. (Oops. Yes they do. That's the message about workplace bullying.)
We at WBI concur heartily that the NFL must evolve. How strong will be the blowback against such humanizing proposals? NFL Coach Pete Carroll spoke of preserving rituals (such as rookies carrying helmets off the field) but not hazing. Can the NFL remain as attractive to American fans without the ancillary abuse that has little to do with the game itself? Is the game so violent that it makes it difficult, if not impossible, for fired-up players to not engage in some form of abuse after the play, in the locker room, in bars after games, or at home? Are NFL players as conditioned to be violent as military veterans who have difficulty leaving a war zone to return to civilian life?
Let's watch and hope for the evolution out of neanderthalism. Then, the NFL will be a safe place for players like Jonathan Martin who eschew off-field violence.
An evolution will require acquiring skills, both for managers in sports and in the non-sports workplace.
Tags: Gary Namie, Jonathan Martin, manager training, neanderthal, NFL, training, workplace bullying
Posted in Commentary by G. Namie, NFL: Jonathan Martin, The New America, Tutorials About Bullying, WBI Education | No Archived Comments | Post A Comment () »