Posts Tagged 'trauma'
Friday, February 27th, 2015
Richard Himmer, WBI Affiliate and Workplace Bullying University graduate, leads bullied targets on a unique journey beginning on March 19 from 7 to 8 pm at Extendicare Health 3220 Rosedale St., Gig Harbor, Washington. Richard has a unique process designed to restore targets' lost dignity. He is endorsed by WBI.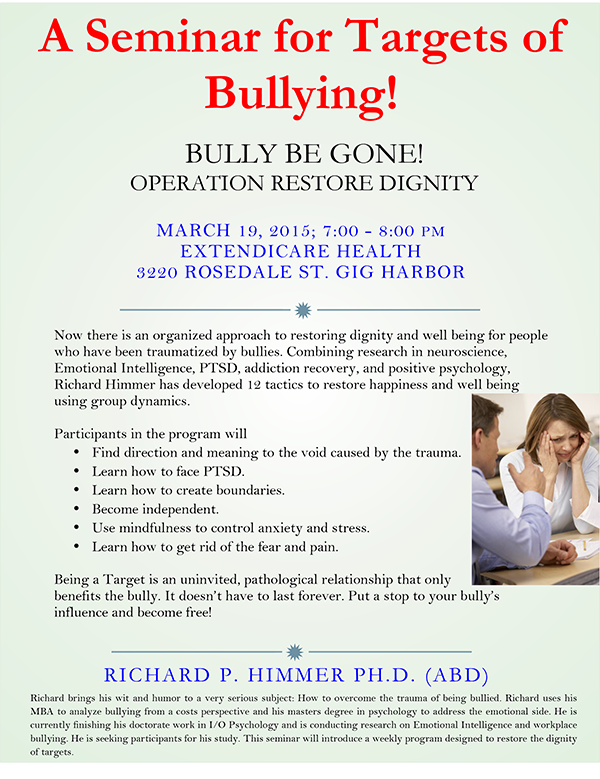 Tags: bullied targets, Dignity, recovery, Richard Himmer, trauma, WBI, workplace bullying
Posted in Events & Appearances, Hear Ye! Hear Ye! 2 | 1 Archived Comment | Post A Comment () »
Tuesday, January 20th, 2015
After PTSD, More Trauma
By David J. Morris, New York Times, Jan. 17, 2015
David J. Morris, a former Marine infantry officer, is the author of the forthcoming book The Evil Hours: A Biography of Post-Traumatic Stress Disorder.

WBI: In an ongoing search for answers for trauma sufferers, many of whom are part of the bullied target population, we re-post this essay.
Going in for therapy at a Veterans Affairs hospital is a lot like arriving at a large airport in a foreign country. You pass through a maze of confusing signage. Your documents are scrutinized. There are long lines you must stand in and a series of bureaucratic rituals that must be endured before anything resembling a human encounter occurs.
In April 2013, after doing a series of intake interviews and sitting on a waiting list for three months, I had my first human encounter with my assigned therapist at the big V.A. hospital in San Diego. Little did I know that the delay in treatment would be less agonizing than the treatment itself.

Tags: PE, prolonged exposure, PTSD, trauma, treatment, VA
Posted in Media About Bullying, Print: News, Blogs, Magazines | 1 Archived Comment | Post A Comment () »
Monday, January 5th, 2015
What doesn't kill you doesn't necessarily make you stronger
By Virgie Townsend, Washington Post, Jan. 2, 2015
WBI: In this frank and personally revealing essay, the author effectively counters the notion that all traumatic early experiences in life contribute to the construction of a stronger adult character. It's noteworthy that 44% of bullied targets admit experiencing prior familial abuse in their lives before their workplace experiences with abuse (WBI IP 2013-H).

When I was 15, I attended a writing workshop with a girl who had been sexually abused by a family member, trauma that she explored in her poetry. She said she was offended when people told her: "I'm really sorry that happened to you." She felt like they were saying they wanted to change her, so she'd reply: "Don't be. It made me who I am today."
I also grew up with violence, terrified of a parent who was verbally and physically abusive, and drove drunk with me and my siblings in the backseat. Sometimes this parent would threaten to choke me with a dog collar or would fire off shotgun rounds overhead for the fun of seeing the rest of the family cower. I am glad my classmate found a way to cope with her past, but I can't be grateful for mine.
I would have been better off without that dog collar, without those years of fear. After such episodes, I was so exhausted that I couldn't concentrate on my homework. I repeatedly failed state math exams. My immune system was weak. As a child, I had frequent, unexplained fevers, which baffled my pediatrician and led him to test me for cancer.
It was difficult for me to make friends because of the pressure I felt to keep my home life a secret. Between the abuse and my innate shyness, I mostly avoided other kids, which was easy because I was home-schooled until ninth grade. I tried to stay quiet around my peers; I didn't want to draw attention. And I constantly second-guessed how I acted around them, afraid that I might disgust or anger others, too.

Tags: abuse, child abuse, early life experience, illness, recovery, terror, trauma, verbal abuse
Posted in Bullying & Health, Media About Bullying, Print: News, Blogs, Magazines, Related Phenomena, WBI Education | 1 Archived Comment | Post A Comment () »
Friday, May 30th, 2014
Many bullied targets experience trauma-like symptoms but don't always have diagnosed PTSD. They suffer intrusive thoughts, hypervigilance, avoidance and dissociation. Successful recovery using current treatment techniques is rare. Targets are in search of alternatives. A report in the May 22, 2014 New York Times Magazine by Jeneen Interlandi describes one such alternative.
Bessel van der Kolk, M.D. uses an untested technique to deal with complex trauma and PTSD victims that he calls a "structure," also called psychomotor therapy, developed by a dancer.
(the victim) would recreate the trauma that haunted him most by calling on people in the room to play certain roles. He would confront those people — with his anger, sorrow, remorse and confusion — and they would respond in character, apologizing, forgiving or validating his feelings as needed. By projecting his "inner world" into three-dimensional space, (the victim) would be able to rewrite his troubled history more thoroughly than other forms of role-play therapy might allow. If the experiment succeeded, the bad memories would be supplemented with an alternative narrative — one that provided feelings of acceptance or forgiveness or love.
Van der Volk, a trained psychiatrist, runs the Trauma Center at Justice Resource Institute in Brookline, Mass.
Van der Volk claims the two most common methods of dealing with trauma — exposure therapy and CBT. Exposure relies on repeated confronting the painful memories until they lose their power. It's called desensitization. CBT is cognitive behavioral therapy, talk therapy used by most psychotherapists. van der Volk contends that trauma resets the primitive (sub-cortical deeper than cognitive awareness) regions of the brain to "interpret the world as a dangerous place." Therefore, he argues, cognition cannot affect it.
He believes that traumatic experiences are stored in the body. His new book is The Body Keeps the Score: Brain, Mind, and Body in the Healing of Trauma (released Sept. 2014).
He believes people's bodies failed them — legs had not run quickly enough, arms had not pushed powerfully enough, voices had not screamed loudly enough — to avoid disaster.
"The single most important issue for traumatized people is to find a sense of safety in their own bodies"
The key is to reconnect the mind to the body's sensations. To cope, trauma victims engage is self-numbing to avoid the physical discomfort that comes from reliving painful experiences. Over time, victims get stuck in the past and cannot live in the present. Van der Volk credits yoga, tapping (emotional freedom technique), EMDR, or massage.
He believes labeling all trauma as PTSD is a mistake. PTSD is still defined as acute incidents triggered by a single event. He points out that much trauma is from chronic exposure to abuse and neglect. He wants to distinguish that form from PTSD and call it "developmental trauma disorder." The DSM does not yet recognize this alternative view.
Several psychotherapists reject learning new things. That's why we produced Workplace Bullying for Mental Health Professionals. For therapists who do want to learn more about the techniques van der Volk and his associates practice, there is training available.
###
The following is remarkable comment that I post here for all to read:
I faced this type of trauma months after the daily 1.5 years of mobbing ended. It lasted for years as the more covert mobbing ensued until I quit (terrorized out) 3 years later. I thought I would never heal from the intense anger, upset, hurt, recurrent thoughts/replays and hypervigilence… my brain felt dehydrated and I had difficulty with short-term memory loss. It was when I took a trip to Thailand 5 months after I quit that I was given a farewell hug from a tour guide (after I paid the day before). He was a monk through high school, and the message he imparted to me was of absolute love and acceptance. It shocked me to my core, and brought me back instantly to a sense of healing and happiness. I credit him with saving my psychological life, if not my physical one. I went back immediately to Thailand to volunteer teach among the monks for 3 months, and have taken up massage training to help others with stress/PTSD. I know the depths of trauma this type of abuse creates. No one should have to suffer it, and more need to understand it.

Tags: bullied targets, healing from trauma, psychomotor therapy, PTSD, therapy, trauma, treatment, van der Volk
Posted in Media About Bullying, Print: News, Blogs, Magazines, Tutorials About Bullying, WBI Education | 3 Archived Comments | Post A Comment () »
Friday, December 6th, 2013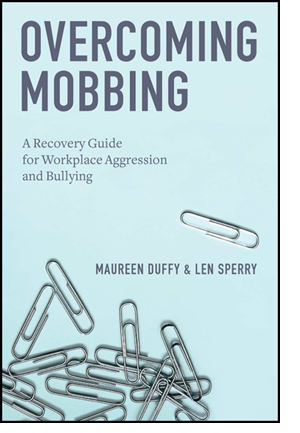 Overcoming Mobbing
A Recovery Guide for
Workplace Aggression
and Bullying
By Maureen Duffy & Len Sperry
A powerful, practical book that accurately reflects the entire bullying experience. These two clinicians, Duffy a clinical psychologist and Sperry a psychiatrist, demonstrate a deep understanding of bullied individuals and what it takes to heal them so life can be lived after bullying.The subtitle says it all — Recovery.
From the Foreword
Practical is the adjective to best describe this book. Though it is rich in citations and relies on science, applicability to real lives, real families and real organizations jumps off the pages. It tackles an admittedly complex subject with an accessible writing style that showcases illustrations and summary lists and tables. Points are driven home artfully with compassion for victims present throughout …
The blunt and truthful authors then describe how organizations create "shadow files" and do whatever it takes for administrators hide behind the myth that it is a "good and fair place to work." Hypocritically, those employers discard good employees as though they are dispensable resources using the tactics of mobbing fueled by the hurtful power of social exclusion, ostracism …
The authors do not leave the reader submerged in the dark side of the world of work. Ultimately, the book is about hope and inspiration. So, the seventh chapter signals the shift toward a discussion of recovery from mobbing. The valuable advice flows steadily and includes gems such as "don't make fighting the organization that mobbed you your next career." Their wisdom extends to selecting psychotherapists who practice "trauma-informed mental health care" by taking into account the organizational, cultural and power dynamics factors that instigated the mobbing experience rather than a focus on the victim's vulnerability …
The authors' defiantly critique the "bad apple," personality-dominated explanation for mobbing. They give the reader an introduction to work environments and their working parts. Personalities of perpetrators comprise only a small part …
Hooray for Duffy and Sperry's clarity in pronouncing that banishing bullies does not end the systemic problem. As the authors write "it takes an organization" to create it, and that's what it takes to stop it. ###
There is wisdom for organizational reps for those smart enough to apply the lessons contained inside. However, this book is primarily for bullied targets and the families who love them.
About the authors
Maureen Duffy, PhD, is a practicing family therapist and consultant specializing in workplace and school mobbing and bullying issues and an Affiliate with the Qualitative Research Graduate Program at Nova Southeastern University She provides trauma-informed psychotherapy to targets of mobbing and bullying and their families and consultation and training on workplace abuse to stakeholders including human resource managers and attorneys. She is the coauthor of Mobbing: Causes, Consequences, and Solutions.
Len Sperry, MD, PhD, is Professor of Mental Health Counseling at Florida Atlantic University and Clinical Professor of Psychiatry at the Medical College of Wisconsin. He has provided psychotherapy to mobbing victims and consulted with corporations on mobbing and bullying. He is the coauthor of Mobbing: Causes, Consequences, and Solutions.
Buy this book (along with the Lutgen-Sandvik book and, if they don't own it yet, our book, The Bully At Work) for those who need it most this Christmas season. They will be forever grateful.

Tags: bullied targets, Len Sperry, Maureen Duffy, Mobbing, organizational factors, self help, strategies, therapy, trauma, workplace bullying
Posted in Books, Bullying-Related Research, Good News, Hear Ye! Hear Ye! 2, Media About Bullying, Social/Mgmt/Epid Sciences, Tutorials About Bullying | 1 Archived Comment | Post A Comment () »
Tuesday, September 17th, 2013
Again advocates of stopping psychological violence at work must face the reality that organizational life is part of societal life. It is all connected. Massacres remind us of the American brand of violence that is all too frequent. Bullying pales in comparison, but it is a form of violence. When we demand that it stop, we have to acknowledge the societal context.
Moral decency trumps NRA distorted rationales for availability of military combat weapons for citizens. Buried in the saturation media coverage of the Sept. 16 Washington Navy Yard massacre was a press conference by Med Star Washington Hospital Center CEO and Chief Medical Officer, Janis Orlowski, M.D.
I first heard her comments on the radio. She was remarkable in that her voice wavered as she spoke eloquently about "evil" visited upon families when death and injuries of the innocents in the typical American massacres. She said that we all have to "work together" to stop it. The "it" was unclear. Then, in response to a question, she began the statement captured in the Associated Press video below. As soon as she said that we used to fight with fists, then knives, then guns, the networks cut away from her.
She had uttered the forbidden 4-letter word: GUNS. As a trauma expert, she called massacres "senseless trauma," and hoped that her trauma center could someday be put out of business because massacres (i.e., gunshot wounds) might be stopped. Emergency physicians have long lobbied for gun control because they see the wholesale slaughter of humans that guns allow.
Dr. Orlowski's full statement about guns is captured in the video below. We should all listen and dive into the "gun control debate."

Tags: gun control, guns, gunshot wounds, Janis Orlowski, Med Star Washington Hospital Center, trauma, Washington & Lee, Washington Navy Yard
Posted in Commentary by G. Namie, Guest Articles, The New America | 1 Archived Comment | Post A Comment () »