Posts Tagged 'Unions'
Wednesday, March 30th, 2016

The nation's only comprehensive training in the phenomenon of workplace bullying designed for professionals
The next 3-day public session in Boise, Idaho is May 20-21-22.
Visit the WBI Workplace Bullying University website for program details. Taught personally by Dr. Gary Namie & Dr. Ruth Namie.
Designed for professionals in Labor, Healthcare, Mental Health, Counseling, Management, Higher Education, HR, Training, Consulting, and those in life & career transition.

Tags: Gary Namie, healthcare bullying, Ruth Namie, training, Unions, Workplace Bullying Institute, Workplace Bullying University
Posted in Unions, WBI Education, Workplace Bullying University | No Archived Comments | Post A Comment () »
Tuesday, March 29th, 2016
Today, well ahead of the expected June decision, the U.S. Supreme Court split 4-4 in the decision regarding Friedrichs v. California Teachers Association.
The SCOTUS is short one member since the passing of Antonin Scalia. The tie vote allows previous appellate court verdicts to stand. As described in earlier posts — here and here, the cocky anti-union plaintiffs were so confident of using SCOTUS to bankrupt public sector unions that they asked both trial and appellate courts to rule against them so they could expedite the process to get to the Supreme Court.
Justice Scalia's death was unexpected. His vote would have delivered an anti-union majority vote. The tie, however, allows the lower court decision (made at plaintiffs' request with no evidence ever presented as in a real trial) to stand. The anti-union plaintiffs lose. Unions win (for now). Here is the entire SCOTUS decision.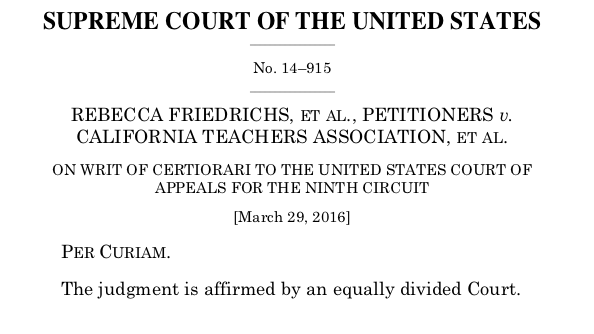 (more…)

Tags: bullying unions, Friedrichs, SCOTUS, Unions
Posted in Rulings by Courts, Unions | No Archived Comments | Post A Comment () »
Friday, January 22nd, 2016

The goal of the Oregon Labor Law Conference is to help officers and staff of unions serve their members better, be better equipped to organize the unorganized, and get training on how to avoid legal liability.
The program includes a workshop on Unions and Workplace Bullying led by Dr. Gary Namie, WBI Director. This is a return visit by WBI to OCCL; the first appearance was in 2013.
Founded in 1996 by Norman Malbin, the Oregon Labor Law Conference is now also sponsored by IBEW Local 48, Oregon AFL-CIO, Center for Worker Rights, Northwest Oregon Labor Council, Labor Education and Research Center (LERC), Columbia Pacific Building Trades Council and Oregon State Building & Construction Trades Council.
When: Jan. 29, 2016
Where: IBEW Local 48 Meeting Hall, 15937 NE Airport Way, Portland, OR
Details: OLLC website

Tags: IBEW Local 48, Norm Malbin, Oregon Labor Law Conference, Unions, workplace bullying
Posted in Hear Ye! Hear Ye! 2, Unions | No Archived Comments | Post A Comment () »
Thursday, January 21st, 2016
On January 11, SCOTUS heard oral arguments in a case designed to overturn a 39-yr. precedent involving public sector unions. Since the 1977 Abood decision, government workers had the right to enjoy all the benefits of union membership without paying all of the dues owed to unions. That is, Abood split dues into "fair share" fees and expenses ostensibly not related to collective bargaining and the mere protection of workers' rights. Non-members were to pay only the bargaining-related fees.
The Friedrichs case found 10 California teachers who wanted to claim the right to refuse to pay any dues, even costs associated with protecting their workplace rights. Right-wing, anti-union groups used the case to bring to the pro-corporate/pro-employer Roberts SCOTUS to put what might be the final nail in the coffin of the strongest unions left in the country, public-sector unions.
You can read the NY Times SCOTUS watcher, Linda Greenhouse, as she interprets the oral testimony.
Details of the case can be read here.
You can read the entire transcript here.
Or listen to the audio of the oral arguments.
Audio clip: Adobe Flash Player (version 9 or above) is required to play this audio clip. Download the latest version here. You also need to have JavaScript enabled in your browser.
Decision is expected in June.

Tags: agency fees, collective bargaining, fair share fees, freeriding, Friedrichs v. California Teachers Association, government workers, public sector, public sector unions, teachers, U.S. Supreme Court, Unions
Posted in Rulings by Courts | No Archived Comments | Post A Comment () »
Monday, January 11th, 2016
A most important 80 minutes of oral argument is heard today, Jan. 11 2015 by the nine justices of the U.S. Supreme Court. The case is Friedrichs v. California Teachers Association (CTA), Docket No. 14-915.
The case was brought by a group of California teachers who don't want to pay any fees to unions for anything. Essentially, they want to enjoy benefits of having a contract — wages and other work condition protections (alas, not full protection from bullying yet) that are negotiated — for free. The CTA represents teachers in public schools; public school districts are government employers.
There are 39 years of history dealing with this issue. A May 1977 unanimous U.S. Supreme Court (SCOTUS) decision, Abood v. Detroit Board of Education [431 U.S. 209 (97 S.Ct. 1782, 52 L.Ed.2d 261)] divided union dues into two parts. One part is costs associated with providing union workers with a contract, the collective bargaining agreement with the employer, and its administration, the subsequent services of representation at adversarial meetings with management, grievances and arbitrations. Fees for those services are called "fair use" or "agency" fees. In other words, Abood said that non-members who benefit from union services have to help cover costs.
The second part of union dues is "expenditures for ideological causes not germane to its duties as a collective-bargaining." This has been dubbed the political activity of the union, including overt politicking, lobbying lawmakers for specific legislation and financial support for political candidates. People who object to this part of union activity can refuse to pay that portion of dues to the union.
In the specific case before SCOTUS today, Friedrichs, plaintiffs are challenging California law. If a teacher wants to protest the political portion of the CTA dues, she or he can give the union a written objection — an "opt out" declaration. That portion of the contested fee is then refunded or a portion is reduced. The anti-union plaintiffs want that teacher to have to "opt in" and agree to the fees. Plaintiffs frame the issue as one of free choice and the First Amendment (whether or not the non-administrative fees constitute speech).
The Case's Strange Origin
The union-busting groups, typically with a libertarian or right-wing political bent, found this case in order to abolish the last bastion of unionization in America — in government. The private sector unionization rate is now under 7%. If government, public sector, unions can be further weakened, the U.S. labor movement will be effectively gutted.
According to Maryann Parker, SEIU Associate General Counsel, speaking at an American Constitution Society expert panel, Friedrichs v. California Teachers Association made it to the Supreme Court in two fast years without any facts associated with the case. The reason is that the plaintiffs filed the case in both District and Appellate courts and asked for a verdict against them just so they could take the case to the Supreme Court. Since the union-busting groups are well funded, the case raced to the Roberts pro-employer court. Unlike any other case, no facts have been argued in court before a judge or jury. No discovery of evidence on either side was completed.
The only facts have come via several amicus briefs written by advocates for both sides. The list of briefs filed before the Nov 6, 2015 deadline can be found here. On the anti-union side are organizations such as Pacific Legal Foundation
National Right to Work Legal Defense Fund, Mackinac Center for Public Policy, Goldwater Institute, Former California Governor Pete Wilson, Cato Institute and the NFIB. On the defense side, briefs were filed by Kamala Harris, California Attorney General (who also argued the case before SCOTUS today), California State Employees Association, and several California and New York cities that, as government employers, described the benefit of having a unionized workplace.
The other unusual aspect of the origin of the case is that the five majority justices in the 2014 Harris v. Quinn decision called for a reconsideration of Abood. In other words, the doctrine of stare decisis, of letting earlier case decisions stand, is betrayed by calling out for a case to challenge Abood.
The Anti-Union Argument
Here's the argument by the union busters in Friedrichs v. California Teachers Association. Collective bargaining in the government context is inherently political because government worker wages are public funds. Therefore, if the government compels "fair use" fees collection, it is a violation of a worker's First Amendment rights. It forces an association with a political cause (bargaining with the state) with which a worker might not agree.
Abood had separated the functions of the union, administrative work versus political activity. Fredrichs says that ALL activity of unions is political.
If the Supreme Court decision agrees with Friedrichs, it will overturn Abood. It will end the practice of a "union shop." The absence of any requirement to pay unions for services rendered will make it too easy to be a "free rider." In turn, unions will wither and die from not having a budget.
Remember, even with a negotiated union contract, employers — only governments in this case — are entitled to all rights over workers which are not covered in the contract. With this line of reasoning, without unions, employers will have unchallenged, unbridled control over workers with no ability to contest mistreatment or abuse.
The undermining of unions, the only organizations that advocate for rights of workers, will contribute to the Republican-led state legislatures' move to right to work laws. Currently 25 states have right to work provisions. The RTW advocates characterize states where unions represent government workers as "forced-unionism" states.
Advocates for "free bargaining" states label the right to work as the "right to work for less." The quality of life for workers in RTW states is lower than in public sector union states — lower wages, more low wage jobs, higher rates of workers without health insurance, higher poverty and infant mortality rates. And if working in a RTW state, you have a 54% higher chance of dying at work.
Finally, by gutting union budgets, opponents will also thwart overt political activity by unions. Unions support Democratic candidates. Union-busting groups are partisan. By reversing Abood, the law of the land since 1977, Republicans will be able to reduce funding for Democratic opponents. However, this is not a realistic fear by Republicans. It seems closer to a zero-sum game in which Republicans want to eliminate all opposition. According to the Center for Responsive Government, 2015-16 interest group donations to the upcoming elections finds that labor has given to date a total of $19.2 million compared to $839.6 given by donors other than unions. Non-labor groups outspend unions by 43.7 times. A successful Friedrichs SCOTUS decision would nearly eliminate the influence of unions on candidates. Rights of workers will be driven further underground buried in a corporate post-Citizens United deluge of cash.
If the Court does not overturn Abood, the plaintiffs could still win a partial victory. Its a nuanced part of the practice in California. Contained in the fees charged to non-members are other expenses not involved with the costs of collective bargaining. If a teacher wants to protest that portion of the fee, she or he can give the union written objection — an opt out declaration. That portion of the contested fee is refunded or a portion is reduced. The anti-union plaintiffs in the case also argue that an employee should have to "opt in" and agree to the fees.
Stay tuned. The decision should be announced in June.
###
You can listen to the oral arguments and read the transcript of Jan. 11 hearing here.

Tags: agency fees, collective bargaining, fair share, free-riding, Friedrichs v. California Teachers Association, right to work, U.S. Supreme Court, Unions
Posted in Fairness & Social Justice Denied, Rulings by Courts, Unions | No Archived Comments | Post A Comment () »
Wednesday, October 21st, 2015

Gary Namie introduction

SEIU International President Mary Kay Henry

NAGE: Nat'l President David Holway & VP Greg Sorozan

AFGE: Local President Charletta McNeill



Tags: abusive conduct, AFGE, Freedom from workplace bullies week, Healthy Workplace Bill, NAGE, seiu, Unions, workplace bullying
Posted in Freedom Week, Healthy Workplace Bill (U.S. campaign), Unions, WBI Education, Workplace Bullying Laws | No Archived Comments | Post A Comment () »
Tuesday, October 20th, 2015
Unions are the only genuine advocates for workers worldwide. They all share the mission of protecting the safety and security of their members at work sites. European, Australian and Canadian unions keenly pay attention to members' "psychological safety." Some smart American unions are following suit (MAPE, UNAC-UHCP, IAM, NAGE). However, many are ambivalent about workplace bullying.
Here's the account of one Canadian union in Nova Scotia, the National Union of Public and General Employees (NUPGE) that developed an education program — Bully-Free Workplaces: Shifting Cultures. The union effort begins its fifth year this October and has spread to other provinces.
The program offerings include: 2-hour awareness sessions, 6-hour workshops, and 2-hour, four-module format which increases the options for employers and employees who want more information but with greater flexibility to schedule.
WBI respects this union's program because it does not stop at awareness raising.
The union also offers training for supervisors, managers, human resources, and occupational health professionals who are responsible for policies and procedures, investigations of workplace bullying, and progressive discipline.
The union also strives to heal afflicted work teams, guide bullies through self-reflection, and special assistance for bullied complainant-members.
Hats off to NUPGE/NSGEU which has reached, to date, over 14,000 participants! Read the press release presenting program facts.
###
All of the services NUPGE provides to its members and host employers can be made possible through the training of key American or Canadian Union leaders at the WBI Workplace Bullying University® by WBI founders, Drs. Ruth and Gary Namie.

Tags: education, NUPGE, shifting cultures, training, Unions, workplace bullying, Workplace Bullying University
Posted in Unions, Workplace Bullying University | No Archived Comments | Post A Comment () »
Sunday, April 12th, 2015
Minnesota leap frogs Tennessee with respect to having a state policy to thwart workplace bullying. First a bit of background. In 2014, Tennessee passed a law (Public Chapter 997) that assigned policy writing to a state commission (TACIR) comprised of elected officials with technical support from WBI-affiliated professionals. The group did produce a model policy. However, several lawmakers refused to allow the policy's implementation. The workplace psychological safety of public employees in that right-to-work state remains unresolved, treated as a political game.
Thus, the first state to implement a workplace bullying policy for all state workers is Minnesota. The successful story begins with the state employees union MAPE (Minnesota Association of Professional Employees) becoming aware of bullying-related problems for members in January 2012. Discussions of bullying surfaced in contract bargaining sessions. In February 2013, some bullying managers were removed in partnership with the union. Education accelerated in May 2013 when MAPE held a seminar for stewards with lessons gleaned from a public session sponsored by the Minneapolis Bar Association at which Dr. Gary Namie spoke.
Audio report:
Audio clip: Adobe Flash Player (version 9 or above) is required to play this audio clip. Download the latest version here. You also need to have JavaScript enabled in your browser.
By August 2013, MAPE had produced videos of their bullying experiences. In September, results of a membership survey revealed that 1 out of 4 members were either directly bullied or they had witnessed it. State. The state Department of Human Services Commissioner, Lucinda Jesson, signed an anti-bullying petition to ensure safe, retaliation-free reporting of bullying.

Tags: 2014 WBI U.S. Workplace Bullying Survey, abusive conduct, employee advocates, MAPE, Minnesota state, policy & procedures, Unions, workplace bullying policy
Posted in Bullying & Health, Good News, Unions, WBI Education | No Archived Comments | Post A Comment () »
Friday, February 27th, 2015
"We need a leader who will stand up and say we will take the fight to them and not wait until they take the fight to American soil," declared Wisconsin Governor Scott Walker, a 2016 presidential hopeful, to the audience at the Conservative Political Action Conference in Washington, DC. This is his reference to ISIS terrorists.
Then he said: "If I can take on 100,000 protesters, I can do the same in the rest of the world," a clear reference to both ongoing protests against new anti-worker laws and a historic revolt in 2011 against Walker's push to dismantle collective-bargaining rights for the state's labor unions.
Walker denies he connected the dots but his "dog whistle" points were clearly heard by the radical right wing CPAC audience. He is bragging about busting unions — what he refers to as Democratic special interest groups.
"To compare the hundreds of thousands of teachers, students, grandmothers, veterans, correctional officers, nurses and all the workers who came out to peacefully protest and stand together for their rights as Americans to ISIS terrorists is disgusting and unacceptable," said Wisconsin AFL-CIO President Phil Neuenfeldt in a statement. "To compare hard-working men and women who work for a living to terrorists is a disgrace. Coming together to peacefully protest for freedom, to raise your voice for a better Wisconsin, this is not an act of terror."
Let's hope America doesn't make the same mistakes that Wisconsin voters have made in recent elections.
The irony in America that not one word may be spoken against the military or those who serve in it (all are "heroes") but defaming the working women and men who dare to organize to fight against abusive practices by government and corporate employers (who are well organized and funded) can go unpunished is not lost on us.

Tags: CPAC, right wing, Scott Walker, Unions, Wisconsin
Posted in The New America, Unions | No Archived Comments | Post A Comment () »
Thursday, September 25th, 2014
For 12 years we have led advocacy for state laws to prohibit health-harming abusive conduct (workplace bullying). The bill — the WBI Healthy Workplace Bill — has no hidden agenda. It is straightforward in its purpose and language. We are trying to right a wrong. Opponents are apologists for employer abuse, plain and simple. They choose to protect employers' rights over workers' rights to employment free from abusive interference. When they oppose the HWB, they distort and pervert the terms of the bill. They lie in their testimony without consequences. Lawmakers blindly appease the business lobby.
Michigan, a state dominated by Republicans in recent years, became a right to work state. That means if unions exist, they must serve all workers whether or not they pay union dues. It is a tactic designed to bankrupt unions. Now comes Michigan State Rep. Kevin Daley with an "anti-bullying bill" (HB 5847) that purports to "protect" workers from unions who post names of workers who opt out of union membership.
We are mired in distorted semantics. The moniker "right to work" is promoted as freedom while it actually discourages unions who can bargain with employers for more rights and privileges than workers as individuals can never attain.
Opting out of union membership violates the free market concept of fairness in that one must pay for services received. Benefits of union membership should accrue only to those who belong to unions. If you want the benefits without paying for them, you are a freeloader. So, while proponents of "free markets" and unbridled capitalism feel no sympathy for those lowest on the economic rung, even calling them lazy (as Speaker of the House John Boehner did while on a 7 week vacation), they are the same people who want workers in right to work states to bleed unions dry by forcing services to be provided to non-members.
If Rep. Daley cares about workers not being bullied, then he should introduce the HWB! We dare him.

Tags: freeloading, Healthy Workplace Bill, Kevin Daley, Michigan, right to work, Unions, workplace bullying
Posted in Healthy Workplace Bill (U.S. campaign), Unions, Workplace Bullying Laws | No Archived Comments | Post A Comment () »