Posts Tagged 'Unions'
Tuesday, July 15th, 2014
For our Union friends, we have created a Guide to Workplace Bullying that includes help with introducing Workplace Bullying into your Contracts (CBAs). Visit the WBI Union site.
Tags: Unions, workplace bullying
Posted in Unions | No Archived Comments | Post A Comment () »
Monday, July 14th, 2014
The Healthy Workplace Campaign is WBI's effort to enact anti-bullying legislation for the American workplace state by state. The model bill is called the Healthy Workplace Bill (HWB).

Features of the HWB
• Suffolk University Law Professor David C. Yamada, text author, used federal Title VII Civil Rights laws as basis
• Defines severe abusive conduct — does not use term workplace bullying
• Provides legal redress for anyone subjected to abusive conduct, whether or not the person is a member of a protected status group
• Requires that abusive conduct result in either demonstrable health or economic harm to plaintiff
• Plaintiffs who file lawsuits make public formerly hidden, confidential employer processes that hide and deny bullying
• Prohibits retaliation against any participant in procedures involved in dealing with the abusive conduct complaint
• Requires plaintiffs to hire private attorneys, no fiscal impact on state government
• Provides incentives (affirmative defenses) for employers who implement genuine corrective procedures
• Preserves managerial prerogative to discipline and terminate employees
• Does not interfere with state workers' compensation laws or union CBAs
We named the HWB in 2002. All other uses of the name HWB are unauthorized by us. California first introduced the HWB in 2003. It has been carried in over half of states and two territories since. The Workplace Bullying Institute trains and provides support to a national network of volunteer Sate Coordinators who lobby their respective state legislators to sponsor the HWB. You can track its status at the HWB website.
Botched Amendments & Unanticipated Consequences
As authors of the HWB, we naturally want the full and original version of the bill enacted into law. And we realize compromises will be made during the process. It is "sausage making," after all. We just wish all bill sponsors would refuse to allow major revisions that change the spirit of the bill from protecting abused workers to something else. Since the HWB was first introduced, different amendments have been proposed or made.
Often the well-intended sponsor, a pro-worker advocate, agrees to compromise adopting the belief that the law can be built in steps. Let's get this version passed now and it will be revisited in the coming years and supplemented with the other desired provisions.
Tags: amendments, business lobby, Chamber of Commerce, David Yamada, Gary Namie, Healthy Workplace Bill, Unions, vicarious liability, workplace bullying, Workplace Bullying Institute
Posted in Employers Gone Wild: Doing Bad Things, Fairness & Social Justice Denied, Healthy Workplace Bill (U.S. campaign), Tutorials About Bullying, Unions, WBI Education, Workplace Bullying Laws | No Archived Comments | Post A Comment () »
Wednesday, June 11th, 2014
A lawsuit funded by Silicon Valley rich guy, David Welch, is shaking the public education world. A California Superior Court judge, Rolf Michael Treu, found for the plainitffs — nine students backed by the group Students Matter.
The ruling was filed on June 10, 2014.
Teachers think students matter, too. But the pitched battle between non-educators who once went to school which they think qualifies them to know everything about K-12 education, and those who train just to teach schoolchildren has been fought for years. The tack is to beat up teachers publicly, blame teachers, call them bad. And in this case, Vergara vs. California, bad teachers are branded "grossly ineffective."
Nine students were named as plaintiffs.
The plaintiff's attorneys were from Gibson, Dunn & Crutcher. The defense was represented by the Attorney General, joined by the California Teachers Association and the Calfornia Federation of Teachers.
Tags: AFT, California constitution, California Federation of Teachers, California Teachers Union, disadvantaged students, equal schools, grossly inefficient, Jonathan Kozol, Students Matter, teachers, Unions, Vergara
Posted in Fairness & Social Justice Denied, Rulings by Courts, Unions | No Archived Comments | Post A Comment () »
Friday, November 29th, 2013
A new study from the UK Federation of Entertainment Unions found that workplace bullying, along with harassment and discrimination, is major issue in the creative industries.
The report took center stage at the Creating without Conflict conference in London on November 19, 2013. Along with the survey results the Unions called for confidential hotlines to help their bullied members, as well as better training for management.
From The Stage

These findings come from a survey, Creating Without Conflict, compiled by the Federation of Entertainment Unions, which includes Equity, the Writers' Guild of Great Britain, the Musicians' Union, BECTU and the National Union of Journalists. Its aim was to assess how widespread bullying, harassment and discrimination is in the entertainment and media industries, with more than 4,000 people from across the different unions taking part. Respondents included household names and top screenwriters, as well as people at the beginning of their careers.
Tags: creating without conflict, london, survey, UK Federation of Entertaimnet unions, Unions, workplace bullying
Posted in Broadcasts: Video, TV, radio, webinars, Good News | No Archived Comments | Post A Comment () »
Saturday, October 26th, 2013
For Freedom Week 2012, we gathered at the National Press Club in Washington DC to hear two union presidents declare their opposition to Workplace Bullying. Here are those statements repeated.
Unions are the most natural advocates for anti-bullying. However, bullying befuddles many union leaders (they are tough guys and gals themselves, they aspire to management and co-opt union goals). Rank-in-file members want and deserve protection against bullying assaults, regardless of the source — management or member. Member-on-member bullying provides the union with opportunities to do better, to serve more, to support abused members, to correct abusive members, to use freedom from bullying as an organizing tool.
Help WBI help your union do more. Visit our Workplace Bullying for Unions website. Attend Workplace Bullying University® to equip the entire union with requisite skills to attack the problem. Tell defiant leadership to stand down and not become bullies themselves.
Tags: David Holway, Freedom from workplace bullies week, Gary Namie, Greg Sorozan, Mary Kay Henry, NAGE, seiu, Unions, workplace bullying
Posted in Freedom Week, WBI Education | No Archived Comments | Post A Comment () »
Thursday, September 12th, 2013
Breaking the Silence about this Hidden Epidemic
Announcing the 2013 Workplace Bullying Institute Freedom from Workplace Bullies Week — October 20-26. Created to be a special time to try something different to stop workplace bullying for bullied targets, coworkers, family members, supervisors, managers, HR, executives, lawmakers, cities, counties and communities. Read our suggestions for activities.
Watch videos from the 2012 Washington DC event featuring union officials. Read the proclamations from cities and counties.
Tags: bullies, Freedom from workplace bullies week, Freedom Week, Unions, workplace bullying, Workplace Bullying Institute
Posted in Events & Appearances, Freedom Week, Unions, WBI Education | 1 Archived Comment | Post A Comment () »
Thursday, September 5th, 2013
At the launching convention this past Labour Day weekend of a new Canadian union — Unifor — Naomi Klein, author of The Shock Doctrine: The Rise of Disaster Capitalism, spoke.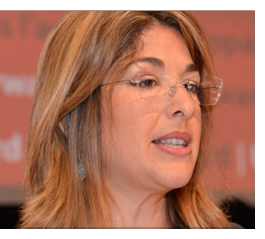 Her book describes the international conservative movement to privatize governments, to bust unions and to commodify natural resources for corporate profits. The Shock Doctrine is the impetus for removing public control of the city of Detroit and putting it in the hands of a financial manager prepared to sell off nearly all public assets and privatize all services. The Shock in her doctrine is the false claim that we are broke and cannot afford to help citizens anymore. [If only we weren't so busy making expensive wars that sap taxpayer funds.] Governments then impose austerity on the public and worsen their situations. Then, they make the argument that corporations know better how to run businesses so they should take over where government "failed."
Tags: Canada, extract, extractivism, mining industry, Naomi Klein, overburden, Shock Doctrine, Stephen Harper, Tar Sands, unifor, Unions
Posted in Employers Gone Wild: Doing Bad Things, Fairness & Social Justice Denied, Unions | No Archived Comments | Post A Comment () »
Monday, July 29th, 2013
Union workers (SEIU, Local 1000) negotiated for, and won, in their new 2013 contract with the State of California and all agencies where Local 1000 members work major victories. They will not be furloughed, but on the workplace bullying front, they will now have new tools to compel State managers to act with respect in a non-bullying, non-abusive manner. Local 1000 counts 95,000 members across its nine bargaining units.
The announcement came on the SEIU website, proclaiming on July 16
Dignity Clause Strengthened
Under our new contract, members have more rights when it comes to workplace bullying or other violations of the dignity clause.

Our bargaining team succeeding in obtaining language that strengthens the Dignity Clause (Article 5.11) so that employees who believe they have not been treated with generally accepted standards of dignity and human courtesy may now file a grievance. Previously, members could only file a complaint of dignity clause violations to their department head.

In addition, our new contract requires each state department to maintain a Workplace Violence and Bullying Prevention policy and distribute it to each employee.

"We fought for the strongest possible protections for our members who experience workplace bullying–I know firsthand how a bully boss can create a nightmare for you at work," said Sophia Perkins, chair of Bargaining Unit 4, who testified about her own experiences during bargaining. "One reason I became active in the union is to address this issue and hold bullying bosses accountable."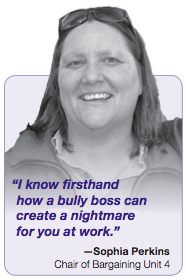 The text of Article 5.11 Dignity Clause, agreed upon on June 9, 2013 is …
"The State is committed to providing a workplace where all employees, regardless of their classification or pay status, are treated by supervisors and managers in a manner that maintains generally accepted standards of human dignity and courtesy. Employees alleging they have not been treated accordingly may file a grievance. The decision reached at Step 3 (CalHR) shall be final."
Further, management proposed language for Article 10.21 Workplace Violence and Bullying Prevention …
"The State and Union developed a model Workplace Violence and Bullying Prevention program. Each department shall maintain a Workplace Violence and Bullying Prevention program that meets the existing mutually agreed upon model program. The department program shall be in writing and distributed an/or made available to all employees."
See the signatures of the negotiating team members on each of these articles.
A "Mini-Arbitration Procedure" has been pilot tested and now made permanent for the life of the new contract. It creates a standing panel of four arbitrators, two assigned by the Union and two by the State. Article 6.14 creates the panel and spells out rules to expedite the hearing process. Arbitration begins at Step 4. Disputes over the Dignity Clause end at Step 3. It appears that like in the 2009 NAGE-State of Massachusetts contract, arbitration is not something the States, as employers, are willing to subject themselves to.
Tags: Article 5.11, Article 6A, bargaining agreement, contracts, Dignity Clause, mutual respect, NAGE, SEIU Local 1000, State of California, State of Massachusetts, Unions, workplace bullying
Posted in Good News, Unions | No Archived Comments | Post A Comment () »
Wednesday, July 24th, 2013
San Francisco LaborFest 2013
Workplace Bullying, Health and Safety
Saturday July 27 11:00 – 4:00 PM (Free)
ILWU Local 34 Hall
801 2nd St. next to AT&T Stadium, San Francisco
Registration Requested: Call 415-282-1908 or e-mail to laborfest@laborfest.net
Presenters:
Dr. Gary Namie, Director, WBI
Carrie Clark, California Healthy Workplace Advocates
Greg Sorozan, Massachusetts Healthy Workplace Advocates, NAGE-SEIU Natl VP
Stacie Plummer, City Of Richmond Library Worker
IFPTE Local 21 Steward
Brenda Barros, SEIU Local 1021 San Francisco General Hospital
Dr. Derek Kerr, SF General Hospital whistleblower
Dr. Larry Rose, former Director of the Cal Osha Medical Unit
Kathleen Carroll, attorney
Sponsors: Stop Workplace Bullying Group SWBG
Injured Workers National Network, IWNN
Grupo Presente
California Healthy Workplace Advocates
For information contact IWNN at (415) 282-1908.
There will be live streaming of this event on the internet. Watch this blog for details.
Tags: California Healthy Workplace Advocates, Carrie Clark, Gary Namie, laborfest, Unions, WBI, workplace bullying, Workplace Bullying Institute
Posted in Events & Appearances, Healthy Workplace Bill (U.S. campaign), WBI Education, Workplace Bullying Laws | No Archived Comments | Post A Comment () »
Tuesday, July 2nd, 2013
Here at WBI, we have long contended that organizations need their highest ranking leaders to genuinely want to stop workplace bullying. Lip service from the top might be adequate to get an initiative started by the internal champions and advocates, but the risk is that the executive reserves the right for him or herself to stop the program without warning or justification. Unfortunately, most executives squash attempts by earnest champions at the start.
Here's a rare good news tale from the University of Massachusetts. These are the words of the Chancellor writing to all campus staff with my comments in burgundy.
Shortly after my arrival on campus last year, I learned of the disturbing results of a survey about workplace bullying that had been administered to all faculty and staff members. While the numbers were consistent with those found at workplaces of all types throughout the country, this is clearly an area in which UMass Amherst aspires to be something much better than average.
Tags: Gary Namie, Subbaswamy, union, Unions, unions and bullying, Univ of Massachusetts, workplace bullying
Posted in Good News, Tutorials About Bullying, Unions, WBI Education | No Archived Comments | Post A Comment () »