Posts Tagged 'violence'
Thursday, September 25th, 2014
By David Meggyesy, former seven year linebacker with the St. Louis football Cardinals, author of a best-selling football autobiography, Out of Their League. Meggyesy is board President of Athletes United for Peace and is the former Western Regional Director of the NFL Players Association (NFLPA). Essay originally posted on Social Justice on 9/17/2014.
"The only reason parents hit their children is because they can get away with it." — A. S. Neill, Summerhill
As a physically abused child, as many of us are, I read the above quote as a young adult, then the parent of a three year old son and a professional football player with the St. Louis Football Cardinals. It was an epiphany, and I never forgot it. Certainly there were times when I was angry, feeling unsure of myself and demanding some kind of control in my life. Hey I could take it out on my "out of control" son and say to myself "he deserved it". However that Neill observation made so much sense I decided to break the chain and I never physically assaulted my children.
The issue is again news, with the former Baltimore Raven NFL player Ray Rice, who is shown punching and knocking out his girlfriend and dragging her unconscious body out of an elevator, Adrian Peterson, star running back with the Minnesota Vikings drawing blood beating his four year old son with a switch. This gender and child abuse is not endemic to athletes who play professional football. It is a social epidemic. Given the media power of the NFL it's a good thing that this kind of abuse is again thrown up in our collective face.
Tags: abusive conduct, American culture, child abuse, David Meggyesy, fear, NFL, Ray Rice, violence
Posted in Employers Gone Wild: Doing Bad Things, NFL: Domestic Violence | No Archived Comments | Post A Comment () »
Friday, January 31st, 2014
The Miami Dolphins bullying scandal mirrors in so many ways what happens to bullied targets in corporate and government jobs.
Follow the full NFL story in the Category list in the sidebar: NFL: Jonathan Martin
Now that the target, Jonathan Martin, has finally spoken, the bully ratchets up his defense.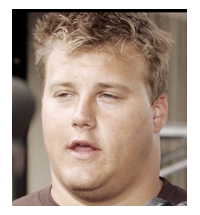 Richie Incognito, alleged bully (pictured on the left), who lost pay for only 2 football games and was paid to not play for the Dolphins or any other team for the remainder of the season, is going on offense.
Since most of his public behavior is indefensible — racial slurs in text messages and drunken rants caught on camera — his PR advisers are attacking Martin. Always blame/attack the victim. He claims Martin gave as good as he got. Remember bullies are believed; bullied targets are not believed.
The Big Lie: the relationship between Martin and Incognito was "friendship." Friends are equals. Friends care about each other. Friends respect one another. Friends don't abuse. Friends don't exploit.
Tags: abuse, bullying, Jonathan Martin, Miami Dolphins, NFL, Richard Sherman, Richie Incognito, Tony Dungy, violence
Posted in NFL: Jonathan Martin, Tutorials About Bullying, WBI Education | No Archived Comments | Post A Comment () »
Wednesday, December 11th, 2013
The New York Times reports on a disturbing June 2012 video posted on YouTube of severe hazing within a brigade of the People's Armed Police, a Chinese group that provides for internal security and border patrol duties. It seems the veteran troops doing the hazing filmed the event proudly. Though military in function, the group is not part of the Army. Authorities said the video "exposed serious questions about the management of our unit. We are deeply shocked, hurt and blame ourselves."
This is the sort of mistreatment the American military hopes to eliminate within its ranks, but changing the military culture is an uphill battle.
The disgusting video appears on the next page for those with the stomach to watch the brutal nonsense that is somehow sold to new recruits as a test of honor, to be in the club.
Tags: brutality, bullying, Chinese paramilitary, hazing, People's Armed Police, rituals, violence
Posted in Broadcasts: Video, TV, radio, webinars, Media About Bullying, Print: News, Blogs, Magazines | No Archived Comments | Post A Comment () »
Thursday, August 1st, 2013
People bullied at work tend to be principled and ethical. People practicing peaceful Buddhist principles certainly never expected to work in a bullying-prone workplace. The juxtaposition of peaceful people helping others find peace, tranquility and purpose to make the world a better place in which to live with the psychological violence and pain caused by workplace bullying is jarring. It's a major clash between Peace and Violence in a single workplace.
The Vallecitos Mountain Ranch in rural New Mexico outside of Taos is a place founded with the goal of helping people find peace, rediscover their humanity and personal purpose — a self-described "wilderness learning and retreat center." A married couple started the Ranch. After a divorce, Grove Burnett, was the sole leader. The staff included an executive director, a ranch manager, retreat coordinator, and cooks for retreats staged at the tranquil site. Burnett is recognized as a spiritual leader and meditation teacher. He scheduled a return from sabbatical on Sat. July 13, 2013.
Over the years, Burnett had a record of bullying staff, Board members, and others in the spiritual movement. A staff survey in Nov. 2012 revealed the scope of problems he caused. He had created an "unsafe and tyrannical" place.
During his absence, the 10-person staff appealed to the Board to demand resignations from Burnett and several of his supporters on the Board, to demand new employment contracts with an anti-retaliation clause, and to demand Burnett never teach or participate in any future Vallecitos programs. The Board was indifferent to the complaints. Sound familiar?
Tags: Buddhist, Carl Roberts, Grove Burnett, hunger strike, Leigh Lauck, Mary Reed, peace, spiritual movement, Vallecitos Mountain Ranch, violence, workplace bullying
Posted in Employers Gone Wild: Doing Bad Things, Tutorials About Bullying, WBI Education | No Archived Comments | Post A Comment () »
Tuesday, June 21st, 2011
The wiser reporters who interview me ask what is behind our tolerance of vicious abuse in the workplace or any other domain in our lives. I, as a social psychologist, resort to my stock reply that all of our actions stem from a societal context. If we were less accepting of violence, we would stop it. Perpetrators would never be portrayed heroically. Instead, they would shunned in ways that we now treat victims. Sadly, that's not the culture I live in.
I direct readers to a rather long, but thoughtful and accurate analysis of current culture by Henry A. Giroux, a professor at McMaster University. He stated the case more masterfully than I could.  Reveling in the pain of others: Moral degeneracy and violence in the "Kill Team" photos.
Tags: Henry A. Giroux, moral degeneracy, violence
Posted in Fairness & Social Justice Denied | 4 Archived Comments | Post A Comment () »
Tuesday, February 2nd, 2010
Please check out this film!  The Drs. Namie and the WBI Legislative Campaign are featured.  It's a documentary that begins with post office homicide and then introduces bullying as a potential toxic feature of the work environment that can set the stage for violence.
"Delivers a potent mix of shocking truth, honest analysis and dark humor"
COMING TO THEATERS IN 2010
Feature documentary Murder by Proxy: How America Went Postal offers a provocative examination of the possible role of hostile work environments in mass murder incidents, starting with the earliest USPS mass murder-suicide in 1986.
At a time when tensions are rising again in the Postal Service and in other workplaces across America, Murder By Proxy is a simply a must-see film.
Spread the word, forward the link to this announcement to your friends
Tags: bullying, going postal, massacre, Murder by Proxy, USPS, violence
Posted in Events & Appearances, Fairness & Social Justice Denied, Hear Ye! Hear Ye! 2 | 2 Archived Comments | Post A Comment () »
Monday, September 28th, 2009
By DOUGLAS S. MALAN, Connecticut Law Tribune, Sept. 28, 2009
Lawyers say Yale murder highlights need for training, policies (about physical workplace violence) with a nod to understanding possible underlying work environment issues. Read the original article.
Tags: Annie Le murder, litigation, violence, Yale
Posted in WBI in the News | 2 Archived Comments | Post A Comment () »