Posts Tagged 'WBI 2014 U.S. Workplace Bullying Survey'
Tuesday, April 8th, 2014

U.S. NATIONAL PREVALENCE in 2014
Workplace bullying is repeated mistreatment and a form of "abusive conduct." For the first time, we used the definition of workplace bullying that matches perfectly the definition codified in the Healthy Workplace Bill.
Thus, we asked Americans to consider only the most serious forms of bullying. Eye rolling may be part of bullying, but it alone is not sufficient. Nonverbal cues coupled with verbal abuse and the tactics of exclusion are delivered by perpetrators repeatedly in order to intentionally harm targeted individuals. The closest analogy to workplace bullying is domestic violence. Bullying is a non-physical form of workplace violence.
Tags: American workers affected, bullying statistics, Daniel Christensen, David Phillips, Gary Namie, national prevalence, WBI 2014 U.S. Workplace Bullying Survey, Workplace Bullying Institute, workplace bullying research
Posted in Bullying-Related Research, Social/Mgmt/Epid Sciences, WBI Education, WBI Surveys & Studies | No Archived Comments | Post A Comment () »
Thursday, April 3rd, 2014
If You Don't Want Anti-Bullying Legislation, Give Me a 'Hell Yeah!'
by Jon Hyman, Workforce Management, April 3, 2014
Bullying in the workplace isn't illegal, unless it's bullying because of some protected characteristic (sex, race, etc.). Yet, just because something is legal doesn't mean it should be condoned.
According to Today's General Counsel (citing the Workplace Bullying Institute's 2014 US Workplace Bullying Survey), an astounding 72 percent of employees report that their employers have not done anything to curb bullying in the workplace.
The quickest way to ensure that generalized workplace bullying becomes illegal is for employers to continue to ignore it. If employees continued to report that they are being bullied, and that their employers are not doing anything to stop it, legislatures will step in and pass anti-bullying laws.
So, what should you do? Treat bullying like it's illegal. Create a workplace culture in which bullying is not permitted to occur.
Tags: anti-bullying legislation, Healthy Workplace Bill, WBI 2014 U.S. Workplace Bullying Survey, workplace bullying, Workplace Bullying Institute
Posted in Healthy Workplace Bill (U.S. campaign), Media About Bullying, Print: News, Blogs, Magazines, WBI in the News, Workplace Bullying Laws | No Archived Comments | Post A Comment () »
Tuesday, February 25th, 2014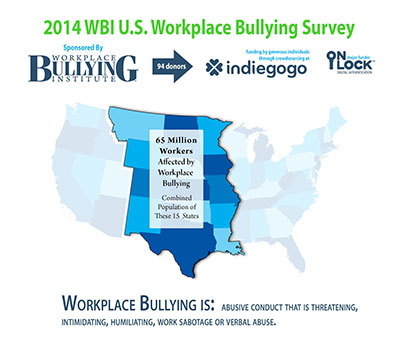 Infographic design by David Phillips, WBI


The results for our WBI 2014 U.S. Workplace Bullying Survey are in! Check out this infographic and please share.

Read the summary of the Survey results.

Or download the complete report.
Tags: David Phillips, infograhpic, survey, WBI 2014 U.S. Workplace Bullying Survey, workplace bullying
Posted in Bullying-Related Research, Media About Bullying, WBI Education, WBI Surveys & Studies | 1 Archived Comment | Post A Comment () »