Posts Tagged 'WBI survey'
Thursday, February 28th, 2013
Loading ...

Tags: Gary Namie, instant poll, WBI research, WBI survey, workplace bullying, Workplace Bullying Institute
Posted in Events & Appearances, WBI Education, WBI Surveys & Studies | 1 Archived Comment | Post A Comment () »
Thursday, January 24th, 2013
No Mediation for Workplace Bullying
by Esque Walker, Ph.D., Texas Certified Distinguished Mediator
Mediation is an inappropriate alternative in cases involving any type of abuse or violence such as domestic violence, child abuse, sexual assault, school or workplace bullying.
The victims or targets in these situations are at a disadvantage and are subjected to further abuse.
Mediation is a process in which disputing parties with the assistance of a third party, the mediator, come together in an attempt to resolve their differences in an acceptable manner (win/win) to both parties. The mediation process assumes that all parties involved in the mediation are "sufficiently capable" of negotiating and reaching a mediated agreement with each other as equals in the process. In cases involving workplace bullying or any type of family violence, this is a false assumption; individuals experiencing abuse, violence, or similar interactions are disempowered their ability to deal effectively with their abusers are diminished.
When the mediation process was designed, it was not intended to or structured to deal with the complexity of workplace bullying or other forms of violence.

Tags: Esque Walker, government mediation, Healthy Workplace Bill, inapprorpriate ADR, mediation, WBI survey, workplace bullying
Posted in Bullying-Related Research, Social/Mgmt/Epid Sciences, Tutorials About Bullying, WBI Education | 1 Archived Comment | Post A Comment () »
Wednesday, January 16th, 2013
WORKPLACE BULLYING PERPETRATORS' RANK & NUMBERS
WBI Research: 2012 – H Instant Poll
Workplace Bullying Institute Instant Polls are online single-question surveys that rely upon self-selected samples of individuals bullied at work (typically 98% of any sample). No demographic data are collected. Our non-scientific Instant Polls accurately depict the perceptions of workers targeted for bullying at work as contrasted with the views of all adult Americans in our scientific national surveys.
In the eighth IP of 2012, 81% of the 806 respondents declared that a boss (higher-ranking person than the target) was involved than bullying.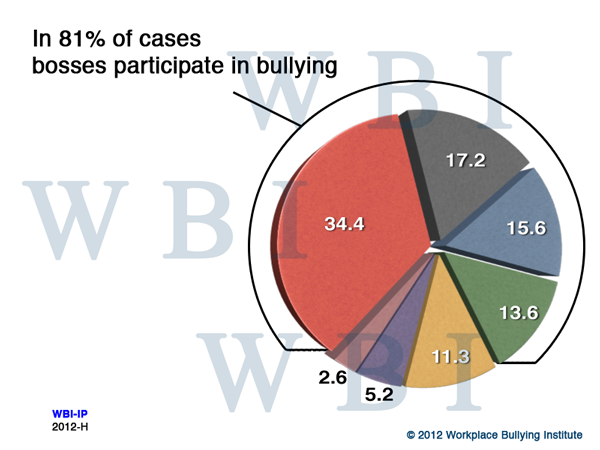 Tags: bullies, instant poll, Mobbing, perpetrators, rank, WBI survey, workplace bullying
Posted in Tutorials About Bullying, WBI Education, WBI Surveys & Studies | 1 Archived Comment | Post A Comment () »
Wednesday, September 12th, 2012
According to 223 visitors to the Workplace Bullying Institute site over the 2012 Labor Day holiday period, 76% of respondents to our Instant Poll question considered unions necessary. In nearly equal numbers, 72% believed that unions need to change, to adapt to either do a better job stopping bullying or to reinvent themselves to better unify workers.

Tags: Unions, unions and bullying, WBI research, WBI survey
Posted in Unions, WBI Surveys & Studies | 3 Archived Comments | Post A Comment () »
Monday, March 14th, 2011
In a WBI 2011 instant poll just completed, site visitors were asked if rights for public sector unions were lost, would there be more or less workplace bullying in the future. More bullying was overwhemingly predicted.

Tags: bargaining rights, WBI survey, workplace bullying
Posted in Bullying-Related Research, Tutorials About Bullying | 8 Archived Comments | Post A Comment () »