Posts Tagged 'WBI'
Sunday, March 12th, 2017



Training for Professionals in Mental Health, Law, HR, Nursing, Medicine, Management, Trainers, Consultants, Clergy, Career Changers
Spend three intensive, immersive days with the Drs. Namie in San Francisco.
April 21-23, 2017
Comprehensive curriculum, graduate-level seminar, evidence-based, derived from our experience as consultants to organizations and advisors to bullied targets.
Since 2008. Always new. Constantly updated.
Tuition discount ends March 31. Number of seats limited. Small group. Register with deposit.

Tags: Gary Namie, Ruth Namie, WBI, workplace bullying training, Workplace Bullying University
Posted in Workplace Bullying University | No Archived Comments | Post A Comment () »
Friday, October 23rd, 2015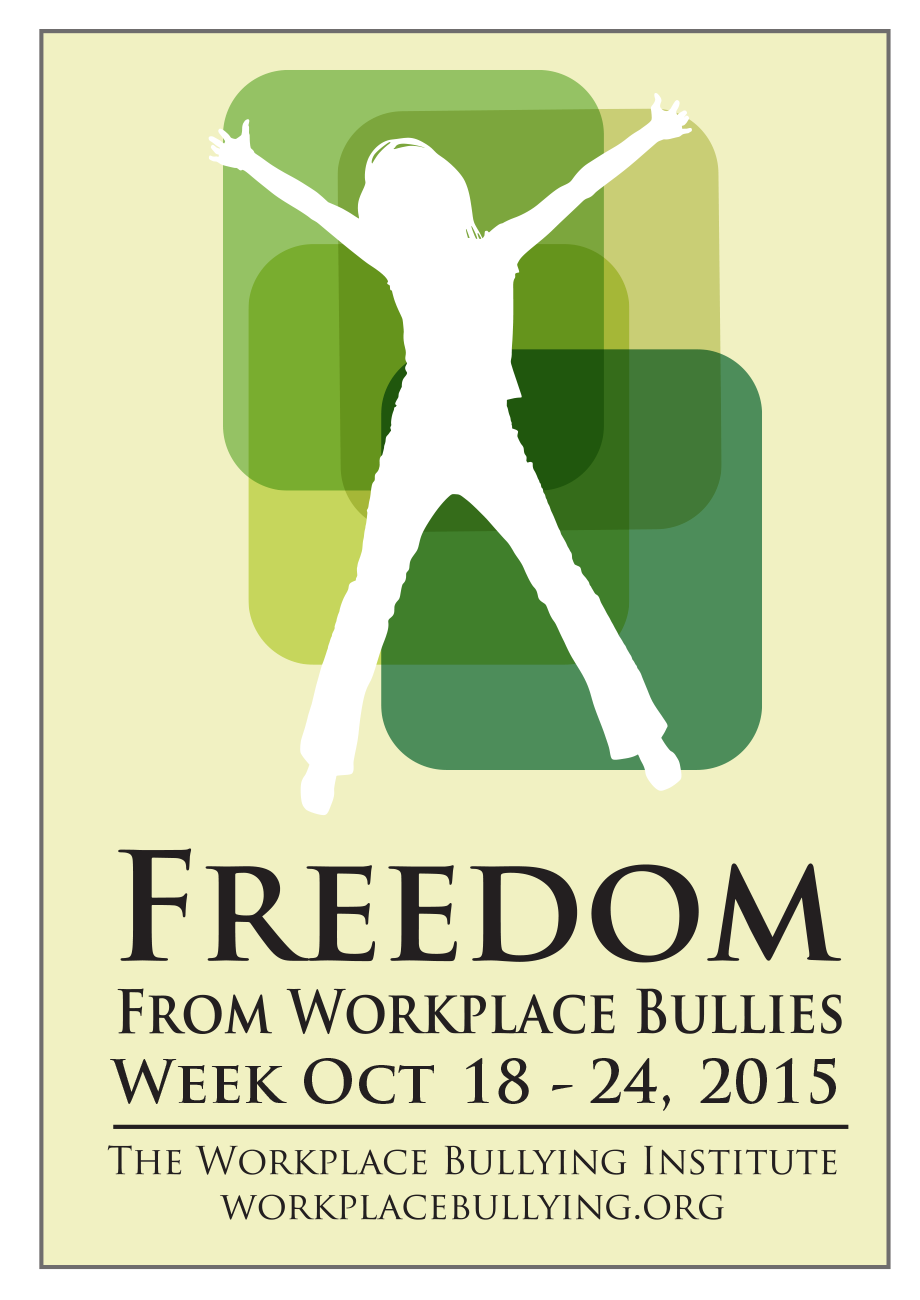 On October 19, 2015, during WBI Freedom from Workplace Bullies Week, Anchorage Mayor Ethan Berkowitz approved a new policy to combat bullying in the workplace. The policy aims to ensure that city employees are respected and treated with dignity while at work.
Berkowitz said that Anchorage does not have a significant bullying problem in work areas, but the issue does come up on rare occasions. He said the idea was first brought to him by city employees to propose a policy prohibiting all verbal abuse, humiliation or threatening behavior in the municipality's workplaces.
The new policy went into effect Oct. 19. It is an expansion of existing anti-discrimination policies that comply with state and federal laws. The policy fails to address thorough procedures to ensure fair and credible resolution of reported incidents. However, it's a start.
WBI congratulates Anchorage for taking this humane step to provide additional protections for City employees.

Tags: abusive conduct, Anchorage, Ethan Berkowitz, Freedom from workplace bullies week, WBI, workplace bullying policy
Posted in Broadcasts: Video, TV, radio, webinars, Employers Doing Good, Good News, Media About Bullying | No Archived Comments | Post A Comment () »
Friday, October 23rd, 2015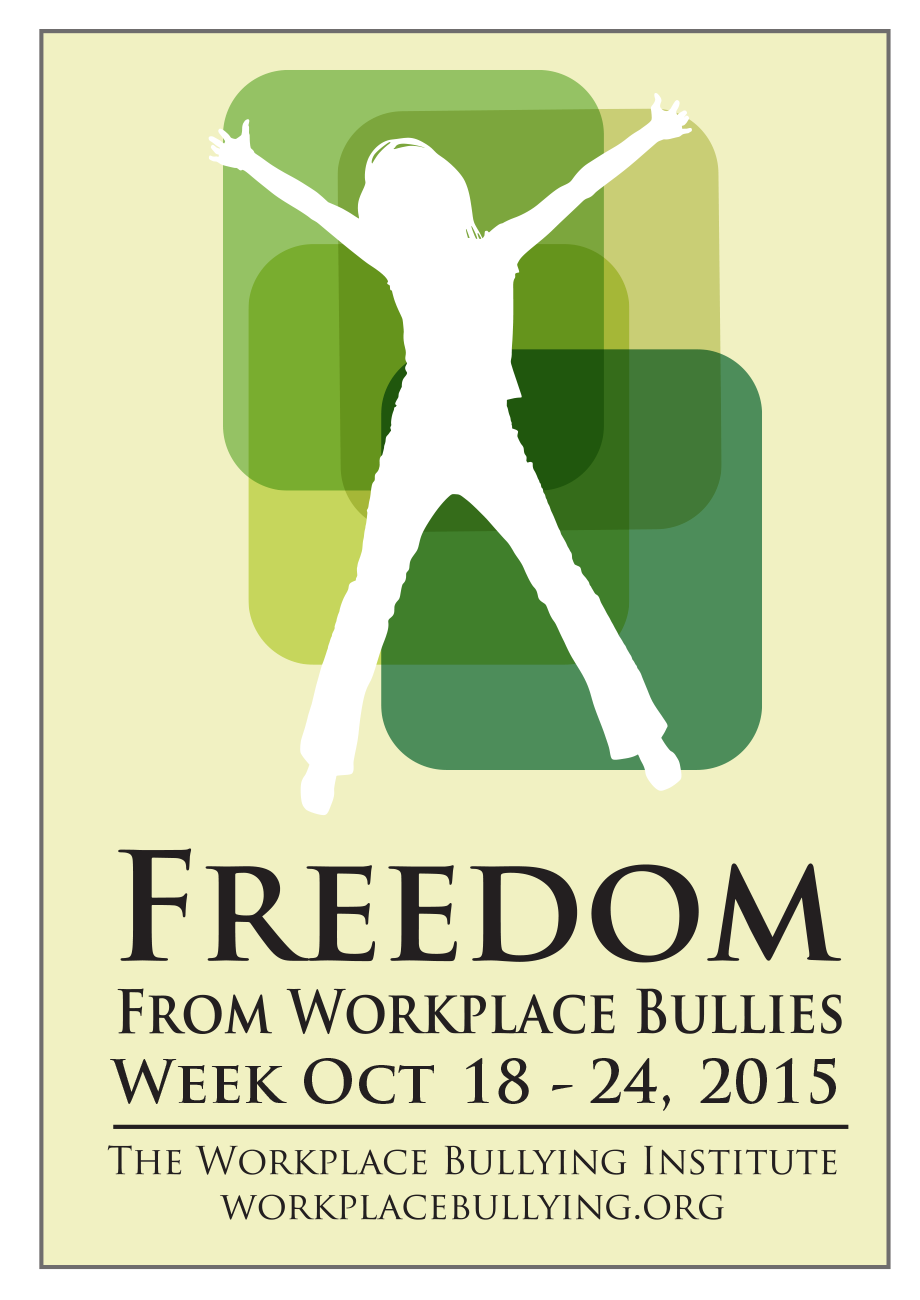 The Workplace Bullying Institute thanks the following West Virginia cities for acknowledging Freedom from Workplace Bullies Week and the necessity of caring for those subjected to abusive conduct at work.
It's a call to action for employers in those cities and the entire state.
Anmoore
Charleston
Elkins
St. Albans
Star City
Welch.
Click to view the Proclamations.
West Virginia has a history of introducing the WBI anti-bullying Healthy Workplace Bill. It has yet to be enacted into law.
The time has come. 2016 provides the state lawmakers a chance to show who they represent.

Tags: abusive conduct, Freedom from workplace bullies week, Healthy Workplace Bill, WBI, West Virginia, workplace bullying, Workplace Bullying Institute
Posted in Freedom Week, Healthy Workplace Bill (U.S. campaign), WBI Education | No Archived Comments | Post A Comment () »
Friday, February 27th, 2015
Richard Himmer, WBI Affiliate and Workplace Bullying University graduate, leads bullied targets on a unique journey beginning on March 19 from 7 to 8 pm at Extendicare Health 3220 Rosedale St., Gig Harbor, Washington. Richard has a unique process designed to restore targets' lost dignity. He is endorsed by WBI.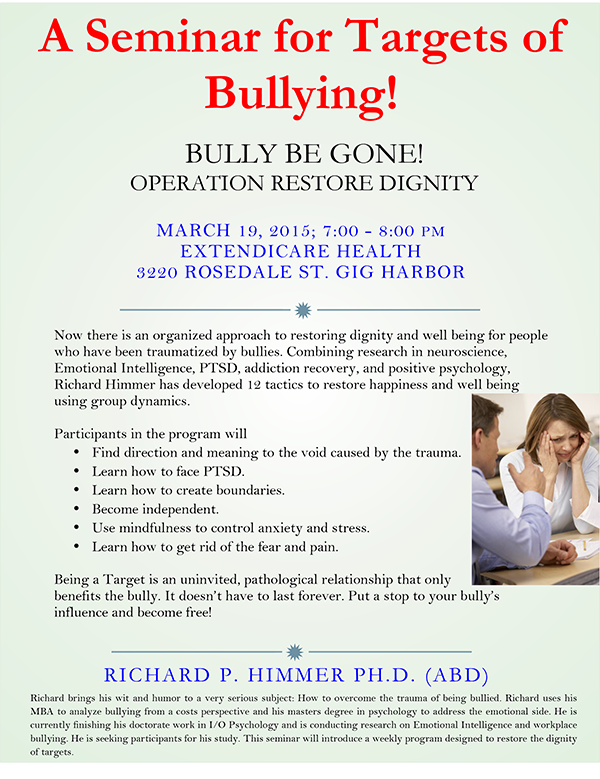 Tags: bullied targets, Dignity, recovery, Richard Himmer, trauma, WBI, workplace bullying
Posted in Events & Appearances, Hear Ye! Hear Ye! 2 | 1 Archived Comment | Post A Comment () »
Monday, December 8th, 2014
Click on the images to purchase.

Tags: buttons, magnets, merchandise, WBI
Posted in Products & Services | No Archived Comments | Post A Comment () »
Wednesday, May 14th, 2014
Dear Kalola,

I was a victim of bullying in more than one of my jobs.  Always being scheduled the same times with my bully.  The boss bully made sure of it in both cases.  Does it wear you down?  Yes.  My co-workers would say one thing to my face and then quite another to my boss.  I would try to deal with it by sometimes becoming quiet during my shifts, while trying not to cry.  My work schedules were very demanding and arduous.  By the time I was near the end of my last job, I was completely overwhelmed.

Physically,spiritually and emotionally, I was a wreck.  Crying at the drop of a hat and no one was supporting me.  I knew that if I took management on, it would turn uglier for me.  I found out much later, if I had gone to the labour board, it would have to be in a certain time period.  I knew the boss had kept a special file for me and had plenty of facts to make, him/her alone, look good.  I am a year and a bit until my retirement. I would love to have a new employ, but will absolutely not allow myself to be bullied again.  I'll walk away first.  Self preservation.

If you have some assistance in getting help in your situation, do it and make sure you have positive support.  I just didn't know where to turn.  There's nothing good in feeling like you are trapped in a circumstance which is not healthy.

I pray and wish the best for all of you.  Persist and press on and remember, you are not alone.

Cynthia
(more…)

Tags: emotional resiliance, Let's Talk with Kalola, tears, WBI, workplace bullying
Posted in Let's Talk with Kalola | No Archived Comments | Post A Comment () »
Tuesday, May 13th, 2014
By Lynne Richardson, The Free Lance-Star, Fredericksburg, VA, May 11, 2014
When I was growing up, we saw bullying in elementary schools and on playgrounds.
The bully was generally the biggest boy in the classroom and he picked on "weaker" boys and girls, making rude and ugly comments about those being bullied and acting in a threatening manner toward them. Teachers tried to protect the children in their classes, but they could not be everywhere.
One of our family's favorite Christmas movies is "A Christmas Story." If you know the movie, you might remember that Ralphie was bullied, but ultimately fought back after school one day. As children, I think we all cheered (at least silently) when we saw people standing up to bullies, but it did not happen often.
Bullying in the workplace is a topic we are hearing more about today. There are countless employees being bullied daily by supervisors and peers. I have even seen it in the hallowed halls of academia! Perhaps you have been bullied and not even known to give this name to the behaviors. Bullies are both men and women.
As I am certainly not an expert on bullying and what to do when bullying creates a hostile work environment, I reached out to attorney Randy Sparks of the Richmond law firm Kaufman & Canoles. Randy specializes in employment law—bullying is something he knows a bit about. I asked him to share some thoughts on bullying in the workplace. His comments follow.
(more…)

Tags: 2014 U.S. Workplace Bullying Survey, Gary Namie, kaufman and canoles, Lynne Richardson, Randy Sparks, The Free Lance-Star, WBI, workplace bullying
Posted in WBI in the News | No Archived Comments | Post A Comment () »
Monday, May 12th, 2014

RACE AND THE BULLYING EXPERIENCE in 2014
Below are the percentages within each ethnic group that had been bullied, witnessed it and the combined percentage to represent those "affected" by bullying.

The overall percentage of those affected was 47.7%. All three non-White groups had much higher rates than the U.S. percentage. Hispanics were the highest; African-Americans were second. Non-White respondents are considered to be members of legally protected status groups. Employers have to comply with state and federal anti-discrimination laws. That is, when they endure harassment, they would be eligible to demand protection from their employers in most situations.
(more…)

Tags: 2014 U.S. Workplace Bullying Survey, bullying statistics, Daniel Christensen, David Phillips, Gary Namie, race and bullying, WBI, workplace bullying
Posted in WBI Education, WBI Surveys & Studies | 10 Archived Comments | Post A Comment () »
Wednesday, April 30th, 2014
This video teaches the people closest to bullied targets what their loved one is going through, that there is little you can do by yourself to stop it, why the assaults consume and contaminate quality time with family, what behaviors to expect from you as time passes with no resolution, and the best things they can do for themselves and for you to approach normalcy again.


Tags: bullied targets, For family and friends, Gary Namie, health impact, WBI, webinar, workplace bullying
Posted in Tutorials About Bullying, WBI Education, Webinars | 4 Archived Comments | Post A Comment () »
Tuesday, March 18th, 2014
By Gina Logue, Post Columnist
Murfreesboro Post
March 16, 2014
It has become a truism of this recession that workers who are stuck in jobs where they are not paid enough, mistreated, overworked or just plain bored have few options in today's tight job market.
If people have had it up to their chins with all the crap dished out on them at work, they might be in a financial position to retire earlier or live in a house with only one working spouse if Obamacare can handle their health insurance needs. They might even be in a position to find a better job, or, at least, to take more time trying to find one.

Tags: gina logue, murfreesboro post, WBI, workplace bullying
Posted in WBI in the News | No Archived Comments | Post A Comment () »