Posts Tagged 'witnesses'
Friday, October 27th, 2017
Burger King and Nobully.org, an organization focused on stopping school bullying, produced a clever test. Which was more likely to compel engagement by Burger King restaurant adult customers — the public bullying of a high schooler by peers or "bullying" a sandwich? Spoiler alert: smashing the sandwich led to complaints 95% of the time, while only 12% of witnesses intervened. Watch until the end to see the care shown by the few who assisted the bullied boy.
Very instructive.

Tags: Burger King, bystanders, nobully.org, school bullying, witnesses
Posted in Broadcasts: Video, TV, radio, webinars, Media About Bullying, Social/Mgmt/Epid Sciences, Tutorials About Bullying | No Archived Comments | Post A Comment () »
Friday, July 7th, 2017
2017 WBI U.S. Workplace Bullying Survey
Reactions to Workplace Bullying by Employers and Witnesses

71% of U.S. employers react to reports of abusive conduct in ways that harm targets
60% of coworker/witnesses' reactions to bullying harmed their targeted colleagues

The Workplace Bullying Institute commissioned Zogby Analytics to conduct the 2017 national scientific U.S. survey across two days in late April. The stratified random sample of 1,008 individuals represented all adult Americans. [Zogby methodology and sample details here.] It was WBI's fourth national survey.
We used the definition of workplace bullying that matches perfectly the definition codified in the Healthy Workplace Bill. Bullying is repeated mistreatment but also "abusive conduct." We asked American survey respondents to consider only the most serious forms of bullying.
EMPLOYER REACTIONS
Employers have the power to either sustain or eliminate abusive conduct. Anecdotal evidence suggests that American employers rarely take steps to assist the aggrieved employee (the target). This question asks what the public believes employers actually do. [N = 479; no experience respondents deleted.]
Wording of the Employer Reaction Question: Upon learning of the abusive conduct, what did the employer do?
For many respondents, employer reactions were obscured. Two sub-groups of respondents were eliminated – "employer never learned" and "not sure" – representing 56% of the initial sample. For a host of possible reasons (e.g., the target never reported it), employer actions were unknown to over half of the sample. It is also very difficult for observers to be certain what employers know and what they do because so many actions are shrouded in secrecy beneath the veil of "confidentiality."
Respondents who were sufficiently certain of what employers did, the remaining 44% of the sample [N = 212], concluded that 71% of employers took steps that did not benefit the targeted worker. The most frequent negative employer reaction is to conduct what targets describe as "sham" investigations characterized by major shortcomings. Investigator biases are often legend. Coworkers, for understandable reasons, fail to corroborate their bullied peer's account of alleged bullying incidents. Key individuals are not interviewed. Greater weight is given to perpetrators' versions of incidents. Objective historical documentation is ignored or discounted. "Sham" investigations end with an inconclusive result but with inadequate or inaccurate execution. To be fair to investigators with integrity, the process is fraught with problems in bullying cases different than investigations of routine conflict or illegal forms of discriminatory misconduct. An endpoint of "she said/she said" is common. WBI survey respondents say it happens in 46% of cases.
Because abusive conduct is a form of workplace violence, the complainant has likely suffered long prior to requesting an investigation. Therefore, when no work environment changes to restore psychological safety for complainants follow an investigation, investigators necessarily should understand the perception of incredulity by victims of the psychological violence.
Employer apologists might argue that an employer's decision to do nothing is an act of neutrality. However, this is wrong. Doing nothing or showing indifference to filed complaints or discovering a procedural technicality to justify not responding to the complaints is an act of complicity with the aggressor. By enabling bullying with impunity, the institution takes the side of perpetrators and provides shelter from the accountability they seek. Doing nothing happens 26% of the time, according to the survey respondents.
Positive employer actions resulted in 29% of cases. Perpetrators endured negative outcomes in only 6% of the cases.
WITNESS REACTIONS
Results from several WBI online surveys of bullied targets reliably show that coworkers rarely help their bullied colleagues. Several social psychological processes operate in the group setting to explain the failure to act prosocially toward colleagues. The question explored a range of positive and negative actions taken by witnesses to the bullying. [N = 362 with no experience respondents and "not sure" respondents deleted.]
Wording of the Question: How did most of the witnesses react to the repeated mistreatment of their targeted coworker?
Doing nothing was the most cited tactic (40%). Of course, doing nothing to help colleagues when they are distressed is not a neutral act. It is negative. However, it is not the same as betraying the target by siding with the perpetrator(s), believed by respondents from the general American public to happen in only 4% of cases.
Positive witness reactions occurred in 40% of cases, according to survey respondents. Negative actions were taken in 60% of cases.
Gary Namie, PhD
WBI Research Director
Download the pdf version of these Employer and Witness Reaction findings.
View findings related to other questions asked in the 2017 Survey.
Download the complete report of the 2017 WBI U.S. Workplace Bullying Survey.

Tags: 2017 WBI U.S. Workplace Bullying Survey, abusive conduct, coworker inaction in bullying incidents, coworkers, doing nothing is not neutral, employer reactions to bullying, Gary Namie, witnesses, workplace bullying
Posted in Bullying-Related Research, Social/Mgmt/Epid Sciences, WBI Education, WBI Surveys & Studies | No Archived Comments | Post A Comment () »
Saturday, September 27th, 2014
There is a raging epidemic of sexual assaults on US college campuses. Reliable estimates claim that between 16% and 25% of college women face the risk of rape or some other assault, according to the spring 2014 report by the White House Task Force to Protect Students from Sexual Assault. The Obama Administration's goal is to understand the problem then propose legislative, behavioral and institutional changes to eradicate the problem.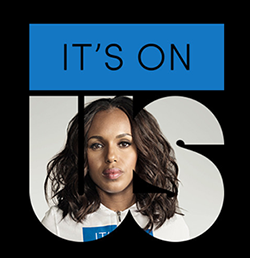 On Sept. 23, 2014, the government launched a new public education campaign featuring celebrities (ostensibly the only credible Americans with the right to suggest that the public change its behavior) — It's On Us. The message attempts to increase the responsibility felt by witnesses of assaults to intervene and disrupt.
In school bullying initiatives, it's called making "upstanders" out of bystanders. Witnesses are known to not intervene in emergencies of all kinds. The reluctance is called the "bystander effect," and followed a 1964 rape and murder of Kitty Genovese in Queens New York witnessed by 38 neighbors, each of whom failed to call the police in time to save her life. The explanations that emerged from subsequent research (led by social psychologists John Darley and Bibb Latane starting in the 1960's). Bystander reticence is usually based on fear — of retaliation, of botching a rescue, of being the sole helper, of being the next victim.

Tags: bystander effect, bystanders, campus sexual assault, Columbia University, It's On Us, White House Task Force to Protect Students from Sexual Assault, witnesses, workplace bullying
Posted in Fairness & Social Justice Denied, Media About Bullying, Print: News, Blogs, Magazines, Tutorials About Bullying, WBI Education | 2 Archived Comments | Post A Comment () »
Tuesday, April 29th, 2014
Impact of Workplace Bullying
on Coworkers
Despite the rare success story in coworkers joined the bullied target to confront the bully and jointly testified to the employer about what was done to their injured colleague, most coworkers are notorious for not helping bullied targets. It is hurtful to expect that level of support. From a 2008 WBI study, we know that that rare collaboration happens in less than 1% of cases.
Here we want to discuss how witnesses to bullying in their workplace can be adversely affected. From the WBI 2014 U.S. Workplace Bullying Survey, we know that 21% of adult Americans have been indirect, or vicarious, victims of bullying. Just as families are affected without being the direct targets of bullying, so are coworkers.

Tags: coworkers, effects, Gary Namie, impact, witnesses, workplace bullying, workplace bullying insitute
Posted in Tutorials About Bullying, WBI Education | 1 Archived Comment | Post A Comment () »
Tuesday, November 5th, 2013
The inaction of witnesses is an underreported aspect of the media saturation coverage of the Martin-Dolphins-Incognito bullying case.
As all bullied targets are aware, witnessing coworkers do little to help. In less than 2% of cases they spring to action to help bullied colleagues. [See the WBI 2008 Coworker Response survey] They are fearful — of being next, of betraying the bully and of getting harmed when intervening.
In the Dolphins locker room, there were many 300 pound witnesses to Richie Incognito's mistreatment of Jonathan Martin. Why didn't they simply stomp Incognito into the ground?
Here are some reasons.
(1) Incognito had "leader" status among the players. By some he was revered. Remember a coach called him a "model citizen." He was the NFL personified.
(2) Incognito had a history of aggression with some. In the past he might have made them his targets. Burned once, former targets lay low.
(3) Cowardly witnesses — professional athletes and accountants alike — don't want to get involved, reasoning it safest for them to stay out of others' disputes. These are the do-nothing enablers. They are the "good Germans" Hitler depended on to tame the nation.
(4) Witnesses rationalize their failure to stand by colleagues hurt by relationships within the team by believing that the bullied target somehow deserved his fate. Martin must have angered Incognito for Incognito to have ridden him for a full season and one-half. This blame-the-victim tendency is not restricted to sports organizations or workplaces in general; it is societal. It is called the Fundamental Attribution Error.
(5) The target deserved his fate. Martin is not a full participant in the macho NFL culture as practiced in the Dolphins locker room.
We observers of bullying in our workplaces declare that we would intervene because it is the right thing to do. However, this optimism is balderdash. When circumstances call for intervention, we are all cowards.
To date, Martin is alone in walking out. He should not expect much public support, though friends will call confidentially. Incognito's sycophants will Twitter his virtues for the world to read.
Follow the full story in the Category list in the sidebar: NFL: Jonathan Martin

Tags: bullied targets, bystanders, coworkers, Gary Namie, Joe Philbin, Jonathan Martin, Miami Dolphins, NFL, Richie Incognito, witnesses
Posted in NFL: Jonathan Martin, Tutorials About Bullying, WBI Education | No Archived Comments | Post A Comment () »
Thursday, May 2nd, 2013
Are bullies demons? Bully apologists abhor "demonizing" abusers in the workplace. What's the alternative? Revere them. Thank them for showing us how loathsome and dark can be the human condition? Ignore their cruelty foisted on the best and brightest workers whose principal goal of every day is to be "left alone" to do their jobs? Of course, that's exactly what bully apologists do. We think they stand on the wrong side of the moral fence.
We at WBI are target-centric. We've chosen the other side. We didn't start the U.S. Workplace Bullying movement to treat it as an academic exercise in neutrality. Targets deserve and need support. Institutions do a fine job of defending perpetrators.

Tags: bullies, courage, coworkers, demons, EFT, EMDR, evil, Gary Namie, Ruth Namie, witnesses, workplace bullying
Posted in Target Tale, WBI Education | 1 Archived Comment | Post A Comment () »
Tuesday, September 25th, 2012
In a just published large sample (n=4,238) study across four Swedish industries — paper mills, steel factory and truck manufacturer — researchers from the government's Institute of Environmental Medicine followed witnesses to workplace bullying for 18 months. At the end of the measurement period, women witnesses showed a higher prevalence of clinical depression (33.3%) than did men witnesses (16.4%).
This study clearly showed that exposure to bullying, a vicarious experience for witnesses, is a significant risk factor in developing depression from negative conditions in the workplace. That's the major finding from the study.

Tags: clinical depression, coworkers, witnesses
Posted in Bullying & Health, Bullying-Related Research, Social/Mgmt/Epid Sciences, WBI Education | 5 Archived Comments | Post A Comment () »