Posts Tagged 'Wm. David Cornwell'
Tuesday, May 13th, 2014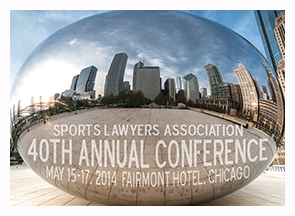 This week, the Sports Lawyers Association (SLA) hosts its 40th annual conference in Chicago. Attendees include attorneys associated with all major professional sports leagues, universities and agents for pro athletes.
Presenting details about the Jonathan Martin/Miami Dolphins bullying case are Wm. David Cornwell, Sr., Gordon & Rees, LLP and Dr. Gary Namie, Director, Workplace Bullying Institute. Both Mr. Cornwell and Dr. Namie were retained to assist Mr. Martin. The NFL investigation, conducted by attorney Ted Wells and its report released on Feb. 14, 2014, incorporated facts about workplace bullying conveyed to Mr. Wells by Dr. Namie.
This is a challenging time for professional sports. All are reacting to racism and off-field abusive conduct.
###
Follow the full NFL story from the start in the Category list in the sidebar: NFL: Jonathan Martin Read the NFL investigation report.

Tags: Gary Namie, Jonathan Martin, Miami Dolphins bullying scandal, sports lawyers association, Wm. David Cornwell, workplace bullying
Posted in Events & Appearances, Hear Ye! Hear Ye! 2 | No Archived Comments | Post A Comment () »