Posts Tagged 'Work Doctor'
Thursday, November 14th, 2013
10 Steps to Ensure an Abuse-Free NFL Workplace
1.  The change must be at the NFL level and not remain buried within the Dolphins organization alone. 
2.  Be careful to not move from zero awareness to zero tolerance. The most extreme swing will make compliance officers of all coaches and compel snitching among players. Resentment would ensue. Allow time to learn new ways to interact. Tolerate up to two offenses prior to termination.
3.  Create a policy to draw "the line in the sand." Unacceptable conduct must be specified. Behavioral standards must exist for comparison's sake.
4.  Demand that the policy pertain to all employees — owners to rookie players and all coaches in between. Apply the standards consistently. Do not resolve on a "case-by-case" basis that allows for exemptions for favorites.
5.  Before formal complaints can be filed, require that bullied players first consult with a member of an Expert Peers Team trained in the nuances of workplace bullying so that the ambiguous experiences can be clarified, strategies provided and information about the policy and procedures explained safely and confidentially.
6.  Write the policy or code to address only the most severe, health-harming forms of abusive conduct that has absolutely nothing to do with performance (playing the game successfully). 
7.  Allow non-humiliating rituals to continue (such as rookies gathering helmets at the end of games … see coach Pete Carroll). Render extinct hazing, intimidation, financial extortion, and other non-physical forms of abuse.
8.  Devise safe, non-retaliatory, non-stigmatizing procedures that enable complaint filing and 3rd party investigations.
9.  Provide healing, restorative justice solutions for affected targets, bullies and witnessing coworkers. 
10.  Identify veteran & retired players known for toughness (e.g., Ray Lewis) who can be league ambassadors on the topic.
Roger Goodell, call me at 360-656-6630.
Gary Namie, PhD
Follow the full NFL story in the Category list in the sidebar: NFL: Jonathan Martin

Tags: culture change, employer solution, Gary Namie, Jonathan Martin, locker room culture, systemic, Work Doctor, workplace bullying, Workplace Bullying Institute
Posted in NFL: Jonathan Martin, Products & Services, WBI Education | No Archived Comments | Post A Comment () »
Thursday, October 10th, 2013
The Drs. Namie, aside from the non-profit Workplace Bullying Institute and the legislative Healthy Workplace Bill campaign, work with companies through the Work Doctor consulting firm.
Without laws to compel the prevention and correction of workplace bullying, organizations striving to ensure an abuse-free work environment are few and far between. The companies that do look for solutions are ahead of the curve.
That said, it is important that companies find the correct solutions. Training that centers on role-playing exercises do more harm than good.
We stumbled upon an example of the wrong way to train (keeping the source anonymous). Look at the following role-play exercises and see if you can can pinpoint the problem.
Role Play #1

Joe is a nurse who has worked at the facility for 15 years. Recently he and his wife of 30 years have separated and are filing for divorce. On every shift Joe sees his co-workers whispering behind his back. Rumors have started circulating about the circumstances surrounding the separation.

Role-play this situation and how Joe should act in these types of situations.
(more…)

Tags: myths, policy, role-play, training, Work Doctor, workplace bullying
Posted in WBI Education | 2 Archived Comments | Post A Comment () »
Monday, September 16th, 2013
Self-guided program on DVD for employers of all sizes leads to the creation of a comprehensive, defensible policy to prevent and correct workplace bullying from the recognized originator of the workplace bullying consulting field in North America.
Recognition of workplace bullying is at an all time high and employers are beginning to addressing. Workplace Bullying Institute research shows that only 5.5% of U.S. employers are adequately dealing with the problem in their organizations. In a 2013 survey of business executives, 68% indicated it was a serious problem. Many employers don't know where to start. 
Since launching the U.S. anti-workplace bullying movement in 1997, Dr. Gary Namie has worked with organizations to create policies and procedures. For the first time, and only from WBI, companies of all sizes can now apply the same writing method normally facilitated by Dr. Namie in person.

"We wanted to remove all barriers for all employers to stopping bullying," according to Dr. Namie, "Employees are clamoring for protection and this is our plan to accelerate the changes businesses must make to stem the losses."
The cost is $299 so that small businesses can protect themselves against the losses incurred by a workplace bully.
The DVD is best used by an assembled team of workers called the Policy Writing Group or the appropriate authority in small firms. Instructions are provided that allow the group to create the most comprehensive set of policy provisions, informal solutions, and formal enforcement procedures. Law professor David C. Yamada discusses legal and liability issues associated with policy creation. Only those who work at your organization understand the idiosyncrasies of their unique workplace culture. This DVD results in a policy specific to your organization with all of the accompanying ethical and logistical questions answered.
For product information visit The Work Doctor® Website


Tags: David Yamada, Gary Namie, policy, procedures, solution, training, Work Doctor, workplace bullying, workplace bullying policy
Posted in Good News, Hear Ye! Hear Ye! 2, Products & Services | No Archived Comments | Post A Comment () »
Wednesday, June 19th, 2013
Here is a nice piece of older audio from a radio program featuring Dr. Namie. His guest is Felix Nater, a former Postal Inspector, whose experiences led him to investigate workplace homicides and to prosecute offenders. Prevention was often lacking. Now consultant Nater makes violence prevention a key part of the business process for clients. He developed the Violence Interdiction Model which he shares with the Work Doctor audience.
Audio clip: Adobe Flash Player (version 9 or above) is required to play this audio clip. Download the latest version here. You also need to have JavaScript enabled in your browser.

Tags: Felix Nater, Gary Namie, Podcasts, Post Office, Work Doctor, workplace bullying, workplace violence
Posted in Podcasts | No Archived Comments | Post A Comment () »
Thursday, June 21st, 2012
Entrepreneur Daily Dose Blog
Telltale Signs You Have a Workplace Bully
by Gwen Moran
Workplace bullying affects 35 percent of employees, according to a 2010 survey by the Workplace Bullying Institute (WBI), a Bellingham, Wash.-based nonprofit organization. Gary Namie co-founded WBI with his wife, Ruth, after her first-hand experience with bullying. In an interview, he shared his best advice to entrepreneurs for managing this nefarious problem. What follows are edited excerpts of the interview.

Tags: 2010 WBI U.S. Workplace Bullying Survey, Bully at Work, Bully-Free Workplace, Gary Namie, Work Doctor
Posted in Media About Bullying, Print: News, Blogs, Magazines, WBI in the News | 1 Archived Comment | Post A Comment () »
Thursday, December 1st, 2011
by Shelly K. Schwart, CNBC.com, December 1, 2011
A manager calls an important meeting with no time to prepare, making co-worker appear incompetent. She ridicules him in front of his peers and jumps at the chance to criticize his work. She's a bully. And she's setting up a co-worker to fail.

Tags: Gary Namie, Joel Neuman, Shelly Schwartz, Work Doctor, workplace bullying, Workplace Bullying Institute
Posted in WBI in the News | 2 Archived Comments | Post A Comment () »
Tuesday, July 12th, 2011
By Kate Rogers, Published July 12, 2011, FOXBusiness
Americans face bullying long after they have left the playground with a startling 35% of adults either been bullied or currently experiencing bullying at work, according to the Workplace Bullying Institute.
Workplace bullying is defined by the WBI as "repeated, health-harming mistreatment of one of more persons by one or more perpetrators," and includes verbal abuse, offensive conduct and behaviors (including nonverbal) that are threatening, humiliating or intimidating and work interference or sabotage, which prevents work from getting done.

Tags: FOX Business, Gary Namie, Healthy Workplace Bill, Work Doctor, workplace bullying
Posted in Fairness & Social Justice Denied, WBI in the News | 12 Archived Comments | Post A Comment () »
Wednesday, June 1st, 2011
2-DVD Set: A Primer for Managers
with The Bully-Free Workplace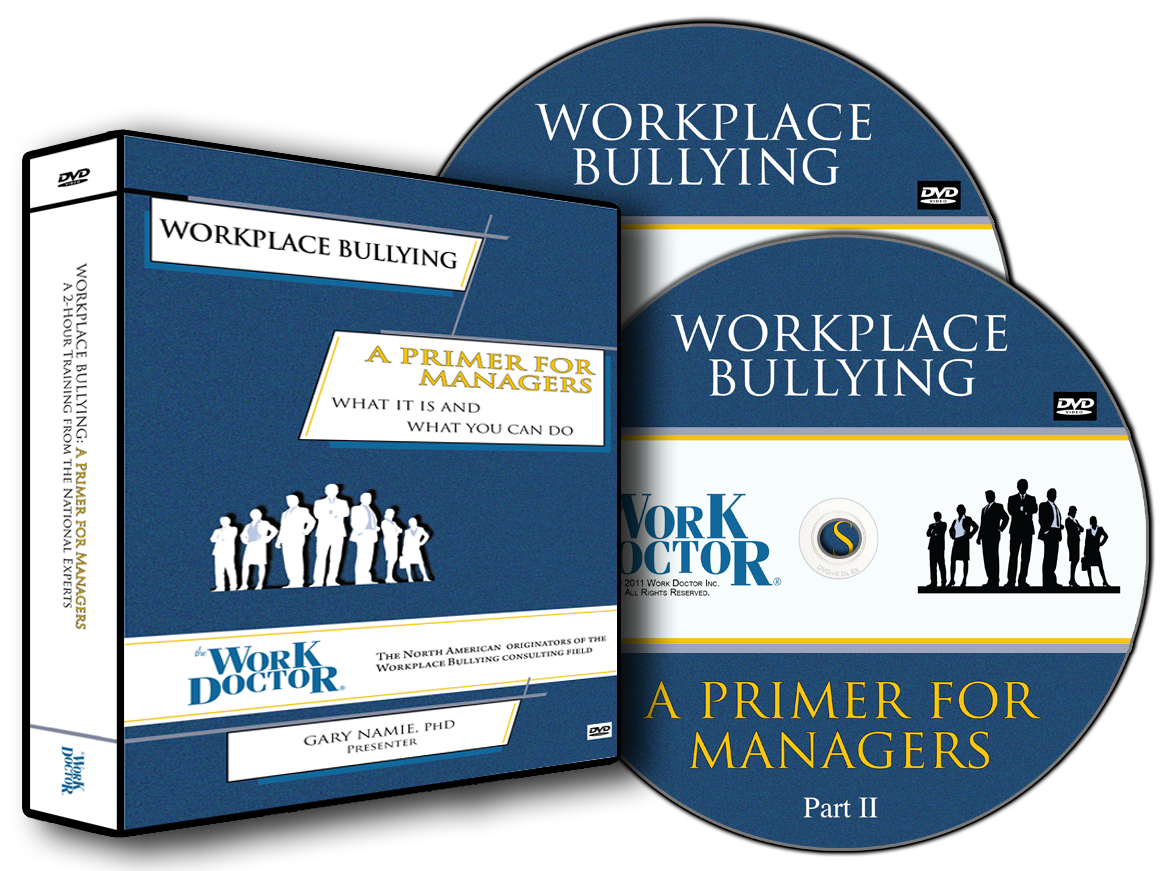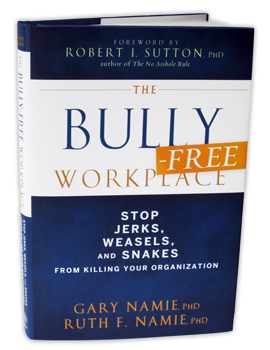 Raising Employee Awareness DVD
with The Bully at Work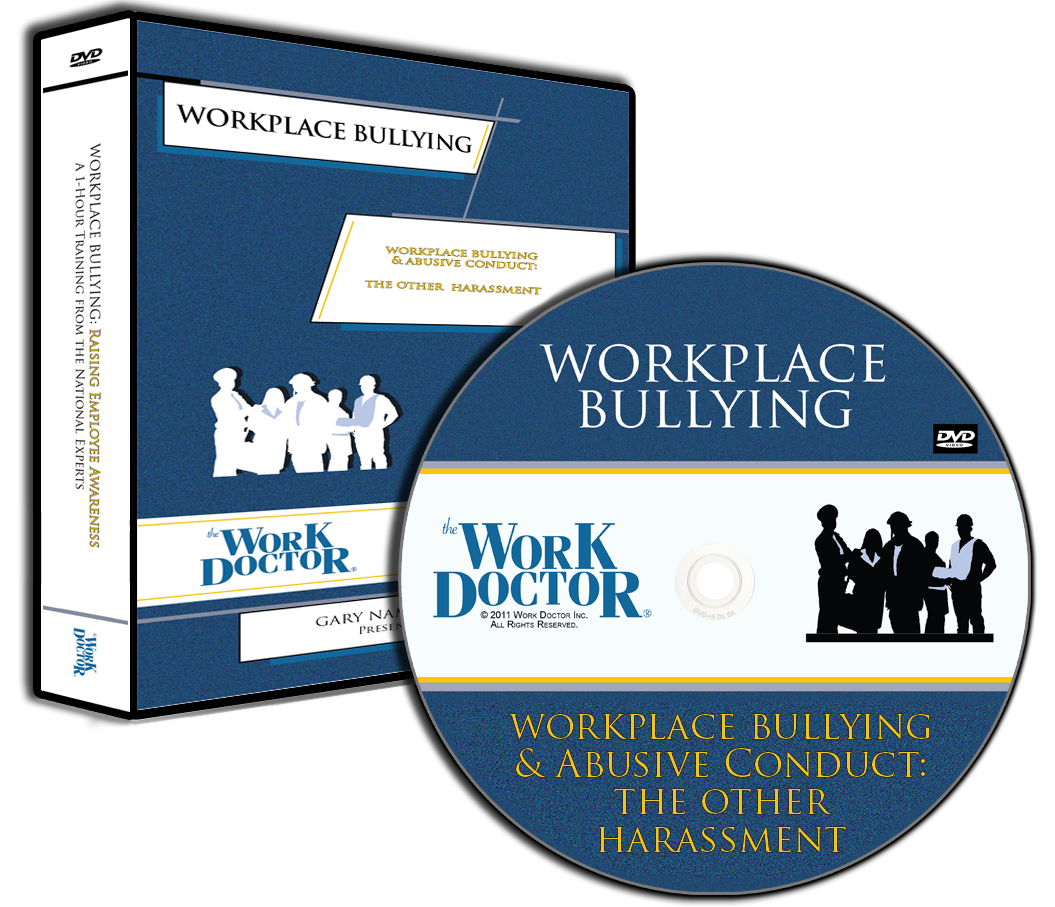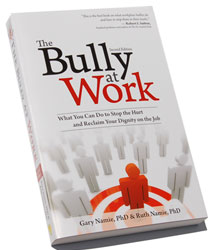 Videos can be purchased separately or together for a discounted price. A third option is to bundle one or both videos with the Namies' books -- The Bully-Free Workplace (for leaders and managers) and/or The Bully At Work (for individuals) for training participants.

Tags: Gary Namie, Ruth Namie, Work Doctor, workplace bullying videos
Posted in Fairness & Social Justice Denied | 1 Archived Comment | Post A Comment () »
Friday, May 7th, 2010
On May 3, Massachusetts Gov. Patrick signed into law (with much fanfare) S2404, a bill that languished until two headline-grabbing student suicides were traced to bullying by other students. Middle school student Carl Walker-Hoover hanged himself in 2009 and high school student Phoebe Prince did the same in Jan. 2010. Legislation was reflexively proposed to hold adults (educators, paraprofessionals, administrators, school nurses, cafeteria workers, etc.) responsible for stopping bullying when they see it or at least report it to the school principal. The principal, in turn, can decide to call or not to call law enforcement.

Tags: Carl Walker-Hoover, Desert Sands Unified School District, Deval Patrick, MA, Phoebe Prince, S2404, school bullying, Sioux City Schools, Work Doctor
Posted in Employers Gone Wild: Doing Bad Things, Fairness & Social Justice Denied, Rulings by Courts | 6 Archived Comments | Post A Comment () »
Saturday, September 12th, 2009
Sioux City District First in Nation with Bullying Prevention Program for Adults
Partners with Workplace Bullying Institute
Schools and student bullying are a September tradition. However, this year, there is a new twist. The Sioux City (Iowa) Community School District (SCCSD) is boldly taking steps to prevent bullying among teachers, staff and administrators. They are first district in the nation to launch an anti-bullying program for adult employees.
[Interested school district administrators are invited to call 360-656-6603]

Tags: Alan Heisterkamp, Blueprint, Carrie Clark, Cindy Waitt, consulting, Gary Namie, policy, Ruth Namie, Sioux City Community Schools, Steve Crary, WBI University, Work Doctor
Posted in Employers Gone Wild: Doing Bad Things | No Archived Comments | Post A Comment () »