Posts Tagged 'workplace bullying insitute'
Thursday, January 28th, 2016
Eleven Washington State House Representatives have sponsored the anti-bullying Healthy Workplace Bill (HB 2894). Another 11 state Senators of both parties are sponsoring the Senate companion bill (SB 6532). The HWB defines health-harming abusive conduct and makes it unlawful for employers to allow it to happen.
This marks the return of the legislation to Washington, absent since 2012. Washington was the 4th state to ever introduce the legislation.
If you live in the state, please visit the WA State Page at the Healthy Workplace Bill website. Contact information for all bill sponsors and committee members can be found there. You can also volunteer to testify or help the State Coordinator get the bill through committees and floor votes in a very short legislative session.


Tags: abusive conduct, Healthy Workplace Bill, workplace bullying, workplace bullying insitute
Posted in Healthy Workplace Bill (U.S. campaign), Workplace Bullying Laws | No Archived Comments | Post A Comment () »
Wednesday, December 23rd, 2015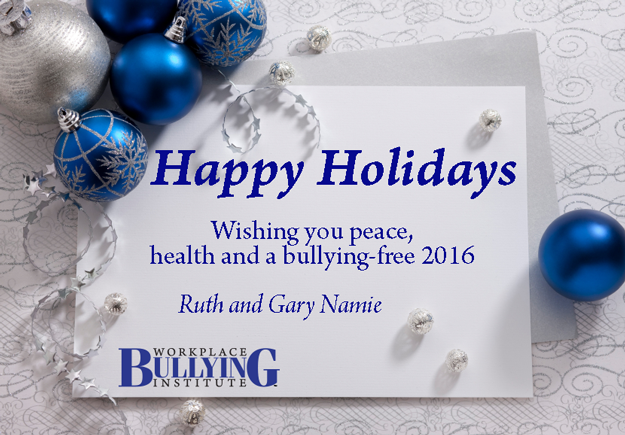 Please complete our new survey
Loading ...

Tags: Gary Namie, holiday wishes, Ruth Namie, workplace bullying, workplace bullying insitute
Posted in WBI Surveys & Studies | No Archived Comments | Post A Comment () »
Tuesday, April 29th, 2014
Impact of Workplace Bullying
on Coworkers
Despite the rare success story in coworkers joined the bullied target to confront the bully and jointly testified to the employer about what was done to their injured colleague, most coworkers are notorious for not helping bullied targets. It is hurtful to expect that level of support. From a 2008 WBI study, we know that that rare collaboration happens in less than 1% of cases.
Here we want to discuss how witnesses to bullying in their workplace can be adversely affected. From the WBI 2014 U.S. Workplace Bullying Survey, we know that 21% of adult Americans have been indirect, or vicarious, victims of bullying. Just as families are affected without being the direct targets of bullying, so are coworkers.

Tags: coworkers, effects, Gary Namie, impact, witnesses, workplace bullying, workplace bullying insitute
Posted in Tutorials About Bullying, WBI Education | 1 Archived Comment | Post A Comment () »