Posts Tagged 'Workplace Bullying Institute'
Tuesday, October 6th, 2015
8th Annual WBI Celebration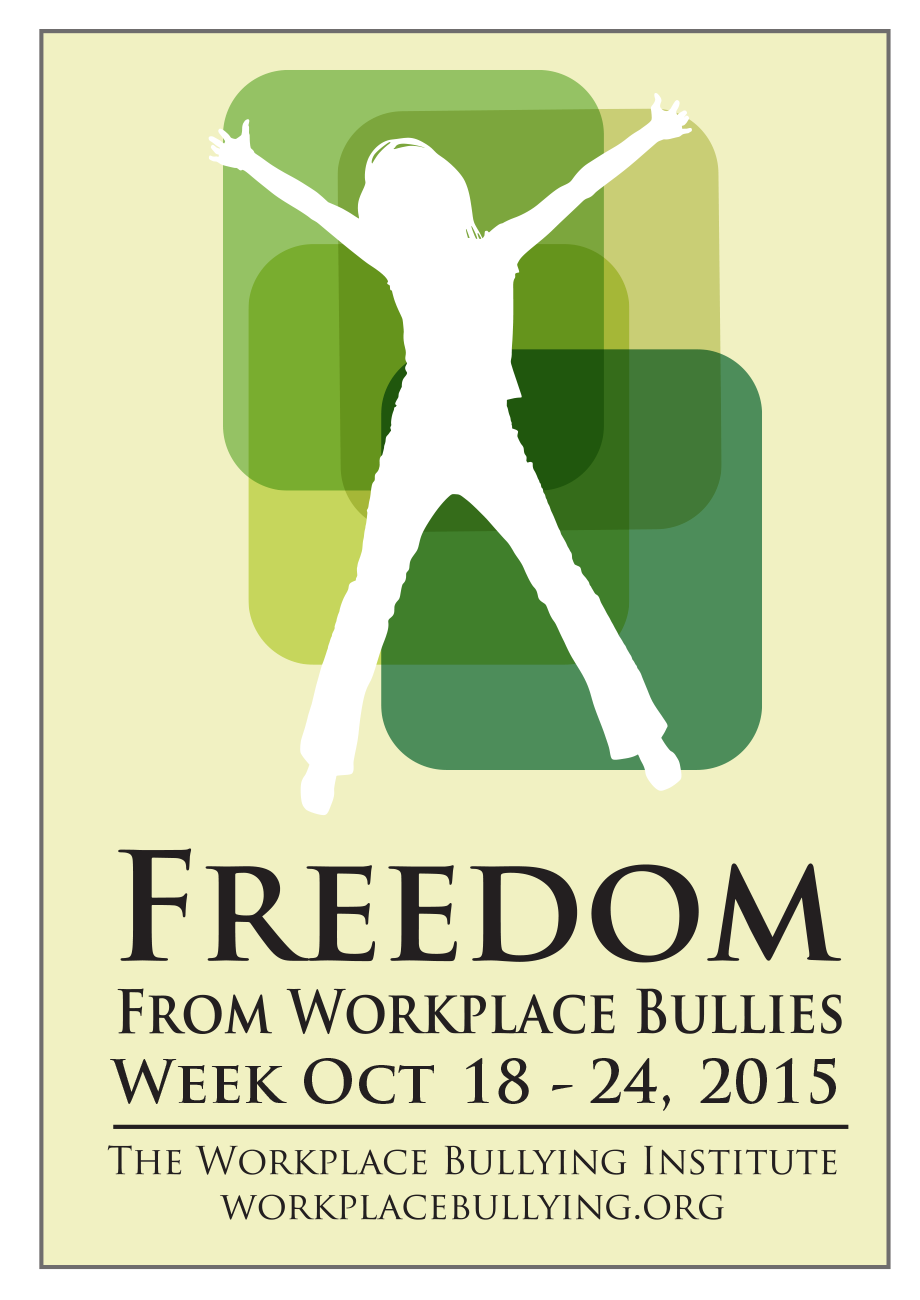 DO SOMETHING POSITIVE!
• As Targets of bullying, shame paralyzes us and prevents us from defending ourselves.
• As members of Targets' Families, we watch in horror as our loved ones' lives unravel before our eyes.
• As Witnesses, fear of engagement, fear of threats to our own safety, prevent us from helping targets.
• As Managers, we lack the skills to stop it, confusing bullying with conflict, which we all abhor.
• As HR, we watch helplessly because laws do not compel policies that give us authority to act.
• As Union officers, we are too occupied with survival to see how much our members are suffering.
• As Owners/Executives, we wonder why some of the most admired managers are considered abusive.
• As State Lawmakers, we fear losing business lobby support, so we ignore the Healthy Workplace Bill.
Unrealistic fears, self-blame, rampant institutional indifference, and waiting for regulations are the excuses to not take positive prosocial action today to help those who are harmed by abusive conduct of others. How dare we turn our backs. Are we not moral human beings with empathy for the plight of oppressed peers?
So, just this one week of the year, let's say "no" to all the rationalizations that sustain bullying in our workplaces. Open our eyes and see the harm caused.
Yes. Bullying costs employers. But bullying carries a tremendous human cost in terms of preventable stress-related injuries to the most capable workers among us.
DO SOMETHING POSITIVE! Visit the Freedom Week section of the WBI website.
Tell WBI the activity you plan for the week and we will post it here. Send message to namie at workplacebullying dot org.
Downloadable 2015 Flyers to print for your workplace.
Tags: Freedom Week, Oct 18-24, workplace bullying, Workplace Bullying Institute
Posted in Freedom Week, Hear Ye! Hear Ye! 2, WBI Education | No Archived Comments | Post A Comment () »
Wednesday, September 30th, 2015
The Workplace Bullying Institute (WBI), which began as the Campaign Against Workplace Bullying in mid-1997, was born in the kitchen (a tad more comfortable than the garage) of our Benicia, California home. Benicia is in the San Francisco Bay Area. Dr. Ruth had been bullied in the region at a psychiatry clinic in the state's largest HMO. With the help of volunteers, the scope of our ability to help bullied targets took over our living and dining rooms. Our initial presence on the web was at workdoctor.com, then bullybusters.org. When Oprah called in 1998, we hustled to write our first book — BullyProof Yourself At Work. We published it ourselves and became way too intimate with giant rolls of bubble wrap and shipping envelopes. In 2000, the publisher Sourcebooks in Naperville, IL acquired an expanded version of that book. It became the book The Bully At Work: What You Can Do to Stop the Hurt and Reclaim Your Dignity on the Job.
In 2000, the Georgetown Law Journal published the seminal legal article on workplace bullying by Suffolk Law Professor David Yamada. As an early WBI affiliate-friend-colleague, Yamada wrote draft legislation that we dubbed the Healthy Workplace Bill. It fell upon WBI to find ways to get the bill introduced in the states. California was the first to introduce it, in 2003, based on lobbying by WBI starting in 2001 when we were in California.
We left Benicia in 2001 to move to the great Pacific northwest, to Bellingham, Washington, a small town 18 miles south of the Canadian border. Dr. Gary returned to teaching university for two years (back to teaching youngsters and psychology again). There, he created and taught the first college course on bullying in the U.S. — Psychological Violence At Work. With lots of student help, the name WBI was adopted to reflect the expanded commitment to conducting research online. WBI was temporarily academic. After the stint ended, Gary returned to form, as a "recovering academic."
The years in Bellingham were ones of continuous growth. Volunteers gave way to paid staff funded by speaking and consulting engagements. Calls from bullied targets came in monthly by the hundreds. Free advice was given to callers. Then, WBI hired a licensed counselor to offer fee-based coaching. Jessi still conducts coaching for those seeking her help. Between the Drs. Namie and staff, we have heard tales of bullying directly from over 10,000 individuals. No other entity can claim a comparable level of contact. Thus, we became the unrivaled experts in the bullied targets' experiences.
In 2008, we designed the only comprehensive training for professionals in all aspects of the workplace bullying phenomenon — Workplace Bullying University®. Physicians, union officials, nurses, counselors, psychologists, attorneys, consultants, trainers and HR reps from around the world attend the quarterly sessions. We wrote the second edition of The Bully At Work in 2009.
On the research front, we conducted three national prevalence surveys that became the gold standard in the field. With help from talented staff, all websites were modernized, online surveys were conducted, and we developed products for the first time.
Free podcasts and webinars were produced. The WBI YouTube channel grew to over 200 videos.
For employers, we wrote a book to guide their internal steps to eliminate workplace bullying (The Bully-Free Workplace: Stop Jerks, Weasels & Snakes from Killing Your Organization. Wiley, 2011)
Pseudo-academic endeavors included making presentations in research conferences in South Africa, Berlin, Adelaide, and across the U.S. We also were invited to write chapters in academic texts. We published a few peer-reviewed journal articles.
Over the years, WBI, without resources to market its services, relied on media attention. The tally of interviews by print, internet, TV and radio outlets now number over 1,200, making WBI the dominant go-to resource to educate the public about workplace bullying and its consequences for workers and employers.
In 2015, Gary was recognized as one of the most influential organizational psychologists alive today (#5). He is still alive and writing this.
WBI's third era began the summer of 2015. The Drs. Namie moved to Boise, Idaho. Two WBI staff remain in Washington. Others left to pursue personal goals and we were sad to part.
WBI continues to train professionals at University sessions and to conduct research.
The one-stop resource for bullied individuals remains this WBI portal website. But without employers changing their practices, targets are doomed to fight uphill, fruitless battles costing them their livelihoods and health.
2015 marked a change in emphasis. It is time to bring American employers into the movement. They must voluntarily do something about the plague that eats into their profits and damages workers' health. Thus we are now focusing on services for employers. Employers will certainly comply when a law addressing health-harming abusive workplace conduct is enacted. We await the day. Until then, actions employers take are necessarily voluntary.
The Healthy Workplace Bill has been introduced in 29 states and Puerto Rico and the U.S. Virgin Islands. Two states mandate training in abusive conduct (California – for supervisors; Utah – for all state agency employees). The full bill has yet to become law, but a strong network of volunteer lobbyists for the HWB works tirelessly every year in over 30 states. WBI coordinates the State Coordinators.
Thank you for 18 glorious years of support. And thanks to the wonderful folks in Bellingham who got us this far. You remain in our hearts forever — Dave, Jessi, Daniel, David, Noelle, Carly, Noel, and the student volunteers.
Tags: Bellingham, Benicia, Boise, Gary Namie, Ruth Namie, Workplace Bullying Institute
Posted in Products & Services, WBI Education | No Archived Comments | Post A Comment () »
Tuesday, September 22nd, 2015
Workplace Bullying May Increase Risk of Suicidal Thoughts
By Lisa Rapaport, Reuters News Service, Sept. 17, 2015
(Reuters Health) – Workers who are victims of bullying on the job may become more likely to contemplate suicide than people who don't experience a hostile office environment, a Norwegian study suggests.
Researchers surveyed a nationally representative sample of roughly 1850 workers and followed them from 2005 to 2010. While less than five percent of participants reported thoughts of suicide during the study period, they were about twice as likely to do so after being victims of workplace bullying.
"Our study adds to the understanding of how bullying is related to thoughts about suicide by showing that the perception of being bullied at work actually is a precursor of suicidal ideation and not a consequence," said lead study author Morten Birkeland Nielsen of the National Institute of Occupational Health and the University of Bergen.
At least 800,000 people worldwide take their own lives each year, making suicide a leading cause of death, Nielsen and colleagues write in the American Journal of Public Health.
Although psychiatric disorders are involved in the majority of suicide attempts, most people with mental health disorders don't take their own lives, the researchers note.
Tags: abusive conduct, American Journal of Public Health, Einarsen, Gary Namie, Nielsen, suicide, University of Bergen, workplace bullying, Workplace Bullying Institute
Posted in Bullying-Related Research, Social/Mgmt/Epid Sciences, Tutorials About Bullying, WBI Education, WBI in the News | No Archived Comments | Post A Comment () »
Thursday, May 28th, 2015
How to Handle An Office Bully
By Arlene Dawson, Essence Magazine, June 2015
When brainy go-getter Nicole*, 28, accepted a position at a trendy beauty start-up in New York City, she thought it was her dream job. "The company promoted itself as being progressive," says Nicole. But her work situation devolved quickly and became more Mean Girls than The Sisterhood of the Traveling Pants.
Early on, when Nicole wasn't dancing at a company party, a White coworker said to her, "You're Black. We hired you because you could dance." Other colleagues laughed. "I always thought that if this type of thing happened I would come back with a response, but I went to the bathroom and cried," Nicole recalls. "I had never experienced those types of comments—racism—so blatantly in a work setting before."
Nicole reported the incident to her immediate boss and her complaint got laddered up to the CEO. Although her superiors feigned remorse, she says, "That was the beginning of the end for me in the company." The bully got promoted, found out Nicole "told on her" and escalated the bullying. During staff meetings, Nicole says her ideas were met with coldness; the bully rallied other coworkers not to associate with her; and more negative remarks—this time about Nicole's naturally curly hair and clothing—ensued.
Even management turned sour, setting her up for failure by assigning impossible, vague projects. And despite Nicole's management of million-dollar accounts, she recalls work review meetings being filled with nitpicky, unfounded accusations. "They were systematically trying to push me out without actually firing me," says Nicole.
Tags: advice, Arlene Dawson, bully, Essence Magazine, Gary Namie, target, workplace bullying, Workplace Bullying Institute
Posted in Media About Bullying, Print: News, Blogs, Magazines, Tutorials About Bullying, WBI Education, WBI in the News | No Archived Comments | Post A Comment () »
Friday, April 10th, 2015
Stockholm Bias: It's Not Quite Stockholm Syndrome, But It Affects All of Us
By Eyal Winter, em>Forbes, April 8, 2015
Winter is Professor of Economics, Hebrew University of Jerusalem
My father, Hans Winter, was a Jewish kid in pre-Nazi Germany who ran for his life to Palestine a year after Hitler took power. Until his last day, he considered the word Nazi to be synonymous with ultimate evil, yet when I asked him about his schoolteachers during that period he would be overcome with nostalgia and romanticism. When pressed, he would admit that most of his teachers supported the Nazi party, and would even describe the parades they organized and the Nazi songs he was forced to sing along with the rest of the class, even before Hitler took power. When noticing my astonishment, he often argued, "Yes, they were Nazis, but they treated me well." My father was not comfortable talking about it, and he appeared quite embarrassed as he wiped the small tear that ran slowly down his cheek. I believe he was affected by what I call Stockholm bias, a mild version of the better-known Stockholm syndrome.
 
On August 23, 1973, a group of burglars entered and commandeered a Kreditbanken bank branch in Norrmalmstorg Square in Stockholm. Over the next five days, several bank employees were held hostage in a vault by the burglars, who eventually surrendered to the authorities. What happened next was very peculiar. Most of the bank employees who had undergone the nightmare of captivity expressed support and sympathy for the hostage takers in press interviews. Some even offered to serve as character witnesses for the defense in the subsequent trial. The event prompted psychologists and psychiatrists to identify a new psychological phenomenon they called Stockholm syndrome.
Tags: 2014 U.S. Workplace Bullying Survey, Eyal Winter, Gary Namie, Mobbing, stockholm syndrome, workplace bullying, Workplace Bullying Institute
Posted in Tutorials About Bullying, WBI Education, WBI in the News | 3 Archived Comments | Post A Comment () »
Monday, March 23rd, 2015
Sen. Ron Latz a member of the Democratic-Farmer-Labor (DFL) party introduced SF 1932. Its first reading was today, March 23. SF 1932 is the complete version of the WBI anti-bullying Healthy Workplace Bill.
Minnesota tried the HWB back in 2011, but the bill went nowhere.
This 2015 bill was referred to the Jobs, Agriculture and Rural Development Committee.
In 2015, Minnesota becomes the fourth state to introduce the full bill, joining Massachusetts, New York, and Texas. Four other states amended the full bill and introduce some variation.
WBI thanks Sen. Ron Latz. Visit the MN State Page of the HWB website for details. And WBI recognizes the efforts of our volunteer State Coordinators — Jill Jensen, Debbie York & Scot Adams — who successfully lobbied for its introduction. Next step … a public Committee hearing. Stay tuned.
Tags: abusive conduct, Healthy Workplace Bill, legislation, Ron Latz, SF 1932, workplace bullying, Workplace Bullying Institute
Posted in Healthy Workplace Bill (U.S. campaign), Workplace Bullying Laws | No Archived Comments | Post A Comment () »
Saturday, March 14th, 2015
On March 12, the Utah Senate unanimously passed HB 216 on a vote 24 ayes -0 nays -5 not voting. The bill, introduced by House Rep. Keven Stratton and sponsored in the Senate by Todd Weiler, sailed through both House and Senate committees and floor votes in both chambers. The bill becomes law with Gov. Gary Herbert's signature.
Though the HB 216 is not the complete Healthy Workplace Bill that carries employer liability for fostering an abusive work environment, it is stronger than two previous state laws — CA and TN — that mildly approached the epidemic of workplace bullying, abusive conduct as defined by the Workplace Bullying Institute.
Features of the Utah bill, soon to become law, are that it:
• applies to state agencies only
• mandates training of employees AND supervisors
• states that training will include description and "ramifications" of abusive conduct
• training to include resources available to abused workers
• and training to cover the internal grievance process details (WBI: to hold abuser accountable)
• also training in Ethical Conduct
• also training in Organizational Leadership with Integrity
• training every other year
• State may allocate funds to develop policies for agencies
• State may support development of agency training
Visit the Utah State Page at the HWB website for details. State Coordinator Dr. Denise Halverson deserves credit for shepherding this bill through the legislative process while providing her expertise on the topic so lawmakers could confidently and unanimously pass this HWB-related bill.
Tags: abusive conduct, Denise Halverson, Healthy Workplace Bill, Keven Stratton, legislation, Todd Weiler, training, Utah, workplace bullying, Workplace Bullying Institute
Posted in Good News, Healthy Workplace Bill (U.S. campaign), Workplace Bullying Laws | No Archived Comments | Post A Comment () »
Monday, March 9th, 2015
What To Do About Your Jerk of a Boss Before You Get PTSD
Millions of workers are suffering from anxiety, depression and even PTSD because of bully bosses.
By Alyssa Figueroa, AlterNet, March 5, 2015
There's something dangerous happening to millions of Americans nationwide. It is happening in places where many people spend at least 40 hours a week. It is causing severe physical and mental illness. It runs off fear and manipulation. But its victims are not talking it about.
So what is it?
Work abuse.
Look around the average American workplace and it's not too hard to find. Twenty-seven percent of all adult Americans report experiencing work abuse and an additional 21 percent of Americans report witnessing it, meaning some 65 million Americans have been affected.
"Anything that affects 65 million Americans is an epidemic," said Gary Namie, co-founder of the Workplace Bullying Institute. "But it's an un-discussable epidemic because employers don't want this discussed."
Not talking about work abuse has, in turn, normalized the violence, fear and power structure inherent to the phenomenon.
As Namie said, "Work abuse doesn't shock Americans anymore."
Tags: abusive conduct, Carrie Clark, Gary Namie, Healthy Workplace Bill, Ruth Namie, work abuse, workplace bullying, Workplace Bullying Institute
Posted in Media About Bullying, Print: News, Blogs, Magazines, WBI in the News | 1 Archived Comment | Post A Comment () »
Tuesday, February 10th, 2015
The WBI State Coordinators are hard at work meeting with legislative sponsors for the WBI anti-bullying Healthy Workplace Bill. Here's a status report. As of Feb. 10 …
• North Dakota became the 27th state to introduce something — HB 1428. That something is a simple paragraph declaring that public sector employers have to address harassment, ostensibly not just the currently illegal variety of discriminatory misdeeds. The bill cleared the House on a 91-0 vote and is on to the Senate for consideration. Visit the ND State page at the HWB website for details.
• Connecticut has a somewhat related bill — SB 432. It creates an "advisory board," akin to past study groups and task forces that lawmakers use to delay taking any real action. Visit the CT State page at the HWB website for details.
• Utah's HB 216 is the boldest of the small step bills to date. It requires employers to address the HWB's definition of health-harming abusive conduct by providing annual training. Better than California's recently implemented training mandate, Utah would require coverage of not only the definition of the phenomenon, but its effect on worker's health and a description of what remedies the employer has in effect. Visit the UT State page at the HWB website for details.
• We saved the best for last. New York returns to lead the nation with a complete Healthy Workplace Bill in the Assembly — A 3250. The bill provides legal redress for employees harmed by abusive conduct. It rewards proactive employers who voluntarily protect workers with adequate policies and procedures with a litigation prevention mechanism. It defines the phenomenon and applies to employers in both private and public sectors. Our State Coordinators continue to set the highest bar for comparison. A 3250 has 80 co-sponsors. The Senate companion bill is in the works. Visit the NY State page at the HWB website for details.
Stay tuned for major developments as additional states come on board.
Tags: bills, Gary Namie, Healthy Workplace Bill, laws, legislation, prevention, state laws, Workplace Bullying Institute
Posted in Healthy Workplace Bill (U.S. campaign), Hear Ye! Hear Ye! 2, WBI Education, Workplace Bullying Laws | No Archived Comments | Post A Comment () »
Saturday, February 7th, 2015
Wednesday Feb. 11 Webinar for Employers & HR
2 pm EST, 60 minutes
A joint production of the Workplace Bullying Institute and Biz21 Publishing




When the Bully is the Boss
Many companies assume they don't have a bullying problem. Employees get along. In meetings, team members respect each other. But look closer. You might find that the bully is the very person you would expect your employees to turn to if they are being bullied—the boss.
Some managerial bullying is unintentional — supervisors see themselves as "demanding results." Other times bosses know their behavior crosses the line, but don't care.
Not convinced? Consider the slew of new state laws protecting workers against bullying. And consider the number of companies that have rushed to adopt anti-bullying policies and procedures for investigating complaints.
The costs are real. The employee's health can suffer, causing missed work, higher healthcare costs and reduced productivity. Bullied employees are also a flight risk, as are those who witness bullying. And there's the threat of lawsuits against the company.
In this session, Dr. Gary Namie will teach you:
• How to recognize and respond to a bully boss
• What differentiates "bullying" from other conduct- both illegal (discrimination) and legal (non-abusive disagreements)
• Why the workplace climate may be allowing the bully to prosper
• Why owners and executives often tend to defend bullies
• How to build an abuse-intolerant, accountable culture for all employees, regardless of rank
• How to measure outcomes of anti-bullying activities that benefit both employees and the company.
Tags: biz21, bully bosses, Gary Namie, webinar, workplace bullying, Workplace Bullying Institute
Posted in Events & Appearances, Hear Ye! Hear Ye! 2 | No Archived Comments | Post A Comment () »