Posts Tagged 'Workplace Bullying Institute'
Monday, April 10th, 2017
Loading ...

Tags: Workplace Bullying Institute
Posted in WBI Surveys & Studies | No Archived Comments | Post A Comment () »
Tuesday, April 4th, 2017
WEBINAR for employers and legal professionals.
Eradicating Workplace Bullying
by Gary Namie, WBI Director
April 19th, 2017 1:00 PM to 2:15 PM ET
Hosted by the Clear Law Institute
Register online
This program has been approved for 1.25 (General) recertification credit hours toward PHR, SPHR, and GPHR recertification through the HR Certification Institute.
Clear Law Institute is recognized by SHRM to offer Professional Development Credits (PDCs) for the SHRM-CP or SHRM-SCP. This program is valid for 1.25 PDCs.

Tags: Clear Law Institute, employer webinar, Eradicating Workplace Bullying, Gary Namie, Workplace Bullying Institute
Posted in Advice for Employers, WBI Education, Webinars | No Archived Comments | Post A Comment () »
Sunday, March 12th, 2017
If the information found at this website, or books written by us, or videos we made helped you understand your workplace bullying experience, please consider helping fund the WBI 2017 U.S. Workplace Bullying Survey.
On March 12, we hit the halfway mark toward the $4,000 goal!!!!
Details found at the GoFundMe page. Any small amount helps. Thanks in advance.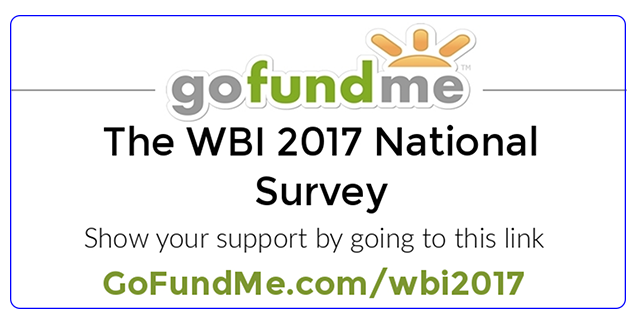 Tags: crowdfunding, GoFundMe, WBI 2017 U.S. Workplace Bullying Survey, Workplace Bullying Institute
Posted in WBI Surveys & Studies | No Archived Comments | Post A Comment () »
Friday, March 10th, 2017
Dear Bullied Targets
There are few studies asking bullied targets to state which workplace factor distresses them most about their bullying experience. So, we attempt to answer that question. The response choices shown all are important. But we want veterans of bullying to tell us which ONE they believe has been the most memorable/disturbing/bothersome/crazymaking of them all.
Tell your friends. Send them the link to this page to complete the survey.
Watch for results soon.
Loading ...

Tags: bullied targets, distress, survey, workplace, Workplace Bullying Institute
Posted in WBI Surveys & Studies | No Archived Comments | Post A Comment () »
Tuesday, March 7th, 2017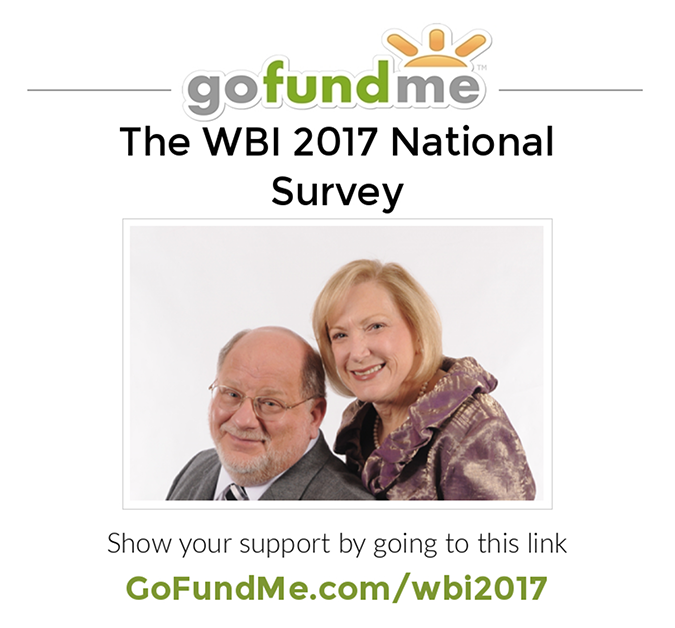 We need your help.
Please go to this Go Fund Me page to read our rationale and to donate.
Then watch this site for a full report in the spring.
In the Trump era, we need to assess the effect his disturbing administration has on our already aggressive, pro-bullying society. Specifically, when civility rules are abandoned at the highest political level, do American employers react to the loosening with even more bullying of workers without fear of consequences? Let's find out and compare to past surveys.
Here are the results of WBI's three previous national surveys: 2007 and 2010 and 2014.
Thank you again.
Ruth Namie, PhD
Gary Namie, PhD
WBI founders

Tags: 2017 U.S. Workplace Bullying Survey, go fund me, Workplace Bullying Institute
Posted in Bullying-Related Research, WBI Surveys & Studies | No Archived Comments | Post A Comment () »
Tuesday, May 3rd, 2016
The cover story of Counseling Today magazine is about bullying. A significant portion of that article, written by Laurie Meyers, features an interview with WBI's telephone coach for bullied targets, Jessi Eden Brown. Jessi maintains a private practice in Seattle in addition to continuing to provide coaching for targets who seek her advice after discovering her services posted at this WBI website.
Jessi is the most expert advisor to targeted individuals in the U.S. Her fees are inexpensive and worth every penny. Time precludes offering free advice, so please don't insult her and ask. [Neither can WBI offer free advice by phone as it did for 18 years.] Here is Jessi's information page.
An excerpt from
Fertile Grounds for Bullying
Counseling Today, April 21, 2016
By Laurie Meyers
Bullying isn't confined to childhood or adolescence. Adults can experience bullying too, particularly in the workplace. Bullying in the workplace involves less obvious behavior than does school bullying and can be almost intangible, says Jessi Eden Brown, a licensed professional counselor and licensed mental health counselor with a private practice in Seattle.
"Bullying in the workplace is a form of psychological violence," says Brown, who also coaches targets of workplace bullying through the Workplace Bullying Institute (WBI), an organization that studies and attempts to prevent abusive conduct at work. "Although popular media theatrically portray the workplace bully as a volatile, verbally abusive jerk, in actuality, the behaviors tend to be more subtle, insidious and persistent."
Instead of shoving and name-calling, Brown says, workplace bullying includes behavior such as:
– Stealing credit for others' work
– Assigning undue blame
– Using public and humiliating criticism
– Threatening job loss or punishment
– Denying access to critical resources
– Applying unrealistic workloads or deadlines
– Engaging in destructive rumors and gossip
– Endeavoring to turn others against a person
– Making deliberate attempts to sabotage someone's work or professional reputation
"It's the fact that these behaviors are repeated again and again that makes them so damaging for the target," she explains. "The cumulative effects and prolonged exposure to stress exact a staggering toll on the overall health of the bullied individual."
What's more, those bullied in the workplace often stand alone, Brown notes. "While the motivating factors may be similar between workplace bullying and childhood bullying, the consequences for the bully and the target are unmistakably different," she says. "In childhood bullying, the institution — the school — stands firmly and publicly against the abuse. Teachers, staff, students and administrators are thoroughly trained on how to recognize and address the behavior. Students are given safe avenues for reporting bullying. Identified bullies are confronted by figures of authority and influence — teachers, administrators, groups of peers, parents. When the system works as intended, there are consequences for the bully, as well as resources and support for the target."
(more…)

Tags: abusive conduct, counseling, Gary Namie, helping bullied targets, Jessi Eden Brown, psychotherapy, Ruth Namie, telephone coaching, workplace bullying, Workplace Bullying Institute
Posted in Bullying & Health, Media About Bullying, Print: News, Blogs, Magazines, Products & Services, WBI Education, WBI in the News | 4 Archived Comments | Post A Comment () »
Wednesday, March 30th, 2016

The nation's only comprehensive training in the phenomenon of workplace bullying designed for professionals
The next 3-day public session in Boise, Idaho is May 20-21-22.
Visit the WBI Workplace Bullying University website for program details. Taught personally by Dr. Gary Namie & Dr. Ruth Namie.
Designed for professionals in Labor, Healthcare, Mental Health, Counseling, Management, Higher Education, HR, Training, Consulting, and those in life & career transition.

Tags: Gary Namie, healthcare bullying, Ruth Namie, training, Unions, Workplace Bullying Institute, Workplace Bullying University
Posted in Unions, WBI Education, Workplace Bullying University | No Archived Comments | Post A Comment () »
Wednesday, February 24th, 2016
By Pam Raphael
Bullying has gotten a lot of attention . Most of the focus has been on children but we know that children learn from us, how we treat each other and how we use power in relationship.
It is urgent that we are taking bullying in school seriously. It is not a developmental stage or a phase of childhood it is a lack of better tools, understanding, accountability and developmental capability. It is not something to be ignored until they grow out of it.
Children who are targeted suffer terribly and the trauma can follow them for decades. Some turn their trauma inward leading to low self esteem, under-performance and depression. While others channel it outwardly and become bullies themselves.
When childhood bullies grow up without accountability meted by their peer groups, families or the criminal justice system they go to work and continue their pattern of abuse.
That is why American workplaces have a bullying problem.
According to a recent national survey conducted by the Workplace Bullying Institute, 72% of people polled reported knowledge that workplace bullying exists and 27% have current or past experience with it. That means one in four people have experienced it and three out of four of us have witnessed it.
It is not a surprise, then, that 93% of those same people polled would also support legislation that makes it unlawful.
When an adult has been abused so relentlessly that they have severe anxiety and can no longer work we assume they must have been weak willed, mentally ill or have a "victim mentality."
But that is looking in the wrong direction. The distorted thinking and mental illness of people who are emotionally undeveloped, unstable or disordered and who are inflicting abuse on others is the problem. People who lack the self awareness, emotional capability and communication skills resort to blame and scapegoating.
Because there is no law defining it or how to respond, most employers ignore the perpetrator to protect liability allowing workplace bullying to continue. It is a failure of will that we can and must demand be changed. Bullying is abuse.
Here is something you can do today to start change happening here in WA state:
There are two companion bills that were introduced this legislative session in Washington State that need your support:
Senate Bill 6532 and House Bill 2894 would "provide legal recourse for employees who have been harmed, psychologically, physically, or economically, by being deliberately subjected to abusive work environments; and provide legal incentives for employers to prevent and
respond to mistreatment of employees at work."
Please contact your legislators as well as the sponsors of the bills and let them know you appreciate their consideration of these bills because you see the urgency to do something to help employees and employers in WA State. Find a comprehensive list of legislators here – http://healthyworkplacebill.org/states/wa/
Let them know you believe this demands our attention now.
We need legislation to protect employees from the worst kinds of bullying and abuse the kind that ruins lives and protect the bottom line and liability of employers who do the right thing.
We have to change our belief that abuse is normal and inevitable. When someone is bullied on the job that is not correcting a problem it is the problem.
Washington is leading the nation in so many ways. Let's lead the nation in modeling healthy workplaces. The costs to everyone are too high to ignore it any longer.
BIO:
Pamela Raphael is a Mental Health Counselor in Seattle specializing in the effects of traumatic workplace and relationship abuse. She is a former board president of Real Change and is currently serving as the WA State Coordinator for the Healthy Workplace Bill, a national initiative of the Workplace Bullying Institute.

Tags: Healthy Workplace Bill, Pam Raphael, Washington State, workplace bullying, Workplace Bullying Institute
Posted in Healthy Workplace Bill (U.S. campaign), Workplace Bullying Laws | No Archived Comments | Post A Comment () »
Sunday, February 14th, 2016
Everyone bullied knows how the absence of any state laws to expressly prohibit bullying and abusive conduct has made it difficult to get justice from their employers. Without a law such as state and federal statutes that make discriminatory misconduct illegal, employers can and do nothing.
Does anyone believe American employers, government or private sector, would voluntarily stumble upon the mistreatment women routinely face in the contemporary workplace and create protections for those employees? Not likely. Only laws get employer attention and compel compliance. That's why employer policies are in place. In fact, most employers overreact to even a hint of harassment.
Try going to HR to simply clarify your experiences that may or may not be harassment. That's why you went down to HR to explore what happened to you and what can be done informally. Bam! HR opens a complaint on your behalf, though you greatly fear reprisals. HR is minimizing exposure to legal risks for them without regard to your safety.
Yet, when you claim to be "bullied," you are not believed or discounted or ignored or made to believe you caused your fate. Why? Bullying is still legal. Bullies can, and do, bully with impunity. And once you make the employer aware, the retaliation, often worse than the original sins, worsens your situation. Your health declines from a host of stress-related complications — cardiovascular, gastrointestinal, neurological changes that affect emotional regulation and memory, and mental health, often ending in trauma.
This is why having a law passed soon is essential for worker safety.
WBI thanks Rhode Island State Senator Frank Ciccone, a lifelong friend of labor, for sponsoring SB 2377 on Feb. 10, 2016. He and the other four co-sponsors deserve our thanks and praise.
SB 2377 also put Rhode Island on the map. It became the 30th state to ever introduce our anti-bullying Healthy Workplace Bill.
Now we pray for a public hearing in the Senate Labor Committee. May the Ocean State be the first to make the bill state law.
Bill details and contact information for all sponsors and committee chairs dwell on the Rhode Island State Page of the Healthy Workplace Bill website.

Tags: Frank Ciccone, Healthy Workplace Bill, Rhode Island, SB 2377, Workplace Bullying Institute
Posted in Healthy Workplace Bill (U.S. campaign) | 2 Archived Comments | Post A Comment () »
Friday, January 22nd, 2016
Business 21 presents a Webinar for HR
When the Bully is the Boss
HR must do something about bully managers
When: Thursday Feb. 4 2016, 2:00 pm Eastern, 60 minutes, HRCI credit hour
Presenter: Dr. Gary Namie, WBI Director
Many companies assume they don't have a bullying problem. Employees get along. In meetings, team members respect each other. But look closer. You might find that the bully is the very person you would expect to protect your employees from being bullied—the boss.
Some managerial bullying is unintentional—supervisors see themselves as "demanding results." Other times bosses know their behavior crosses the line, but they don't care.
Not convinced? Consider the slew of new state laws protecting workers against bullying. And consider the number of companies that have rushed to adopt anti-bullying policies and procedures for investigating complaints.
Problem is, most policies are written for peer-to-peer conduct. They don't do enough to protect employees against bully bosses.
The costs are real. The employee's health can suffer, causing missed work, higher healthcare costs and reduced productivity. Bullied employees are also a flight risk, as are those who witness bullying. And there's the threat of lawsuits against the company.
In this session, Dr. Gary Namie will teach you:
• How to recognize and respond to a bully boss
• What differentiates "bullying" from other conduct- both illegal (discrimination) and legal (non-abusive disagreements)
• Why your workplace climate may be allowing the bully to prosper
• Why owners and executives tend to defend bullies
• How to build an abuse-intolerant, accountable culture for all employees, regardless of rank

Tags: Business 21, Gary Namie, webinar, when the bully is the boss, workplace bullying, Workplace Bullying Institute
Posted in Advice for Employers, Products & Services, WBI Education | 1 Archived Comment | Post A Comment () »