Posts Tagged 'Workplace Bullying Institute'
Saturday, January 31st, 2015
In 2015, California law mandates that supervisors in all firms with 50 or more employees receive "training" in abusive conduct. The term "abusive conduct" was lifted from the WBI Healthy Workplace Bill language we have been using since 2003 to introduce and pass a comprehensive law against workplace bullying.
Training done right can overcome deficits in skills. Training is the wrong tool to reverse immoral conduct. But training is useful to make everyone aware that misconduct is happening.
Training backfires when it teaches there is a problem and the organization has no procedures in place to deal with the misconduct. It's clear that only a small (5.5%) of American employers have the will to actually prevent or correct health-harming abusive conduct. No effective state laws have yet been enacted to compel employer compliance. So, few have good policies. Even fewer have the voluntary desire to stop it. No laws; no policies; lazy employers.
When supervisors get trained, in the best possible way — live, interactive, Q&A sessions, employee expectations will rise. Everyone will wonder when and how the bullying will end in their workplace. If employer actions are limited to supervisor training, very little will be done. Employee distrust and disengagement will follow.
Another concern is how will the training be conducted? The new law based on AB 2053, adds training in abusive conduct (which is currently legal) to the requisite training in sexual harassment (which is illegal). The mix will not only confuse employees; most employers don't know the difference. Workers will be expecting policies for bullying to apply that don't exist.
It is alarming to find that many employers post online slide shows to educate workers about sexual harassment. It's a joke that no one takes seriously. A slide show with little content and no interaction. Really, how lazy can employers be. It's called "compliance." Given the complexity of bullying's effect on the entire workplace and the fact that current sex harass trainers and conflict resolution professionals don't understand bullying, we fear for the future.
In other words, disembodied training can do more harm than good. Beware of premature awareness!
Training should be preceded by a commitment by leadership to stopping bullying. Then, organizational prevalence should be determined. Next, a code or policy or set of behavioral expectations must be created along with procedures to correct confirmed violators. Then, and only then, should training be undertaken.
If you know of, or are, a California employer, contact WBI for help addressing the problem that will comply with the law and help your organization at the same time. We have also produced a 20 min. DVD to introduce Abusive Conduct to organizations.
Tags: abusive conduct, DVD, education, Gary Namie, Healthy Workplace Bill, supervisors, training, Workplace Bullying Institute
Posted in Healthy Workplace Bill (U.S. campaign), Workplace Bullying Laws | No Archived Comments | Post A Comment () »
Thursday, November 6th, 2014
ARE BULLIED TARGETS BELIEVED?
WBI Research/Instant Poll: 2014 – F
People who find themselves trapped in a bullying scenario can attest to the crazymaking, irrational nature of the mistreatment. Much of the harm caused by the abusive conduct stems from the shattering of targets' beliefs about fairness, fairness in the work world specifically. First, they are typically the high performers who unknowingly trigger the envy of perpetrators. Targets are aware of their work skill at a deep personal ontological level. Perpetrators come into their lives who determined to reject the agreed-upon perceptions of the targets' skills. There are objective truths, a reality.
When Bullies are Bosses
Perpetrators often use their formal (by organizational rank) or informal power to state the obviously opposite perception about technically skilled targets. Though this defies reality, they convince organizational allies to believe them and not targets.
In simplest form, it becomes a "he said, he said" deadlock. But most bullies who are bosses rely on support from higher up to add weight to their side.
The shrewdest perpetrators use ingratiation over many years to convince their executive sponsors (their enablers) that they, the bullies, are indispensable. Further, if and when they are described as abusive or destructive by one or more targets in the future, the executive will defend her or his "indispensable" perp by ignoring the target's portrayal of a friend and colleague.
Thus conditions are not favorable when targets report the facts about what they have experienced at the hands of the favored perpetrator. After all, targets do bring negative news about people who typically outrank them.
When Bullies are Coworkers
In situations where targets have multiple perpetrators, there are many individuals who can provide accounts of alleged bullying incidents that will be at odds with what targets say happened.
For targets bullied by a gang of coworkers (cliques and mobs also are apt descriptions), it is doubly negative. Not only do they outnumber the target, the target is deprived of the chance to have her or his story corroborated by coworkers. Though few coworkers ever step up to offer support to targets, some do. When coworkers are the bullies, the potential source of support is lost.
Gullible investigators (typically working inside the organization for another department) will have their judgement swayed by many against one, and believe the tale that many tell even if those versions are not true.
The Effects of Not Being Believed
For targets, it's a matter of honor and integrity. Repeated studies have shown that targets claim that their honesty is one of the major reasons for being targeted for abuse. They do seem to be very principled, non-political workers.
Tags: 2014 ip f, attribution error, believing targets, bullied targets, bullying research, credibility, Daniel Christensen, Gary Namie, instant poll, truth, workplace bullying, Workplace Bullying Institute
Posted in Tutorials About Bullying, WBI Education, WBI Surveys & Studies | 4 Archived Comments | Post A Comment () »
Wednesday, November 5th, 2014
By Diane Stafford – The Kansas City Star – November 3, 2014
Ever since the National Football League acknowledged that a 312-pound offensive lineman could be emotionally upended by teammate harassment, workplace bullying has been getting a slo-mo review.
A national suvey says 1 in 4 workers have been bullied at work. Three out of four workers say they're aware it's a workplace problem.
Employment law attorneys and human resource consultants are spending countless hours at conferences and conventions, advising on how to prevent bullying behavior. Essentially, employers are told to create a workplace culture from the top down in which everyone is treated with respect.
Easier said than done.
Tags: diane stafford, kansas city star, workplace bullying, Workplace Bullying Institute
Posted in WBI in the News | 1 Archived Comment | Post A Comment () »
Monday, November 3rd, 2014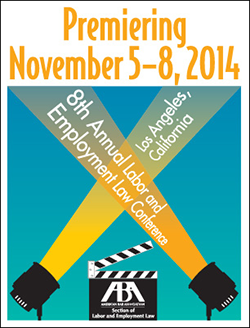 A workshop "Eliminating Bullying and Incivility: Training the Trainer" on Thursday Nov 6 is part of the 8th Annual ABA Labor & Employment Law Conference in Los Angeles.
The session: 2:15-3:30 pm in rooms Platinum H-J, JW Marriott Hotel
Bullying and incivility in the workplace raise concerns that go beyond whether the behavior is illegal, and affect all aspects of the working environment. This program features an expert in anti-bullying training and is designed to provide practical, hands-on training to participants such that they will be able to train others in the workplace.
MODERATOR:
Monique Gougisha Doucette, Ogletree, Deakins, Nash, Smoak & Stewart, P.C.,
New Orleans, LA
SPEAKERS:
Luanne M. Peterpaul, Gluck Waltrath, LLP, Red Bank, NJ
Gary Namie, PhD, The Workplace Bullying Institute, Bellingham, WA
Tags: American Bar Association, attorneys, employment attorneys, Gary Namie, labor law, Luanne M. Peterpaul, Monique Gougisha Doucette, training, workplace bullying, Workplace Bullying Institute
Posted in Events & Appearances | No Archived Comments | Post A Comment () »
Monday, November 3rd, 2014
State to Workplace Bullies: Knock It Off
By Jonathan Horn, San Diego Union-Tribune, Nov. 2, 2014
When Stephen Cruz got a new supervisor a few years ago, his staff job at UC San Diego became something of a living hell.
The new boss would repeatedly yell at workers, scold them behind closed doors, tower above them at their desks, get visibly agitated and red in the face, and send out harsh emails when something went wrong. The emails didn't include foul language but called out workers with phrases like "I told you," or "I gave you a direct order," evidence of what Cruz called extreme micromanagement.
"It may have been stylistic, but it was unacceptable," said Cruz, who works on the medical school campus. "Yes, we need supervisors. Yes, we need managers. But we're not at each other's throats. We're there to work on the mission of the university."
Cruz, 46, said he considered the supervisor's conduct — which improved after university and union involvement — to be abusive.
A state law taking effect Jan. 1 hopes to curb that behavior at the start. The legislation, authored by Assemblywoman Lorena Gonzalez, D-San Diego, requires that employers in California with 50 or more workers include lessons on anti-workplace bullying when they carry out state-mandated sexual harassment training for supervisors every two years.
Tags: AB2053, abusive conduct, Gary Namie, Healthy Workplace Bill, supervisor training, UCSD, workplace bullying, Workplace Bullying Institute
Posted in Healthy Workplace Bill (U.S. campaign), Media About Bullying, Print: News, Blogs, Magazines, WBI in the News, Workplace Bullying Laws | No Archived Comments | Post A Comment () »
Monday, November 3rd, 2014
Utah State Coordinator, Denise Halverson, chief advocate for the WBI anti-bullying Healthy Workplace Bill, and citizen lobbyist Travis Ackerman joined Feedback show host Abby Bonell on KNRS (Salt Lake City) to discuss workplace bullying and the HWB on October 30, 2014.
Audio clip: Adobe Flash Player (version 9 or above) is required to play this audio clip. Download the latest version here. You also need to have JavaScript enabled in your browser.
Tags: Abby Bonell, Denise Halverson, Healthy Workplace Bill, KNRS, Travis Ackerman, workplace bullying, Workplace Bullying Institute
Posted in Healthy Workplace Bill (U.S. campaign), Tutorials About Bullying, WBI Education, WBI in the News, Workplace Bullying Laws | No Archived Comments | Post A Comment () »
Thursday, October 30th, 2014
POLITICIANS AS BULLIES?
WBI Research/Instant Poll: 2014 – E
It is common knowledge that politics in 2014 America are quite polarized. No longer do politicians pretend to want to solve social problems with social policy. Interactions between politicians are characterized by ad hominem attacks. Politicians seem to be mimicking the personalized nature of bullying. The parallels between the political and workplace domains seemed obvious to us at WBI.
However, critics quickly pounce on our blog musings about the similarities. Commentators say "stick to workplace bullying and stay out of politics." They believe politics is a field of employment different than any other. The same failure to see equivalence occurred when NFL player Jonathan Martin walked away from his professional football team claiming he endured an "abusive work environment." The majority of society granted the NFL exemption from treatment as a workplace where employers bear responsibility for harm their employees suffer. It was said that the locker room is so unique it cannot be changed from its barbaric state.
Ironically, the NFL itself defined its locker room as a workplace. Discrimination laws apply. And the Martin case taught the NFL lessons about human responses to abusive conduct even when targets weigh 300 or more pounds.
In this survey, we asked 307 respondents (bullied targets and witnesses) to give their opinion about whether politics involves bullying or not. Question:


Is bullying by politicians of politicians or citizens as harmful as workplace bullying?
The percentages for each response option were:
.873 Yes, always
.094 Sometimes, only when the less powerful person suffers serious harm
.023 No, political harm is not the same as harm to non-politicians
.001 Never, bullying tactics define politics
The results show that the community of bullied targets does not grant exemptions easily. They conclude that bullying and abuse are the same regardless of venue. Apologists for politicians' outrageous anti-social behavior towards one another like to say that politics is a special type of workplace, immune from social codes and restrictions that apply to everyone else.
But bullied targets do not see the separation into distinct domains. Anti-abuse rules for everyone should apply everywhere — in families, in schools, in churches, in workplaces and among occupants of our legislative chambers.
© 2014 Workplace Bullying Institute. Do not use without proper citation of WBI as the source.

See the complete set of WBI Studies
Tags: 2014 IP e, bullying research, Gary Namie, instant poll, negative conduct, polarization, political behavior, politicians, Workplace Bullying Institute
Posted in Tutorials About Bullying, WBI Education, WBI Surveys & Studies | 1 Archived Comment | Post A Comment () »
Monday, October 27th, 2014
Kind words of recognition for me and Dr. Ruth from my undergraduate alma mater, Washington & Jefferson College, published in Change Agents The remarkable ways alumni are making the world a better place, Fall 2014.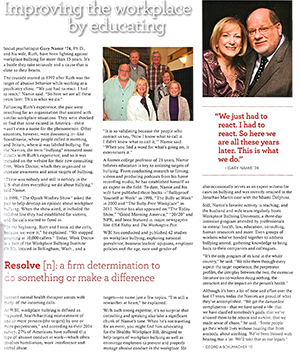 Tags: change agents, Gary Namie, Ruth Namie, Washington & Jefferson College, Workplace Bullying Institute
Posted in Print: News, Blogs, Magazines | No Archived Comments | Post A Comment () »
Thursday, October 23rd, 2014
Why The Office Bully Is Getting Promoted
Your company culture may encourage bullies and you may not even know it.
By Lisa Evans, Fast Company, October 23, 2014
You may have thought you'd escaped bullying when you traded the school yard for the office, but according to the Workplace Bullying Institute, 27% of Americans are still experiencing bullying in the workplace.
Instead of being shoved in a locker or having your head dunked in the toilet, workplace bullying is non-physical, yet still as emotionally harmful. The Workplace Bullying Institute defines workplace bullying as any form of verbal abuse, job sabotage, intimidation, or humiliation.
Tags: 2014 WBI U.S. Workplace Bullying Survey, bullies, Gary Namie, perpetrators, reinforcement, reward, workplace bullying, Workplace Bullying Institute
Posted in Media About Bullying, Print: News, Blogs, Magazines, Tutorials About Bullying, WBI in the News | 1 Archived Comment | Post A Comment () »
Saturday, October 18th, 2014
Workplace bullying is a complex phenomenon because it is systemic with the majority of causes dwelling in the work environment, organizational culture. It is much more than personalities of targets and perpetrators. Thus, to stop it, we all need to pressure employers to stop running on autopilot and allowing bullying to happen as a normal routine way of doing business.
Here are WBI's suggested actions for each of us in different roles and professions to pressure employers to reign in their out-of-control miscreants, to stop rewarding the misconduct, and to establish a positive workplace culture free of abusive conduct for the future.
Bullied Targets/Individuals
Family & Friends
Co-Workers and Witnesses
Unions
Medical Professionals
Employers/Executives
Mental Health Professionals
School Administrators
Community Leaders
State Legislators
Tags: bullied targets, employers, Freedom from bullies at work week, HR, workplace bullying, Workplace Bullying Institute
Posted in Freedom Week, WBI Education | No Archived Comments | Post A Comment () »