Posts Tagged 'workplace bullying policies'
Thursday, April 17th, 2014
By Bernadette Starzee, Long Island (NY) Business News, April 16, 2014
The much-publicized investigation into alleged bullying on the Miami Dolphins football team has brought workplace bullying into the national spotlight.
More than a third of American workers say they've been bullied at work, according to a survey by the Workplace Bullying Institute, a national organization that defines workplace bullying as repeated, health-harming abusive conduct committed by bosses and/or co-workers. This may include verbal abuse, intimidation, humiliation and sabotage that prevents work from getting done.
While bullying is not healthy for the victim or the workplace, it's not necessarily unlawful. Though so-called "Healthy Workplace" bills have been introduced in 26 states since 2003, including New York, none of these anti-bullying bills have become law.

Tags: bullying scandal, Jonathan Martin, Miami Dolphins, NFL, workplace bullying, workplace bullying policies
Posted in Healthy Workplace Bill (U.S. campaign), Media About Bullying, NFL: Jonathan Martin, Print: News, Blogs, Magazines, WBI in the News, Workplace Bullying Laws | 1 Archived Comment | Post A Comment () »
Thursday, March 28th, 2013
UPDATE: To write a great workplace bullying policy and enforcement procedures, go here.
When fuzzy facts (first generation distortion) are allowed to pass for actual data and circulated widely by media (2nd gen distortion) they used by critics to undermine the anti-bullying campaign. Let's clear the air about current American employer engagement in stopping workplace bullying.
SHRM (the HR trade association) conducted a 2011 study about workplace bullying and reported results in Feb. 2012. The non-scientific survey of members had a low response rate of 15% (the final 401 respondents meant SHRM randomly polled 2,673 members). The results shed light on HR's view about the prevalence of workplace bullying policies in the U.S. When asked if respondents' organizations had specific anti-bullying policies in place, 44% of HR respondents defiantly stated their organization has "no policy and has no plans to put a workplace bullying policy in place." The answer, "No, but we plan to put a formal policy in place in the next 12 months," was chosen by 13%. Another 40% said, "Yes, our workplace bullying policy is part of another workplace policy." Only 3% of SHRM members said "Yes. We have a separate workplace bullying policy" in our organization.

Actual slide from 2012 SHRM survey results from which 56% statistic was plucked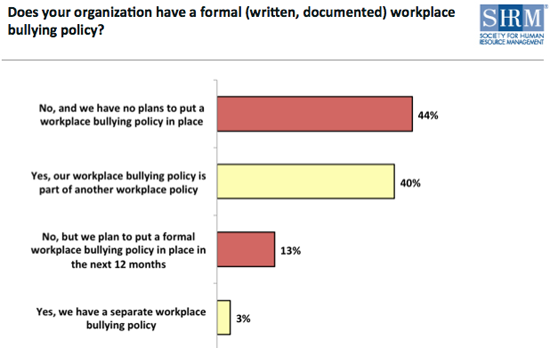 You can download the slide show from here.
(more…)

Tags: Gary Namie, HR, human resources, SHRM, surveys, WBI research, workplace bullying, workplace bullying policies
Posted in Employers Gone Wild: Doing Bad Things, Media About Bullying, Print: News, Blogs, Magazines, WBI Education, WBI Surveys & Studies | 7 Archived Comments | Post A Comment () »
Wednesday, April 7th, 2010
By Keith Matheny, USA TODAY, April 7, 2010
Most schools have policies that target bullying, but they are usually aimed at students. Now, school districts in Iowa and California are developing rules to prevent teachers from bullying teachers.  …
The Sioux City, Iowa, community school district approved its policy last April. Desert Sands Unified School District of La Quinta, Calif., is awaiting final passage later this month. The two school districts are believed to be the only ones nationwide developing anti-bullying policies for their adult employees, said Gary Namie, who with his wife, Ruth Namie, founded the Workplace Bullying Institute in Bellingham, Wash.
WBI:  ERRORS in the article
1) the policies we write with school districts apply to all adults (administrators, certificated and classified staff) and adults to students, not just teacher-on-teacher.
2) the fee for the project included 5 days of on-site training, including the creation and training for an internal team of expert peers, not just policy writing.
3) the Namies never claimed to be psychologists (states notoriously prohibit this designation even when one earns a doctorate in psychology). It is the reporter's conclusion.
4) the headline is wrong by omitting so much information
Other than these four problems, the article is perfect!  Journalism students, take note.

Tags: adult bullying in schools, Desert Sands, Sioux City Community Schools, workplace bullying policies
Posted in Media About Bullying, WBI in the News | 5 Archived Comments | Post A Comment () »