Posts Tagged 'workplace bullying research'
Thursday, September 12th, 2013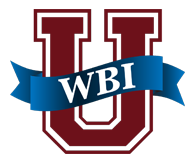 It's fall. The Workplace Bullying Institute announces the final 2013 sessions of its Workplace Bullying University®. University, begun in 2008, is the first and only research-driven training curriculum for professionals to develop a mastery in workplace bullying created by the Drs. Namie, Ruth & Gary.
Ideal for professionals in mental health, healthcare, law, unions and HR.
Oct 11-13 Houston, Texas
Nov 15-17 Bellingham, Washington
Visit the University website for details and discounts.
Tags: Bellingham, education, Gary Namie, Houston, mastery, training for professionals, workplace bullying research, Workplace Bullying University
Posted in Hear Ye! Hear Ye! 2, University Trg for Prof, WBI Education | No Archived Comments | Post A Comment () »
Wednesday, March 20th, 2013
BARRIERS TO WORKPLACE BULLIED TARGETS
LEAVING THEIR JOBS
WBI 2013-C Instant Poll
One of the criticisms leveled against individuals targeted for workplace bullying is that they should "just" quit. That simplistic advice is cruel and short-sighted. Quitting is not a simple decision. Consider for a moment the single parent target. What will replace the lost income?
We at WBI who have talked to thousands of targets over the years by phone and in-person know there are other barriers to leaving a toxic work environment, regardless of how damaging that job and employer are to the target's health. It is never easy to leave, to escape to safety.
This survey asks target-respondents to evaluate which two barriers listed convinced them to not leave.
Tags: bullied targets, economic factors and bullying, Gary Namie, injustice, personal pride, waiting for time to pass, WBI research, WBI studies, Workplace Bullying Institute, workplace bullying research
Posted in Tutorials About Bullying, WBI Education, WBI Surveys & Studies | 2 Archived Comments | Post A Comment () »
Friday, August 31st, 2012
The 7th Workplace Bullying Institute Instant Poll (2012-G) — survey results. Answering what it will take for U.S. employers to treat bullying as seriously as illegal forms of discrimination.
Tags: employers stopping bullying, WBI studies, workplace bullying research
Posted in Tutorials About Bullying, WBI Education, WBI Surveys & Studies | 1 Archived Comment | Post A Comment () »
Friday, August 17th, 2012
2012 has been a busy year of research here at the Workplace Bullying Institute. We already have 8 studies archived at the site. All 2012 surveys to date are online (non-scientific, self-selected samples), relying on site visitors to be respondents (known to be predominantly a group of bullied individuals) so we can teach others how bullying affects innocent workers. We have analyzed 7 Instant Polls (IP, single-question surveys) and one large multiple-item questionnaire with the biggest sample of the year. Here is the easy guide to finding the result of each study.
| Survey | Title of the Study | Sample size | |
| --- | --- | --- | --- |
| | Strategies' Effectiveness: What Works for Targets & What Doesn't? | 1,598 | Results |
| IP-A | Why Bullying Happens | 658 | Results |
| IP-B | Employer Bullying Policies | 311 | Results |
| IP-C | Aftermath of Contacting HR for Help | 372 | Results |
| IP-D | Impact of Workplace Bullying on Employee Health | 516 | Results |
| IP-E | Employers' Attitudes Toward Responsibility to Stop Workplace Bullying | 250 | Results |
| IP-F | Is Justice Attainable for Bullied Targets? | 331 | Results |
| IP-G | When & Why Employers Will Stop Bullying | 338 | Results |
Visit the WBI RESEARCH COLLECTION, including National Surveys.
Tags: surveys, WBI research, workplace bullying research
Posted in Bullying & Health, Tutorials About Bullying, WBI Education, WBI Surveys & Studies | No Archived Comments | Post A Comment () »