Posts Tagged 'workplace bullying'
Saturday, August 30th, 2014
By Jacob Shriar – Officevibe – August 27, 2014
Workplace bullying is a serious issue.
It's an issue that I don't think gets enough attention, considering how big of a problem it is.
I was really shocked and surprised when I learned at how often bullying in the workplace takes place.
A recent survey by the Workplace Bullying Institute shed some important light on this issue.
Let's look at some of the more interesting numbers from the survey:
27% of Americans have suffered abusive conduct at work
21% have witnessed bullying
56% of the time it was from the top-down (more on this later)
Hispanics and African american workers experience more of the bullying
Most employers either deny or discount the bullying
38% of co workers did nothing (although I don't blame them)
These numbers are incredible.
The 2 numbers that really stick out at me, are the fact that 56% of the time, it comes from a manager or senior leader, and that most employers deny or discount (25% and 16% respectively).
This is why I'm such a big fan of having a flat hierarchy. It's been proven many times that power corrupts, and so it doesn't surprise me that most of the bullying comes from someone in a higher position of power than you.
For the employer to hide or discount it as not being serious is so stupid. It's incredibly serious, because it has a major effect on your company culture.
According to a study from the Sauder School of Business at UBC, workers who witness bullying have a stronger urge to quit than those who experience it firsthand.
A lot of people don't stop to think about this. The bullying doesn't only affect the person that was bullied. It has a terrible effect on morale. And as the study showed, just witnessing workplace bullying gets people to want to quit.
This is what happened to me personally at a company I used to work for.
Tags: 2014 U.S. Workplace Bullying Survey, jacob shriar, officevibe, workplace bullying, Workplace Bullying Institute
Posted in WBI in the News | No Archived Comments | Post A Comment () »
Friday, August 29th, 2014
Business Wire – August 28, 2014 – Kaplan Survey
For those entering the workforce, typical top-of-mind issues include opportunities for growth, benefits, and job security — but nearly half of those entering the nursing profession voice another concern: being bullied by colleagues. According to a just-released Kaplan survey of over 2,000 nursing school graduates from the class of 2014, 48% say they are concerned about being the victims of workplace bullying or working in a hostile working environment.* The survey also found that 39% personally knew nurses who were victims of workplace bullying or a hostile working environment.
One widely cited study found that approximately 60% of nurses left their first nursing job within six months because of bullying issues or because of a hostile work environment.** And studies conducted over the past decade show there's a financial cost to this for medical providers, ranging from $22,000 to over $64,400 per turnover. (http://www.medscape.com/viewarticle/569393_2).
Tags: healthcare, hostile work environment, kaplan test pret, nursing school, workplace bullying
Posted in Bullying-Related Research, Print: News, Blogs, Magazines | No Archived Comments | Post A Comment () »
Friday, August 29th, 2014
Real Business – Aug 25, 2014


Click to enlarge infographic
Tags: Gary Namie, infographic, real business, workplace bullying
Posted in WBI in the News | No Archived Comments | Post A Comment () »
Wednesday, August 27th, 2014
By Nancy Collamer, Forbes, August 25, 2014
If you saw a young child being pushed around on the playground, chances are you would intervene. But are you equally proactive when you see bullying at work?
While this may sound like a hypothetical question, it's anything but. According to a 2014 survey conducted by the Workplace Bullying Institute (WBI), 27% of Americans have been bullied at work, 21% have witnessed it and 72% of us are aware that workplace bullying happens.
Real bullying involves more than just bad management and obnoxious behavior.
How Bullying Can Harm A Victim's Health
It also means health-harming behaviors that can include verbal abuse, offensive conduct and intentional sabotage. And workplace bullying doesn't just harm the victim. It leads to poor morale, high turnover and low productivity, which impact the entire organization.
The problem is now so widespread that lawmakers in 15 states have introduced legislation aimed at prodding employers to take the matter seriously or face consequences.
Why Boomers Can Be Effective
So what are you willing to do about it? I ask because many boomers are in management and as a result, some are in a good position to take action. Even if you're not among your employer's leadership team, you still might be able to make a difference.
If you're well respected by colleagues, have good relations with key influencers at your employer or have strong job security, it's likely easier for you to speak up and get management to take bullying seriously than it is for your younger co-workers.
That is an important advantage. Just like on the playground where bigger kids target weaker ones, the majority of workplace bullying is inflicted from the top down. According to the WBI survey, 56% of it is attributed to bosses, compared to 33% that's blamed on peers. Given this inherent power imbalance, it's no surprise that few victims stand up to their abusers.
I want to emphasize that not every boomer is in a position to stand up to workplace bullies.
Many older workers are in precarious job situations and know that if they speak up, they could be fired. That's especially true in environments where bully behavior is a celebrated part of the workplace culture. (Wolves of Wall Street anyone?)
Tags: 2014 U.S. Workplace Bullying Survey, baby boomers, boomers & bullying, Gary Namie, research, workplace bullying, Workplace Bullying Institute
Posted in Media About Bullying, Print: News, Blogs, Magazines, Tutorials About Bullying, WBI Education, WBI in the News | No Archived Comments | Post A Comment () »
Wednesday, August 20th, 2014
Understanding Workplace-Bullying Legislation
By Randi Melnick
American Bar Association, August 13, 2014
Labor-and-employment attorneys hear countless tales of abuse suffered by employees in the workplace. Employees subjected to mean-spirited or degrading treatment can often feel helpless, or even if they are proactive and make a complaint to human resources, they may simply be told to toughen up, or find a new job. With the realities of today's increasingly stressful and competitive workplace, it is worth a moment of reflection to consider what level of civility should be expected in the workplace, and what the consequences should be, if any, for those who break such codes of conduct.
Workplaces can have tricky cultural norms, and some people will be more skilled than others at communicating. However, there is a difference between a manager or coworker who lacks tact and one who goes out of his or her way to purposefully target an individual. When one is verbally abused or intimidated, when work is sabotaged, or when humiliation is used as a tactic, that is bullying. And it is not always illegal in the United States.
Tags: abusive conduct, affirmative defenses, bullying defined, bullying law, Healthy Workplace Bill, lawyers, Randi Melnick, workplace bullying
Posted in Healthy Workplace Bill (U.S. campaign), Media About Bullying, Print: News, Blogs, Magazines, WBI in the News, Workplace Bullying Laws | No Archived Comments | Post A Comment () »
Wednesday, August 20th, 2014
Dear Kalola,

I was bullied by my boss, and when I reported his insidious acts to Human Resources, he retaliated and placed me on a performance improvement plan and escalated his bullying towards me. When I complained to Human resources about the irregularity of the plan, and the fact that the bullying acts had only accelerated, I was advised to comply or lose my job.

My performance improvement plan was to last for three months, during which time my boss isolated me, excluded me from team meetings, stripped me of critical roles and took every opportunity he could get to humiliate me and call me names. At some point it was so depressing to go to work. Going to work was just to face more and more humiliation and isolation, and I developed body pains especially lower back and shoulder. The pains would never subside even when I was on the strongest of pain killers.

One day I felt I could not bear the thought of going to work. I called in sick and even sought medical attention. X-rays were carried out but the doctors could not find anything wrong and only prescribed pain killers. I decided to take time to clear my mind and assess whether I should quit my job. Surprisingly when I returned to work, my boss demanded that I produce my medical records for the day I was sick. Even though I knew that this was a violation of my privacy I handed him copies. Absurdly he accused me of falsifying the medical records and had disciplinary charges preferred against me. During the hearing he stated that he had gained access to my call records which to him proved that there was no way I could have been sick or sought medical help because according to him I was "roaming the town" based on my call records. Inwardly I was reeling from the fact that he had illegally obtained my call records, invaded my privacy, and had the audacity to discredit my defence and explanation. He demanded that the panel find me guilty. I got a warning letter and from that day he demanded that I no longer attend any divisional meeting. exactly one month later he asked Human resources to have me dismissed for failing to pass the improvement plan. I was dismissed and advised that I could exercise my right to appeal. I appealed against the dismissal. The appeal was never heard, and my dismissal was confirmed a month later.

On the whole the battle against a work place bully is an ugly one. They are usually in privileged positions of power which they abuse. A law suit against the company is the only option I have now. I am actively pursuing that right now.

Anita
(more…)
Tags: EEOC, Let's Talk with Kalola, workplace bullying
Posted in Let's Talk with Kalola | No Archived Comments | Post A Comment () »
Tuesday, August 19th, 2014
Deer Park Chamber Hears Presentation on Workforce Bullying
By Erica Drexler, Deer Park (TX) Broadcaster, August 18, 2014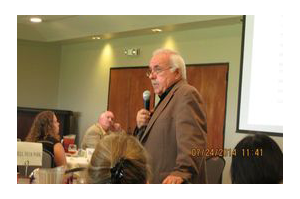 Frank Mulcahy discussed the issue of workforce bullying within organizations and the school system to the Deer Park Chamber of Commerce luncheon last week.
Mulcahy was the featured speaker at the luncheon and is a Business Development Director for the Workplace Bullying Institute (WBI).
"Frank speaks to groups across America about the true costs of workplace bullying, he works with hospitals, schools and businesses on developing a culture on sincerity … when you hear the words bullying, you automatically think of the schoolyard and things that take place there, bullying in the schoolyard is something that's still there," said Tim Culp, President and CEO at Deer Park Chamber of Commerce.
Mulcahy has won awards for his talents as a sales professional, entrepreneur and a master presenter.
"So you know that when somebody comes to you with discrimination or harassment, we got 'Title 7,' we can protect against that, but bullying falls into a different category where there's no protection, and as Tim said, it is in classrooms, I did go to Clemson to get certified so I could work with my school districts to help them to stop the bullying in classrooms and it was there that I recognized workplace bullying," Mulcahy said.
He said that 35 percent of teachers admitted to bullying a student in a survey and 27 percent of individuals have dealt with bullying at their jobs.
"So it estimates that one out of four people are currently going through or have been bullied and the business is the one who paid the price, because 77 percent of the time the target, not the perpetrator, but the target ends up moving on to another position, so the business has to lose their best and their brightest people, because the best and the brightest are the ones that are targeted, everybody recognized bullying in the classroom, everybody, because we know that the kids are tyrants you know, but what we stop to realize as they grow up and unless you stop them from being bullies as children, they then come to the workplace with us with this new practiced set of skills and that's when they become workplace (bullies), the bullying to me has been a source of my want to give back to the businesses," Mulcahy said. "I feel personal about this, you know it's my calling or my mission … because you know it gets a certain point in your life that you want to give back and the Lord's been good to me."
Tags: Chamber of Commerce, Deer Park, Frank Mulcahy, Texas, workplace bullying
Posted in WBI in the News | No Archived Comments | Post A Comment () »
Thursday, August 7th, 2014
By Jeff Mandel – Orlando Business Journal – August 7, 2014
A staggering 27 percent of U.S. workers report experiencing abusive conduct at work; 21 percent report witnessing such conduct. And bullying is four times more common than harassment in the workplace, with 65.6 million people reporting to have been affected.
Bullying in the workplace is defined as actions by an individual or group that are unreasonable, physical or psychological, repeated, and cause an intentional impact on the target, such as humiliation, degradation, offense, intimidation or cause dangerous results to the target, such as risk to safety and/or mental or physical health issues. In short, bullying is considered a form of violence.
And the impacts of workplace bullying have a ripple effect. Not only does workplace bullying impact the target of the bullying, but it leaves a lasting impression on others in the workplace as well. Workplace bullying often results in high turnover, low productivity, lost innovations, difficulty hiring quality employees and even customer retention.
Here are five tips for employers wanting to be proactive in the fight against workplace bullying:
(more…)
Tags: Healthy Workplace Bill, Jeff Mandel, Orlando Business Journal, workplace bullying
Posted in WBI in the News | No Archived Comments | Post A Comment () »
Thursday, August 7th, 2014
The National Association of Social Workers (NASW) Conference was treated to a presentation on workplace bullying by WBI Affiliates Linda R. Crockett and Sherri Tanchack. Both are Canadian pioneers leading the group — Social Workers Against Bullying.
Linda and Sherri recognize both the importance of clinicians treating bullied patients to (1) understand the work environment as causing the harm from workplace bullying and (2) the necessity of therapists hurt by bullying to heal so as to help others. If you are a social worker in Canada or the U.S., contact them. We met Linda and Sherri at Workplace Bullying University.
Here are the two along with their co-presenter at NASW, Dr. Tracy Whitaker, and the new NASW president, Dr. Darrell P. Wheeler.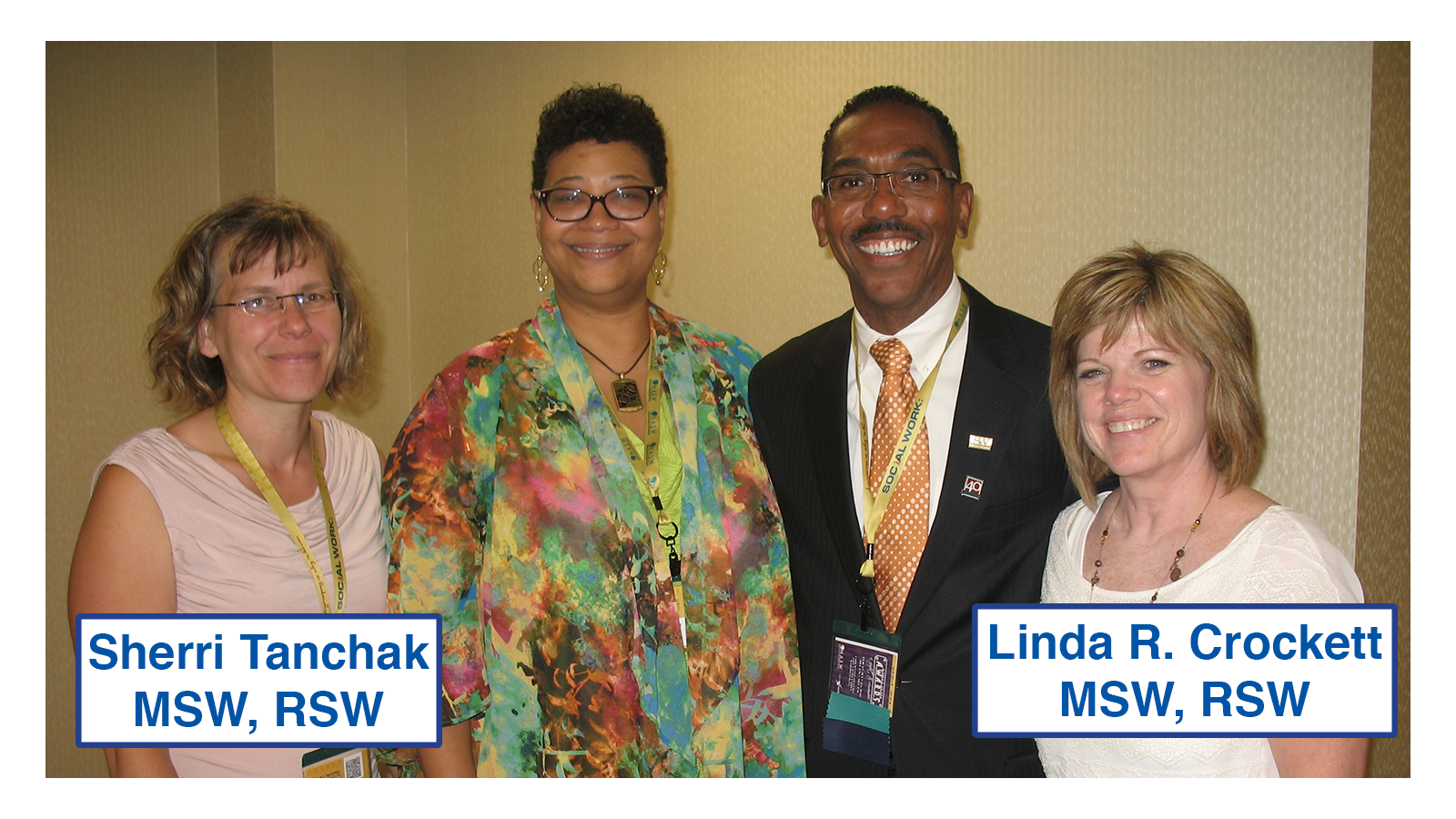 Tags: Linda Crockett, NASW, Sherri Tanchak, social workers against bullying, workplace bullying
Posted in Hear Ye! Hear Ye! 2 | No Archived Comments | Post A Comment () »
Wednesday, August 6th, 2014
By Richard B. Cohen – Employment Discrimination Report – August 4, 2014
Just as last week we re-opened our discussion about the possibility/desirability of enacting legislation to prohibit workplace bullying, it has been reported that the governor of New Hampshire just vetoed such a bill – calling it "well-intentioned" but ultimately "unworkable."
Chalk up another defeat for anti-bullying legislation, which is batting zero.
The Healthy Workplace Bill
We have not seen the NH bill, but if "workability" is the issue, perhaps New Hampshire should have turned to Prof. David Yamada, of nearby Suffolk University Law School, who is the author of the template legislation that serves as the basis of most of the workplace anti-bullying bills introduced across the country.
We noted last week that he wrote to us on February 25th about our discussion on anti-bullying legislation and said that "I can attest that the need for such legislation is underscored by the terrible inadequacy of existing law, including tort claims (IIED) and other causes of action. … the template bill, a/k/a The Healthy Workplace Bill, sets a relatively high threshold for recovery, higher in fact than hostile work environment standards for sexual harassment. In other words, it's about creating a cause of action for abuse, not incivility."
Goodness Gracious — Bullying Can Be Anything!
However, as Law360 reports, "unworkability "resonates with many employers' concerns that ill-defined workplace bullying laws would invite a wave of meritless employment lawsuits, attorneys say." Law 360 quotes some incisive comments from various employment attorneys:
"Any legislation is just going to further clog the court system;"
"The biggest problem is what the governor identified. That is, 'How do you define bullying?'"
"Bullying is so subjective. If it's just unwelcome conduct — well, goodness gracious, that could be anything."
One lawyer proposed a more workable solution that no one has seemingly ever thought of: "Everybody should be treated with professionalism and respect, and none of these issues will ever come up."
Wow — a breathtaking concept! Goodness gracious, what a boffo idea! Wish we thought of that!
Tags: employment discrimination report, Healthy Workplace Bill, richard b. cohen, workplace bullying
Posted in Media About Bullying, Print: News, Blogs, Magazines | No Archived Comments | Post A Comment () »