Posts Tagged 'workplace bullying'
Wednesday, July 23rd, 2014
Dear Kalola,

I began a job a few months ago as a bookkeeper for a medium size company. There are 8 bookkeepers in the company. There is one bookkeeper that is terrorizing everyone and the owner of the company is doing nothing about it. She screams, swears, throws things and decides what part of her job she is going to do. The best I can figure is the owner is afraid of her because he hasn't fired her. Instead he takes her work and makes other people do it. If you approach her on a bad day to give her work that belongs to her, she will throw it at you and tell you she isn't doing it. Then she will sit there sing real loud or start laughing like something you would see in a horror film. She is doing it on purpose. She has told me the owner isn't going to fire her so she will do whatever she wants. I have seen her make another employee cry and I know people have quit because they can't deal with her.

My concern is a safety issue, what if one day she really does flip out? what if someone gets serious hurt. Who is going to be held responsible? I don't have patience for bullies and I can't believe in the year 2014, we do not have laws to protect us from such treatment. I really hope pressure can be put on our elective officials to get things moving.

I really enjoy the work I do but I refuse to allow someone to treat me like garbage or throw things at me. Not sure what will happen when she thinks she can treat me like she does everyone else.

Linda
(more…)
Tags: Gary Namie, Let's Talk with Kalola, Ruth Namie, screaming mimi, The Bully At Work, workplace bullying, Workplace Bullying Institute
Posted in Let's Talk with Kalola | No Archived Comments | Post A Comment () »
Saturday, July 19th, 2014
Tags: employers, Gary Namie, got a minute, workplace bullying, Workplace Bullying Institute
Posted in Commentary by G. Namie, Media About Bullying, WBI Education | No Archived Comments | Post A Comment () »
Wednesday, July 16th, 2014
If you are anywhere near Deerfield Beach, FL, you owe it to yourself to attend the Broward Crime Commission Workplace Bullying event. Come meet Dr. Gary Namie (WBI Director, co-author, The Bully At Work), Dr. Maureen Duffy (co-author, Overcoming Mobbing), law professor Kerri Stone, and Jonathan Martin attorney David Cornwell.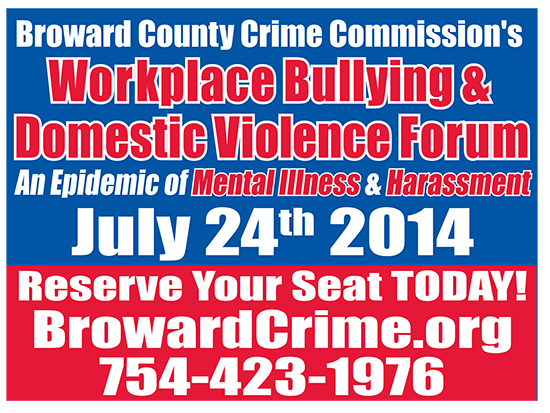 Tags: adult bullying, Broward Crime Commission, David Cornwell, Gary Namie, Kerri Stone, Maureen Duffy, workplace bullying
Posted in Hear Ye! Hear Ye! 2, NFL: Jonathan Martin | No Archived Comments | Post A Comment () »
Tuesday, July 15th, 2014
For our Union friends, we have created a Guide to Workplace Bullying that includes help with introducing Workplace Bullying into your Contracts (CBAs). Visit the WBI Union site.
Tags: Unions, workplace bullying
Posted in Unions | No Archived Comments | Post A Comment () »
Monday, July 14th, 2014
Vernetta Rosemary Northcutt (1945 – 2014)
At South Sacramento Hospital beloved mother and educator Vernetta Rosemary Northcutt passed early evening on June 3, after a valiant two plus year battle against pancreatic cancer. Her son Will and oldest nephew Robert whom loved her dearly, were with her throughout her final hours.
She moved to Elk Grove eight years ago after living in Vallejo, where she was known and respected for over 20 years as a teacher in the VUSD, spending the vast majority of her 25 plus year educational career with the VUSD as a Vallejo High School teacher. Loved and appreciated by a great number of her students, Ms. Northcutt was well known for her devotion to teaching students to reach beyond their potential and be all that they could be using well developed educational tools and creative methods.
She also fought to reclaim the dignity denied her by that same school district. Read the story of her travails here.

A memorial for her past students and close friends will be held on July 27 at the Vallejo (CA) Community Center on 225 Amador St. between the hours of 3 and 8 p.m.
If you are interested in assisting with the memorial in any way please contact her son Will Flynn at AnubanUT2@gmail.com or any member of the Ruth Love family.
Thanks to all that truly cared about her and treated her with the respect she deserved. Let us rejoice, for she is truly at peace in the company of the Lord.
Tags: Vallejo United School District, Vernetta Northcutt, workplace bullying
Posted in Hear Ye! Hear Ye! 2, Tutorials About Bullying, WBI Education | No Archived Comments | Post A Comment () »
Monday, July 14th, 2014
The Healthy Workplace Campaign is WBI's effort to enact anti-bullying legislation for the American workplace state by state. The model bill is called the Healthy Workplace Bill (HWB).

Features of the HWB
• Suffolk University Law Professor David C. Yamada, text author, used federal Title VII Civil Rights laws as basis
• Defines severe abusive conduct — does not use term workplace bullying
• Provides legal redress for anyone subjected to abusive conduct, whether or not the person is a member of a protected status group
• Requires that abusive conduct result in either demonstrable health or economic harm to plaintiff
• Plaintiffs who file lawsuits make public formerly hidden, confidential employer processes that hide and deny bullying
• Prohibits retaliation against any participant in procedures involved in dealing with the abusive conduct complaint
• Requires plaintiffs to hire private attorneys, no fiscal impact on state government
• Provides incentives (affirmative defenses) for employers who implement genuine corrective procedures
• Preserves managerial prerogative to discipline and terminate employees
• Does not interfere with state workers' compensation laws or union CBAs
We named the HWB in 2002. All other uses of the name HWB are unauthorized by us. California first introduced the HWB in 2003. It has been carried in over half of states and two territories since. The Workplace Bullying Institute trains and provides support to a national network of volunteer Sate Coordinators who lobby their respective state legislators to sponsor the HWB. You can track its status at the HWB website.
Botched Amendments & Unanticipated Consequences
As authors of the HWB, we naturally want the full and original version of the bill enacted into law. And we realize compromises will be made during the process. It is "sausage making," after all. We just wish all bill sponsors would refuse to allow major revisions that change the spirit of the bill from protecting abused workers to something else. Since the HWB was first introduced, different amendments have been proposed or made.
Often the well-intended sponsor, a pro-worker advocate, agrees to compromise adopting the belief that the law can be built in steps. Let's get this version passed now and it will be revisited in the coming years and supplemented with the other desired provisions.
Tags: amendments, business lobby, Chamber of Commerce, David Yamada, Gary Namie, Healthy Workplace Bill, Unions, vicarious liability, workplace bullying, Workplace Bullying Institute
Posted in Employers Gone Wild: Doing Bad Things, Fairness & Social Justice Denied, Healthy Workplace Bill (U.S. campaign), Tutorials About Bullying, Unions, WBI Education, Workplace Bullying Laws | No Archived Comments | Post A Comment () »
Thursday, July 3rd, 2014
Dear Kalola,

My story started when a new manager came to run the store. I had been working at the store for 12 years. I am a good team leader popular with everybody, ie., staff and customers. I am helpful and willing to share my knowledge. I am diligent and industrious and willing to stand up against injustice.

The new manager began nit picking, criticism of trivial nature all the time asking me to show others my duties then took all my achievement.

I went sick and blamed myself. I was so depressed. I picked myself up and asked for a meeting. Went to the meeting, a new area manager told me straight away I was not up to job.

With all of the prolonged negative stress, I had very bad stress and a breakdown. Sorry out of space.

Jean
(more…)
Tags: Let's Talk with Kalola, workplace bullying, Workplace Bullying Institute
Posted in Let's Talk with Kalola | No Archived Comments | Post A Comment () »
Thursday, June 26th, 2014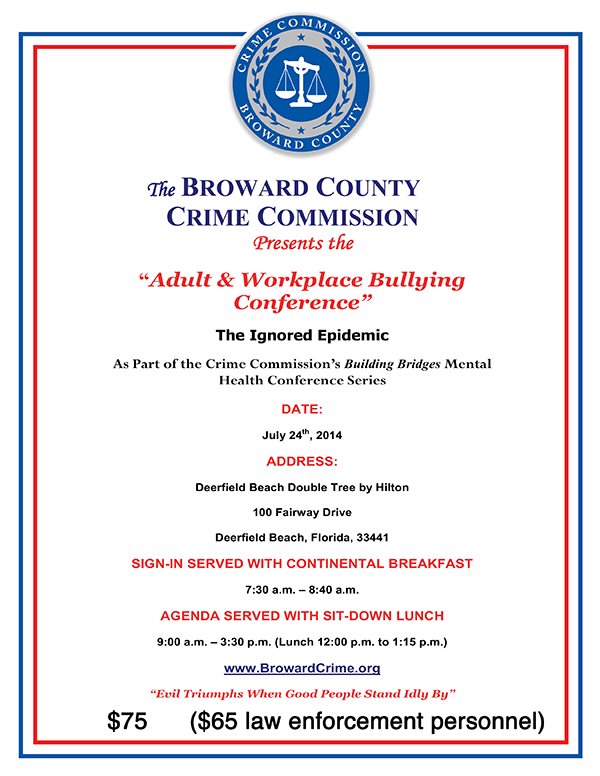 Register Here (Program appears here for review)
Host organization: Broward Crime Commission, James DePelisi, President
The Workplace Bullying Institute is a proud participant
Tags: adult bullying, Broward Crime Commission, conference, Gary Namie, James DePelisi, July 24, workplace bullying, Workplace Bullying Institute
Posted in Events & Appearances, Hear Ye! Hear Ye! 2, WBI Education | No Archived Comments | Post A Comment () »
Friday, June 20th, 2014
By Adam Rubenfire – The Wall Street Journal – June 20, 2014
Last month, after a decade of stalled progress in 26 states, advocates of workplace bullying legislation scored their first victory. But they're not entirely pleased.
Tennessee approved the Healthy Workplace Act on May 22, a law designed to curb verbal abuse at work by making public-sector employers immune to bullying-related lawsuits if they adopt a policy that complies with the law.
Though federal laws outlaw workplace discrimination based on race, color, religion, sex and other protected statuses, advocates like Gary Namie, director of the Workplace Bullying Institute, are lobbying for laws that recognize the verbal abuse of coworkers regardless of whether they fall under a protected class.
Dr. Namie, a social psychologist, said the Tennessee law doesn't go far enough. The bill his staff drafted for the legislature would have allowed both public and private employers to be held liable in civil lawsuits regarding incidents of alleged workplace bullying if they failed to enforce policies that recognize and protect workers who claim physical or mental harm as a result of bullying.
However, the signed law applies only to public-sector employers, and administrators aren't required to follow guidelines that the law ordered a state commission to draft by March 2015. Instead, they're incentivized to do so in exchange for immunity from potential lawsuits.
Under the new law, individual employees may still be held personally liable for abusive conduct.
Tags: adam rubenfire, Gary Namie, Healthy Workplace Bill, Tennessee, workplace bullying
Posted in Healthy Workplace Bill (U.S. campaign), Print: News, Blogs, Magazines | No Archived Comments | Post A Comment () »
Wednesday, June 18th, 2014
Canadian TV on the CBC show The National investigated workplace bullying by telling the tale of one brave woman's Wal Mart case. Key points made — employers ignore bullying and ignore evidence when presented by bullied targets and choose to not resolve it until pushed by lawsuits and the difficulty of proving intentional infliction of emotional distress. Also noteworthy is that the in-depth story was 9 min. long. (Are you paying attention US TV with your shallow 2 min. segments???)
Tags: intentional infliction of emotional distress, Wal-Mart, workplace bullying
Posted in Broadcasts: Video, TV, radio, webinars, Media About Bullying, Target Tale, Tutorials About Bullying, WBI Education | No Archived Comments | Post A Comment () »