Posts Tagged 'workplace bullying'
Friday, March 7th, 2014
By Caitlin Bronson
March 5, 2014
Insurance Business America
Workplace mistreatment and office bullying contributes to employer losses of more than $4bn in annual absences, including in workers' comp and disability insurance, a new study suggests.
According to researchers at the National Institute of Occupational Safety and Health, bullying accounted for 5.5% of sickness absenteeism in 2010. That translates to higher workers' comp costs in an environment already wary of additional risk.
Researchers noted that workplace bullying, which could include insults, intimidation, withholding information or gossiping, often causes anxiety, stress, depressive symptoms and even post-traumatic stress disorder in affected workers.
"Furthermore, as exposure to bullying increases, the risk of depressive symptoms also increases," the study found. "Besides targets of workplace bullying, employees who observed workplace bullying have also reported stress and anxiety."
Tags: business costs, caitlin bronson, insurance business, workers comp, workplace bullying
Posted in Media About Bullying, Print: News, Blogs, Magazines | No Archived Comments | Post A Comment () »
Friday, March 7th, 2014
By Joyce E. A. Russell
The Washington Post
March 2
Career Coach: How to detect subtle forms of bullying at work
Sad to say, but bullying does not just exist in the schoolyard. It is alive and well in the workplace.
We probably all know what the obvious signs of bullying look like. Examples include: offensive communication (using profanity, gossip or derisive jokes); aggression (yelling or shouting at an employee); coercion (forcing someone to say or do things against their will); belittling or demeaning someone regarding their ideas or work; embarrassing, degrading or humiliating someone publicly in front of others; retaliation; threats; blocking the advancement or growth of someone, or actively campaigning to get rid of them.
In addition to these obvious forms of bullying, there are many subtle forms that may not easily be detected but still cause emotional damage. Perhaps a bully is in charge of taking photos at a key event. He/she may take pictures of everyone but their victim to let them know who is in control. Maybe the bully acts chummy with the victim's friends or share jokes and social events with everyone but the victim. These are forms of socially isolating the victim.
Bullies may constantly justify their behavior or make excuses for it ("I raised my voice because I am going through a bad time right now"). They may act oblivious or dumb ("Oh, I didn't know that was important to you"). They may constantly blame the victim or use him/her as a scapegoat. One tactic that I have heard used a lot is pitting employees against each other so that they will turn against each other. This way, the bully comes out as the winner.
As managers, bullies may set unrealistic expectations or set their employees up to fail. They may also display sudden mood swings, making them unpredictable. They may take credit for others' ideas without acknowledging them. They may lie or distort the truth about what others have said in order to advance their own agendas. For example, the person may say, "Josh said this is how we should run the meeting" since that is how the bully wants to run it, when in fact, Josh never said that at all.
Really clever bullies are manipulators who are skilled at reading others and understanding their weaknesses so they know how to exploit them. In fact, many bullies can disguise their bullying behind a very nice and charming demeanor and a "pure" or noble cause. For example, they may demean a group of employees by arguing passionately that getting rid of them or limiting their power will be for the "good of the entire institution." Thus, it may initially be hard to detect the bullying. Also, bullying often reflects a pattern of actions over a long course of time so it may actually go undetected in the workplace, yet still have substantial costs to an employer.
Tags: JOyce E.A. Russell, subtle bullying, The Washington Post, workplace bullying
Posted in Print: News, Blogs, Magazines | No Archived Comments | Post A Comment () »
Thursday, March 6th, 2014
By Nancy Fischer
News Niagara Reporter
The Buffalo News
March 4, 2014
NORTH TONAWANDA – Bullying has gotten a lot of attention among schoolchildren, but hostile work environments and bullying behavior in the workplace are now being addressed by a bill in the State Legislature.
In advance of the proposed legislation, the North Tonawanda Common Council unanimously adopted its own measure Tuesday, updating its 2009 Workplace Violence Prevention Policy with specific language to address bullying.
The Council did not discuss the policy, but Mayor Robert G. Ortt said after the meeting that bullying is a "real deal" that goes beyond schools, even to the case involving the Miami Dolphins in the National Football League.
"I think if you are going to ask kids to behave a certain way, there's no reason not to expect adults to behave in the same manner," Ortt said.
"You want people to be able to come to work and do their job in an environment that is professional. Without that, morale goes down, people don't do their jobs as well, and there are health-related issues that are additional costs to the employer, which in this case is the city and ultimately the public."
Assistant City Attorney Katherine D. Alexander said prior to the meeting, "We are just trying to be as prepared as we can here. If something were to happen, there will be steps an employee could take."
Like the law being proposed in the State Legislature, the city policy gives employees the definition of an abusive workplace and provides for specific consequences. The policy also requires a system for reporting incidents of aggressive bullying.
The city now has a "zero tolerance policy" regarding reports of an abusive work environment.
According to the new city policy, after an investigation by the supervisor and the city attorney, any employee who is found to have committed a violation may be disciplined – which could include discharge, and criminal or civil prosecution.
Tags: North Tonawanda, policy, The Buffalo News, workplace bullying
Posted in Fairness & Social Justice Denied | No Archived Comments | Post A Comment () »
Tuesday, March 4th, 2014
WBI: The tale gets curiouser and curiouser …
Police in Arizona send Richie Incognito to mental-health facility
By Andrew Abramson, Palm Beach (FL) Post, Feb. 28, 2014
Dolphins guard Richie Incognito is receiving treatment at a psychiatric-care unit in Arizona after reportedly admitting to police that he damaged his Ferrari with a baseball bat in a fit of rage.
Incognito was hospitalized involuntarily late Thursday after Scottsdale police filed a petition to have him admitted, according to TMZ, which quoted a source.
Incognito apparently did not fight the order. NFL Media reported that he accepted the care because of the stress of the NFL investigation of his alleged bullying.
The NFL hired attorney Ted Wells to investigate claims of harassment in Miami's locker room. The report, issued two weeks ago, found that Incognito led the bullying of offensive tackle Jonathan Martin, several other players and an assistant trainer.
Tags: bully, Jonathan Martin, locker room bullying, Miami Dolphins, NFL, Richie Incognito, workplace bullying
Posted in Employers Gone Wild: Doing Bad Things, NFL: Jonathan Martin | No Archived Comments | Post A Comment () »
Monday, March 3rd, 2014
By Scott Wooldridge, Benefits Pro, March 3, 2014
Public awareness of workplace bullying has never been higher, thanks to high-profile cases such as the one involving Miami Dolphins teammates Richie Incognito and Jonathan Martin. Yet none of the more than two dozen states that have taken up the issue has actually passed any legislation to tackle the problem.
A recent survey found that 93 percent of Americans support legislation that would offer protections against bullying at work. The survey, conducted by Zogby Analytics for the Workplace Bullying Institute, found that 27 percent of Americans report having experienced abusive conduct at work. Another 21 percent say they have witnessed such behavior. Overall, 72 percent of those surveyed said they were aware of the issue of workplace bullying.
"Everybody has a story," said Gary Namie, co-founder and director of the Workplace Bullying Institute. "It is an epidemic. When you count witnesses, 65 million people in the workforce know firsthand what (bullying) is about."
The Incognito-Martin case brought workplace bullying into the spotlight.
Martin accused Incognito of bullying him, and then left the team. A lawyer hired by the National Football League to investigate the matter recently released a report concluding that Incognito "engaged in a pattern of harassment" of Martin.
Namie and his Bellingham, Wash.-based institute have been working on the issue for more than 20 years, but he said that the Incognito-Martin case caused "a tectonic shift."
Tags: 2014 WBI U.S. Workplace Bullying Survey, anti-bullying legislation, bullying research, Gary Namie, Healthy Workplace Bill, SHRM, survey, workplace bullying, Workplace Bullying Institute
Posted in Employers Gone Wild: Doing Bad Things, Healthy Workplace Bill (U.S. campaign), NFL: Jonathan Martin, WBI Education, WBI in the News, WBI Surveys & Studies, Workplace Bullying Laws | No Archived Comments | Post A Comment () »
Sunday, March 2nd, 2014
By Scott Whipple, The Bristol (CT) Press, March 1, 2014
NEW BRITAIN — Workplace bullying is back in the public eye.
According to a recent national survey, an overwhelming majority of Americans — 93 percent — support enactment of a new law that would protect workers from repeated abusive treatment at work. Only 1 percent strongly oppose such a measure.
"Because of the strong public support and stories from Connecticut citizens we are seeking sponsors in the state legislature to enact the Anti-Bullying Healthy Workplace Bill" said Katherine Hermes, state co-coordinator promoting the legislation.
Tags: Connecticut, Healthy Workplace Bill, Katherine Hermes, legislation, Peter Tercyak, workplace bullying
Posted in Healthy Workplace Bill (U.S. campaign), Media About Bullying, Print: News, Blogs, Magazines, WBI in the News, Workplace Bullying Laws | No Archived Comments | Post A Comment () »
Sunday, March 2nd, 2014
Ban on workplace bullying stalled at Vermont Statehouse
Advocacy group asks lawmakers to hold public hearing
by Stewart Ledbetter, WPTZ, NBC-TV, Montpelier, VT, Feb. 28, 2014
Sherill Gilbert says she walks the Statehouse hallways as often as she can, trying to persuade members of the Legislature to take up her cause.
She's determined, even after five years without much success.
 
"I'd love to see Vermont become first state with law against workplace bullying," Gilbert said Thursday. "I've heard from people from all 14 Vermont counties. Somebody needs to do something. It's the only legalized abuse in the United States."
Tags: 2014 U.S. Workplace Bullying Survey, anti-bullying bill, Healthy Workplace Bill, Kevin Mullin, legislation, Sherrill Gilbert, Vermont, William Doyle, workplace bullying
Posted in Broadcasts: Video, TV, radio, webinars, Healthy Workplace Bill (U.S. campaign), Media About Bullying, WBI in the News, Workplace Bullying Laws | No Archived Comments | Post A Comment () »
Friday, February 28th, 2014
Dear Kalola,

My bully boss enacted a posse of others to support her gossip and lies. She ran several major grants at a public university. I was her star employee, the go-to for all the hard tasks that she felt she did not want to do (or procrastinated on doing). She relied on me to support more than $8 million in grant-funded project activities. And, she never gave me credit or praise for any of my hard work or dedication. I remained behind the scenes as her "secret weapon." She called me on weekends, evenings—just about any time she pleased.  She gossiped, slandered and complained about everyone in the organization. I listened to her endless lies and complaints—all generated from her own insecurities—for nearly 7 years. I always knew, listening to her, that it was a matter of time before I became her next target.

After nearly two years of working for her, I had my first warning sign that I was under unusual stress. I went the the emergency room at my local hospital with stroke-like symptoms; they told me it was a TIA and sent me home with aspirin. That first warning should have been my last, but it only incited the bully to heap on more responsibilities and a little bit more monetary compensation to keep me in her grasp.

At year five, a fellow employee attempted to expose her bullying and discriminatory behavior. Courageous soul; the university backed her up because she brought in millions from government grants. He left distressed, distraught and demoralized. I knew that I was next—I had complained to several co-workers and one higher-up about her bad behavior. I had started to capture the outrageous lies, the slander, the falsified data she used to support her claims that she was "doing good" for students in need.

My second TIA was more dramatic. It happened nearly two years after the first one. I ended up in the hospital emergency room again, but this time the doctor issued a warning: Get rid of the stress. After that second TIA, her madness escalated. My productivity had plummeted. I scarcely realized that I was depressed and could not focus or function much. Thoughts of suicide were daily and normal. I dreaded each new day … even the weekends, because I knew that she would probably call me to continue her gossip and lies.

When she realized that I was planning on leaving, she resorted to keeping information away from me, using our shared social network to malign me and my good work; she even paid off several of my colleagues with "new" contracts and enlisting them in spreading lies about me, anything to keep me dis-empowered.

I did finally get up the courage to leave. My doctors helped me to make the decision. Medication also helped with my depression. It's been over a year and a half, and my health has rebounded in the most miraculous ways. My spirit has been set free from the tyrant and her posse. I only hope that I can help others to break free and claim their right to greatness and joy.

Joyce
(more…)
Tags: health harm, heart, Let's Talk with Kalola, stress, tia, workplace bullying
Posted in Let's Talk with Kalola | No Archived Comments | Post A Comment () »
Wednesday, February 26th, 2014

The report by Ted Wells, the investigator in the NFL bullying scandal, introduced to the public for the first time two bully accomplices of Richie Incognito — Mike Pouncey and John Jerry. With Pouncey and Jerry, the harassment became same-race bullying, neither is white.
The New York Times did a long article profiling the two. Inside the article are statements of denial by friends of Pouncey and Jerry.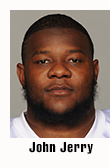 An unnamed friend commenting on the reactions of the two
they were upset at how the report characterized what they saw as harmless banter among friends and teammates. Neither had a sense that Martin was feeling bullied
Note how the bullies' version of the target's right to feel what he felt is given credibility.
A college coach saying
That's part of the culture of playing football.
A former teammate saying
Pouncey was not the type to harass teammates.
The article ends with Pouncey's "father figure" saying:
He'll be back to playing football. That's what he needs, and that's what he'll do.
Yes. Let's just move on … so we can forget! Wrong! Lessons must be learned and changes made. If not, this is another example of bully apologists at work to restore the offenders' image.
Read the entire article for yourself. Two Dolphins' Path to a Bullying Scandal by Steve Eder and Ben Shpigel, New York Times, Feb. 24, 2014
###
Follow the full NFL story in the Category list in the sidebar: NFL: Jonathan Martin
Tags: football culture, John Jerry, Jonathan Martin, locker room bullying, Miami Dolphins, Mike Pouncey, NFL, Richie Incognito, workplace bullying
Posted in Employers Gone Wild: Doing Bad Things, NFL: Jonathan Martin | No Archived Comments | Post A Comment () »
Tuesday, February 25th, 2014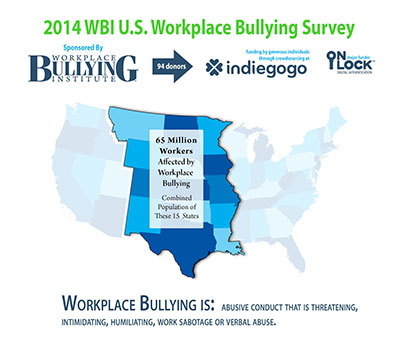 Infographic design by David Phillips, WBI


The results for our WBI 2014 U.S. Workplace Bullying Survey are in! Check out this infographic and please share.

Read the summary of the Survey results.

Or download the complete report.
Tags: David Phillips, infograhpic, survey, WBI 2014 U.S. Workplace Bullying Survey, workplace bullying
Posted in Bullying-Related Research, Media About Bullying, WBI Education, WBI Surveys & Studies | 1 Archived Comment | Post A Comment () »