Posts Tagged 'workplace bullying'
Friday, November 27th, 2015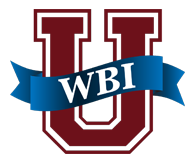 The nation's only comprehensive training in the phenomenon of workplace bullying designed for professionals — Workplace Bullying University®
An early registration discount is available until Friday Dec. 18 for the January 15-16-17 session in Boise, Idaho.
Call today to reserve your seat in the small group.
360-656-6630
Visit the WBI Workplace Bullying University website for program details. Taught personally by Dr. Gary Namie & Dr. Ruth Namie.
Designed for professionals in Healthcare, Mental Health, Counseling, Management, Higher Education, HR, Training, Consulting, and those in life & career transition.
Past graduates have said …
"Like that infernal whack-a-mole game in carnivals, bullies keep popping up in our organizations. Drs. Gary and Ruth Namie have blown the cover of off this game to show us exactly how bullying works, its devastating effects on employees and the negative impact it has to the bottom line. The Workplace Bullying Institute University program has given me the tools to protect our employees from bullying and to permanently disconnect the bully's power source. Definitely the most value-added program to organizational development I have attended in my 30-plus years in the business."-Greg H.
"I acquired a treasure trove of historical and current data on the subject, and detailed explanation of every term and dataset along with a substantial amount of supporting material for use in future presentations of my own. This is the first time in my 17 years as a professional that I attended training and walked away with a turn-key program. I highly recommend this program to any professional who wants to be on the leading edge of preventing, training, and correcting one of the leading detractors to workplace health and productivity."-D.I.G.
"I came away with an in-depth perspective that permeated my being. I received more information in 3 days than in the previous 2 years of research. Gary and Ruth Namie bring a perspective to organizational culture, leadership, and HR that can only be derived from personal experience coupled with scholarly research and study."-Richard H.
"This is more than a course, a class, or a training. It is truly an experience. I have been in HR for 20 years and I can tell you that attending WBU was one of the most fulfilling and gratifying experiences of my life. It even motivated me to seek my PhD and to write my dissertation on workplace bullying."-Nathalie D.
"This is the best training I have attended in my 22 years of being a union advocate." -Judy C.
Tags: education, Gary Namie, Ruth Namie, training, workplace bullying, Workplace Bullying Institute
Posted in WBI Education, Workplace Bullying University | No Archived Comments | Post A Comment () »
Friday, November 27th, 2015
Seek advice for your dilemma. Write to Kalola.
Dear Kalola:
I was a legal assistant with a well-respected legal organization for a little over four years. The bullying occurred primarily in the last three years and very intensively in the lastnine months. I was let go during the summer.
I was treated by the lead attorney and staff attorneys as if I was inferior. Although everyone in that office made mistakes, mine were the only mistakes that were brought to light. Each small mistake was blown into a huge mistake and was used to threaten my job. Sometimes I found out I wasn't even the one who made the mistake.
My co-workerswere very clique-ish and juvenile. There were many whispered conversations behind closed doors. I was definitely not included in that clique and was isolated psychologically and physically. I was told not to talk about my family, while everyone else in the office was free to talk at length about theirs.
I was treated rudely by the supervisor and all my co-workers (five total). They told me I asked too many questions. I have worked in the legal field for over 18 years and have never worked with any attorneys who did not want to communicate with their support staff. Also, I was asking questions because the tasks were often poorly written, hard to understand, and incomplete. They refused to look at my Outlook tasks to see how my workload was before they assigned a large task claiming that they were too busy.
In the end, I believe that two of the attorneys were trying to get me to lose my temper and/or quit my job. One would assign me tasks, complete them herself, and then "forget" to tell me, wasting a lot of my time while I was already under pressure. Another would show up in my office several times a day and chastise me for some small error (that I may or may not have made) or yell at me for some small problem and then turn on her heel and leave my office before I could respond. I was treated differently in that it was a huge deal if I used any vacation or sick leave, while everyone else in the office called in sick leave weekly for any little ailment and were often paid for hours they were not actually working. I think this was behind the bullying. I got the feeling they thought I was going to expose them, which I had not planned to do.
I tried to talk about the problems I was having with the supervisor, but eventually stopped when the conclusion to each conversation was everything ended up as my fault. I was thinking about going to the HR department when I was terminated. I was also starting to think about looking for another job. The official reason was that I "made too many mistakes". When I asked what those mistakes were, I was told "I don't want to argue with you."
The termination was very cold and impersonal. A few days later I received a termination letter (with typos) that still did not tell me what these mistakes were. To this day I do not know what these mistakes were, how they effected the office or client, or even find out if I did make the mistake.
My termination came as a huge shock to me. Although I was unhappy, I thought if I just did my best they couldn't get rid of me. And I needed the income. The first few weeks after being terminated were really rough mentally and physically. I isolated myself in self-doubt and depression. In the first few days I called the crisis line but there was only so much they could do. I was smoking way too much and having trouble eating. I've lost about 15 pounds. My stress level made it hard to sleep and I've increased my over the counter sleep aid. I was terrified at first to interview because of my damaged self-confidence and trying to figure out how to tactfully tell potential employers "why" I lost my last job. I've used the resources at Worksource to get some questions answered and help brush up on my job search skills.
I see now that I was much more stressed and angry in my last job than I thought. I'm nicer now to family, friends, and strangers hat I know I am not bullied anymore. I spent the last three years being short-tempered after a long day of being treated rudely and walking on egg shells. I know my family and friends can see a difference in me now that I'm getting back on my feet.
I believe I lost my job due to office bullying. I never believed in the term before, but I now know how real and damaging it is. If I would have done anything different, it would to realize that office bullying does exist and acted differently (document abuse situations, look for a new job). Thanks to the support of family and friends, I'm doing better. Instead of waking up each morning in terror of "what am I going to do?" I wake up grateful that I'm not a target anymore. I haven't landed on a new job yet, but I have lots of good experience, a lot of job applications out there, apply for everything I can and have been on several interviews. In fact while writing this I received an email scheduling a promising interview tomorrow morning. I know I have the chance to work in a happier, more respectful work environment. I deserve to be happy again.
If I could say anything to another abused worker, it would be to realize office bullying is real. Research it and be prepared to deal
with it if it happens to you. If it ends with a brutal termination, as it did with me, give yourself a little time to take care of yourself. Eat, breathe, sleep, and understand how important the healing process is. Reach out to friends and family, but realize not everyone will be able to be there all the time. Don't get stuck – get moving on your job hunt and build back your confidence. The best revenge is to move on to something better with your head held high.
I was impressed to find the Workplace Bullying Institute website. It gave me hope that I'm not crazy and this problem truly exists. I am excited to see that there is an interest in proposing legislation that will address this problem. Targets should have some recourse in office bullying.
West Coast Worker
(more…)
Tags: abusive conduct, attorneys, Kalola, Leymann, Mobbing, workplace bullying
Posted in Let's Talk with Kalola, WBI Education | No Archived Comments | Post A Comment () »
Monday, November 9th, 2015
Here in America, employers claim that loyal, engaged, hard-working employees have disappeared or are extremely rare. Work, like many social functions operates on the notion of an implicit contract between the parties. In exchange for compensation, workers lend their talent to employers. Employers, in turn, have the exclusive right to optimize profit from the relationship. The deal should be a mutually beneficial one to both sides.
History shows that contempt for workers was common in the bad old days.
Tags: distrust, employee monitoring, employer-employee relationships, exploitation, feudal, flexispy, Gary Namie, surveillance, workplace bullying
Posted in Commentary by G. Namie, Employers Gone Wild: Doing Bad Things, The New America | No Archived Comments | Post A Comment () »
Thursday, October 29th, 2015
By Kathleen Stubbs, The (Montgomery County, MD) Sentinel, Oct. 29, 2015
The Montgomery County board of education tentatively approved a new policy prohibiting the bullying of schoolteachers and staff in a meeting Monday October 26 establishing a public comment period to last until
Legal documents show the policy on workplace bullying arrives nearly 2.5 years after three elementary school teachers and one staff member settled a lawsuit against their school principal.
"I think it's just a way to help address the way, how we are creating the best workplace possible for our employees," said Board member Christopher Barclay.
Barclay said the regulations will determine how Montgomery County Public Schools staff will address bullying.
"The policy is going to be the aspiration," he said. "It's going to be the regulation that will matter in terms of what ultimately will be the practice, and we have to see what systems are put in place."
Tags: board of education, bullying of staff, bullying of teachers, Montgomery County, respectful workplace, workplace bullying, workplace bullying policy
Posted in Employers Doing Good, Media About Bullying, Print: News, Blogs, Magazines | No Archived Comments | Post A Comment () »
Tuesday, October 27th, 2015
CareerSource Employee Says She Was Bullied for Being Pregnant
By Jess Swanson, Miami New Times, Oct. 26, 2015
Aylen Hidalgo says her supervisor has always been a stickler for clocking in on time and not leaving her desk or making personal calls. As a result, her job in finance at CareerSource South Florida, a county agency with a $70 million budget to help job seekers, has always been stressful.
But she says it got even worse last December when she told that supervisor, Christine Garcia, that she was pregnant. Instead of supporting her, Hidalgo says Garcia wrote her up, docked time from her vacation leave, and gave her negative evaluations.
"I'd tell her that I was not feeling good — throwing up and with nausea — but she didn't care," she says. "I was scared that she'd come and see that I wasn't at my desk and have a fit."
Hidalgo's allegations — which are the subject of an ongoing county investigation — are the latest claims of employee mistreatment at CareerSource. A federal investigation recently found that its executive director, Roderick "Rick" Beasley, discriminates against female employees. Hidalgo thinks Beasley is to blame for fostering workplace bullying.
"I was under a lot of stress, and I believe that every problem that happened during my pregnancy was caused by stress from working at CareerSource," Hidalgo says. "Beasley thinks he's God on Earth and the supervisors can do whatever they want — good or bad."
Neither Garcia nor Beasley responded to New Times' messages seeking comment on Hidalgo's claims. County spokesperson Michael Hernandez also declined to comment.
Hidalgo, who has worked at CareerSource for a decade, says her pregnancy immediately marked her for unfair treatment. When morning sickness forced her to come in late, the time was subtracted from her vacation. Her regular bathroom trips led to abuse from Garcia, she says.
It got so bad that in March, Hidalgo, then six months pregnant, filed a complaint against Garcia with the Office of Fair Employment Practices. The office confirms it's still investigating her complaint, but Hidalgo is doubtful it will bear fruit. In the seven months since she filed the complaint, neither she nor any witnesses she listed have been interviewed. At least four other employees who have filed similar complaints against Beasley have been unsuccessful as well.
Tags: Career Source, Christine Garcia, pregnancy, Rick Beasley, woman-on-, workplace bullying
Posted in Bullying & Health, Media About Bullying, Print: News, Blogs, Magazines, WBI Education | No Archived Comments | Post A Comment () »
Saturday, October 24th, 2015
On the heels of the WBI Freedom from Workplace Bullies Week, when we call for State lawmakers to introduce and aggressively support our anti-bullying Healthy Workplace Bill, we survey bullied individuals about their level of political activity.
Loading ...
Tags: bullied targets, political activity, workplace bullying
Posted in WBI Education, WBI Surveys & Studies | 2 Archived Comments | Post A Comment () »
Saturday, October 24th, 2015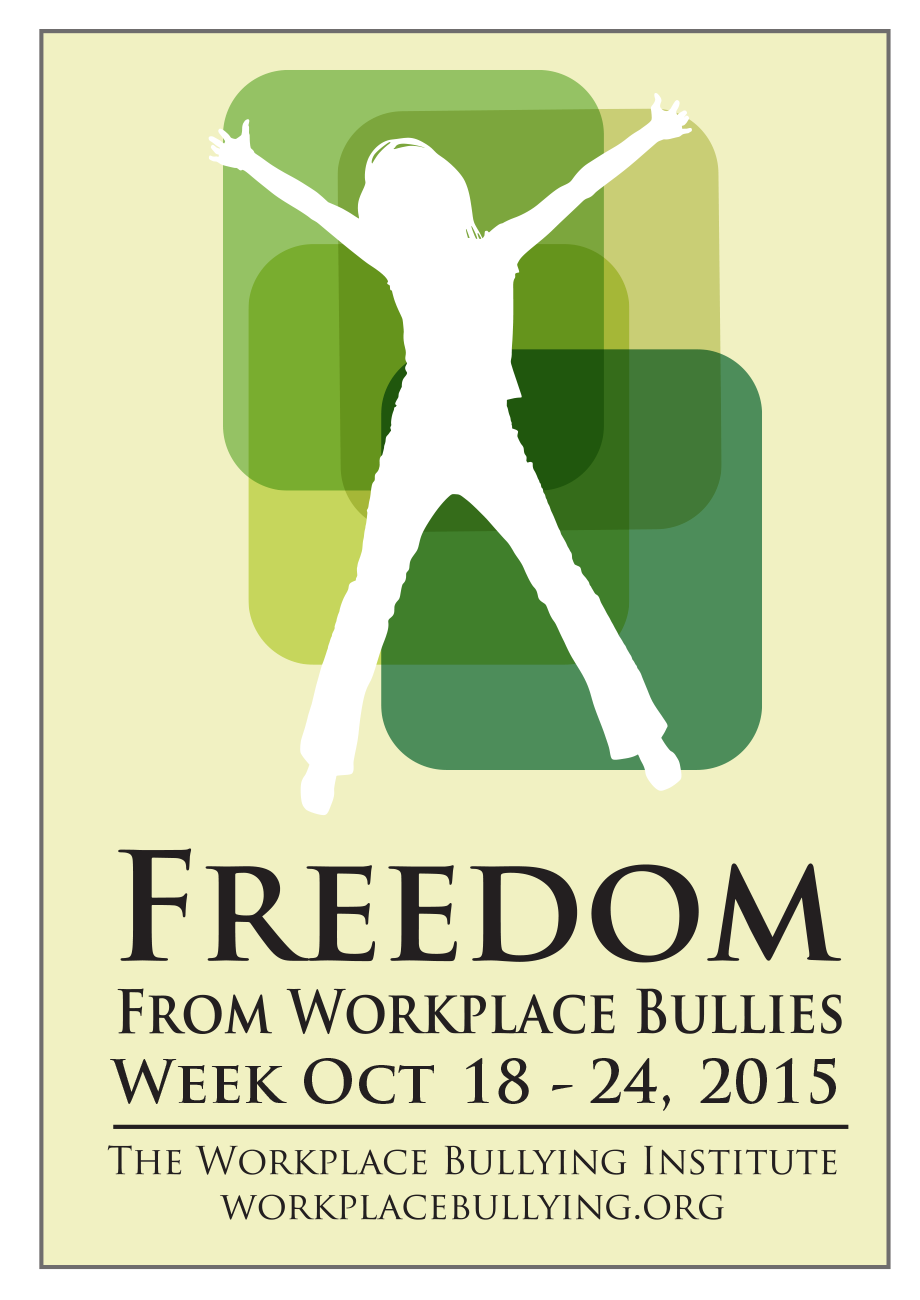 The Workplace Bullying Institute thanks the following California 116 cities and counties for acknowledging Freedom from Workplace Bullies Week and the necessity of caring for those subjected to abusive conduct at work.
It's a call to action for employers in those cities and the entire state.
Click to view the Proclamations issued at the request of the WBI-affiliated California Healthy Workplace Advocates.
Counties
Alameda County
Del Norte County
El Dorado County
Humboldt County
Lassen County
Madera County
Sierra County
Cities
Albany
Anaheim
Arcata
Artesia
Avenal
Belmont
Benicia Original home of the Workplace Bullying Institute
California was the first state in the nation in 2003 to introduce the WBI anti-bullying Healthy Workplace Bill. It has yet to be enacted into law.
The time has come. 2016 provides the state lawmakers a chance to show who they represent.
Tags: California Healthy Workplace Advocates, city proclamations, county proclamations, Freedom from workplace bullies week, workplace bullying, Workplace Bullying Institute
Posted in Freedom Week, Good News, WBI Education | No Archived Comments | Post A Comment () »
Friday, October 23rd, 2015
Dr. Lynne Curry writes for the WBI Leaders Column, advice for employers. See her bio there.
She is interviewed here on Anchorage Alaska KTUU-TV discussing the new City of Anchorage anti-bullying policy.
Tags: advice for employers, Lynne Curry, WBI Leaders Column, workplace bullying
Posted in Advice for Employers, WBI in the News | No Archived Comments | Post A Comment () »
Friday, October 23rd, 2015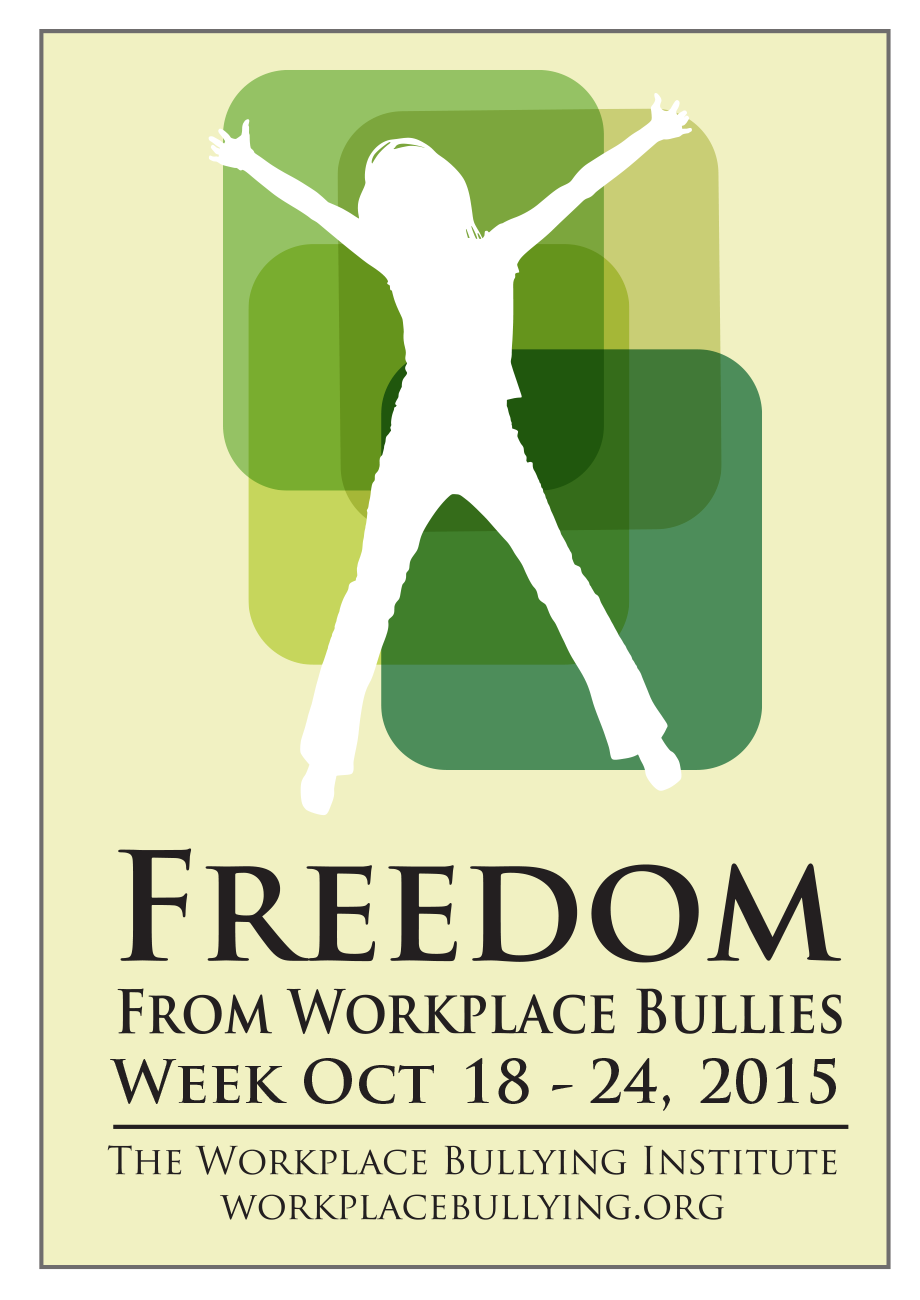 The Workplace Bullying Institute thanks the following West Virginia cities for acknowledging Freedom from Workplace Bullies Week and the necessity of caring for those subjected to abusive conduct at work.
It's a call to action for employers in those cities and the entire state.
Anmoore
Charleston
Elkins
St. Albans
Star City
Welch.
Click to view the Proclamations.
West Virginia has a history of introducing the WBI anti-bullying Healthy Workplace Bill. It has yet to be enacted into law.
The time has come. 2016 provides the state lawmakers a chance to show who they represent.
Tags: abusive conduct, Freedom from workplace bullies week, Healthy Workplace Bill, WBI, West Virginia, workplace bullying, Workplace Bullying Institute
Posted in Freedom Week, Healthy Workplace Bill (U.S. campaign), WBI Education | No Archived Comments | Post A Comment () »
Thursday, October 22nd, 2015
Bullying in the workplace: How to recognize and address it
By Becky Parker, WDAZ-TV (Grand Forks, North Dakota), Oct. 22, 2015
Bullying is an issue people may think is reserved for the schoolyard, or even cyberspace.
But adult bullying in the workplace can have devastating effects on people's lives.
One in 10 U.S. workers say they are being bullied at their jobs.
Forty-five-percent say they've been bullied at some point during their career, and another 25% say they've witnessed workplace bullying.
We spoke to North Dakota State University professor and researcher Pam Lutgen-Sandvik, who has been studying workplace bullying for nearly 15 years. [Note: Dr. Lutgen-Sandvik is a WBI friend & colleague; her research is featured prominently in the WBI training for professionals, Workplace Bullying University.]
She defines bullying as persistent, hostile, aggressive behavior that can be verbal or non-verbal.
Research shows adult bullying can lead to depression, eating disorders, sleeping disorders, PTSD and physical ailments.
It also increases the person's stress levels and degrades their mental health by making them feel crazy, scared, and anxious.
"It also bleeds into families. When you're bullied and abused at work you go home and sometimes there's displaced aggression when you're screaming at your family members, sort of that, 'kick-the-dog' kind of thing. We do know for sure it reduces people's satisfaction with their personal lives," says Lutgen-Sandvik.
Here's what she says you should do if you are being bullied at work:
• Give it a name – define it as workplace bullying.
• Remember that it's not your fault – bullies often make the victim feel crazy.
• Get some social support – like a counselor – as bullying can degrade your mental health.
• Take some time off from work to regroup and figure out how to address the problem.
"Trying to make sense of it and figure out what you're going to do is really difficult when you're in the environment and you're constantly bombarded with this aggression and hostility. If it's possible, take some time off of work so you can kind of get your bearings and figure out, 'am I going to stay? If I'm not going to stay, what am I going to do here?'"
Many people in a bullying situation at work might want to fight back, but that can be risky.
Often, bullying situations at work involve an element of power. In the U.S., it's usually a manager, but can also be a peer.
If you do choose to fight back, Lutgen-Sandvik says the best way is to talk to someone who has power over the bully.
Bring specific examples of bullying, have other co-workers to back you up, and have a clear goal in mind.
Lutgen-Sandvik says it is not a good idea to confront the bully directly.
"They will escalate the abuse worse than it ever was before, and drive the people out of the workplace because now they've become serious threats to the perpetrator. So, directly confronting the perpetrator, it's really a very, I would say, dangerous thing to do."
###
This is Freedom from Workplace Bullies Week and October is Bullying Prevention Month and Domestic Violence Awareness Month.
Readers may click-to-purchase Adult Bullying, Pam's chronicle of her decade of research into workplace bullying, written in easy-to-understand prose.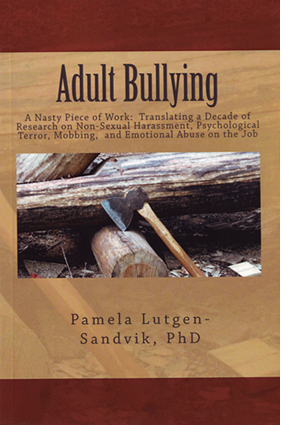 Tags: 2014 WBI U.S. Workplace Bullying Survey, abusive conduct, adult bullying, health harm, Lutgen-Sandvik, NDSU, professor, research, workplace bullying
Posted in Bullying & Health, Bullying-Related Research, Social/Mgmt/Epid Sciences, WBI Education, Workplace Bullying University | No Archived Comments | Post A Comment () »