Posts Tagged 'workplace bullying'
Tuesday, July 31st, 2018
The author of this guest blog, Wayne Turmel, is co-author of the new book, The Long-Distance Leader: Rules for Remarkable Remote Leadership. We know Wayne from appearances on his podcasts The Cranky Middle Manager when he was kind enough to showcase our early work at WBI.

"As the authors point out, the evolution of remote work is unlikely to revert. Leadership training, if any is even given these days, has to take into account the remote workers paradigm. This book fills that void. Leadership of people unseen can be a cold, easily aggressive endeavor. Bullying likely accompanies situations where in-person communication cues are absent. Eikenberry and Turmel rightly prioritize the role of people skills which is often minimized as "soft skills." In remote leadership, the key is to achieve outcomes through others by overcoming barriers posed by technology without settling for mastery of those tools alone. The skills are not natural. For example, the authors implore leaders to forego a need to control and personal preferences in favor of an orientation toward the team, tailoring communications to maximize receptivity by them. They must be deliberately learned. The clear instructions in The Long Distance Leader provide the essential blueprint for success for leaders and teams. Bullying is preventable by skilled remote leaders.
Key features of the book I admire: (1) the proper balance of technology tools and caring for people, (2) calling for leaders to shelve their personal style in favor of tailoring communication with the team driven by team needs, (3) the call for leaders to unselfishly abandon their need to control others (at the heart of workplace bullying), and (4) that leadership is an earned position of trust rather than a position on an org chart."
Gary Namie, PhD
###
Bullying on Virtual Teams
by Wayne Turmel
Usually, when people think of workplace bullies, they think of those with whom they share a workplace. Physical intimidation and threats come immediately to mind. Working from home often sounds like a tempting way to avoid such situations. But as we know from far too many examples, cyber-bullying is common. Just because you don't share a cube-farm or a shop floor doesn't mean you can't be a victim of a workplace bully.

To be sure, working remotely and being connected electronically means that the ways in which negative interactions happen are different. Some of the most common bad behavior on remote or virtual teams include:

Exclusion – not inviting people to certain conference calls or meetings, or including them on vital information such as group emails and the like.

Withholding critical information. This can be as innocent as a simple "out of sight out of mind" example, or can be the first step to actively sabotaging someone's work or reputation.

Gossip and lying are common methods of controlling other people and cutting them off from support or aid.

Active hostility. This can take the form of belittling people on virtual meetings and conference calls, shutting down their contributions in front of others. It can also mean sending threatening texts or Instant messages.

The same ability to write horrible things without having to be in physical proximity to the victim that enables people to cyber-bullies and trolls free reign apply at work. When you don't have to look the victim in the eye, and can maintain anonymity, it's more likely such behavior will occur.

A 2005 study at DePaul University by Alice Stuhlmacher revealed that when people didn't know each other well but worked in a virtual environment (they were a name on an email distribution list or a disembodied voice on a conference call) there was increase in negative behaviors. These included lying, withholding information, escalating threats and social exclusion.

So what is an effective Long-Distance Leader supposed to do? Our role is to create a safe, productive workplace for every member of the team. The challenge when we aren't in the same physical location is recognizing the signs that such behavior is taking place, and facilitating steps to halt it. The leader needs to assess their team and identify bullying behavior, address the behavior and restore trust in the team.

In many ways, working remotely allows you to spot the most obvious examples of harassment. Abusive or inappropriate criticism on conference calls, team meetings and email are often obvious and jump out at us. The challenge for many of us is that we want to avoid conflict (after all, the bully is probably not a pleasant person to confront) and it is far easier to avoid direct face to face discussion and settle for weak, ineffective corrective measures. How is that strongly worded email working for you?

Whether we notice the harassing behavior ourselves, or it's brought to our attention by the victim or others, it's incumbent on leaders to investigate and then address such behavior directly. Failure to do so can poison the entire team dynamic.

When trust is broken on a team (virtual or co-located) it can be difficult to reestablish. This is true of trust between employees, but also between the victim of the bullying and their manager, who they looked to for protection that wasn't there. In The Long-Distance Leader: Rules for Remarkable Remote Leadership, we have a 3-point trust model that may help.
Trust is established when three factors are all true: there's proof that everyone is aligned around purpose and intent, there's proof that each person is competent, and proof that they are motivated positively. If any of these are out of alignment trust suffers.

The challenge on remote teams is that people may not have visibility to each other's work. For example, if someone is quiet on conference calls, or not very good at articulating their ideas, it's easy to dismiss the quality of their work. We may not give them credit for the quality of work they deserve. As a leader are you making it clear that they do good work and have your support? Are you sharing those thoughts with the team?

As effective leaders who want to create a non-threatening environment, we need to take the time to listen for signs of trouble, not ignore them when they arise, and actively help the team gain the positive input about their co-workers that eliminate many of the seeds of bullying. Often the bully is the most vocal and outwardly social person, while the victim is seldom heard. A manager who is rushed or distracted may not pick up on the distress signals until it is too late.

When the actions of team members rise to actionable levels, we can't let distance get in the way. We must be proactive in addressing both the behavior itself and the measurable actions to halt it.
Wayne Turmel is the co-founder of The Remote Leadership Institute and the author of many books, including ATD's 10 Steps to Successful Virtual Presentations. Wayne and Kevin Eikenberry have written the authoritative guide to remote leadership, The Long Distance Leader: Rules for Remarkable Remote Leadership.


Tags: bullying and virtual teams, Kevin Eikenberry, remote leadership, remote teams, The Long Distance Leader: Rules for Remarkable Remote Leadership, virtual teams, Wayne Trumel, workplace bullying
Posted in Advice for Employers, Commentary by G. Namie, Employers Doing Good, Media About Bullying, Print: News, Blogs, Magazines, Related Phenomena | No Archived Comments | Post A Comment () »
Saturday, May 19th, 2018
Shoemaker Nike landed in the news for a good reason. CEO Mark Parker suddenly started listening to employees. The Board heard from departing female executives that Nike had a toxic work environment, at least for women. There was an internal anonymous survey about misconduct. It listened to other women acting as an internal #MeToo task force who called out the corporation for years of treating sexual harassment and coercion complaints with indifference. They outed their own version of Harvey Weinstein, Trevor Edwards, a man being groomed to succeed Parker. He was branded an undesirable sexual predator like so many other high-profile men. Despite having been shamed into expulsion, Nike gave Edwards a soft economic landing — $525,000 payout and almost $9 million worth of stock.
Edwards was allegedly responsible for "behavior occurring within our organization that do not reflect our core values of inclusivity, respect and empowerment," Parker wrote to employees. He saluted the "strong and courageous employees" who had come forward. The reporting attached below found that Nike has an anti-bullying policy that addresses misconduct in addition to legally mandated protections for special status group members. Hence, the negativity associated with disrespect.
Following the breaking news about the ejection of Edwards, a rarity in American business, Nike announced the termination of five others — including one woman executive. To WBI this meant that the MeToo complainants had reached beyond the narrow bounds of illegal sexual harassment. The primarily women complainants had had it with abusive practices by more people than Edwards, including the woman, Gina. By firing a woman on the advice of women employees, same gender abuse must have been practiced. That's workplace bullying.
We hope for two outcomes: (1) that the Nike awakening to the much more prevalent and damaging practice of generalized workplace abuse in addition to sexual harassment is real and sustainable, and (2) that American employers see the challenge posed by early adopter Nike and start to replicate the corrections in their own C-suites.
Purging high-level bullies will never likely be a fad, but it is certainly time that major corporations (and stagnant government agencies at all levels) discover bullying and choose to eradicate it for the psychological safety of the vast majority of its workers. Stop protecting and defending abusers.
Could this be an American employer awakening? We wait to see.
###
The Bloomberg News and France 24 reports about Nike …
Bloomberg
Companies Have an Aha! Moment: Bullies Don't Make the Best Managers
by Matthew Townsend and Esmé E Deprez, Bloomberg, May 9, 2018
Nike's ouster of a top executive casts new light on the hard-knuckled behavior common in many offices.
After Nike Inc. ousted a handful of male executives for behavior issues over the past few months, some media reports tied the departures to the #MeToo movement and its revelations of sexual harassment and assault. Interviews with more than a dozen former Nike employees, including senior executives, however, paint a picture of a workplace contaminated by a different behavior: corporate bullying. The workers say the sneaker giant could be a bruising place for both men and women, and that females did bullying, too. On May 8, Nike signaled as much when it confirmed four more exits stemming from an internal misconduct inquiry, including the departure of a woman with more than 20 years at the company.
The surprise announcement in March that 55-year-old Nike brand president Trevor Edwards—who had a reputation for humiliating subordinates in meetings—would leave following an internal investigation about workplace behavior issues suggests the coddling of tough guys may have come to an end. "Some companies are realizing that a bullying boss isn't the best way to manage a company," says David Yamada, a professor at Suffolk University Law School in Boston who's authored antibullying legislation. "Maybe we're starting to see a tipping point."
Gary Namie, co-founder of the Workplace Bullying Institute, who consults with businesses on workplace issues, says one reason some companies have long tolerated or even encouraged such behavior is that many American managers believe the workplace is by nature rough around the edges. "Bullying is inextricably interwoven with capitalism," he says. "It creates a zero-sum, competitive work environment where people feel they need to obliterate their competitors."
Some former employees say that was the case at Nike, particularly among managers who used abusive tactics to safeguard their own position or authority. "There are a lot of very talented people deeper in the organization who have been marginalized both by senior and middle management trying to protect their domain," says Shaz Kahng, who was a senior executive at Nike for six years through 2010. "People are often promoted based on relationships, not on results."
In response to complaints, including from departing female executives, Nike ousted Edwards, who'd been a favorite to become the company's next chief executive officer. Edwards, according to some of the former employees, at times bullied workers through insults and disparaging comments. More important, once he set the tone, other people mirrored his behavior, they say. A handful of executives who worked for Edwards have since left Nike.
"I've been disturbed to hear from some employees of behavior inconsistent with our values," CEO Mark Parker said in an emailed statement. "When we discover issues, we take action."
Nike also provided Bloomberg with the transcript of a town hall Parker held on May 3, in which he vowed the environment will change. "We all have an obligation—and it's non-negotiable—to create and cultivate an environment of respect and inclusion," he told employees. "And that starts with me. I apologize to the people on our team who were excluded. … We're going to move from a place where the loudest voices carry the conversation to [one where] every voice is heard."
The company declined to make Edwards available for an interview. He's acting as an adviser to Parker until he retires in August, when he'll receive a $525,000 payout, according to public filings.
Nike says it's reviewing how it deals with complaints, redesigning management training, and beginning unconscious bias awareness education for employees this year. It's also vowed to promote more women and minorities into leadership roles. Currently, managers are 38 percent women and 23 percent nonwhite.
Workplace bullying is often defined as behavior—including verbal abuse, derogatory remarks, humiliation, and undermining work performance—that results in physical or mental harm. About 1 in 5 Americans say they've been the target of it, according to a 2017 survey by Zogby Analytics that was commissioned by the Workplace Bullying Institute. Men make up 70 percent of the perpetrators and 34 percent of the targets. "It's a significant and still underreported problem," Yamada says. Surveys have shown such behavior is four times more prevalent than legally actionable sexual harassment, he says. "Bullying looms large."
Ironically, Nike is one of the minority of companies that has a formal antiharassment policy that calls out bullying behavior such as verbal abuse, intimidation, humiliation, and retaliation, according to a copy obtained by Bloomberg. It also notes that harassment not based on a legally protected characteristic, such as gender or race, can still violate company rules.
One reason few companies have specific antibullying policies is that there aren't federal or state laws in the U.S. outlawing the behavior, which makes America a laggard when compared with Western Europe, Canada, and Australia.
"Some companies are realizing that a bullying boss isn't the best way to manage a company"
A lack of legal protections greatly reduces the possibility of liability for employers. It's difficult to bring a lawsuit based on bullying, and businesses have worked to keep it that way. Over the past decade, antibullying bills were introduced in about 30 states, but they've all been defeated after opposition from corporate lobbying groups, Yamada says. A workplace bullying bill is gaining sponsors in Massachusetts' legislature, but its future is uncertain. If there were antibullying laws, companies would be liable and do more to deter the practice, according to Namie. "It's the only form of abuse that hasn't been addressed by law," he says. "It goes beyond gender to 'I'm powerful, I can do any damn thing I want.' "
When executives feel entitled or untouchable, that often leads to bullying and then to other inappropriate behavior, Yamada says. In many of the workplace environments that resulted in some of the high-profile #MeToo moments, such as that at Weinstein Co., an "undercurrent" of bullying created a belief that mistreatment would go unpunished, he says. "It's that bullying atmosphere that helps to enable and empower sexual harassment."
According to the former Nike employees, the lack of a fear of reprisal created an environment where male executives, many married, could pursue and have sexual relationships with subordinates and assistants—behavior Nike says it tries to prevent but doesn't prohibit. Many times the careers of those involved were unaffected, which only normalized the behavior, they say. And when there were repercussions, the men received little if any punishment, while women often faced consequences. In one instance several years ago, they say, an executive was caught having sex with his assistant on a conference table. He wasn't disciplined, some of the people say, but the woman was reassigned.
Several former female employees describe similar experiences of encountering several slights and offenses—not one egregious incident—that increased as they moved up the ladder. One woman says her boss, a senior director, had derogatory nicknames for female staffers and would overtly favor men on the team with better opportunities. A former female manager says a male colleague had multiple complaints of bullying made against him to human resources, but the only punishment meted out was a delayed promotion. Eventually, frustration with Nike's handling of such incidents persuaded several women to leave the company, they say.
The situation was particularly galling to employees who'd been drawn to Nike because of its cool and progressive reputation, burnished by such advertising slogans as "If You Let Me Play" and its T-shirts adorned simply with the word "equality." "We always wished the company would live up to its marketing," says one former female executive. "But it didn't."
BOTTOM LINE – Nike's marketing positioned the company as a promoter of self-expression and equality. But former employees say it allowed a culture of workplace bullying to flourish.
###
France 24
Five More Executives Fired as Nike Confronts Workplace Harassment
by Agence France-Presse (AFP), May 10, 2028
Nike has dismissed additional executives as it moves to address a workplace culture marred by sexual harassment and bullying, embarrassing a brand that has self-defined around equality and empowerment.
The latest departures, confirmed Wednesday by a Nike spokeswoman, consist of five executives, including one woman, and raise the total departures to around a dozen. This includes former president Trevor Edwards, who had been seen as a CEO in waiting.
Since Edwards' departure was announced in March, US media reports have chronicled myriad cases in which women were subjected to sexual harassment and often passed up for promotions in a boorish frat-like culture.
The revelations have come amid a broader rethink in US society over gender relations following the downfall of Hollywood mogul Harvey Weinstein and the ensuing #MeToo movement that has toppled numerous figures across business, politics and entertainment.
Remaining Nike brass have said little publicly about the staffing overhaul beyond chief executive Mark Parker's remarks in March emphasizing the need to address "some behavioral issues" that clashed with Nike's culture.
"I'm committed to ensure that we have an environment where every Nike employee can have a positive experience and reach their full potential," Parker said on a March 22 earnings conference call.

"Shocking" revelations
The upheaval comes as Nike has experienced sales stagnation in North America, offset in the most recent quarter by a strong performance in China and other overseas markets.
CFRA Research analyst Victor Ahluwalia said it was too soon to know if the problems would further dent North Americans sales, but he predicted the company's travails could trouble consumers.
Nike's famous "Just Do It" slogan emphasizes empowerment, as do sponsorships of iconic athletes such as Michael Jordan and Serena Williams.
"The company was viewed as progressive and kind of millennial friendly, so for something like this to happen with a brand that comes with that kind of a message was shocking," said Ahluwalia.
But Ahluwalia praised the company for "being proactive", in contrast to other companies that responded to workplace scandals only after problems publicly surfaced, usually in media reports.
"Clearly work needs to be done and I think it will take time," Ahluwalia said. "Being proactive does position the company much better for the future."
"It is just cruelty"
Since Edwards' departure was announced in March, others to leave have included top executives in digital marketing, diversity and inclusion and Nike basketball.
The housecleaning was spurred by a survey of frustrated female workers in Nike's Oregon headquarters who polled their peers, finding widespread sexual harassment and discrimination and presenting the data to CEO Parker, according to a New York Times expose.
The Times article also cited women who reported problems ranging from being cursed at by an abusive male boss to excluded from key meetings, and passed up for promotions.
The staff dismissals follow an initial investigation into workplace conduct launched in March, according to a person familiar with the matter.
The latest group of outgoing executives includes Helen Kim, a vice president for North America, whose departure suggested to some experts that Nike's focus was no longer strictly about addressing sexism but had broadened to countering the problem of bullying.
"The larger problem is the workplace bullying, or as we call it, abusive conduct in the workplace, because that ignores gender boundaries and it ignores race," said Gary Namie of the Workplace Bullying Institute. "It is just cruelty."
"Apparently Nike's workplace culture is a very competitive, aggressive one that may sometimes deteriorate into bullying behaviors and sexual harassment and discrimination," said David Yamada, a professor at Suffolk University Law School.
"Perhaps the departures signal a core shift in management philosophy and practice for the better, but it's obviously premature to make that determination."
Some analysts worry the problems will prevent Nike from reaching a target of $50 billion in annual revenues, compared with $34.4 billion in 2017.
"Any time you see a large group of senior people leave very quickly for any reason, you better hope they have a very strong bench that can step in quickly," said Sam Poser, analyst at Susquehanna Financial Group.

Tags: Agence France-Presse, Bloomberg, David Yamada, Gary Namie, Mark Parker, Nike, sexual harassment, Suffolk University Law School, Trevor Edwards, workplace bullying, Workplace Bullying Institute
Posted in Employers Doing Good | No Archived Comments | Post A Comment () »
Tuesday, February 13th, 2018
Bully Bosses Can Inflict More Damage with Negative References
By Dinah Wisenberg Brin, SHRM, Feb 12, 2018
Employees trying to escape a bullying boss, and even those who have managed to land a new position, may be surprised to learn that their workplace nemesis is causing further damage by providing negative job references.
HR departments similarly may not realize that supervisors are disregarding company policies against giving references that go beyond confirming job titles and employment dates.
With prospective employers often bypassing human resources and calling supervisors for references, bully bosses can and do impair employees' future job prospects, experts say.
"In the good old days, the references were HR, and in many cases, in many companies, HR still is the traditional venue. But we've seen a marked shift of interest in calling the former supervisors," said Jeff Shane, president of reference-checking firm Allison & Taylor. "Hiring managers have long since figured out that supervisors tend to be far more talkative."
Job seekers often wrongly believe that their current or former employers will say nothing negative and do no more than confirm employment, Shane said.
Many supervisors, however, never receive company training on how to respond to employee reference checks, while many others forget or ignore the policy, he added. His Rochester, Mich.-based firm checks references on behalf of job seekers, compiles reports on responses from former employers, and, if necessary, sends cease-and-desist letters to companies violating policies or even laws by supplying negative references that cross the line into misrepresentations or lies and that could be construed as defamation.
"We call a great many supervisors as references for individuals. The vast majority of the time, the supervisor has something to say" beyond titles and employment dates; their reviews, even if sincere, often are less than optimal. "In many instances, they know exactly what they're doing" and that the employee is unlikely to ever find out if the negative review caused a missed opportunity, Shane said.
Nearly half of all reference checks that Allison & Taylor conducts contain some degree of negativity, he said. Even a supervisor who gives an employee a positive letter of recommendation will sometimes go "180 degrees in another direction" when called for a reference, he said.
Smart firms wanting to avoid litigation coach bosses to give only employment dates, said Gary Namie, Ph.D., co-founder of the Workplace Bullying Institute, which refers bullying targets to Allison & Taylor to learn about feedback from a current or former employer. Often the news confirms a candidate's fear, and "a great many of our clients are totally shocked and devastated" by what is found. (more…)

Tags: Allison & Taylor, bullied targets, bullies giving bad references, Gary Namie, reference checking, SHRM, workplace bullying, Workplace Bullying Institute
Posted in Employers Gone Wild: Doing Bad Things, Media About Bullying, Print: News, Blogs, Magazines | No Archived Comments | Post A Comment () »
Thursday, January 25th, 2018
Jan. 24, 2018
WA State Senate Labor & Commerce Committee Hearing on SB 6435, the Healthy Workplace Bill.
It is the anti-workplace bullying legislation written by David Yamada, Law Professor, Suffolk University, Boston, for the Workplace Bullying Institute. The principal sponsor is Sen. Annette Cleveland with co-sponsoring Senators Karen Keiser, Patty Kuderer and Rebecca Saldana. Five supporters testified, including WBI Director Gary Namie by phone.
You might find the two business lobbyists who opposed the bill for its reference to "vicarious liability." Had they known existing law since 1998, they would understand vicarious liability places responsibility on employers for misconduct of their agents — employees and managers.

Tags: abusive conduct, abusive workplace conduct, Annette Cleveland, anti-bullying law, David Yamada, Gary Namie, Healthy Workplace Bill, legislation, SB 6435, workplace bullying
Posted in Healthy Workplace Bill (U.S. campaign), Workplace Bullying Laws | 1 Archived Comment | Post A Comment () »
Monday, January 15th, 2018
Workplace Bullying Affects Nearly Half of US Workers. It's Time We Did Something About It
By Micahel Arria, Truthout, Jan. 11, 2018
Many are hoping that 2017 represented a turning point in the fight against workplace harassment, as the #MeToo moment put a spotlight on sexual misconduct. Now some labor advocates are hoping that the momentum of #MeToo helps to fuel an additional campaign against a different and overlapping type of harassment: workplace bullying.
While there's been increased attention paid to the bullying of children in recent years, there hasn't been the same kind of focus on bullying among adults, but statistics indicate that it's a major problem. According to one 2008 study, nearly 75 percent of participants have witnessed workplace bullying at their job and 47 percent have been bullied at some point in their career. Another 27 percent said they had been bullied within the last 12 months. In a 2014 survey by the Workplace Bullying Institute (WBI), 72 percent of the respondents said that their employer either condones or encourages the behavior.
There's no universal definition of it, but the WBI defines it as repeated, health-harming mistreatment of one or more persons (the targets) by one or more perpetrators. It is abusive conduct that is:
– Threatening, humiliating, or intimidating, or
– Work interference — sabotage — which prevents work from getting done, or
– Verbal abuse.
WBI sprang from a campaign that was started by Ruth and Gary Namie, a husband-and-wife team of psychologists. In the late 1990s, Ruth worked in a psychiatric clinic and was bullied by her supervisor. To their surprise, the Namies discovered there was very little Ruth could do about the situation. Employment discrimination laws existed, but they didn't cover things like your boss screaming at you daily or a co-worker trying to sabotage your imminent promotion. If you hadn't been targeted for abuse because of your race, sex or national origin, or because you blew the whistle on something related to the company, there wasn't a legal avenue for you to pursue.
The Namies also discovered that there were no organizations working on the issue in the United States, so they started the Work Doctor at the WBI website, where they wrote about the issue, drawing heavily on existing research from countries where it was taken seriously (such as Sweden, Belgium and France). They also created a toll-free hotline for workers to call, counseled thousands of people on the issue, and hosted the first US conference dedicated to the subject of workplace bullying.
At the end of 2001, the campaign moved from California to the state of Washington. At Western Washington University, Gary Namie taught the first US college course on workplace bullying, and the campaign evolved into WBI after a group of research students volunteered to do more survey research.
(more…)

Tags: abusive conduct, David Yamada, Gary Namie, Gillian Mason, Healthy Workplace Bill, Jobs With Justice, Ruth Namie, Truthout, workplace bullying
Posted in Healthy Workplace Bill (U.S. campaign), Media About Bullying, Print: News, Blogs, Magazines | 1 Archived Comment | Post A Comment () »
Thursday, December 14th, 2017
On a nearly daily basis, another man is accused of past sexual transgressions against a woman or women (Tavis Smiley and Russell Simmons among the most recent) and they lose their jobs or company.
Rather than commenting piecemeal on each new report we chose to write a short book on the topic. We are applying lessons from the MeToo phenomenon to workplace bullying situations. In this way, bullied targets can fight back capitalizing on MeToo successes. Watch for its Jan. 2018 release.
However one of the stories about politicians caught our attention. And it illustrates bullying, not simply sexual harassment.
The male idiot this time is U.S. Congressman Blake Farenthold (R-TX). He was targeted by Bill Maher in past years for being a stupid lawmaker. This is the same congressman who is the former owner of the domain "BlowMe.org," and who admitted in 2014 to "having wet dreams" about a staffer.
Now CNN has details of his abusive conduct while in office directed toward both women and men. The source is his former communications director Michael Rekola.
Rekola said that Farenthold routinely exploded with rage and anger, slamming his fists down, swept everything off his desk, leaving staffers to clean it up. He called staffers names — idiot or f**ktard. Rekola described the work environment as so toxic and stressful that he suffered a stomach ailment causing him to vomit daily. This, of course, is very familiar to bullied targets.
According to Rekola, Farenthold routinely made lewd comments about the appearance of women including reporters and lobbyists, remarking on the size of women's breasts and buttocks. There were references to the "redhead patrol," something which was also mentioned in the lawsuit Farenthold settled with over $80 million taxpayer dollars. Apparently Blake has a thing for redheads, or so he would like us to think.
To appease the MeToo proponents demanding his head, Farenthold has agreed to not run for re-election. That may well not be sufficient, given the zeitgeist. Farenthold must resign. This behavior is an unnacceptable abuse of power whether directed toward men or women.
What was required of Al Franken must be required of any lawmaker accused of such abusive conduct with an underlying sexual harassment history. Let's hear from Rep. Jackie Speier, Sen. Kirsten Gillebrand, Rep. Nancy Pelosi, and House Speaker Paul Ryan.
In these times, there is no other socially responsible position than to condemn abusive conduct.
This could strike a blow for justice for bullied, not just harassed, targets.

Tags: Blake Farenthold, MeToo Revolution abusive conduct, Michael Rekola, sexual harassment, US Congress, workplace bullying
Posted in Target Tale, WBI Education | No Archived Comments | Post A Comment () »
Wednesday, December 13th, 2017
An incomparable amount of public attention has been fixed on sexual harassment in the latter half of 2017. It's a tsunami, a virtual revolution.
We are finishing a short book, a primer, a white paper on lessons and opportunities for bullied targets to apply from the new movement and changing employer landscape.
The publication will be available for sale at a nominal price in early January 2018.
Check back to get your copy.

Tags: #MeToo, abusive conduct, advice for targets, bullied targets, Gary Namie, MeToo Revolution, Ruth Namie, sexul harassment, workplace bullying
Posted in Books, Hear Ye! Hear Ye! 2, Media About Bullying, Products & Services, Tutorials About Bullying, WBI Education | No Archived Comments | Post A Comment () »
Wednesday, December 13th, 2017
Battling Bullying in the Workplace
By Rebecca Koenig, U.S. News & World Report, Dec. 13, 2017
It's Monday morning and you're filled with dread. You have to present research at the office this afternoon, but the gnawing feeling in your stomach isn't just performance anxiety. Whenever you speak in front of your team, your boss interrupts to mock what you say. He questions your judgment, calls you an "idiot" and even mimics your voice in an unflattering way. Worse, a few of your co-workers have started to follow his lead, criticizing your work behind your back, and, increasingly, to your face.
You know your contributions are excellent – at least, you used to know. Lately, you haven't been so sure.
Welcome to the world of workplace bullying. That's right, the same sort of name-calling, intimidation and ostracism some children experience on the playground can take root among adults in their offices. When constructive criticism crosses a line, or a co-worker undermines your efforts, or your boss starts spreading rumors about your personal life, those are all examples of workplace bullying.
The effects of this abusive behavior can be serious: decreased self-esteem, worsened health and career deterioration. Read on to learn more about the phenomenon and how to combat it.

Understanding the Workplace Bullying Definition
Office bullying is defined as "repeated, health-harming mistreatment" that involves verbal abuse, work sabotage and/or humiliation and intimidation, according to the Workplace Bullying Institute, a research and advocacy organization.
It may occur one-on-one (between two co-workers or a supervisor and subordinate) or in a group setting. The latter, in which multiple people gang up on one person, is known as "mobbing."
Typically, a bully is "an aggressive person who strikes out at a particular person more than once over the course of months," says Nathan Bowling, a psychology professor at Wright State University.
Workplace Bullying Statistics
One-fifth of American adults have directly experienced abusive conduct at work, according to a 2017 Workplace Bullying Institute survey of more than 1,000 people.
More than two-thirds of office bullies are men, and both men and women bullies target women at higher rates. Hispanics report higher levels of bullying than members of any other race.
It's not uncommon to have a bully boss: 61 percent of targets reported bullying from people in more senior positions.
(more…)

Tags: David Yamada, Gary Namie, workplace bullying, Workplace Bullying Institute
Posted in Media About Bullying, Print: News, Blogs, Magazines, WBI Surveys & Studies | No Archived Comments | Post A Comment () »
Tuesday, October 17th, 2017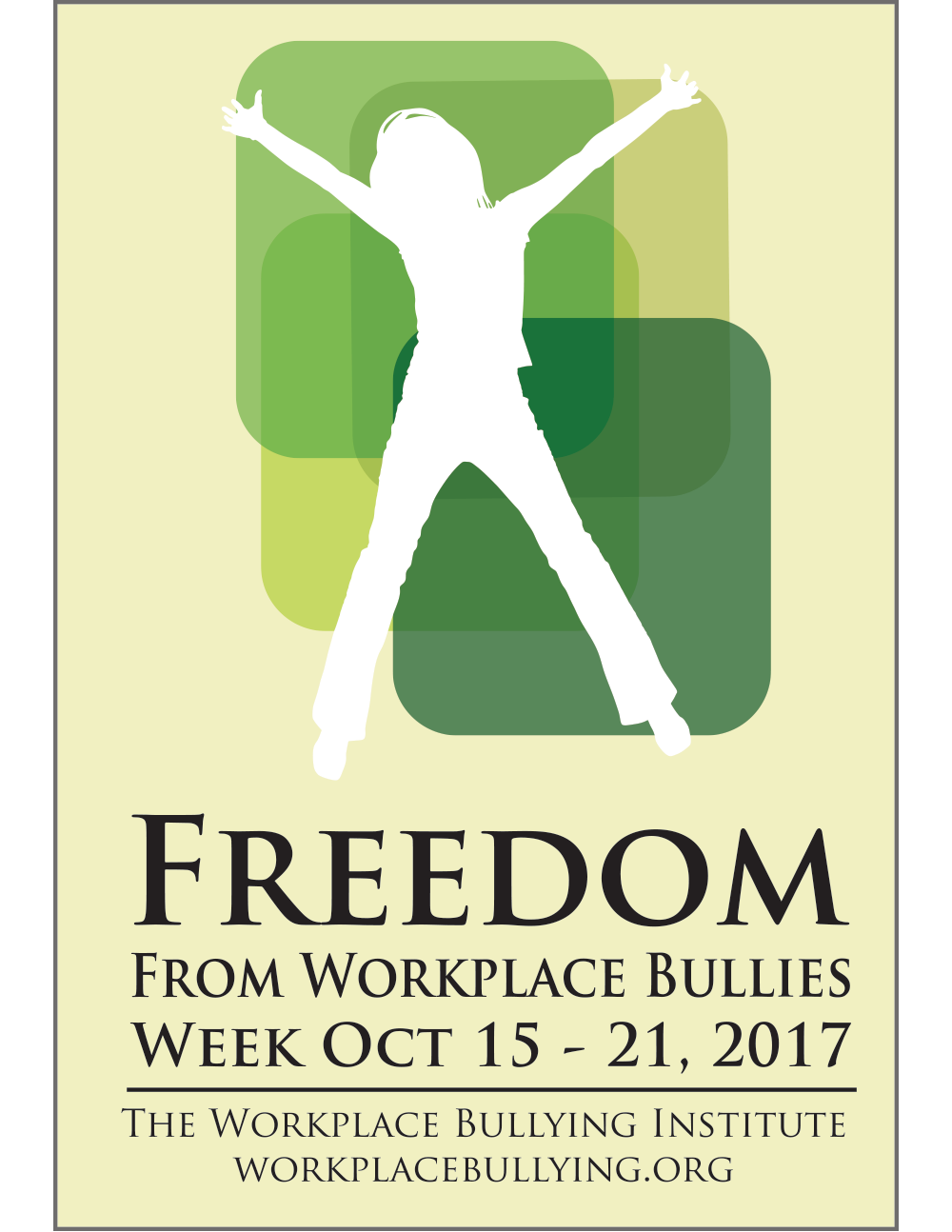 Tags: abusive conduct, Freedom from workplace bullies week, Freedom Week, workplace bullying, Workplace Bullying Institute
Posted in Freedom Week | No Archived Comments | Post A Comment () »
Tuesday, August 1st, 2017
The first glowing positive public headline read "Apple will make products (iPhones and iPads) in the U.S." Yea! Good news, right? Maybe not so. Reading the details revealed that one of Apple's major manufacturers in China, the Tawainese company Foxconn, was searching for an American location. Not Apple itself — its contracted manufacturer. Apple not only makes its gizmos offshore; it hoardes millions in profits offshore to avoid a US tax bill.
Foxconn, the astute reader remembers, was rendered infamous years ago when it coerced a spate of employee suicides. Investigations uncovered the fact that young workers were crammed into tiny employer-provided apartments too many for the space allotted. (Think factory towns under total employer control.) Then, at the worksite, the workers were forbidden to speak with one another on the Apple products assembly line. The prohibition extended to any talking, not gossip or non-work-related communications — any interpersonal contact!!!!
Worker have a fundamental human need to belong to groups, to be included. When that need is thwarted in cases of social exclusion or ostracism, individuals suffer social harm. Neuroscience research reveals that the social pain endured is real pain — the kind taking painkillers will reduce. Hence, the suicide by jumping off the roof of Foxconn buildings in China.
Foxconn institutionally abused its workers for some unknown reason. The solution to their suicide "problem" — probably considered nothing more than a public relations crisis — was to install netting to catch the jumpers before hitting the ground below. Great fix, huh? No need to attack the root cause — the Foxconn policy and practice. Better to simply minimize the deaths by suicide with "safety" nets. Stupid (or as Trump would say "Sad!).
Foxconn couldn't convince Pennsylvania to give them a substantial prize for the locating there. But union-busting Scott Walker delivered Wisconsin. As the following report from the Milwaukee Journal Sentinel states, the state will pony up $3 billion of taxpayer funds to entice the company to locate in either Racine or Kenosha counties. Further, the full-control Foxconn style practiced in China is likely to be replicated, or attempted, in Wisconsin. The newspaper story stated that the "factory project would involve a virtual village, with housing, stores and service businesses spread over at least 1,000 acres." That is, employer-controlled housing.
Will Americans be willing to cram 10-15 people into spaces designed for two or three? Or will the company simply provide gymnasium-size quarters with cots so workers can sleep up to 6 hours before getting back to the assembly line?
Most important, watch to see how they manage interpersonal relations in the factory. Will Foxconn prohibit workers from talking to one another as they did in China? There's not a single U.S. labor law to prevent it. [The Wisconsin legislature in the session immediately prior to Walker and the Republican takeover, not only sponsored the WBI Healthy Workplace Bill, it held hearings I attended. The bill did not pass, but at least workers' rights were on the lawmakers' agenda. Now, not so much.] And Walker and his Republican thugs have paralyzed once union-proud Wisconsites into fear of union organizing.
Watch for the proactive installation of nets to catch suicide leapers in Wisconsin. Why do we let this happen in America????
Read the Journal Sentinel article that follows.

Tags: abusive conduct, Apple, Foxconn, Gary Namie, institutional bullying, suicide, Wisconsin jobs, workplace bullying
Posted in Bullying & Health, Employers Gone Wild: Doing Bad Things, WBI Education | 1 Archived Comment | Post A Comment () »