Posts Tagged 'workplace bullying'
Tuesday, October 28th, 2014
I've always had a negative reaction to positive psychology despite a sometimes unjustifiable optimism. The contrarian in me seeks the alternative path when the mainstream suggests we all get in line like sheep, think alike and go down the same road. As a psychologist, I saw positivism as my field's attempt to reinvent a history of its dark obsession with abnormality forged by European pioneers.
Related to my life immersed in bullying and injured bullied targets, I see newcomers and nitwits give targets bad advice. Some invoke positive thinking. Feel good affirmations cannot pierce the shroud under which bullied, anxious, and depressed targets find themselves. Can they? Of course, being told to "get real," and "just grow a thicker skin" are equally inane and ineffective admonitions. Where's the middle ground?
I found the realistic alternative to positivism in the work of German psychologist and researcher Gabriele Oettingen who teaches at New York University. Here are citations from an essay she recently wrote for the New York Times and the lengthier statements from her university webpage. Her approach seems best suited to targets seeking ways to overcome their adversity foisted upon them involuntarily.
Mental Contrasting
"Mental contrasting" has produced powerful results in laboratory experiments. When participants have performed mental contrasting with reasonable, potentially attainable wishes, they have come away more energized and achieved better results compared with participants who either positively fantasized or dwelt on the obstacles.

When participants have performed mental contrasting with wishes that are not reasonable or attainable, they have disengaged more from these wishes. Mental contrasting spurs us on when it makes sense to pursue a wish, and lets us abandon wishes more readily when it doesn't, so that we can go after other, more reasonable ambitions.
WBI: This approach seems to give permission to the person to let go of unattainable goals — e.g., convincing your employer to fire the bully — freeing the person to pursue wholeheartedly realistic goals — e.g., finding the next job, taking time off from work to heal or spending time with family and loved ones to repair strained relationships that matter more than work.
Tags: bullied targets, Gabriele Oettingen, goals, mental contrasting, positive thinking, positivism, workplace bullying
Posted in Bullying-Related Research, Social/Mgmt/Epid Sciences, Tutorials About Bullying, WBI Education | 2 Archived Comments | Post A Comment () »
Tuesday, October 28th, 2014
Posing this question on the internet is risky, certain to draw unsolicited government surveillance attention in paranoid America. You see, terror existed before America's Sept. 11, 2001. Just ask Britain. We should be able to use the word when it applies to a variety of situations. But after 9-11, the semantic gods yielded control of the term to western governments.
Here is Merriam-Webster's definition:

ter·ror noun \ˈter-ər, ˈte-rər\

1:  a state of intense fear
2 a :  one that inspires fear :  scourge b :  a frightening aspect c :  a cause of anxiety :  worry d :  an appalling person or thing; especially :  brat
3:  reign of terror
4:  violent or destructive acts (as bombing) committed by groups in order to intimidate a population or government into granting their demands

Origin of TERROR
Middle English, from Anglo-French terrour, from Latin terror, from terrēre to frighten; akin to Greek trein to be afraid, flee, tremein to tremble First Known Use: 14th century
Thus, a practitioner of terror, the terrorist, is a person who deliberately instills fear and anxiety in others in an intimidating fashion. Isn't that what a workplace bully does when she or he abuses others? From fear comes paralysis. Shocked and paralyzed targets and witnesses do not respond to aggression with aggression.
Look at the fourth term in the above definition. The goal of intimidation is have "a population or government," proxies for organizations, grant the bully's demands. Bullies get their way with their employers. Perpetrators are rarely punished. They abuse others with impunity, rarely facing consequences. American employers do next to nothing to stop bullies while innocent guileless targets lose their jobs, livelihoods and sanity at alarming rates.
Logically, workplace bullies are terrorists within organizations. They are organizational terrorists. Their actions fit the definition. We simply are applying a label appropriately.
Bullying is not simply eye rolling as bully apologists like to characterize it. It is workplace violence, albeit a non-physical form. It is a mistake to underestimate the effects verbal abuse, threats, intimidation, humiliation and domination have on human beings.
History is on our side. The founder of the international movement in Sweden, Heinz Leymann, titled one of his early English-language journal articles — "Mobbing and Psychological Terror at Workplaces." Of course, he chose the term mobbing to connote the interpersonal destruction of workplace victims by multiple perpetrators. To assess the extent to which a target was harmed, he developed his own instrument, the LIPT, the Leymann Interpersonal Psychological Terrorization scale. Leymann minced no words. He died in 1999 before other nations followed America's descent into paranoia about terrorism. I wonder how close he was to naming the phenomenon we know today as bullying, terrorization.
When Dr. Ruth and I made the commitment to begin the work which evolved into the Workplace Bullying Institute back in 1996-97, we had a choice of two reasonable terms. Mobbing was the Scandinavian and European term. Workplace Bullying was the British term. We deliberately chose to import "workplace bullying" for a variety of reasons. We originally did discuss "terrorization," but felt it would be considered too radical to be accepted by American media. A short four years later, Sept 11 happened. The movement would have been stopped in its tracks for adopting anything related to "terror."
Looking back after more than 17 years, in the spirit of realistically naming the destructive force that workplace bullying is, I now see "terrorization" as an entirely appropriate synonym to add to the list of acceptable terms. Invoking Leymann's courage to call it what it is, bullying is terrorism.
Which employers will launch a "war" against it within their walls? Call us. We'll help you do it right.
Tags: bullied targets, Gary Namie, Heinz Leymann, psychological terrorization, terror, terrorist, victims, workplace bullying
Posted in Commentary by G. Namie, The New America, Tutorials About Bullying, WBI Education | 1 Archived Comment | Post A Comment () »
Thursday, October 23rd, 2014
Why The Office Bully Is Getting Promoted
Your company culture may encourage bullies and you may not even know it.
By Lisa Evans, Fast Company, October 23, 2014
You may have thought you'd escaped bullying when you traded the school yard for the office, but according to the Workplace Bullying Institute, 27% of Americans are still experiencing bullying in the workplace.
Instead of being shoved in a locker or having your head dunked in the toilet, workplace bullying is non-physical, yet still as emotionally harmful. The Workplace Bullying Institute defines workplace bullying as any form of verbal abuse, job sabotage, intimidation, or humiliation.
Tags: 2014 WBI U.S. Workplace Bullying Survey, bullies, Gary Namie, perpetrators, reinforcement, reward, workplace bullying, Workplace Bullying Institute
Posted in Media About Bullying, Print: News, Blogs, Magazines, Tutorials About Bullying, WBI in the News | 1 Archived Comment | Post A Comment () »
Saturday, October 18th, 2014
Workplace bullying is a complex phenomenon because it is systemic with the majority of causes dwelling in the work environment, organizational culture. It is much more than personalities of targets and perpetrators. Thus, to stop it, we all need to pressure employers to stop running on autopilot and allowing bullying to happen as a normal routine way of doing business.
Here are WBI's suggested actions for each of us in different roles and professions to pressure employers to reign in their out-of-control miscreants, to stop rewarding the misconduct, and to establish a positive workplace culture free of abusive conduct for the future.
Bullied Targets/Individuals
Family & Friends
Co-Workers and Witnesses
Unions
Medical Professionals
Employers/Executives
Mental Health Professionals
School Administrators
Community Leaders
State Legislators
Tags: bullied targets, employers, Freedom from bullies at work week, HR, workplace bullying, Workplace Bullying Institute
Posted in Freedom Week, WBI Education | No Archived Comments | Post A Comment () »
Friday, October 17th, 2014
County Declares No Tolerance for Workplace Bullying
By Lyn Jerde, Portage (WI) Daily Register, Oct. 16, 2014
Andy Ross made it clear at the outset: Nobody is saying that there are bullies working for Columbia County.
But, in urging the County Board Wednesday to approve a resolution proclaiming Freedom from Workplace Bullies Week, Ross said the county's top governing body should reiterate the importance of a bully-free workplace.
Ross is a member of the County Board's Human Resources Committee, which offered the resolution, which the County Board approved unanimously.
The Workplace Bullying Institute, based in Bellingham, Washington, started largely because one of the founders, Ruth Namie, once had a "boss from hell," according to information on the Workplace Bullying Institute's website. In the 1990s, she wrote, there was little legal recourse for victims of workplace harassment if the harassment wasn't overtly racist or sexist.
The Institute has declared next week, Oct. 19 to 25, as Freedom from Workplace Bullies Week.
The Institute defines workplace bullying as "a systematic campaign of interpersonal destruction that jeopardizes your health, your career, the job you once loved." This kind of bullying usually doesn't entail physical threats, but rather deliberate emotional and psychological abuse.
Ross told the County Board that the resolution puts the county on record that such behavior won't be tolerated in any Columbia County department.
"This is one of those topics that we wish we didn't have to address," he said.
The topic is being addressed, Ross noted, in ongoing management and leadership training that has been provided, first to county department heads and later to lower-level managers in county departments. The training, offered through Madison Area Technical College, will focus this fall on how managers can avoid bullying behavior.
"Depending on how old you are," Ross said, "it may be something that was acceptable, and pretty common, years ago. But we can't tolerate it anymore."
Tags: Andy Ross, Columbia County, Freedom from workplace bullies week, Portage Wisconsin, proclamation, resolution, workplace bullying
Posted in Freedom Week, Good News, Media About Bullying, Print: News, Blogs, Magazines, WBI Education, WBI in the News | No Archived Comments | Post A Comment () »
Friday, October 17th, 2014
I hate talking points (propaganda) for American-style capitalism. For example, some of the most loathsome soundbites are: All hail entrepreneurship (Shark Tank); Everyone can live the American Dream if they only try hard enough; Ignore gross inequality – having a tiny elite group of individuals owning a disproportionate share of all wealth is good for the country; and Support for our neediest (compassion) is a sign of weakness.
By extension, this mindset also espouses these lies about workplace bullying … People who claim to to be "abused" at work must have provoked their mistreatment … they (targets) undermine virtuous employers … and if, and only if, someone gets hurt at work, perpetrators never intended to harm, it was all a misunderstanding or misperception by the recipient.
The WBI 2014 IP-B study countered the myth about intentionality of bullies completely. We asked bullied targets — not the public, not managers, not bullies, not HR, not owners, not executives, not corporate defenders — and they overwhelmingly stated that their bullies acted with deliberateness (82%) and knew they were harming their victims. When we add in the perpetrators acting on behalf of others, an astonishing 91% were deliberate and malicious. Only 2% of bullies were "accidental" perpetrators.
To conclude that if targets are hurt by bullying, their hypersensitivity was to blame, is a damnable distortion of reality.
What matters most is that bullied targets are hurt by decisions made by perpetrators to behave negatively. Lies about bullies' stated intent matter not one whit. Effects and consequences trump intent. [Using the same logic, we at WBI also state that bullying is not simply based on whether or not negative behaviors occurred but if those acts happened AND they caused the targeted person adverse consequences. We allow for behaviors to have different effects on different recipients allowing for individual differences in the ability to cope and respond to negative actions. If there is genuinely no harm (immediate or latent) to the target, then bullying did not occur.]
Another arena in which the same blame-the-recipient scenario pops up is the modern political apology. Rather than say "I'm sorry," thus accepting personal responsibility, politicos say "I'm sorry if you felt hurt by anything I did," displacing blame on the victim of wrongdoing. And we blithely, through our inept media reporters, accept this sleight of hand by not challenging it.
Lawyer-cartoonist Ruben Bolling perfectly captured the shifting of responsibility for intentionality in the strip below — The "R" Word — with NFL overtones.
(more…)
Tags: bullies, bully, deliberate, intention, malice, perpetrator, workplace bullying
Posted in Tutorials About Bullying, WBI Education, WBI Surveys & Studies | 1 Archived Comment | Post A Comment () »
Friday, October 17th, 2014
By Amy Gallo, Harvard Business Review, October 16, 2014
When a colleague is mean to you, it can be hard to know how to respond. Some people are tempted to let aggressive behavior slide in the hopes that the person will stop. Others find themselves fighting back. When you're being treated poorly by a coworker how can you change the dynamic? And if the behavior persists or worsens, how do you know when you're dealing with a true bully?
What the Experts Say

"When it comes to bad behavior at work, there's a broad spectrum," with outright bullies on one end and people who are simply rude on the other, says Michele Woodward, an executive coach and host of HBR's recent webinar: "Bullies, Jerks, and Other Annoyances" You may not know which end of the spectrum you're dealing with until you actually address the behavior. If it's a bully, it can be difficult ­— if not impossible — to get the person to change, says Gary Namie, the founder of the Workplace Bullying Institute and author of The Bully at Work. But in most cases, you can ­— and should ­— take action. "Know that you have a solution, you're not powerless," says Woodward. Here are some tactics to consider when dealing with an aggressive colleague.
(more…)
Tags: Amy Gallo, cruel bosses, Gary Namie, Harvard Business Review, mean bosses, workplace bullying, Workplace Bullying Institute
Posted in Media About Bullying, Print: News, Blogs, Magazines, Tutorials About Bullying, WBI Education, WBI in the News | 1 Archived Comment | Post A Comment () »
Thursday, October 16th, 2014
REVERSING EMOTIONAL ABUSE
WBI Research/Instant Poll: 2014 – D
WBI credits friend and researcher Loraleigh Keashly for coining the term Emotional Abuse at Work as synonym for workplace bullying. Her 1998 review of the then-current scientific literature was aptly titled. Bullying always impacts the targeted person's emotional state. The effect is always negative, not positive. In most cases, individuals are either happy or emotionally neutral at work, content to do their jobs. Bullying comes unannounced and uninvited. It compels immediate attention. All of one's cognitive resources are deployed to cope with the psychological assault.
In worst cases, there is trauma that must be dealt with. In all cases, the target is stigmatized and social relations with coworkers strained. At the very least, the onset of bullying is a sad event. The once neutral or happy person is forced into negativity. At the outset, attempts to think "happy, positive thoughts" are overwhelmed by the negative reality imposed by the abuser.
Bullying triggers distress, the human stress response in reaction to the bully's tactics, the stressors. If left unabated, prolonged distress leads to stress-related diseases, all sorts of health complications.
The most effective stress mitigation factor is social support. Validating human support can reverse the deleterious effects of emotional abuse. Isolation exacerbates the distress. Sometimes learning about the first-time experience can alleviate distress. After all, bullying is rather ambiguous when first experienced.
WBI research (WBI IP 2013-H) found that for 33% of bullied targets, their bullying at work was the first abuse ever experienced in their lives. Those people will take the longest to recognize Only 19% were bullied in school; they may or may not recognize the bullying happening to them at work because they might have expected bullying to have ended with school ending. Sadly, 44% of targets have a prior history with abuse from family experiences. Prior history alone does not guarantee instant recognition and labeling of the emotional abuse happening to them, but their visceral reactions become cues to recognition. They have "been there before" with respect to the emotional negativity; they have known fear, apprehension and anxiety.
WBI Instant Polls are online single-question surveys that rely upon self-selected samples of individuals bullied at work (typically 98% of any sample). No demographic data are collected. Our non-scientific Instant Polls accurately depict the perceptions of workers targeted for bullying at work as contrasted with the views of all adult Americans in our scientific national surveys.
For this survey, we asked 820 respondents (bullied targets and witnesses) to describe sources of positivity for bullied targets shrouded in negative emotions.
Question: As a bullied target, who made you feel better, changed your negative emotions to positive or at least less negative?
(more…)
Tags: 2014 IP d, bullied targets, bullying research, coping strategies, coworkers, family, friends, Gary Namie, instant poll, social support, workplace bullying, Workplace Bullying Institute
Posted in Tutorials About Bullying, WBI Education, WBI Surveys & Studies | 1 Archived Comment | Post A Comment () »
Wednesday, October 15th, 2014
The Association of Registered Nurses made the cessation of bullying among their members (lateral violence) and against their members (bullying & abusive conduct) a priority. The project was launched at a 1-day conference in Charlottetown on Oct. 10. Speakers included Gary Namie, Director of the Workplace Bullying Institute and Vicki Foley, Nursing Professor at the University of Prince Edward Island. Both speakers appeared on CBC-PEI radio show Island Morning promoting the event.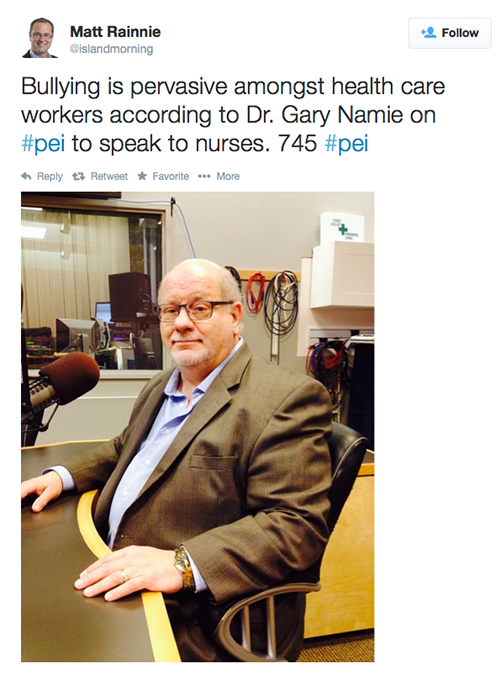 Tags: ARN, Gary Namie, nurses, PEI, RNs, Vicki Foley, workplace bullying
Posted in WBI in the News | No Archived Comments | Post A Comment () »
Tuesday, October 14th, 2014
The international reach of WBI …
By Timi Trieska Dara – 14 Oktober 2014, MetroTVNews, Jakarta, Indonesia
Intimidasi (bullying) di tempat kerja bukan hal baru. Sebagian besar korban bullying adalah perempuan. Survei yang dilakukan Workplace Bullying Institute Amerika Serikat mencatat sekitar 37 persen pekerja menjadi korban bullying.
Penulis sebuah penelitian, Karan Smith, mengatakan sekitar 40 persen dari pelaku bully di tempat kerja di AS adalah perempuan. Korban bullying sebagian besar adalah perempuan. Selain itu, pria pelaku bully juga sering memilih perempuan sebagai korbannya.
Berikut beberapa hasil pengamatan terkait bullying di tempat kerja:
1. Bullying memiliki banyak bentuk
"Taktik bully dari yang bersifat keras–berteriak, membanting pintu, dan ngomel–hingga yang halus, misalnya karyawan yang dibully tidak diikutsertakan dalam pertemuan penting atau ditugaskan tanpa sumber daya yang memadai untuk menyelesaikan pekerjaan rekannya. Rekan kerjanya bisa direkrut dalam ekspedisi untuk mengisolasinya. Di belakang korban, pengganggu melancarkan aksinya, meskipun bos sendiri sering menjadi penyebabnya," kata Karan.
2. Pelaku bully memilih karyawan yang baik sebagai korban
"Karyawan yang diserang sering kompeten, berkomitmen pada satu prinsip, dipilih untuk kekuatannya, bukan kelemahannya," ujarnya.
3. Ikan membusuk dari kepala
"Bullying biasanya terjadi dalam kepemimpinan yang buruk," kata Karan.
4. Bullying menciptakan penyakit
Korban bully akan sering mengalami tekanan darah tinggi, depresi, diabetes, dan bahkan masalah di tempat kerja seperti gangguan pasca-trauma stres.
Cara terbaik untuk mencegah bullying, baik pria maupun wanita, adalah mempertimbangkan alasan sosial yang mendasar mengapa hal itu terjadi di tempat pertama.
Tags: Indonesia, Timi Trieska Dara, workplace bullying
Posted in Broadcasts: Video, TV, radio, webinars, Media About Bullying, WBI in the News | No Archived Comments | Post A Comment () »