Posts Tagged 'workplace bullying'
Tuesday, July 29th, 2014
Gov. Hassan Vetoes Workplace Bullying Bill
By Holly Ramer, Associated Press, July 28, 2014
CONCORD, N.H. (AP) — Gov. Maggie Hassan vetoed a bill Monday aimed at protecting New Hampshire state employees from abusive work environments, saying it was well-intentioned but unworkable.
Lawmakers passed the measure after hearing from current and former state workers who said they experienced workplace bullying. It would have required state departments and agencies to develop policies to address harassment.
But Hassan said the legislation's definition of "abusive conduct" was overly broad and would have made the most routine interactions potential causes of action. For example, workers could claim abuse if they believed they had "unreasonable" workloads, felt co-workers weren't answering emails in a timely manner or had received constructive criticism from supervisors or peers, she said.
"The bill also attempts to legislate politeness, manners and the interpersonal relationships of co-workers," Hassan said.
The governor said state employees deserve respect and the opportunity to work in respectful environments, but she argued the legislation would lead to a dramatic increase in lawsuits, which would in turn hinder productivity.
The bill's sponsor, Rep. Diane Schuett, said she hopes lawmakers will override the veto.
"We all know there's bullying in school, and just because someone graduates from school, doesn't mean they stop doing it, and it carries over into the workplace," she said. "It undermines the efficiency within state government if you end up with one or two employees being harassed on the job, either by another employee or a supervisor, and you end up with the entire agency being aware of it and feeling like they have to pick sides."
Schuett, D-Pembroke, and other supporters said the state has no written policy against abuse in the workplace nor any office procedure to follow to address such issues. But Hassan said existing state rules give employees an avenue for making complaints.
Diana Lacey, president of the State Employees' Association, disagreed. She said in the two years since the bill was first introduced, the governor has done little more than have the state personnel division develop an online "Respect in the Workplace" training presentation.
"It just feels like more stalling," she said. "The governor has the power to issue an executive order to take this more seriously … If the governor wasn't going to support the legislation, the governor's office should've pitched an executive order and has not done so. So we're very upset."
As for the concern about litigation, Lacey said state employees already have been using the courts to seek relief.
###
The WBI response to the veto.
Tags: abusive conduct, bill, bill veto, HB 591, Healthy Workplace Bill, law, legislation, Maggie Hassan, New Hampshire, SEIU Local 1984, SEIU/NAGE, workplace bullying
Posted in Healthy Workplace Bill (U.S. campaign), Unions, Workplace Bullying Laws | No Archived Comments | Post A Comment () »
Tuesday, July 29th, 2014
Victims say the problem is tangled by workers' fear of retribution, lack of legal protections, and concerns about what constitutes abusive behavior.
By Bella English – The Boston Globe – July 29, 2014
Carol Anne Geary is a veteran librarian who loved her profession and went back to school, while working, to earn a master's degree in library science. But her passion turned into a nightmare when, she says, she was bullied on the job to such an extent that she was hospitalized with high blood pressure and other health issues.
Geary, who lives in Shrewsbury, was working at a library in another town where she says other staffers verbally abused and excluded her, spoke to library patrons about her in derogatory terms, and made disparaging remarks about gay issues, knowing that she has a gay son.
When Geary took a short leave, on her doctor's orders, she was bombarded with phone calls, asking her why she couldn't work from home. The truth was, she could hardly get out of bed. The library, she says, fought her workers' compensation claim, and then fired her when she was too sick to return to work. "Workman's comp — they understand if you hurt your leg on the job. But it's almost impossible to prove that you're sick because of bullying," says Geary, who doesn't want to identify the library because she fears her former co-workers. "We need to make the workplace safe and healthy.''
In recent months, a spotlight has been turned on the issue of workplace bullying by some high-profile local cases, including Suffolk County Register of Probate Patricia Campatelli, who was suspended over allegations of punching a subordinate after a holiday party. A report by a court-appointed investigator said she "created a fearful atmosphere" in the office.
In July, Leslie Berlowitz resigned as head of the American Academy of Arts and Sciences in Cambridge following several accusations that included subjecting employees to frequent tirades, prompting some to quit in a matter of days or weeks. One former worker recalled that Berlowitz barred entry to the employee kitchen for weeks by posting yellow crime scene tape over the doorway because a worker left a dirty spoon in the sink.
Research suggests that the problem is widespread, with as many as one in four workers saying they have been subjected to abusive conduct on the job. And state legislators are considering a bill to combat it.
Given the apparent scope of the problem, why does it remain so shrouded?
(more…)
Tags: bella english, boston globe, David Yamada, Gary Namie, Greg Sorozan, Healthy Workplace Bill, workplace bullying
Posted in WBI in the News | No Archived Comments | Post A Comment () »
Monday, July 28th, 2014

A candidate for NY State Senate District 10, Everly Brown, is a man committed to ending Workplace Bullying. This is a national first. Brown, a Rosedale Queens resident, is gathering signatures to demand that current State Senate leaders to pass the WBI anti-bullying Healthy Workplace Bill (S3863/A4965) NOW !!! Brown will hand deliver the petitions by walking from Sen. Skelos' (Republican Senate leader) office on Long Island to Sen. Klein's (Democratic Senate leader) office in the Bronx — 40 miles on August 11.
Visit his website to support Everly Brown's campaign.
On the left is the New York Times ad run by Everly Brown on July 28, 2014.
Tags: Everly Brown, Healthy Workplace Bill, workplace bullying, Workplace Bullying Institute
Posted in Healthy Workplace Bill (U.S. campaign), WBI in the News, Workplace Bullying Laws | No Archived Comments | Post A Comment () »
Monday, July 28th, 2014
By Marcia Heroux Pounds, (Florida) Sun Sentinel, July 24, 2014
Bullying in the workplace happens at all levels and in many different workplaces, even to 6-foot, 300-lb. Miami Dolphins football players, experts said at a conference Thursday in Deerfield Beach.
The Broward County Crime Commission gathered local and national experts to talk about adult and workplace bullying.
"When you have zero tolerance, employees understand, 'we don't want to get near that locker room mentality that the Dolphins had,' " said Jack Seiler, mayor of Fort Lauderdale, referring to Dolphins linemen's vulgar text messages, voice mails and behavior that prompted teammate Jonathan Martin to quit the team last year.
The city has a zero-tolerance policy against bullying, Seiler said.
But 27 percent of U.S. workers have been bullied and 21 percent have witnessed bullying in the workplace, according to a 2014 survey by the Workplace Bullying Institute. Workplace bullying is defined as repeated mistreatment; abusive conduct that is threatening, humiliating or intimidating; work sabotage; or verbal abuse.
Nearly 70 percent of bullies are male and 31 percent female, according to the Institute.
Improved economic conditions in the country have not lessened the bullying, said Gary Namie, research director of the Workplace Bullying Institute. Victims may be ostracized in the workplace and set up for errors, he said.
"I'm going to add to your job and not give you training and then call you 'stupid,' " he said as an example of a bully boss.
While many bills have been floated, including in Florida's state legislature, none have passed to take action against workplace bullying.
"Once management understands what the costs of bullying are, they'll get it," said Kelly Kolb, a labor lawyer for Buchanan, Ingersoll & Rooney in Fort Lauderdale.
Research has shown that bullying can result in "clinical depression, anxiety, high blood pressure, ulcers, loss of sleep, a variety of problems. That's going to translate into absenteeism, loss of productivity, more sick days, workers comp claims, health insurance claims, short- and long-term disability claims," Kolb said. "Productivity is going down, expenses are going up, all because of this, usually one male, individual," he said.
Maureen Duffy, a workplace consultant and family therapist in South Florida, said once a person is targeted for bullying, it doesn't always end after the person is fired or quits.
"They get tracked down at their new employment, anonymous phone calls saying, why did you hire this person?," Duffy said. The former employer may withhold references when the person is trying to get a new job, she said.
Sometimes, the situation is even worse. Conference attendees heard from the mother and sister of Jodie Jones Zebell, a 31-year-old mammographer who took her own life after feeling bullied at work.
"Even if something seems trivial, it adds up," said her sister Joie Bostwick. "Listen, and make sure they know how much you love them."
###
Also presenting at the event were WBI friends.
Associate Law Professor Kerri Stone, Florida International University
Attorney Wm. David Cornwell, Gordon Rees, attorney for Jonathan Martin
Associate Professor Alexia Georgakopoulos, PhD, Nova Southeastern University
Tags: Broward Crime Commission, Fort Lauderdale, Gary Namie, Jack Seiler, Jodie Jones Zebell, Maureen Duffy, workplace bullying, Workplace Bullying Institute
Posted in WBI in the News | No Archived Comments | Post A Comment () »
Monday, July 28th, 2014

ABOUT BULLIED TARGETS in 2014
Finally, we asked the American public what type of person is targeted for abusive mistreatment in the workplace. Though this was a short, not exhaustive, list of personality traits, the results are clear. Those who claimed to have been aware that workplace bullying happens, believe that the overwhelming majority of individuals targeted possess positive attributes.
That is, the same respondents who believed that targets are mostly incapable of defending themselves against bullying assaults believe targets are kind, cooperative and agreeable. Perhaps these same traits render the guileless person vulnerable to unpredictable attacks. This Survey does not provide a way to draw the causal link between the traits and targets' ability to defend themselves.
It is noteworthy that only 6% of targets are considered abusers themselves.
Question: Which personal style best describes the targeted person?
Download the About Bullied Targets mini-Report
###
Gary Namie, PhD, Research Director
Research Assistants: Daniel Christensen & David Phillips
© 2014, Workplace Bullying Institute, All Rights Reserved
Download the complete Report | Access individual sections of the Report
Tags: 2014 U.S. Workplace Bullying Survey, bullying statistics, coaching, Daniel Christensen, Dave Phillips, eden therapy, Gary Namie, Jessi Eden Brown, workplace bullying, Workplace Bullying Institute
Posted in WBI Surveys & Studies | No Archived Comments | Post A Comment () »
Saturday, July 26th, 2014
Tags: Gary Namie, got a minute, health harm, workplace bullying, Workplace Bullying Institute
Posted in Commentary by G. Namie, Media About Bullying, WBI Education | No Archived Comments | Post A Comment () »
Wednesday, July 23rd, 2014
Dear Kalola,

I began a job a few months ago as a bookkeeper for a medium size company. There are 8 bookkeepers in the company. There is one bookkeeper that is terrorizing everyone and the owner of the company is doing nothing about it. She screams, swears, throws things and decides what part of her job she is going to do. The best I can figure is the owner is afraid of her because he hasn't fired her. Instead he takes her work and makes other people do it. If you approach her on a bad day to give her work that belongs to her, she will throw it at you and tell you she isn't doing it. Then she will sit there sing real loud or start laughing like something you would see in a horror film. She is doing it on purpose. She has told me the owner isn't going to fire her so she will do whatever she wants. I have seen her make another employee cry and I know people have quit because they can't deal with her.

My concern is a safety issue, what if one day she really does flip out? what if someone gets serious hurt. Who is going to be held responsible? I don't have patience for bullies and I can't believe in the year 2014, we do not have laws to protect us from such treatment. I really hope pressure can be put on our elective officials to get things moving.

I really enjoy the work I do but I refuse to allow someone to treat me like garbage or throw things at me. Not sure what will happen when she thinks she can treat me like she does everyone else.

Linda
(more…)
Tags: Gary Namie, Let's Talk with Kalola, Ruth Namie, screaming mimi, The Bully At Work, workplace bullying, Workplace Bullying Institute
Posted in Let's Talk with Kalola | No Archived Comments | Post A Comment () »
Saturday, July 19th, 2014
Tags: employers, Gary Namie, got a minute, workplace bullying, Workplace Bullying Institute
Posted in Commentary by G. Namie, Media About Bullying, WBI Education | No Archived Comments | Post A Comment () »
Wednesday, July 16th, 2014
If you are anywhere near Deerfield Beach, FL, you owe it to yourself to attend the Broward Crime Commission Workplace Bullying event. Come meet Dr. Gary Namie (WBI Director, co-author, The Bully At Work), Dr. Maureen Duffy (co-author, Overcoming Mobbing), law professor Kerri Stone, and Jonathan Martin attorney David Cornwell.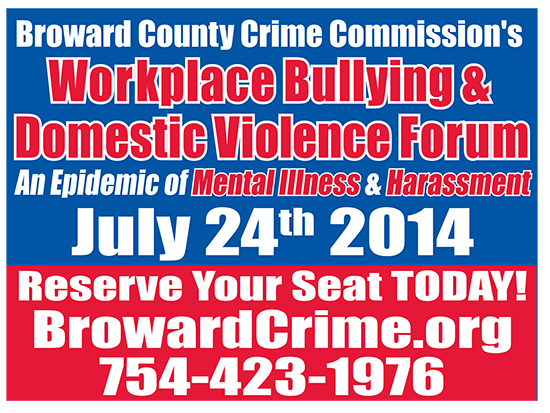 Tags: adult bullying, Broward Crime Commission, David Cornwell, Gary Namie, Kerri Stone, Maureen Duffy, workplace bullying
Posted in Hear Ye! Hear Ye! 2, NFL: Jonathan Martin | No Archived Comments | Post A Comment () »
Tuesday, July 15th, 2014
For our Union friends, we have created a Guide to Workplace Bullying that includes help with introducing Workplace Bullying into your Contracts (CBAs). Visit the WBI Union site.
Tags: Unions, workplace bullying
Posted in Unions | No Archived Comments | Post A Comment () »