Posts Tagged 'workplace bullying'
Tuesday, December 10th, 2013
Dear Kalola,

When I found this website I learned so much more about myself, and what is going on. I want to lead off with this.

  

In 1996, I left the military after three years as an infantryman.  In that same year, I started working in state government.  I have put in about 16 years of state service, and have worked for three different agencies during this time.  I worked the longest for the state department of corrections (12 years). During this time,  I re-enlisted into the Army National Guard and volunteered for Afghanistan.

 

After 10 months in theater,  here are some things that happened to me in Afghanistan: I was told by the commander that all the equipment has been accounted for and that the property book was straight. Come to find that it was the opposite and learned only a few months prior to my arrival that the previous property book officer actually had to take a pad of paper and inventory all three F.O.B.'s,   We had missing high-dollar equipment and even lost a vehicle. Not knowing my job very well I had to search for missing paper work and equipment with no help from anyone.

From 7:00 am to 10:00pm,  I was constantly trying to locate paperwork and inventory.  Once the Captain realized that I was having trouble the bullying and harassment began.  He started to become very paranoid questioning everything I did because he was actually the one responsible for millions of dollars of equipment. I was just the book keeper basically.  Then after a month or so as our mission continuously was changing, I started to receive verbal abuse and on several times threats of verbal abuse.  Just being in a combat zone was stressful enough. I can't list all the incidences that I remember but give an idea.

(more…)
Tags: EEOC, Let's Talk with Kalola, PTSD, veteran, workplace bullying
Posted in Let's Talk with Kalola | No Archived Comments | Post A Comment () »
Friday, December 6th, 2013
Dr. Gary Namie provides clarification about three fundamental themes of the social movement against workplace bullying which are commonly misunderstood or mischaracterized:
1) It's about bullying, not bullies or their personalities.
2) Employers act irrationally and irresponsibly about bullying, which itself makes no sense.
3) Being "anti-abuse" is not the same as being "anti-corporate"
Audio clip: Adobe Flash Player (version 9 or above) is required to play this audio clip. Download the latest version here. You also need to have JavaScript enabled in your browser.
Tags: anti-abuse, employer behavior, Gary Namie, ingratiation, Podcasts, taboo, workplace bullying, Workplace Bullying Institute
Posted in Commentary by G. Namie, Employers Gone Wild: Doing Bad Things, Fairness & Social Justice Denied, Podcasts, WBI Education | No Archived Comments | Post A Comment () »
Friday, December 6th, 2013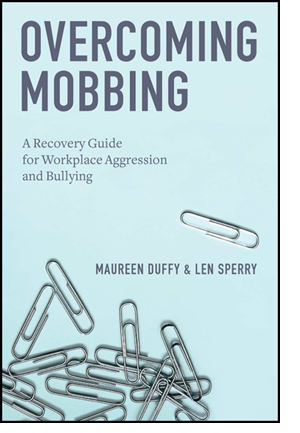 Overcoming Mobbing
A Recovery Guide for
Workplace Aggression
and Bullying
By Maureen Duffy & Len Sperry
A powerful, practical book that accurately reflects the entire bullying experience. These two clinicians, Duffy a clinical psychologist and Sperry a psychiatrist, demonstrate a deep understanding of bullied individuals and what it takes to heal them so life can be lived after bullying.The subtitle says it all — Recovery.
From the Foreword
Practical is the adjective to best describe this book. Though it is rich in citations and relies on science, applicability to real lives, real families and real organizations jumps off the pages. It tackles an admittedly complex subject with an accessible writing style that showcases illustrations and summary lists and tables. Points are driven home artfully with compassion for victims present throughout …
The blunt and truthful authors then describe how organizations create "shadow files" and do whatever it takes for administrators hide behind the myth that it is a "good and fair place to work." Hypocritically, those employers discard good employees as though they are dispensable resources using the tactics of mobbing fueled by the hurtful power of social exclusion, ostracism …
The authors do not leave the reader submerged in the dark side of the world of work. Ultimately, the book is about hope and inspiration. So, the seventh chapter signals the shift toward a discussion of recovery from mobbing. The valuable advice flows steadily and includes gems such as "don't make fighting the organization that mobbed you your next career." Their wisdom extends to selecting psychotherapists who practice "trauma-informed mental health care" by taking into account the organizational, cultural and power dynamics factors that instigated the mobbing experience rather than a focus on the victim's vulnerability …
The authors' defiantly critique the "bad apple," personality-dominated explanation for mobbing. They give the reader an introduction to work environments and their working parts. Personalities of perpetrators comprise only a small part …
Hooray for Duffy and Sperry's clarity in pronouncing that banishing bullies does not end the systemic problem. As the authors write "it takes an organization" to create it, and that's what it takes to stop it. ###
There is wisdom for organizational reps for those smart enough to apply the lessons contained inside. However, this book is primarily for bullied targets and the families who love them.
About the authors
Maureen Duffy, PhD, is a practicing family therapist and consultant specializing in workplace and school mobbing and bullying issues and an Affiliate with the Qualitative Research Graduate Program at Nova Southeastern University She provides trauma-informed psychotherapy to targets of mobbing and bullying and their families and consultation and training on workplace abuse to stakeholders including human resource managers and attorneys. She is the coauthor of Mobbing: Causes, Consequences, and Solutions.
Len Sperry, MD, PhD, is Professor of Mental Health Counseling at Florida Atlantic University and Clinical Professor of Psychiatry at the Medical College of Wisconsin. He has provided psychotherapy to mobbing victims and consulted with corporations on mobbing and bullying. He is the coauthor of Mobbing: Causes, Consequences, and Solutions.
Buy this book (along with the Lutgen-Sandvik book and, if they don't own it yet, our book, The Bully At Work) for those who need it most this Christmas season. They will be forever grateful.
Tags: bullied targets, Len Sperry, Maureen Duffy, Mobbing, organizational factors, self help, strategies, therapy, trauma, workplace bullying
Posted in Books, Bullying-Related Research, Good News, Hear Ye! Hear Ye! 2, Media About Bullying, Social/Mgmt/Epid Sciences, Tutorials About Bullying | No Archived Comments | Post A Comment () »
Thursday, December 5th, 2013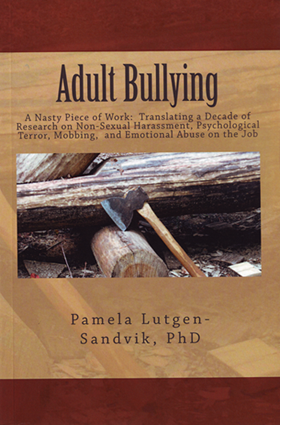 Adult Bullying
A Nasty Piece of Work:
Translating a Decade of Research
on Non-Sexual Harassment,
Psychological Terror, Mobbing,
and Emotional Abuse on the Job
By Pamela Lutgen-Sandvik, Ph.D.
North Dakota State University
Dr. Lutgen-Sandvik is arguably one of the most prolific American academic researchers on the topic of workplace bullying. She certainly is the best informed among academics, with few exceptions.
Here's why.
Pam is real. From her bio, prior to earning her doctorate in organizational communication at Arizona State she worked as a social service organization administrator, first in the field of women's advocacy and then in outpatient substance abuse treatment. Advocacy in the human services field is a rare background for academics.
Pam's practical, kick 'em in the shins approach to the esoteric world of academic research is revealed in the titles of some of her works — "Nightmares, demons & slaves" (can you hear Cher?), "Take this job and shove …" "Burned by bullying in America." And her style of collecting research data was to talk with bullied targets.
This book is a compilation of her work. It is not written by an egghead. The subtitle refers to her "translating" research into plainspeak. That's what she is profoundly good at doing well. Thus, it is ultimately readable.
The information found between the covers is useful if you are fighting a grievance, filing a complaint, embroiled in a lawsuit, or facing blank stares from HR.
The book covers many aspects of the bullying phenomenon with chapters on each — the prevalence, the stages of bullying, explaining the pain, the trauma and stigma of being bullied, how organizations become toxic, why women bully women, behavior of witnesses, and reversing the effects of bullying in individuals' lives.
Pam dedicates the book to all those bullied individuals who bravely participated in her research.
In 2013, she moved to North Dakota State (NDSU) in 2013 to join the Department of Communication in Fargo. She continues to research, publish, and teach in the area of organizational communication at NDSU and serves as the Director of the NDSU Communication Research & Training Center. Dr. Lutgen-Sandvik is married, has two children, and lives in Moorhead, MN.
Also, in 2013, Pam attended the WBI Workplace Bullying University® training for professionals in Bellingham, Washington to which she contributed mightily.
Pam declares that
All proceeds from book sales support scientific research that seeks to reduce workplace bullying, improve workplace communications and build more respectful workplace climates.
Where else can approx. $11 accomplish all that? Buy this book for yourself and as gifts for loved ones who have been bullied at work. While shopping, also buy Overcoming Mobbing by Duffy & Sperry new this holiday season 2013, and our book, The Bully At Work. They will be forever grateful.
With Pam, our admiration is personal. She came to Bellingham to meet us Namies in 2003 before her graduate studies were finished. She came to glean all she could from Dr. Ruth. So she is more than an intellectual colleague, she is a precious friend. We bought the book. You should, too.
Tags: bullied targets, emotional abuse, Len Sperry, Mobbing, non-sexual harassment, Pamela Lutgen-Sandvik, psychological terror, research, self help, workplace bullying, workplace bullying book
Posted in Books, Bullying-Related Research, Good News, Hear Ye! Hear Ye! 2, Media About Bullying, Social/Mgmt/Epid Sciences | No Archived Comments | Post A Comment () »
Thursday, December 5th, 2013
Check out this great 2-part interview for the program Executive Decisions. Host Tim Muma talks with Dr. Namie about bullying tactics and how to stop workplace bullying from costing your business money.
Listen to more Executive Decisions at localjobnetwork.com.
Part 1
Audio clip: Adobe Flash Player (version 9 or above) is required to play this audio clip. Download the latest version here. You also need to have JavaScript enabled in your browser.
Part 2
Audio clip: Adobe Flash Player (version 9 or above) is required to play this audio clip. Download the latest version here. You also need to have JavaScript enabled in your browser.
Tags: Executive Decisions, Gary Namie, HR, localjobnetwork.com, Tim Muma, workplace bullying
Posted in Tutorials About Bullying, WBI in the News | No Archived Comments | Post A Comment () »
Thursday, December 5th, 2013
By BCGEU – 12/4/13
How does the new Workers Compensation Board (WCB) language on workplace bullying and harassment affect BCGEU members?
Prevention and Compensation
There are two aspects to all health and safety matters. First, procedures and systems must be put into place to prevent workplace injuries. Secondly, workers who suffer workplace injuries have a right to compensation.
Bullying and Harassment
On July 1, 2012, the Workers Compensation legislation regarding bullying and harassment was changed to include:
Benefit coverage for mental disorder claims for workers who experience bullying and harassment in the workplace and are unable to work;
The provision for the WCB to define bullying and harassment and to develop policies and procedures requiring employers to prevent and address workplace bullying and harassment.
Members have asked:
How do the new WCB policies and procedures fit with the anti-bullying language the union has negotiated in many of our collective agreements?
If I am bullied in my workplace, what are my options to make it stop?
Should I be filing a complaint through the WCB process?
To answer these questions, it is important to review the union's response to bullying behavior. The union has spoken out loudly and clearly that bullying is not acceptable. Bullying in the workplace is wrong and should be addressed quickly and appropriately. Because all workers deserve a workplace that is free from harassment and bullying, we negotiated anti-bullying policies and protections in many of our agreements. We encourage employers to engage with us in developing and teaching respectful workplace practices.
Tags: BCGEU, British Columbia, Canada, compensation, policy, workers' compensation, workplace bullying
Posted in Tutorials About Bullying | No Archived Comments | Post A Comment () »
Wednesday, December 4th, 2013
By Mike Schlicht – The Buffalo (NY) News – Opinion – Dec. 3, 2013
Workplace Bullying Imposes on High Costs in New York
This past October, 32 villages, towns, cities and counties across New York State issued proclamations recognizing "Freedom From Workplace Bullies Week" and acknowledging that protection from abusive work environments should apply to every worker and not be limited to legally protected class status based only on race, color, national origin, age, sex or disability.
Workplace bullying is four times more prevalent than sexual harassment and employees have no recourse in law but to quit their jobs. In today's jobless recovery, that is not possible. Employees will stay as long as they can in abusive work environments, incurring mental and physical health ailments to provide for their families until they become disabled, take their own lives or strike out in acts of workplace violence. Targets of workplace bullying can incur severe depression, anxiety, increased risk of strokes and heart attacks, and symptoms consistent with post-traumatic stress disorder.
Employers also incur costs from workplace bullying. Studies continually show that workplace bullying reduces productivity, incurs higher sick leave and health insurance costs, turnover and talent flight. Sadly, most employers do not understand these costs. Even if they wanted to reprimand, transfer or fire a bully for these specific actions, they face a wrongful termination suit.
Employees often seek out the services of human resources, believing that this department will help them address workplace bullying only to find that in most cases it does nothing or makes the situation worse. A recent survey found that 31 percent of human resources personnel are also bullied in the workplace. If they can't help themselves, it is assured nothing can be done about it in current law.
Workplace bullying is defined as repeated, health-harming mistreatment in the form of verbal abuse, threats, intimidation, humiliation and work sabotage that undermines business and services. Targets of workplace bullying are employees who are bullied because they bring positive attributes to their employer and work environment. They are employees who are productive, talented, educated and team players. Workplace bullies are threatened by these traits so they make the workplace environment abusive and toxic in hope that the person will leave. When this doesn't happen, the stakes rise and more egregious and aggressive tactics are used to impair the employee's effectiveness that will assure the employee develops health issues.
For the lucky ones, an early retirement may be a way out, but at substantial cost. The unlucky may become partially or permanently disabled, under-employed or unemployable due to health impairments. Thirty-two communities have spoken. It is time to be free from workplace bullies.
Mike Schlicht is co-director of the New York Healthy Workplace Advocates and co-coordinator for the Healthy Workplace Bill Campaign in New York State.
Tags: a 4965, buffalo news, Healthy Workplace Bill, Mike Schlicht, New York, NYHWA, s 3863, workplace bullying
Posted in Healthy Workplace Bill (U.S. campaign) | No Archived Comments | Post A Comment () »
Tuesday, December 3rd, 2013
Mark Willus, host of the Road Dog Trucking show on ch. 128 on Sirius XM, and Dr. Gary Namie, WBI Director spent an hour together on Thanksgiving (Nov. 28) with truckers working during the American holiday. Callers Randolph (stay healthy, take time to exercise) and John (limit your hours to include life with the family) shared wisdom to avoiding exploitation by owners. Isolation exacerbates stress and truckers have to work especially hard to avoid it, all agreed. Happy holidays to all truckers. Working hard, but hardly respected for it!

Tags: dispatchers, Gary Namie, Mark Willus, owner-operators, Road Dog Radio, Sirius XM, truckers, trucking companies, workplace bullying
Posted in Broadcasts: Video, TV, radio, webinars, Media About Bullying, WBI in the News | No Archived Comments | Post A Comment () »
Tuesday, December 3rd, 2013

Film clip of Dr. Oren Amitay who describes workplace bullying very accurately.
Tags: Oren Amitay, registered psychologist, Toronto, workplace bullying
Posted in Broadcasts: Video, TV, radio, webinars, Media About Bullying, Tutorials About Bullying, WBI Education | No Archived Comments | Post A Comment () »
Tuesday, December 3rd, 2013
NOV. 29 UPDDATE: Flash – Shipyard president Kevin McCoy claims to have "investigated" the bullying allegation below and found "no evidence of it." No duh! And the protesters lost a day's pay.
By Patrick Odell, Global News, Nov. 28, 2013
Hundred of workers at Halifax's Irving Shipyard walked off the job Thursday, angry about the way management is treating them and what they call an oppressive work environment. Ross Lord reports.
HALIFAX, NS – Workers at the Irving-owned Halifax Shipyard walked off the job Thursday morning in protest after they say a co-worker killed himself after being suspended by management.
Rick Rose of Unifor says a worker took his own life on Wednesday after he was suspended for 30 days.
Rose says the death came after a series of disciplinary actions involving various employees.
He says other employees are upset over what they say is an increase in disciplinary actions by management.
In an email statement, Irving said it was "devastated" to find out one of its workers, whom it identified as Peter MacKenzie, had died.
Police were on scene to keep things under control and so traffic doesn't get back up. Protesters were crossing Barrington Street earlier in the morning, which caused lengthy delays for downtown commuters.
Rose says he is meeting with management today about the death and the workers' grievances.
###
The intriguing angle to this bullying-suicide-protest story is that troubles began when Irving brought in an American president and he, in turn, imported an American management team. Since then, there have been 14 disciplinary dismissals. One triggering a suicide. What did they do differently? Why did the new team not acclimate to the culture of the shipyard? Were the Americans sent in to "clean up" the shipyard with respect to workers? Was previous Canadian management considered to cooperative with the union? Were the Americans sent in to bust the union?
Tags: halifax shipyard, suicides, unifor, workplace bullying
Posted in Broadcasts: Video, TV, radio, webinars, Fairness & Social Justice Denied, Media About Bullying | No Archived Comments | Post A Comment () »