Posts Tagged 'workplace bullying'
Tuesday, January 20th, 2015
Bullying Doesn't Stop When You Leave School
By Sarah Ivens, Daily Mail (UK), Jan. 17, 2015
Journalist and mother Sarah Ivens endured months of spirit-crushing bullying as a mature university student. Here she explains what happened when she finally gained the courage to stand up to her tormentor.
Tears stung my eyes and my face burned red-hot with humiliation and fear. Don't cry, don't cry, I urged myself, as my tormentor continued to mock me in front of the entire class: 'I mean, what a stupid thing to say!' She glared at me disdainfully. 'Does anyone have anything to say that is worth listening to? She clearly doesn't!'
My fellow students giggled and regarded me mockingly. I tugged at my ponytail so that my hair fell loosely around my shoulders, shielding my crumpled expression from their gaze.
The scene did not take place at school: I wasn't a naughty child in the playground or a rebellious teen whose teacher had finally had enough. I was 37 years old, a mother of one and had enrolled at university to do a master's in literature where my female professor had been making my life hell for three months. I felt worn out and pathetic.
As an adult, you think you're done with these emotions. But bullying doesn't always stop when you pick up your GCSE results. In the workplace, within families and even among tight friendship circles, many women are victims of mean-spirited, vicious tormentors – often other women – who make their lives hell.
A 2014 survey in the US by the Workplace Bullying Institute showed that 20 per cent of people feel they have been bullied in their adult life, and that women bullies choose female targets 68 per cent of the time.
Tags: bully professor, mature university student, therapist, woman target, workplace bullying
Posted in Media About Bullying, Print: News, Blogs, Magazines | No Archived Comments | Post A Comment () »
Monday, January 5th, 2015
Attention California (& all other) Employers
California AB2053 extracted one paragraph from the WBI Healthy Workplace Bill — the definition of "abusive conduct" and made it mandatory to acquaint supervisors and managers with the phenomenon every two years beginning Jan. 1, 2015.
WBI is the source of the phrase and the U.S. movement. There is no better qualified vendor to provide the necessary information to augment your sexual harassment training than WBI.
WBI produced a brief 20 min. video introduction that can be streamed for intranet posting or run during in-person education sessions.
Only $499. Order today.
Products for HR and employers from the originators of the workplace bullying consulting specialization in America.
Order online or call 360-656-6630
Tags: AB2053, abusive conduct, Gary Namie, supervisors, training, workplace bullying
Posted in Products & Services, WBI Education | No Archived Comments | Post A Comment () »
Monday, January 5th, 2015
By Sherrill Gilbert, Vermont State Coordinator, the Healthy Workplace Campaign
The gavel will again call to order the Senate and the House. They will take an oath to serve the people of Vermont. The issues that impact the lives of Vermonters will once again be on the agendas, some will be re-introduced from the previous biennium. There are bills that were and still are valid and important to our community as a whole and the future of our workers and future generations. Workplace Bullying is controversial, it needs to be a public conversation and not hidden away as it has been the past seven years.
The Healthy Workplace Bill has been in the legislature since 2007, a few individuals decided they did not want this bill to be voted upon in committee nor did they want a public hearing on Bullying in the Workplace. This conversation would mean they would have to acknowledge bullying happens here and for several years they have turned their backs on the workers who have been abused by bullies.
There is a battle being fought in many workplaces here in Vermont in all fourteen counties. We are not alone, every state faces the same issues across America. Like all wars there are casualties. This war is no difference in that there are victims who are left broken, their lives are forever changed. For the bully this would not be enough, they would have to add more suffering and pain for the target, transferring the element of shame, the bully transfers the shame upon the target Stripping Targets of their self-esteem, their dignity and self-confidence publicly can be the straw that breaks the camel's back. We are talking about a psychological warfare, no bullets that can be seen or outward bruising.
Tags: abusive conduct, Healthy Workplace Bill, law, legislation, workplace bullying
Posted in Healthy Workplace Bill (U.S. campaign), Workplace Bullying Laws | 1 Archived Comment | Post A Comment () »
Friday, January 2nd, 2015
If not now, when will principled lawmakers come forward to not only introduce, but to work tirelessly to enact, legislation that holds employers accountable for allowing (through indifference or ignorance) or fostering (through rewards, both explicit and implicit) health-harming abusive conduct, a.k.a., workplace bullying?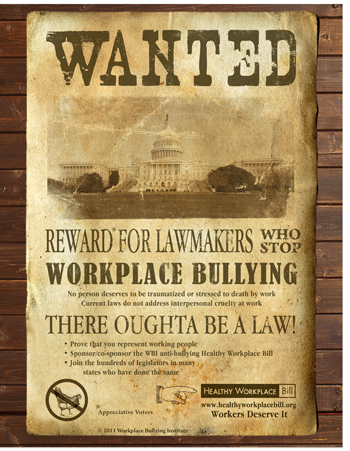 We seek elected officials who can resist arguments of pro-business lobbyists who make false claims about our Healthy Workplace Bill.
Here are some of those lies and distortions espoused by HWB opponents followed by the truth according to terms and provisions of the actual legislation.
1. Workplace bullying sounds childlike. Bullying is for kids; adults work.
The term does not appear in the text of the HWB bill. Instead, lawsuits will require demonstrably health-harming abusive conduct be shown that was followed by the employer's decision to punish the plaintiff with negative employment actions. Nothing infantile about abuse. Arguing "for abuse" should be condemned for not only poor "optics" but for the immorality of the position.
2. Bullying is too subjective. It cannot be defined.
So is sexual harassment, though illustrations can be given. But the perception's of the allegedly harassed recipient must be treated as credible until shown to be otherwise. This bill reflects the same subjectivity contained in civil rights statutes. By adding significant evidentiary burdens for the plaintiff, such as malice, proof of health harm, and a demonstrated pattern of repeated misconduct, the definition of abusive conduct approaches a more objective standard than long-standing harassment laws.
Tags: abusive conduct, health harm, Healthy Workplace Bill, legislation, objections, politicians, workplace bullying
Posted in Healthy Workplace Bill (U.S. campaign), Workplace Bullying Laws | 1 Archived Comment | Post A Comment () »
Saturday, December 27th, 2014
Ernest Frederick 'Ernie' Cooke, Jr., 65, of Morgantown, WV
passed away on Saturday December 20, 2014
Requiescat in pace
In his own words, he will "always be there" for his beloved spouse, Lana, the WBI West Virginia State Coordinator.
We let him tell his own story about watching his spouse be bullied and subjected to harm and how it made him an advocate.
Tags: advocate, Ernie Cooke, Lana Cooke, spouse, workplace bullying
Posted in Fairness & Social Justice Denied | 1 Archived Comment | Post A Comment () »
Sunday, December 21st, 2014
At WBI we consistently draw the analogy between domestic violence and abusive conduct at work (the most serious forms of workplace bullying). Our rationale is based on the following commonalities shared by these two forms of abusive relationships:
• The abuser has more power to wield over the abused person
• The abuser unilaterally controls when, where and what method
• Abusers objectify, dehumanize and show contempt for victims
• Society tends to blame victims for their fate
• Victims are expected to solve their problem themselves
• Witnesses rarely intervene
• Institutional responses are delayed, inadequate and not helpful
• Root causes, often embedded societal values, remain unexplored
Advocates working to end domestic, or partner, violence described the myriad of tactics used by abusers using the 8-factor Biderman "chart of coercion." Albert Biderman interviewed US Air Force pilots who had been captured and tortured during the Korean war. The Chinese taught interrogation techniques to the North Koreans. The piolots described their experiences and Biderman distilled the range of techniques to eight fundamental methods designed to break the will of, and brainwash, the pilots. In 1957, Biderman published his report "Communist Attempts to Elicit False Confessions From Air Force Prisoners of War." [Note that Biderman recognized that torture produces false confessions. The 8-factor report became the model for US torture of prisoners at Guantanamo.] That article was the origin of the Biderman Chart of Coercion.
Domestic violence and child abuse advocates use the Biderman Chart to describe abusers' tactics in their specialty domains.
Therefore, it is logical for us to apply Biderman's Chart to workplace bullying, given the parallels with domestic violence. In its most extreme forms, bullying is torture. See the chart below.
Tags: abuse victims, abusers, abusive conduct, abusive relationships, Biderman, Chart of Coercion, interrogation methods, torture, workplace bullying
Posted in Bullying & Health, Tutorials About Bullying, WBI Education | No Archived Comments | Post A Comment () »
Saturday, December 20th, 2014
Poor (salary $44 million) NFL Commissioner Goodell. He has been castigated for his inconsistency of applying standards across teams and individual players, plagued by accusations that team owners interfered with criminal investigations, and hounded, and eventually reversed, by critics for overstepping his authority when leveling draconian punishment against domestic abuser Ray Rice. His incomplete response to the Miami Dolphins bullying scandal was to mandate a lame 1 hour "education session" held in each team's locker room about respect. Half-ass solutions seem to be the NFL's history.
In the aftermath of a spate of domestic violence incidents by NFL players and the assembly of a team of external experts in DV prevention comes a new NFL Personal Conduct Policy.
As the expert called in to assist Jonathan Martin's legal team and to advise Ted Wells, the NFL's investigator of the abuse levied by three of Martin's teammates, I heard repeatedly the NFL mantra of "Protect the Shield." The NFL logo is a shield of sorts and everyone affiliated with the NFL knows that the league of owners takes extraordinary steps to protect its commercial brand, often at the expense of its players without whom there would be no league.
Guided by the "Protect the Shield" principle, NFL commissioners and executives historically ignore player safety for the sake of the game. Witness tthe 2014 settlement of the lawsuit with thousands of former player-plaintiffs accusing the NFL of ignoring known neurological health hazards to which they were exposed causing them to suffer CTE. The settlement temporarily silenced complainants and allowed the NFL to roll into the 2014 season without the cloud of litigation overhead.
Tags: CTE, domestic violence, Jane Randel, Lisa Friel, NFL, policy, protect the shield, Rita Smith, Roger Goodell, workplace bullying
Posted in Employers Gone Wild: Doing Bad Things, Related Phenomena, WBI Education | No Archived Comments | Post A Comment () »
Monday, December 15th, 2014
Dear Kalola,

I was working in a trucking and logistics company, as a winery yard supervisor in California. From my first day on the job, I heard stories of our former supervisor and dispatcher who had been demoted to 'truck driver.' Word on the docks was that this guy was #1 workplace abuser who repeatedly threatened my coworkers and forced people to quit. Not on my watch.

His name was "X" and he quickly became my abuser. He was known to be very, very disgruntled for having been demoted, and everybody knew him as a ticking time bomb. But rather than submit to his abuses, I took them head-on and took an assertive and confident approach to him. All of my coworkers were afraid of him, walked on eggshells for him, and submitted to his abusive and angry whims. Not on my watch.

We began clashing from the first day on the job, when I did not listen to "his" instructions when I was the boss. He began to yell at me, point his finger in my face, and threaten my job from day 1. I filed internal complaints, and immediately experienced retaliation by his buddies in a satellite office of the company.

Over the period of three weeks, I filed internal complaints by writing and verbally, and this caused the ticking time bomb to explode. One evening, "X" was acting very paranoid, jittery, agitated. I sensed something bad was about to happen. He started to instigate our winery forklift drivers by saying that I was not "doing my job," and I confronted him by trying to "have a talk with him." He began to scream at me and use profanity, and I told him straight that he was not going to come down here and harass or bully me, or my coworkers. This set him off. The abuser quickly rushed me, got in my face, and punched me in the jaw. I called 9-1-1. He was arrested and is currently being prosecuted for workplace violence.

The fallout from this event has been particularly damaging to my career. We had heard all along that we could not tell our corporate office of this man's workplace abuses, because we would be 'forced to quit.' Yet I violated this workplace taboo and did exactly that, and took it a step further by having the criminal justice system step in and prosecute the known abuser.

Almost immediately, I have experienced workplace retaliation, demotion by our supervisors--who just happened to be his buddy--and have been told to drop the charges a number of times. I got OSHA and the US Department of Labor involved, and they have enough to charge my supervisor with a Whistleblower Retaliation charge in violation of Section 11(c) of the Federal OSH Act. The federal whistleblower protection program has been my only source of comfort in this whole mess, and I look forward to watching my abuser fry in a courtroom very soon.

California Worker
(more…)
Tags: 911, battery, Let's Talk with Kalola, workplace bullying
Posted in Let's Talk with Kalola | No Archived Comments | Post A Comment () »
Monday, December 8th, 2014
By Deidra A. Sorrell Ed.D., NCC, LPC
Summarizing her newly completed doctoral dissertation …
The research examined the lived experiences of elementary school educators facing workplace bullying within public schools.
The researcher recruited six elementary school educator-participants from WBI volunteers. All participants were female and over forty-years-old. All of the participants experienced bullying after taking medical leave due to preexisting health issues, which caused more stress and anxiety. As a coping mechanism, all of the participants found the teachers union ineffective in solving their disputes. The educators were interviewed at length to gain extensive descriptions of their experiences.
Three major themes emerged from the data. The themes included: (a) experiences with workplace bullying, (b) coping, and (c) environmental factors contributing to workplace bullying.
Tags: Deidra A. Sorrell, dissertation, educators, teachers, workplace bullying
Posted in Fairness & Social Justice Denied, Guest Articles, Tutorials About Bullying, WBI Education | 2 Archived Comments | Post A Comment () »
Monday, November 24th, 2014
Loading ...
Tags: holiday season, workplace bullying
Posted in WBI Education, WBI Surveys & Studies | No Archived Comments | Post A Comment () »