Posts Tagged 'workplace bullying'
Thursday, April 24th, 2014
On April 25, 2005 at 9:19 am, a 7-car Japanese commuter rapid train 5418M derailed at high speed on a curved stretch of track and slammed into a parking garage of an apartment building. The train was operated by 11 month veteran driver 23-year old Ryūjirō Takami in front car. A second rail employee, the conductor, was in the rear car.
It was the second worst rail disaster in the country's history. 562 people were injured and 107 died, including Takami. 99 of the fatalities were in the front car. In all, four cars derailed.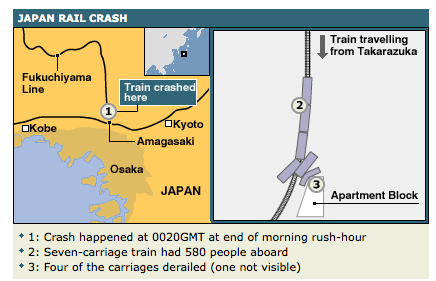 The morning commute to Osaka on the West Japan Railway Company (JR West), the end of the rail line, was over and the train was heading in the other direction. On the way to the Itami station, an alarm sounded that the train was over the speed limit, traveling at 120 km/hr. Takami was speeding. As the station approached, Takami applied the emergency brake. The train overshot the platform by three cars, about 30 meters. Takami reversed the train to align the cars with the platform.
The conductor warned Takami that he would have to immediately report the mistake to headquarters from the phone on the train. Takami asked him to lie, to minimize the distance overshot. The conductor said that he called in an 8-meter mistake. Mistakes of 5 meters bring company punishment.
Takami knew JR West punishment. When Takami was in his third week of driving a train ten months earlier, he was subjected to 13 days of Nikkin Kyoiku, re-education, for having overrun a platform by 100 meters. Overshooting the Itami platform had to have filled his mind with horror, anticipating another round of Nikkin Kyoiku.
Tags: accident, culture, death, disaster, Nikkin Kyoiku, Ryūjirō Takami, torture, West Japan Railway Company, workplace bullying
Posted in Bullying & Health, Employers Gone Wild: Doing Bad Things, Tutorials About Bullying, WBI Education | No Archived Comments | Post A Comment () »
Thursday, April 24th, 2014
This tutorial is for bullied targets who decide to fight back. Do not confront your bully. If you could have done that successfully, you would have. Waiting for months makes whatever you do ineffective. It's not your style. That's OK. Nor should you bother to explain to anyone who will listen (and the number of those people dwindles by the day) the emotional harm you suffer. That tale will scare people away and make you appear weak and psychologically frail. What can you do?
The best option is to spend time, while off on job-stress disability leave at home, researching the historical effect the bully has had on the organization. Below, we explain how to estimate the total costs associated with that one person or group of bullies. Make the impersonal, consultant-like, economic, bottom-line case rather than an emotional appeal.
Our approach is not idealistic, or utopic, as one commenter suggested. It is grounded in reality. Read our rationale for this approach, fully taking into account the fact that most employers would rather defend and retain the bully than the bullied target. It is an irrational decision to be sure by employers, but bullying itself is an irrational, indefensible act.
Here's the way calculate losses attributable to the bully.
Tags: absenteeism, costs, fiscal impact, litigation, turnover, workplace bullying
Posted in Tutorials About Bullying, WBI Education | No Archived Comments | Post A Comment () »
Wednesday, April 23rd, 2014
We at WBI, as co-facilitators of the U.S. Academy on Workplace Bullying, Mobbing and Abuse, value the contributions scientists make to the workplace bullying movement. The facts from the hundreds of studies produced by Academy scholars and researchers inform our teachings. Our own WBI studies often surprise us, but we accept them and abandon long-held, but wrong, assumptions about some aspect of the phenomenon.
One doesn't have to be a former university professor like me to appreciate fact-based science. Lovers of technological advances and gadgets should be fond of science. But in the evolving America of the past 30 years, a new group of empiricists has arisen and gained credibility. They are people who feel that if they personally don't touch, smell, feel, hear or in any way directly experience something, it doesn't exist.
I call them Narcissistic Empiricists to acknowledge the simultaneous rise of narcissism. They are the anti-science freaks. Once it was ludicrous to mock science (the Inquisition being an exception) lest the person look stupid. Stupid entitles people to substitute facts with opinions and to forever confuse the two. Unfortunately, media coverage of denialists that fails to counter their stated opinions with facts that lazy reporters don't choose to discover makes stupid almost cool, certainly uncritically acceptable. Science trumps opinions. But in the split-screen, simplistic two-sided media world we inhabit, opinions are granted equivalence, a false parity, with science. With constant exposure to this muddled and incorrect worldview, uncritical viewers who let the media decide reality for them.
Tags: American society, climate change denial, science denial, workplace bullying
Posted in Bullying-Related Research, Fairness & Social Justice Denied, Social/Mgmt/Epid Sciences | No Archived Comments | Post A Comment () »
Monday, April 21st, 2014
Impact on Family
Displacement, Withdrawal, Anxiety & Despondency
The most obvious and direct impact is displacement of the target's anger and shame about being bullied at work onto the family at home. This is akin to the coming home and "kicking the dog." When anger can't be leveled against the source of frustration and humiliation, the bully at work, especially when the bully is a boss, often the only outlet is outside work. The difficulty of confronting-stopping a boss is traced to the historical uphill battle to cross the "power gradient." Telling a boss to go to hell brings certain retaliation. It's part of our hierarchical world.
By the way, displacement could occur on the way home. Pity other drivers on the commute home or wait staff at restaurants at lunchtime who might be in harm's way. Nevertheless, most workers exposed to abusive supervision tend to bring it home. Violence at work begets violence at home.
Much more common is emotional withdrawal. Targets are overwhelmed by emotional abuse and exhausted at work. It takes all energy they can muster just to survive the 8 to 10 hours and commute to home. The stress strips away their appetite. So, they come home, skip dinner, and retire to bed seeking protection that sleep might provide. Sadly, sleep is disrupted by the distress caused by bullying. Solid REM sleep is rarely enjoyed. Sleep deficits make the targeted family member a non-participant, especially weekends. Traditions and family routines get postponed or abandoned completely. Everyone's schedules are changed to accommodate the wounded worker in the family. This builds resentment. But targets who do not seek counseling or have their bullying situations reversed are trapped in a sleepless withdrawal loop.
Bullied targets also bring home anxiety. This is a normal reaction to the personalized stressors that bullying poses — domination, intimidation and humiliation. Even for individuals who have never experienced abuse (33% of workplace bullying targets), bullying fosters anxiety, the forewarning of distress. Distress, in turn, causes many stress-related health problems for targets. The point is that the anxiety is seen and felt by all family members exposed directly to it.
The inability to stop the bullying by the targeted parent creates a sense of despondency. The unhelpful reactions of coworkers further worsens the feeling. Thus, coming home is the message that mother or father or lover or wife or husband, once an integrated adult, is falling apart, suddenly powerless.
The coupling of anxiety and despondency is a toxic stew that affects the mood at home. Prolonged exposure renders both adults and children vulnerable to long-term effects from situations over which no one at home can control.
Tags: anxiety, displacement, health, impact on family, neuroticism, vicarious trauma, workplace bullying
Posted in Bullying & Health, Tutorials About Bullying, WBI Education, WBI Surveys & Studies | 1 Archived Comment | Post A Comment () »
Saturday, April 19th, 2014
Dear Kalola,

My story began 3 years ago when we got a new assistant principal.  The first incident that happened involved myself and my aide at the time. I was told by the principal I was moving grade levels but not to discuss it with anyone.  So I honored the principal's request.  The assistant principal (AP) told her/his spouse about the change and the spouse told my aide who was shocked that nothing was said to him/her.  My AP called me into the office and yelled at me for telling people.  I pointed out that I did not and directed the AP to her/his spouse.  The spouse admitted leaking the "secret". Although small it really bothered me that AP heard gossip and based on that attacked me.  The next events centered around MAP testing. He/She did not want us to use scrap paper.  We fought and pleaded.  We contacted our assessment coordinator who finally allowed us to use scrap paper. The same year my 2nd grade team scored extremely well on the paper test with the majority in the distinguished range.  We were told that next year we would be given a harder test.  So we teach 2nd grade but now we are given the immediate map test.  Of course scores significantly dropped and we were told we were the issue.

Our AP attacked us in a PLC meeting by yelling, throwing paper, and threatening us.  We have went to our principal and superintendent several times and each time they state they are working on a solution. Our AP spreads mean gossip about myself and my team. The AP also has the resource teacher spying on us to create false accusations. They both turned us in to OEA Office of Educational Accountability) for cheating on a test with our building principal being the proctor.  The case was unfounded because it was a total lie.  The AP held our faculty Christmas party at her/his house and we were not invited. We were told not to have any contact with him/her so we go through our building principal who is just trying to sneak on out and retire in less than a year.

  (more…)
Tags: Let's Talk with Kalola, workplace bullying
Posted in Let's Talk with Kalola | No Archived Comments | Post A Comment () »
Friday, April 18th, 2014
We announce the first-ever healing workshop for bullied targets and their loved ones.

The inaugural Workplace Bullying Retreat will be Saturday May 31 in Bellingham, WA. The one-day Retreat is facilitated by WBI founders, Drs. Ruth and Gary Namie. Attendees will understand the storm that ripped through their lives, its impact on their health, and solutions when employers do nothing to stop it.
"Bullying is perplexing, leaving targeted workers with lingering questions such as 'Why me?'," said Dr. Gary Namie. "The retreat is designed to answer those questions so the person can move on with her or his life after bullying."
This new workshop differs from WBI's other programs that emphasize education alone. The Retreat is designed to create a validating, encouraging, emotionally positive, healing, and supportive, safe harbor for attendees who have endured emotional abuse.
"No one else has talked with over 10,000 bullied targets like we have," remarked Dr. Ruth Namie. "We're proud to create this first-ever, in-person experience just for targets after 17 years of advocacy on behalf of targets."
Family members are also encouraged to attend in order to learn how to best help their loved one move on toward an abuse-free working life.
The first three scheduled days in 2014 are May 31, July 19, August 23
Discounts are available for the first 10 registrants.
Visit the Retreat page for details.
Tags: bullied targets, education, Gary Namie, healing, retreat, Ruth Namie, workplace bullying, Workplace Bullying Institute
Posted in Hear Ye! Hear Ye! 2, Products & Services, WBI Education | No Archived Comments | Post A Comment () »
Thursday, April 17th, 2014
By Bernadette Starzee, Long Island (NY) Business News, April 16, 2014
The much-publicized investigation into alleged bullying on the Miami Dolphins football team has brought workplace bullying into the national spotlight.
More than a third of American workers say they've been bullied at work, according to a survey by the Workplace Bullying Institute, a national organization that defines workplace bullying as repeated, health-harming abusive conduct committed by bosses and/or co-workers. This may include verbal abuse, intimidation, humiliation and sabotage that prevents work from getting done.
While bullying is not healthy for the victim or the workplace, it's not necessarily unlawful. Though so-called "Healthy Workplace" bills have been introduced in 26 states since 2003, including New York, none of these anti-bullying bills have become law.
Tags: bullying scandal, Jonathan Martin, Miami Dolphins, NFL, workplace bullying, workplace bullying policies
Posted in Healthy Workplace Bill (U.S. campaign), Media About Bullying, NFL: Jonathan Martin, Print: News, Blogs, Magazines, WBI in the News, Workplace Bullying Laws | No Archived Comments | Post A Comment () »
Wednesday, April 9th, 2014
The smoke has nearly cleared on the NFL Miami Dolphins bullying scandal. There were two phases of national attention. Phase 1 covered the time from Jonathan Martin's voluntary departure from the team on October 28, 2013, after game 4 of the season, until Feb. 14, 2014. Martin gave an abusive environment as his reason and did not speak until January in an interview with Tony Dungy. The plethora of stories featured the accused and suspended bully, Richie Incognito. Lots of sports commentators sided with Incognito against Martin. Incognito gave interviews, took a baseball bat to his sports car and was involuntarily hospitalized. He lost paychecks for two games and has not been hired by another team.
Phase 2 began with the release of the report of the independent investigation into Martin's allegations commissioned by the NFL and conducted by attorney Ted Wells. After Feb. 14, the world learned there were three principal perpetrators of abuse. Incognito was joined by John Jerry and Mike Pouncey in abusing Martin. Jerry and Pouncey and Martin are all African-American.
On March 11, 2014, Jonathan Martin was hired by the San Francisco 49ers. He rejoins his Stanford university coach, Jim Harbaugh. "It can be a very powerful opportunity and motivator for a player to say, 'It wasn't me, it was my situation,' " Harbaugh said. "Jonathan Martin is another player who will have a powerful opportunity." A recent description of the team culture Harbaugh crafts at the 49ers is:
"With the 49ers, just like at Stanford, Jim Harbaugh has made sure that nonsense is not possible. He has whipped up a singular focus: winning. So, I think this situation is perfect for Jonathan Martin."
Despite the report about Pouncey's conduct and his vehement discrediting of Martin as unwelcome, Miami Dolphins owner Stephen Ross declared Pouncey an "an outstanding young man," an "excellent football player," and expects him to be a team leader in 2014. His place in the Dolphins' hierarchy is no longer in question. The team is expected to exercise Pouncey's fifth-year option for 2015.
The other offensive lineman in the trio of harassers, John Jerry, identified by Wells as the first to taunt Martin in Miami, was hired by the New York Giants. Head Coach Tom Coughlin said "Calls were made to the league office. There is no suspension in the air or anything of that nature. Whatever part he played in it, there was remorse, sincere remorse."
The NFL Commissioner, Roger Goodell, reserved the right to suspend Pouncey or Jerry or both. Goodell made is sound like his decision to suspend or not depends on medical evaluations yet to be made.
###
Follow the full NFL story from the start in the Category list in the sidebar: NFL: Jonathan Martin Read the NFL investigation report.
Tags: John Jerry, Jonathan Martin, Miami Dolphins, Mike Pouncey, NFL, offensive linemen, Richie Incognito, Stephen Ross, Ted Wells, workplace bullying
Posted in Employers Gone Wild: Doing Bad Things, NFL: Jonathan Martin | No Archived Comments | Post A Comment () »
Wednesday, April 9th, 2014
The Massachusetts anti-bullying legislation, the Healthy Workplace Bill — HB 1766, passed the Joint Committee on Labor and Workforce Development. As of April 7, it is slated for a vote by all members of the House of Representatives. We all stand with the advocates on the ground there — the Massachusetts Healthy Workplace Advocates — wish them success. You can track progress on the bill at the MA State Page of the HWB website.
Tags: bullying legislation, HB 1766, Healthy Workplace Bill, law, MA, Massachusetts, Massachusetts healthy workplace advocates, workplace bullying
Posted in Good News, Healthy Workplace Bill (U.S. campaign), Hear Ye! Hear Ye! 2, Workplace Bullying Laws | No Archived Comments | Post A Comment () »
Tuesday, April 8th, 2014
By Carol Kinsey Goman, Forbes, April 6, 2014
I met Brenda when she managed a 2,000-person department for a Fortune 500 company. Brought in to help her with an upcoming change initiative, I was impressed by Brenda's intelligence, creativity, political savvy, and dedication to her job. She had all the qualities of a senior executive – which was her career goal.
But she was also a bully. One direct report described her as a "kiss-up and slap-down kind of manager." The targets of the bullying were especially demoralized, but even those on her staff who only witnessed the bad behavior began to devote more energy to protecting themselves than they did to helping the company. Brenda's dysfunctional management style eventually led to a decline in her department's performance and, as a result, the change initiative was abandoned. Eventually Brenda's career was derailed by the increasing number of enemies she made with every nasty glare and mean-spirited remark. She resigned when it became obvious that she would never get the promotion she coveted.
Stories about bullies don't always end with them resigning in disgrace. In fact, many bullies thrive. You may even be working for one.
Tags: 2010 WBI U.S. Workplace Bullying Survey, bully boss, bullying research, workplace bullying, Workplace Bullying Institute
Posted in Media About Bullying, Print: News, Blogs, Magazines, Tutorials About Bullying, WBI Education, WBI in the News | No Archived Comments | Post A Comment () »