Posts Tagged 'workplace bullying'
Saturday, April 25th, 2015
On April 25, 2005 at 9:19 am, a 7-car Japanese commuter rapid train 5418M derailed at high speed on a curved stretch of track and slammed into a parking garage of an apartment building. The train was operated by 11 month veteran driver 23-year old Ryūjirō Takami in front car. A second rail employee, the conductor, was in the rear car.
It was the second worst rail disaster in the country's history. 562 people were injured and 107 died, including Takami. 99 of the fatalities were in the front car. In all, four cars derailed.
Click here for the full story and details.
National Geographic recreated the events in an episode of Seconds from Disaster.
Tags: accident, culture, death, disaster, Nikkin Kyoiku, Ryūjirō Takami, torture, West Japan Railway Company, workplace bullying
Posted in Bullying & Health, Employers Gone Wild: Doing Bad Things, Tutorials About Bullying, WBI Education | No Archived Comments | Post A Comment () »
Wednesday, April 22nd, 2015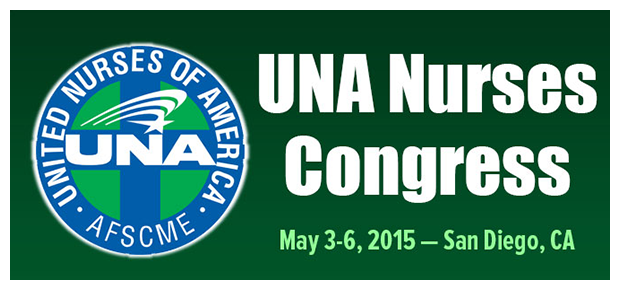 On Sunday May 3, Dr. Gary Namie, WBI Director addresses the national conference. He will also deliver several workshops. If you are a UNA or AFSCME member, consider attending. Too often nurses consider lateral or horizontal violence an acceptable occupational hazard. It need not be. The irony is that healthcare providers, primarily nurses, care more for patients than for their own health. Much can, and should, be done to make the healthcare workplace safe for nurses.
Location: Hilton San Diego Resort & Spa; Mission Bay Drive, San Diego, CA.
Tags: AFSCME, lateral violence, National Nurses Congress, UNA, workplace bullying
Posted in Hear Ye! Hear Ye! 2 | No Archived Comments | Post A Comment () »
Wednesday, April 22nd, 2015
Z & H Foods Inc. is a Houston-based company that owns and operates two restaurant franchises — Popeyes and Louisiana Kitchen. At a Popeyes location on March 31, a hooded thief brandishing a handgun at staff robbed the store of about $400 from the cash registers when the woman shift manager, Marissa Holcomb, told him she had no access to the safe. Marissa was subsequently fired for violating a Z & H policy. Yes, the HR person (who has yet to be identified) justified the firing of a pregnant mom who was just robbed at gunpoint. The basis? Repeated violations of leaving too much cash in the registers.
If Holcomb was responsible for transferring the cash, she would likely have to store it in the safe, as opposed to paper bags or her personal purse. For that to happen, she would have had access to the safe where the largest amount of cash was stored. But Holcomb protected the safe, and therefore the company from losing even more money, by telling the robber that she had no access. The HR rep who justified the firing has now leaked to the public the fact that managers of Z & H-owned restaurants on all shifts have access to their safes. Oops. She just endangered every manager.
Not only is the company ungrateful for Holcomb's minimizing company losses, the company is too dangerous to work for at any salary. Spread the word in Houston.
Here's the story from KHOU-TV.
Let Z & H know what you think: 281-988-5726 or give them hell on their google+ site
Z&H President is Shoukat Dhanani
Z&H Vice-President is Amin Dhanani
Note the restaurant is a Popeyes. Popeyes is a Georgia-based franchiser and deflects all responsibility for the actions of its franchisees like Z & H.
Tags: HR, Marissa Holcomb, Popeyes, workplace bullying, Z&H Foods
Posted in Employers Gone Wild: Doing Bad Things | No Archived Comments | Post A Comment () »
Sunday, April 12th, 2015
For some reason, Vermont lawmakers sponsoring a paid sick leave bill appropriated our the WBI bill name – Healthy Workplace Bill – in 2015. We support paid sick leave, but care most about ending health-harming abuse in the workplace.
Now comes Vermont Senate bill S 143 –An act relating to protecting employees from abuse at work. WBI thanks sponsor Sen. Anthony Pollina. Tenacious Vermont State Coordinator, Sherrill Gilbert, has worked for several sessions to have the HWB not only introduced but heard in committee. Despite the formation of a task force in past years, the historically progressive state has failed to take definitive action against this scourge.
The bill has been referred to a Senate committee on which a former sponsor sits. We await scheduling of a public hearing at which Vermonters can testify about the need for a state law.
In 2015, VT S 143 is the 9th bill to be introduced across the states. Vermont joins Texas, New York, Massachusetts and Minnesota with complete versions (with employer liability) of the Healthy Workplace Bill.
Details of the bill can be found at the VT State Page of the Healthy Workplace Bill website.
Tags: Anthony Pollina, Gary Namie, Healthy Workplace Bill, S 143, Sherrill Gilbert, Vermont, workplace abusive conduct, workplace bullying
Posted in Healthy Workplace Bill (U.S. campaign), Hear Ye! Hear Ye! 2, Workplace Bullying Laws | No Archived Comments | Post A Comment () »
Friday, April 10th, 2015
Stockholm Bias: It's Not Quite Stockholm Syndrome, But It Affects All of Us
By Eyal Winter, em>Forbes, April 8, 2015
Winter is Professor of Economics, Hebrew University of Jerusalem
My father, Hans Winter, was a Jewish kid in pre-Nazi Germany who ran for his life to Palestine a year after Hitler took power. Until his last day, he considered the word Nazi to be synonymous with ultimate evil, yet when I asked him about his schoolteachers during that period he would be overcome with nostalgia and romanticism. When pressed, he would admit that most of his teachers supported the Nazi party, and would even describe the parades they organized and the Nazi songs he was forced to sing along with the rest of the class, even before Hitler took power. When noticing my astonishment, he often argued, "Yes, they were Nazis, but they treated me well." My father was not comfortable talking about it, and he appeared quite embarrassed as he wiped the small tear that ran slowly down his cheek. I believe he was affected by what I call Stockholm bias, a mild version of the better-known Stockholm syndrome.
 
On August 23, 1973, a group of burglars entered and commandeered a Kreditbanken bank branch in Norrmalmstorg Square in Stockholm. Over the next five days, several bank employees were held hostage in a vault by the burglars, who eventually surrendered to the authorities. What happened next was very peculiar. Most of the bank employees who had undergone the nightmare of captivity expressed support and sympathy for the hostage takers in press interviews. Some even offered to serve as character witnesses for the defense in the subsequent trial. The event prompted psychologists and psychiatrists to identify a new psychological phenomenon they called Stockholm syndrome.
Tags: 2014 U.S. Workplace Bullying Survey, Eyal Winter, Gary Namie, Mobbing, stockholm syndrome, workplace bullying, Workplace Bullying Institute
Posted in Tutorials About Bullying, WBI Education, WBI in the News | 3 Archived Comments | Post A Comment () »
Friday, April 10th, 2015
The Human Services Education Council hosts a day with Dr. Gary Namie, WBI Director
May 14, 2015
Dove Conference Center
Springfield, Illinois
Workplace Bullying & Abusive Conduct: The Preventable Health Hazard
For health professionals, CEUs available

Event Brochure & Registration Form
Tags: Gary Namie, HSEC, workplace bullying
Posted in Events & Appearances | No Archived Comments | Post A Comment () »
Wednesday, April 1st, 2015
Utah HB 216, sponsored by Rep. Keven Stratton, sailed through the House and Senate and was signed into law by Gov. Gary Herbert. The training mandate law drew its definition of abusive conduct from the WBI Healthy Workplace Bill:
"Abusive conduct means verbal, nonverbal, or physical conduct of an employee to another employee that, based on its severity, nature, and frequency of occurrence, a reasonable person would determine is intended to cause intimidation, humiliation, or unwarranted distress or results in substantial physical or psychological harm as a result of intimidation, humiliation, or unwarranted distress; or exploits an employee's known physical or psychological disability."
The law requires state agencies to train supervisors and employees about how to prevent abusive conduct. Biannual training must include the definition of abusive conduct, its ramifications, resources available and the employer's grievance process. In addition, professional development training will also cover ethical conduct and leadership practices based on principles of integrity. The law takes effect July 1, 2015.
Trace the bill's route through the legislative process. WBI thanks the sponsoring Representative, Sen. Ted Weiler who ushered the bill through the Senate, the Governor, and State Coordinator Denise Halverson and citizen lobbyists who participated in committee hearings.
Utah is the second state to pass a training-only law to begin to address abusive conduct in the workplace. Utah's bill is superior to Calfornia's training-only bill of 2014.
Here's the current legislative HWB map as of 4/1/15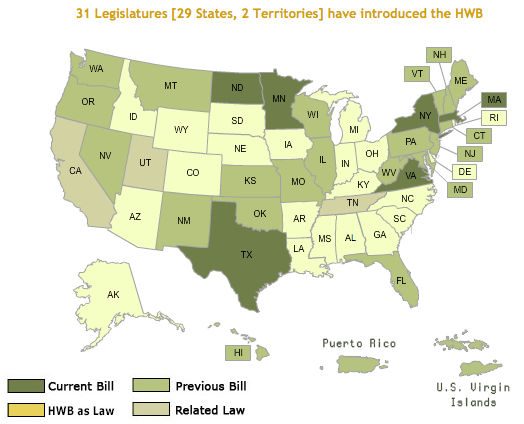 Tags: abusive conduct, bill, Denise Halverson, Healthy Workplace Bill, Keven Stratton, law, legislation, Utah, workplace bullying
Posted in Healthy Workplace Bill (U.S. campaign), Workplace Bullying Laws | No Archived Comments | Post A Comment () »
Wednesday, April 1st, 2015
Dispatch from WBI colleague Francesco A. Portelos, New York City teacher
Sometimes workplace bullying affects only the victim. Sometimes it propagates to surrounding colleagues, morale and family members. In all cases though, the work is negatively affected. As you can imagine, when workplace bullying hits schools, the students are hurt as well.
Recently, a group of bullied New York City educators, known as Don't Tread on Educators (DTOE), got together and created a list of administrators that have been known to bully and harass their employees. The Administrators in Need of Improvement (ANOI) list has grown in recent months and is now at about 85 administrators throughout New York's five boroughs. It even has an interactive map to locate these bullies by geographic area. The list has given teachers a platform to share their stories and concerns about workplace harassment. The curtain has been pulled back and the harassment exposed.
Many of these stories are similar and show a pattern of harassment that exist in the NYC Department of Education. The ANOI list gives teachers who are being bullied the power to hit administrators where it hurts. ON SOCIAL MEDIA. Visit the DTOE website.
###
Hear Francesco's personal story
Tags: abusive conduct, administrators, ANOI, DTOE, educators, Francesco Portelos, New York City schools, perpetrators, teachers, workplace bullying
Posted in Guest Articles, Hear Ye! Hear Ye! 2, Target Tale, WBI Education | 6 Archived Comments | Post A Comment () »
Tuesday, March 31st, 2015
This Time, It's Personal
Will legislation to protect employees from workplace bullying stifle demanding managers?
By Steven Yoder, Comstock's, March 31, 2015
Carrie Clark, 63, says bullies aren't confined to playgrounds. Sometimes, they run the whole school. 
In 1995, Clark directed an English as a Second Language program in West Sacramento's Washington Unified School District. An influx of foreign students was forcing her staff to work ever-longer hours. She wrote several reports to the district superintendent documenting the extra load and asking for more help. She got no response, she says. So her teachers union representative suggested she put together a petition signed by program staff.
That got a reaction, but not the one she wanted. The superintendent took Clark off of the school's committee of department chairs and canceled and consolidated classes. Clark says he called her house and left an odd, garbled message, and one day after a meeting, he followed her into an empty hallway. Towering over her, his face a foot from hers, he screamed that he wanted "no more petitions!"
Scared, Clark quit a few weeks later. She developed tremors in her right side, which she still has, started having heart palpitations and couldn't sleep. Today, when she talks about what happened, her speech slows to a crawl and her voice quavers like a warped record. A Sacramento occupational medicine specialist diagnosed her with a post-traumatic stress disorder related to her job. After a 20-year teaching career, she'd never set foot in a classroom again. In 2002, she won a $150,000 workers' compensation claim against the district.
There's evidence that the superintendent targeted others who crossed him. He took a job in a district near Yuba City, and in January 1999 the teachers association president there told The Valley Mirror that the superintendent verbally threatened her and that she'd asked a court for a restraining order. She also told a reporter that she was having panic attacks for the first time in her life. (The superintendent, now retired, keeps an unlisted phone number and didn't respond to a certified letter sent to his address requesting an interview.)
Tags: AB 2053, abusive conduct, Ann Wrixon, bill, Carrie Clark, Gary Namie, Healthy Workplace Bill, HR, Independent Adoption Center, legislation, Michael Kalt, SHRM, workplace bullying
Posted in Healthy Workplace Bill (U.S. campaign), Media About Bullying, Print: News, Blogs, Magazines, Target Tale, WBI in the News, Workplace Bullying Laws | No Archived Comments | Post A Comment () »
Monday, March 23rd, 2015
Sen. Ron Latz a member of the Democratic-Farmer-Labor (DFL) party introduced SF 1932. Its first reading was today, March 23. SF 1932 is the complete version of the WBI anti-bullying Healthy Workplace Bill.
Minnesota tried the HWB back in 2011, but the bill went nowhere.
This 2015 bill was referred to the Jobs, Agriculture and Rural Development Committee.
In 2015, Minnesota becomes the fourth state to introduce the full bill, joining Massachusetts, New York, and Texas. Four other states amended the full bill and introduce some variation.
WBI thanks Sen. Ron Latz. Visit the MN State Page of the HWB website for details. And WBI recognizes the efforts of our volunteer State Coordinators — Jill Jensen, Debbie York & Scot Adams — who successfully lobbied for its introduction. Next step … a public Committee hearing. Stay tuned.
Tags: abusive conduct, Healthy Workplace Bill, legislation, Ron Latz, SF 1932, workplace bullying, Workplace Bullying Institute
Posted in Healthy Workplace Bill (U.S. campaign), Workplace Bullying Laws | No Archived Comments | Post A Comment () »