Posts Tagged 'workplace bullying'
Thursday, January 24th, 2013
MEDIATION AND WORKPLACE BULLYING
WBI 2011-D Instant Poll
At WBI, we have always argued against the adoption of mediation or other alternative dispute resolution practices for bullying resolution. The source of our resistance is twofold: (1) often the bullied target who is already compromised and often emotionally wounded is mandated to participate, and (2) workplace bullying is a form of violence, non-physical and sub-lethal, but interpersonal violence nevertheless.
Violent relationships cannot be mediated. Mediation requires that both parties are rational and capable of gaining an empathic understanding of the needs and intellectual interests of the other party. In bullying, only one party is rational. The other's interest is tainted by her or his need to dominate the other party. There is no equal footing at the start. One does not mediate domestic violence. There is no halfway in the gulf between parties when one is under assault by the other.
In a 2011 WBI Instant Poll, 473 respondent/bullied targets completed a survey exploring how effective was mediation.
Tags: ADR, arbitration, Gary Namie, mediation, WBI research, workplace bullying
Posted in Tutorials About Bullying, WBI Education, WBI Surveys & Studies | No Archived Comments | Post A Comment () »
Sunday, January 20th, 2013
High profile self-described bully Lance Armstrong teaches disbelievers much about the bullying process. Follow our series: Lessons From Lance.
The 'System' Makes Them Do It
Bullies do not offer themselves voluntarily for scrutiny. Given the fact that the WBI-Healthy Workplace Bill has not yet become law in any U.S. state, most of bullying is legal. Without a law, employers don't have to have airtight policies to prevent or correct it. So, only about 3% try to do a legitimate job of cracking down on offenders.
That means bullies can harm others with impunity. They face little to no risk of negative consequences. There is a mismatch between the lying, cheating, conniving bully and the fact that nothing bad happens to them. Bullies cheat by stealing ideas, credit for work not done, by gathering personal details about their targets' lives to use against them later, blaming targets for errors that never occurred, and a host of other nefarious tactics.
Tags: cheating, impunity, Lance Armstrong, lying, rewards for bullying, workplace bullying
Posted in Commentary by G. Namie, The New America, Tutorials About Bullying, WBI Education | No Archived Comments | Post A Comment () »
Friday, January 18th, 2013
In an interview with Oprah on her show The Next Chapter, spread over two nights — Jan. 17 & 18 — disgraced cyclist Lance Armstrong admitted publicly that he used drugs to climb to the top of the racing world. Remarkably, he professed that he had become a "bully." His words, not ours.
Tags: Betsy Andreu, bully, cycling, doping, Emma O'Reilly, Lance Armstrong, Oprah, workplace bullying
Posted in Broadcasts: Video, TV, radio, webinars, Commentary by G. Namie, Media About Bullying, The New America, Tutorials About Bullying, WBI Education | 1 Archived Comment | Post A Comment () »
Wednesday, January 16th, 2013
HOW BULLIES SELECT THEIR TARGETS
WBI 2012-I Instant Poll
Individuals who are bullied ask themselves, "why me?." They worry that some personal shortcoming is the reason. This self-defeating logic focuses responsibllity inward. The truth is that no one wakes on a work day with a plan to invite humiliation and torment, nor does anyone deserve it. Some academic researchers (e.g., Tepper) adopt "victim precipitation," an ideology borrowed from criminology that has been thoroughly discredited. It leads to blaming victims/targets. Bullies may rationalize their actions with "the target made me do it," but anecdotal evidence from targets and witnesses refute this notion.
This ninth 2012 online survey of 655 respondents was intended to replicate original WBI 2003 findings exploring, from the targets' perspective, why they were targeted.
Tags: how bullies select their targets, reasons for bullying, victim precipitation, WBI research, workplace bullying
Posted in Tutorials About Bullying, WBI Education, WBI Surveys & Studies | No Archived Comments | Post A Comment () »
Wednesday, January 16th, 2013
WORKPLACE BULLYING PERPETRATORS' RANK & NUMBERS
WBI Research: 2012 – H Instant Poll
Workplace Bullying Institute Instant Polls are online single-question surveys that rely upon self-selected samples of individuals bullied at work (typically 98% of any sample). No demographic data are collected. Our non-scientific Instant Polls accurately depict the perceptions of workers targeted for bullying at work as contrasted with the views of all adult Americans in our scientific national surveys.
In the eighth IP of 2012, 81% of the 806 respondents declared that a boss (higher-ranking person than the target) was involved than bullying.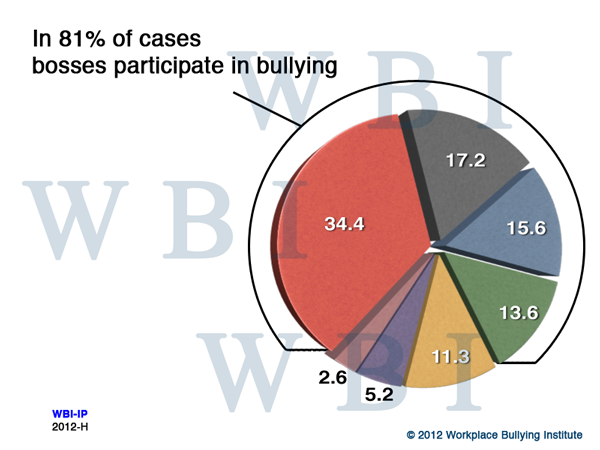 Tags: bullies, instant poll, Mobbing, perpetrators, rank, WBI survey, workplace bullying
Posted in Tutorials About Bullying, WBI Education, WBI Surveys & Studies | No Archived Comments | Post A Comment () »
Wednesday, January 16th, 2013
Let's Talk with Kalola, where targets can share their experiences with WBI's blog readers. Here we go!
(more…)
Tags: Let's Talk with Kalola, workplace bullying
Posted in Let's Talk with Kalola | No Archived Comments | Post A Comment () »
Tuesday, January 15th, 2013
WBI's Professional Coach & Licensed Psychotherapist, Jessi Eden Brown, will be offering support groups starting in February. This resource is designed for current and former targets of workplace bullying. Participants receive support and ideas from fellow group members, as well as expert advice from Jessi on how to address specific bullying situations and cope with the aftermath of being targeted. Groups will be held at Jessi's private practice in North Seattle. If you're interested, please email Jessi Eden Brown to find out more.
Tags: Bully at Work, counseling, Jessi Eden Brown, PTSD, support group, therapist, therapy, workplace bullying
Posted in Products & Services, Target Tale, Tutorials About Bullying | No Archived Comments | Post A Comment () »
Monday, January 14th, 2013
From United Public Workers for Action announcing Jan. 17 press conference at SF Unified School District HQ regarding retaliation against UESF teachers, specifically Tobias Crane, who complained about former Martin Luther King Middle School principal, Natalie Eberhard. (415) 867-0628
###
Trouble at MLK Middle School seems rooted on bullying tactics of principal Eberhard.
Tags: Natalie Eberhard, school superintendent, teachers, Tobias Crane, UESF, workplace bullying
Posted in Employers Gone Wild: Doing Bad Things | No Archived Comments | Post A Comment () »
Friday, January 4th, 2013
By Michael Smyth, The Province
The nightmare at work started with one manager taking a personal dislike to her and nitpicking everything she did — from the way she dressed to the "irritating" tone of her voice.
Other managers joined in and discipline notes were placed on her personnel file, for things like talking to her son on the phone during work hours. Her son is autistic.
But the worst phase of the office bullying began when her own co-workers started to isolate and harass her. At a staff Christmas party, she was given a card with sexual content that suggested she slept with all the men in the office.
Everyone laughed, and she tried to laugh, too. But, on the inside, she was in despair.
Tags: b.c., Gary Namie, Michael Smyth, WBI, workplace bullying
Posted in WBI in the News | 1 Archived Comment | Post A Comment () »
Thursday, January 3rd, 2013
Workplace bullying is war launched by one side (that can be an entire army of coworkers or a combination of managers and backstabbing coworkers) against the other side, the lone target. It is not conflict with dual engagement. The targeted person is the only one victimized, persecuted and terrorized. The playing field is not even. It is abusive, psychological violence perpetrated by one or more against the target.
On behalf of bullied targets everywhere let me register disgust at the latest salvo of bad advice directed toward targets by an etiquette expert, Debby Mayne. Her drivel is titled: Etiquette for Dealing with a Workplace Bully, subtitled: Avoid Being the Target for Bullies at the Office.
The premise is offensive and denigrating to bullied targets. Mayne, who grew up in a military family with overt manners taking precedence, suggests to potential targets to avoid the following:
- being late for work
- letting mistakes go unfixed
- complaining
As for assertive actions targets can take that will back off the bully (ha! this woman has no idea!), Mayne says to do the following:
- when bully invades your personal space, state "with calm authority that she needs to leave so you can get back to work"
- do an excellent job
- document and go directly to human resources
Of course the reality is just not the world imagined (she certainly hasn't lived the experience). For a dose of reality about what does not work when we make targets responsible for ending the bullying, read the extensive WBI 2012 Strategies Effectiveness Study.
For targets to practice manners or etiquette against abusive conduct is ludicrous. Adopting manners is unilateral disarmament in the war launched against targets. Mayne should take her pollyanna rubbish suggestions directly to bullies, perpetrators of uncivil and ill-mannered conduct. Maybe they will see the errors of their ways and get their etiquette straight.
Tags: etiquette, manners, workplace bullying
Posted in Tutorials About Bullying, WBI Education | 1 Archived Comment | Post A Comment () »