Posts Tagged 'workplace bullying'
Tuesday, April 9th, 2013
By Larry Keller, Human Resources Executive, Nov. 21, 2012
Researchers at the University of Sheffield and the University of Nottingham in the United Kingdom have released results of three separate surveys of employees questioned at several universities which find that about 80 percent of the 320 respondents said they had experienced work-related cyberbullying at least once in the previous six months, and 14 to 20 percent of them said this happened to them at least once a week.
The findings have serious implications for HR professionals. Cyberbullying can result in lower employee morale, higher turnover and absenteeism, and damage to a company's reputation if the practice is visible to a vast audience on the Internet, the researchers say. It also raises questions as to whether existing HR policies adequately address the behavior.
"A key issue . . . is to raise awareness of the impact of cyberbehavior — to prevent it [from] happening — or escalating," says Carolyn Axtell, senior lecturer at the University of Sheffield's Institute of Work Psychology and one of the authors of the study. "Due to the lack of social and physical cues online, people are less aware, and therefore less considerate about the other person's reaction. Organizations could . . . set norms and expectations about online behavior — what is considered acceptable and what isn't."
Tags: gary namie, HRE, larry keller, management skills, prevention, solution, work, workplace bullying, workplace violence
Posted in Media About Bullying | No Archived Comments | Post A Comment () »
Monday, April 8th, 2013
By Ashley Doerzbacher
April 5, 2013
Many people think of kids when they hear the word 'bullying,' but it turns out, it can continue way past the school yard, and carry over into the work place.
Morrison Foerster, a law firm in New York, has looked into workplace bullying, and said that it is on the rise. The main reason, they say is power.
The Rutgers University basketball program is one public example to look at. We first reported on this earlier this week. Former coach Mike Rice was fired after videos surfaced of him throwing basketballs at players, and even and pushing them. Now, the university has cleaned house, letting the assistant coach and athletic director also go.
Sharon Parella, of Morrison Foerster, spoke with an Dr. Gary Namie, an expert on workplace bullying, and he says it's all about gaining power.
"They see what gets other people ahead, they see a path toward reinforcement, themselves to gain status, stature, career enhancement and they take it," said Dr. Naime, of Workplace Bullying Institute. "[It's] Not necessarily about money. Status, position, all the goodies in the workplace that they desire go to the highly aggressive person."
Dr. Namie said that bullying crosses over gender, race and ethnicity, but that men bully more than women do, even though women are targeted more than men.
Tags: Gary Namie, morrison foerster, Sharon Parella, workplace bullying, Workplace Bullying Institute
Posted in WBI in the News | No Archived Comments | Post A Comment () »
Monday, April 8th, 2013
Loading ...
Tags: bully sponsors, Gary Namie, workplace bullying
Posted in Events & Appearances, WBI Education, WBI Surveys & Studies | No Archived Comments | Post A Comment () »
Thursday, April 4th, 2013
As many of you know, we have often recommended Allison & Taylor's reference checking service to Targets as they search for a new job. A recent press release details their efforts to help workplace bullying Here's an excerpt:
---
Some suggest that bullying victims are simply people who "can't take the pressure" at work. Not so, says Jeff Shane, Vice President of Allison & Taylor Reference Checking, a firm that offers "Cease & Desist letters to stop workplace bullying. "Bullying has become an unpleasant fact of life in too many workplace environments. What makes it especially insidious is that it often continues even after someone has left a job, with the bully continuing to make their life difficult by them a poor reference to a prospective employer."
Tags: Allison & Taylor, Jeff Shane, workplace bullying, Workplace Bullying Institute
Posted in Events & Appearances | No Archived Comments | Post A Comment () »
Wednesday, April 3rd, 2013
By Tricia L. Nadolny
Two former state employees have claimed in a lawsuit they were bullied by a supervisor after reporting that she regularly took paid two-hour lunch breaks. Sandra Miner of Pittsfield and Carla Haase of Concord say they complained about the abuse to officials at the state's Department of Health and Human Services, but nothing was done.
The harassment – which they describe as being carried out by their supervisor Lisa Derepentigny as well as a "clique" in the office – was so intense that both women suffered severe emotional distress and took early retirement, they claim in a lawsuit filed at Merrimack County Superior Court.
A department spokeswoman and Derepentigny both declined to comment. The lawyer handling the suit at the attorney general's office did not return a message left yesterday.
The women, until they left their positions in summer 2012, were employed by the Division of Child Support Services, where they worked under Derepentigny. That supervisor, as well as her "clique of favored employees," regularly took lunch breaks that were three to four times what was allowed, according to the suit.
Tags: concord monitor, DHHS, lawsuit, workplace bullying
Posted in Media About Bullying | 1 Archived Comment | Post A Comment () »
Wednesday, April 3rd, 2013
David Yamada, author of the Healthy Workplace Bill has a draft of another important legal essay on workplace bullying.
Here is a link to his announcement for the upcoming publication.
Tags: David Yamada, Healthy Workplace Bill, workplace bullying
Posted in Workplace Bullying Laws | No Archived Comments | Post A Comment () »
Tuesday, April 2nd, 2013
Host WDVD-FM Detroit radio host Vanessa Denha Garmo interviewed Dr. Gary Namie for her show on March 31, 2013. They talked about the history of WBI, the Healthy Workplace Bill, and solutions for individuals and employers.
Audio clip: Adobe Flash Player (version 9 or above) is required to play this audio clip. Download the latest version here. You also need to have JavaScript enabled in your browser.
Here's a link to the show's page.
Tags: Gary Namie, it's your community, vanessa denha-garmo, workplace bullying
Posted in Broadcasts: Video, TV, radio, webinars, Media About Bullying, Tutorials About Bullying, WBI Education, WBI in the News | No Archived Comments | Post A Comment () »
Tuesday, April 2nd, 2013
Let's assume your organization (Executive Team, HR and Legal) WANT to stop bullying. One of the first questions the group must answer is whether or not you jump in with both feet or move more slowly. Here are the pros and cons of each approach.
Tags: gary namie, management skills, prevention, solution, work, workplace bullying, workplace violence
Posted in Tutorials About Bullying | No Archived Comments | Post A Comment () »
Friday, March 29th, 2013
THE TIMING & RESULTS OF TARGETS
CONFRONTING BULLIES AT WORK
WBI 2013-D Instant Poll
Individuals unfamiliar with details of the workplace bullying phenomenon but who declare themselves workplace experts suggest or insist that workers targeted for bullying directly confront their assailants. In a large-sample 2012 survey [WBI-2012-Strategies Effectiveness], 70% of 1,600 individuals said they attempted to confront their bully. The torment ended in only 3.5% of situations. Confrontation was ineffective.
This 2013 Instant Poll survey investigated whether the timing of a confrontation would affect effectiveness. WBI Instant Polls are online single-question surveys that rely upon self-selected samples of individuals bullied at work (typically 98% of any sample). No demographic data are collected. Our non-scientific Instant Polls accurately depict the perceptions of workers targeted for bullying at work as contrasted with the views of all adult Americans in our scientific national surveys.
We asked 554 target-respondents to answer the following question.

For bullied targets only. When did you confront your bully, telling her or him that the abusive conduct was unacceptable to you?
Tags: bullied targets, Gary Namie, stopping bullying, targets confront, targets confront bullies, WBI research, workplace bullying, Workplace Bullying Institute
Posted in Tutorials About Bullying, WBI Education, WBI Surveys & Studies | No Archived Comments | Post A Comment () »
Thursday, March 28th, 2013
UPDATE: To write a great workplace bullying policy and enforcement procedures, go here.
When fuzzy facts (first generation distortion) are allowed to pass for actual data and circulated widely by media (2nd gen distortion) they used by critics to undermine the anti-bullying campaign. Let's clear the air about current American employer engagement in stopping workplace bullying.
SHRM (the HR trade association) conducted a 2011 study about workplace bullying and reported results in Feb. 2012. The non-scientific survey of members had a low response rate of 15% (the final 401 respondents meant SHRM randomly polled 2,673 members). The results shed light on HR's view about the prevalence of workplace bullying policies in the U.S. When asked if respondents' organizations had specific anti-bullying policies in place, 44% of HR respondents defiantly stated their organization has "no policy and has no plans to put a workplace bullying policy in place." The answer, "No, but we plan to put a formal policy in place in the next 12 months," was chosen by 13%. Another 40% said, "Yes, our workplace bullying policy is part of another workplace policy." Only 3% of SHRM members said "Yes. We have a separate workplace bullying policy" in our organization.

Actual slide from 2012 SHRM survey results from which 56% statistic was plucked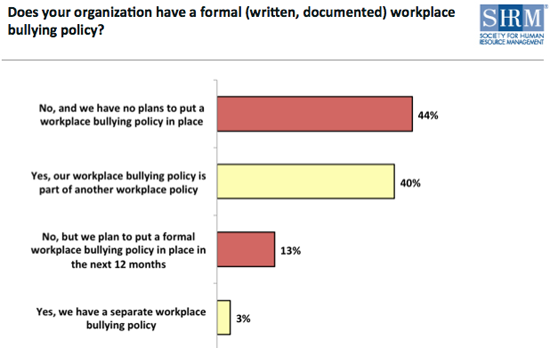 You can download the slide show from here.
(more…)
Tags: Gary Namie, HR, human resources, SHRM, surveys, WBI research, workplace bullying, workplace bullying policies
Posted in Employers Gone Wild: Doing Bad Things, Media About Bullying, Print: News, Blogs, Magazines, WBI Education, WBI Surveys & Studies | 4 Archived Comments | Post A Comment () »