Posts Tagged 'workplace bullying'
Thursday, December 20th, 2012
UPDATED 12/25
Merriam-Webster defines martyrdom as "the suffering of death on account of adherence to a cause." The six adult educators slain at Sandy Hook elementary on Dec. were practicing the profession they all claimed to love. These teachers and mothers were killed in a school, protecting other people's children.
How many education "reformers" would lay down their lives for their principles? These system "deformers," (a phrase used by Ralph Nader who pointed out that those claiming interest in tort reform actually sought to deform and kill the legal system that enables individuals to sue hurtful corporations, as do education "reformers" who seek to destroy public schools and unionized public school teachers) include advocates from the Bill and Melinda Gates Foundation (referring to their education initiatives, not the Foundation's noble work in global disease eradication), Education Secretary Arne Duncan and Rahm Emanuel (who laid the seeds for the Chicago teachers' strike), and the incendiary profit-driven Michelle Rhee. None are school teachers. They pontificate from a fly-over altitude, not in the trenches.
By contrast, in the trenches with real children were Dawn Hochsprung and Mary Sherlach, Sandy Hook administrators who charged the shooter immediately after his AR-15 assisted break-in through the secured door. They paid with their lives from their up close and personally lethal encounter.
Also dead are Rachel D'avino, a behavioral therapist, teacher Lauren Rousseau, and Anne Marie Murphy, classroom aide who cradled little Dylan Hockley in her arms as they both died.
The teacher in the 1st grade classroom was Victoria Soto. According to the New York Times, Gary MacNamara, the chief of the Fairfield Police Department said Ms. Soto had "pushed children into a closet and allowed other kids to escape" before she herself was killed.
To honor these martyrs, the next time the teacher haters, representing any group with any political slant, rev up in 2013 with proposed legislation, join us in calling them exactly what they are. WBI supports teachers.
Let's not be turned against teachers, as a group or profession, according to anyone's agenda.
###
"The teachers and the principals were absolutely heroic. So were the others, who were in lockdown, and kept their kids calm and quiet in what had to be a traumatizing fear. I don't think it is possible, if one was not that in that situation, to understand the depth of the heroism of teachers who put themselves in the line of fire to save children," said Randi Weingarten, sobbing as she spoke, in a phone interview with Working in These Times on Wednesday night. "This has kind of pulled the curtain away to show who teachers really are. Teachers' instinct is to serve, to protect and to love. And you saw that in full view in Newtown this week. This is who teachers are. If we were in the same position, we would do the same thing; I hope that I would do so."
Randi Weingarten is the president of the American Federation of Teachers (AFT).
Tags: Anne Marie Murphy, Dawn Hochsprung, Lauren Rousseau, Mary Sherlach, Victoria Soto, workplace bullying
Posted in Commentary by G. Namie | 2 Archived Comments | Post A Comment () »
Thursday, December 20th, 2012
Could America be poised to address mass murders after the Sandy Hook school massacre? Optimism abounds that a "tipping point" has been reached. If so, the same may be true for workplace bullying.
Tags: gun legislation, mass murders, workplace bullying
Posted in Commentary by G. Namie, Good News, Podcasts, The New America, WBI Education | No Archived Comments | Post A Comment () »
Thursday, December 20th, 2012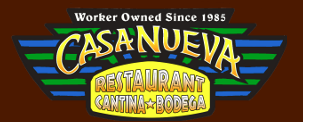 This is a tale of a worker-owned restaurant in Athens Ohio named Casa Nueva. It's been around since 1985. They believe in egalitarianism. It is incorporated into their business practice. Nancie Buerkel told Slate reporter Joe Donatelli "What we truly believed in was that everybody, from the dishwasher, the prep cook, the cooks, the servers, provided the customer's meal, so they should share in the tips." It turns out that new associates at Casa Nueva all earned less than minimum wage for their hourly rate (a common restaurant practice for wait staff), but when the tip pool was added and then divided, they were paid "way more" than minimum wage.
The restaurant's policies, codified in a 67-page book, include the background to Employee Co-Ops and acknowledge the "tension" between a workplace that actually practices democracy and the need to run a profitable business enterprise. Thanks to Slate, you can read a copy of the Member Handbook.
Tags: Casa Nueva, DOL, egalitarian, french revolution, restaurant tips, workplace bullying
Posted in Good News, Tutorials About Bullying, WBI Education | 1 Archived Comment | Post A Comment () »
Thursday, December 13th, 2012
Ever notice that it takes social justice pioneers generations to create positive change here in America, the land of the "brave and free"? Civil rights, labor rights, criminalizing child abuse and domestic violence are strongly opposed in Congress and state legislatures.
Snuffing out hard-won social gains, sadly, comes easily and quickly when mean-spirited lawmakers are in charge. The halcyon days for American trade unions was in the 1930′s through WWII. Many strikes were called in the year after the war. An angry Republican Congress reacted in 1947 with union-curbing tools via the Taft-Hartley Act carried with enough votes to overcome President Harry Truman's veto.
One effect of the T-HA was that states could enact so-called "right-to-work" laws. RTW is a union-busting tool. It drains scarce union resources until unions crumble. Here's how it works. In RTW states, employees cannot be made to join a union to work at a particular employer (closed union shops). Sadly, Michigan has just become a RTW state.
Tags: employee slavery, Michigan, right to work, workplace bullying
Posted in Commentary by G. Namie, Fairness & Social Justice Denied, The New America, Unions | 2 Archived Comments | Post A Comment () »
Tuesday, December 4th, 2012
Workplace bullying takes a tremendous toll on targets, and everyone deals with the stress differently.
Shorty B uses music to cope:
"Music is like therapy for me, and that includes listening to it as well as writing it. We all get bullied–it takes many forms and it is not just kids. Writing and performing helps me deal with stress–it's a total release for me. That's one reason I do it. If this song helps someone deal with a stressful situation, then that means so much to me!"
Take a listen to Shorty B's song about her workplace bullying experience entitled You're the Boss.
To purchase the full song, follow this link.
Tags: shorty b, workplace bullying, you're the boss
Posted in Good News, Guest Articles | No Archived Comments | Post A Comment () »
Tuesday, December 4th, 2012
Reporter Angie Goff of NBC4 in Washington, DC interviews Susan, a bullying veteran
Tags: Angie Goff, Gary Namie, Healthy Workplace Bill, Susan Rae Baker, target tale, workplace bullying, workplace bullying laws
Posted in Healthy Workplace Bill (U.S. campaign), Target Tale, WBI Education, WBI in the News, Workplace Bullying Laws | No Archived Comments | Post A Comment () »
Tuesday, December 4th, 2012
The majority of workers have trivial decisions to make at work during the holiday season — which dress to wear to the company party, how much or little to drink, how not to get caught having sex on site, etc.
People targeted for bullying, however, can look forward to an increased level of misery.
Tags: bullied targets at work, holidays, tutorials, workplace bullying
Posted in Tutorials About Bullying, WBI Education, WBI Surveys & Studies | 3 Archived Comments | Post A Comment () »
Monday, December 3rd, 2012
Pond Muony, manager, Lucky Bridge Casino in Pasco, WA fired Jessica Haines for daring to call the police to try to apprehend a man she witnessed beating a woman and driving away. Haines did this after her work shift ended, she had changed clothes, was outside in the parking lot and on her own time.
Muony said Haines did not follow "procedures." The casino's website boasts of new management. Way to go Pond! Google search Lucky Bridge Casino and see how the Haines firing has buried the casino's attempt to have gamblers find it. Fire the manager for creating a public relations disaster.
NBC Right Now/KNDO/KNDU Tri-Cities, Yakima, WA |
Tags: domestic violence, Jessica Haines, Lucky Bridge Casino, Pond Muony, workplace bullying, wrongful termination
Posted in Broadcasts: Video, TV, radio, webinars, Employers Gone Wild: Doing Bad Things, Media About Bullying | No Archived Comments | Post A Comment () »
Monday, December 3rd, 2012
If exposed long enough to severe workplace bullying, two outcomes become likely. First, the target's health is jeopardized. Second, unremitting stress can cause loss of the ability to discern and make choices to get oneself to safety due to physiological changes in the brain. The second outcome can lead to suicide. One WBI 2012 study found that 29% of bullied targets considered suicide; 16% actually had a plan to execute.
Annette Prada worked 23 years for a New Mexico state agency, the Public Regulation Commission (PRC) in the Corporations bureau. Her daughter told The New Mexican reporter Staci Matlock that her mother had been dealing with "bullying and stress there for years." Andre Prada claimed the abuse was verbal, in e-mails and in the form of demotions.
Annette's daughter repeated the phrase we too often hear here at WBI, that her mother was "only two years away from retirement. She tried to stay strong." The family confirmed that Annette also had health problems.
Annette disappeared on Thursday Nov. 29. Police told her family that she was found dead.
Tags: Annette Prada, Johnny Montoya, Mercie Roybal, NM Public Regulations Commission, Patrick Lyons, Staci Matlock, Stacy Marie Starr-Garcia, suicide, workplace bullying
Posted in Media About Bullying, Print: News, Blogs, Magazines, WBI Education, WBI Surveys & Studies | 6 Archived Comments | Post A Comment () »
Thursday, November 8th, 2012
Laura Dunavent spoke to me about being a victim of workplace bullying in hopes of encouraging others like her to break their silence and join her campaign for a legal remedy to behavior still outside the reach of the law.
The response to the story exceeded her hopes and opened her eyes.
"Oh, my goodness," she said. "I knew I was not alone. But who knew it was that bad?"
Dozens of readers commented online, the great majority supporting Dunavent and many offering their own stories of workplace bullying. Another dozen contacted me with emotionally wrenching testimony that I shared with Dunavent.
Tags: Healthy Workplace Bill, workplace bullying
Posted in WBI in the News | No Archived Comments | Post A Comment () »