January 29th, 2014
Here's a bullying thug: GOP Congressman Grimm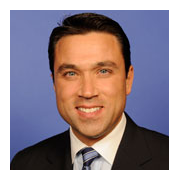 Last week, the FBI arrested Congressman Michael Grimm's (R-NY) fundraiser (and ex-girlfriend) Diana Durand on charges of illegally contributing more than $10,000 to Grimm's 2010 campaign through straw donors. And he's a known "tough guy," as an ex-Marine and FBI agent.
Last night he was interviewed by NY1-TV reporter Michael Scotto. After commenting about the State of the Union address, Scotto dared to start to ask Grimm about the above scandal, but didn't get the question out before Grimm declared it off limits.
Grimm walked out of camera range for seconds. Then he returned while the camera was still running to threaten Scotto. Here's the text of the exchange.
Grimm: "Let me be clear to you, you ever do that to me again I'll throw you off this f—–g balcony."

Scotto: "Why? I just wanted to ask you…"

[[cross talk]]

Grimm: "If you ever do that to me again…"

Scotto: "Why? Why? It's a valid question." [[cross talk]]

Grimm: "No, no, you're not man enough, you're not man enough. I'll break you in half. Like a boy."
When the twittersphere exploded with calling Seattle Seahawks Richard Sherman a thug after his post-game rant was televised, Sherman eloquently and accurately replied with the definition of thug that requires that criminality be a part.
Now comes Grimm whose threats of bodily harm might actually constitute a crime. To me, that justifies his branding as a thug.
Grimm's unapology "apology" statement:
I was extremely annoyed because I was doing NY1 a favor by rushing to do their interview first in lieu of several other requests. The reporter knew that I was in a hurry and was only there to comment on the State of the Union, but insisted on taking a disrespectful and cheap shot at the end of the interview because I did not have time to speak off-topic. I verbally took the reporter to task and told him off because I expect a certain level of professionalism and respect, especially when I go out of my way to do that reporter a favor. I doubt that I am the first member of Congress to tell off a reporter, and I am sure I won't be the last.
Proof that this "manning up" by threatening others is not a one-shot offense by Grimm, Peter Weber writing in The Week posted this:
But Grimm has been under investigation for two years, and Durand is merely the newest wrinkle. In August, Ofer Biton — a former top aide to Israeli Orthodox Rabbi Yoshiyahu Pinto — pleaded guilty to visa fraud; in early 2012, The New York Times reported that Biton and Grimm allegedly sought illegal campaign donations from Pinto followers, including large cash contributions and donations from undocumented immigrants.

Even with those allegations, Grimm's constituents re-elected him in 2012, 48 percent to 43 percent. He first won election in the GOP wave of 2010, unseating freshman Democrat Michael McMahon by about three points. But let's face it, campaign finance violations fall into the category of "boring but important," with an emphasis on boring. Threatening to murder a reporter with your bare hands? Not boring.

And that's not even the most colorful story in Grimm's recent past. (No, I'm not talking about this one.) In 2006, after leaving the FBI, he opened up a health food restaurant with an alleged mobster with ties to the Gambino crime family. And in 2011, Evan Ratliff wrote about FBI undercover operations in The New Yorker, including some eyebrow-raising allegations about Grimm from a New York City Police officer who was moonlighting as a bouncer. At the time, July 1999, Grimm was an FBI agent, apparently dating a married woman.

According to the NYPD officer, Gordon Williams, Grimm and the woman entered a nightclub in Queens, Caribbean Tropics, around midnight and ran into the woman's estranged husband. Williams broke up the ensuing altercation, but says Grimm and the husband returned at 2:30 a.m. for a standoff in the club's garage, with Grimm waving a gun around, screaming he was going to kill the guy, and saying: "I'm a fucking FBI agent, ain't nobody going to threaten me."
Grimm is the embodiment of our narcissistic political class, bolstered by his military and paramilitary (FBI) years.
Also, Grimm uses threats as a cover to distract others from pulling back the curtain to discover his dubious ethics.
UPDATE: This is what you get when you try to call his DC office.

Tags: bullying, FBI, Michael Scotto, NY1, rage, Rep Michael Grimm, threat, thug
This entry was posted on Wednesday, January 29th, 2014 at 10:26 am and is filed under Broadcasts: Video, TV, radio, webinars, Media About Bullying, Tutorials About Bullying, WBI Education. You can follow any responses to this entry through the RSS 2.0 feed. You can leave a response, or trackback from your own site.