February 11th, 2014
Join 'Today We Fight Back' against unwarranted surveillance
Join supporters of privacy and internet openness. See the 13 Principles on the Application of Human Rights to Communications Surveillance: including legality, necessity, proportionality, transparency and public oversight.
Call or e-mail your legislators easily from the campaign's website.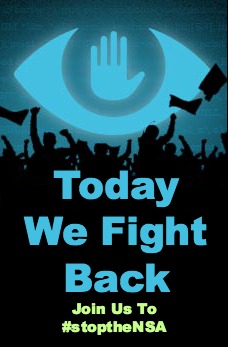 Tags: communications surveillance, NSA, surveillance state, The Day We Fight Back
This entry was posted on Tuesday, February 11th, 2014 at 1:16 pm and is filed under Commentary by G. Namie, The New America. You can follow any responses to this entry through the RSS 2.0 feed. You can leave a response, or trackback from your own site.