November 27th, 2015
Workplace Bullying University: next session January 2016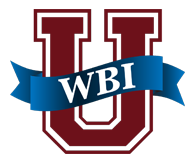 The nation's only comprehensive training in the phenomenon of workplace bullying designed for professionals — Workplace Bullying University®
An early registration discount is available until Friday Dec. 18 for the January 15-16-17 session in Boise, Idaho.
Call today to reserve your seat in the small group.
360-656-6630
Visit the WBI Workplace Bullying University website for program details. Taught personally by Dr. Gary Namie & Dr. Ruth Namie.
Designed for professionals in Healthcare, Mental Health, Counseling, Management, Higher Education, HR, Training, Consulting, and those in life & career transition.
Past graduates have said …
"Like that infernal whack-a-mole game in carnivals, bullies keep popping up in our organizations. Drs. Gary and Ruth Namie have blown the cover of off this game to show us exactly how bullying works, its devastating effects on employees and the negative impact it has to the bottom line. The Workplace Bullying Institute University program has given me the tools to protect our employees from bullying and to permanently disconnect the bully's power source. Definitely the most value-added program to organizational development I have attended in my 30-plus years in the business."-Greg H.
"I acquired a treasure trove of historical and current data on the subject, and detailed explanation of every term and dataset along with a substantial amount of supporting material for use in future presentations of my own. This is the first time in my 17 years as a professional that I attended training and walked away with a turn-key program. I highly recommend this program to any professional who wants to be on the leading edge of preventing, training, and correcting one of the leading detractors to workplace health and productivity."-D.I.G.
"I came away with an in-depth perspective that permeated my being. I received more information in 3 days than in the previous 2 years of research. Gary and Ruth Namie bring a perspective to organizational culture, leadership, and HR that can only be derived from personal experience coupled with scholarly research and study."-Richard H.
"This is more than a course, a class, or a training. It is truly an experience. I have been in HR for 20 years and I can tell you that attending WBU was one of the most fulfilling and gratifying experiences of my life. It even motivated me to seek my PhD and to write my dissertation on workplace bullying."-Nathalie D.
"This is the best training I have attended in my 22 years of being a union advocate." -Judy C.

Tags: education, Gary Namie, Ruth Namie, training, workplace bullying, Workplace Bullying Institute
This entry was posted on Friday, November 27th, 2015 at 12:49 pm and is filed under WBI Education, Workplace Bullying University. You can follow any responses to this entry through the RSS 2.0 feed. You can leave a response, or trackback from your own site.