September 25th, 2015
Next Workplace Bullying University dates set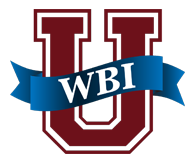 November 13-14-15
In Boise, Idaho
Workplace Bullying University® Training for Professionals
The only intensive, research-driven, comprehensive seminar in all aspects of the Workplace Bullying phenomenon in the world. Created in 2008 by the Drs. Namie, founders of the Workplace Bullying Institute. Three days of exceptional learning, an entirely unique experience.
For Leaders, Nurses, Physicians, Union advocates, Psychologists, Psychotherapists, Consultants, Trainers, HR
For a limited time, we offer an unprecedented tuition discount.
Read all the program details and testimonials at the Workplace Bullying University® website.

Tags: education, Gary Namie, Ruth Namie, seminar, training, Workplace Bullying University
This entry was posted on Friday, September 25th, 2015 at 7:18 am and is filed under Hear Ye! Hear Ye! 2, WBI Education, Workplace Bullying University. You can follow any responses to this entry through the RSS 2.0 feed. You can leave a response, or trackback from your own site.