May 17th, 2017
Sac Bee: State Worker's Bosses Ignored His Allergies. Now He's $3 Million Richer
State Worker's Bosses Ignored His Allergies. Now He's $3 Million Richer
By Adam Ashton, Sacramento Bee, May 17, 2017
A Caltrans employee in Nevada County who claimed his supervisors harassed him by ignoring his documented allergies to perfume and certain cleaning products will receive a $3 million payout from a lawsuit he filed against the state.
A Nevada County jury sided with John Barrie in a one-month trial that ended last week, upholding his claims that he experienced retaliation, that his employer failed to accommodate his disability and that he was subjected to a hostile work environment. He continues to work for Caltrans in a position that allows him to work from home.

His complaint stemmed from a series of events between 2010 and 2012 when supervisors repeatedly ignored directives to keep perfumes and chemicals like Windex and Comet away from Barrie, according to the lawsuit he filed in September 2013. As he filed internal complaints to Caltrans managers, his direct supervisors tried to punish him by moving him to different parts of his building for unclear reasons and attempting to make his workplace unappealing to him, the lawsuit says.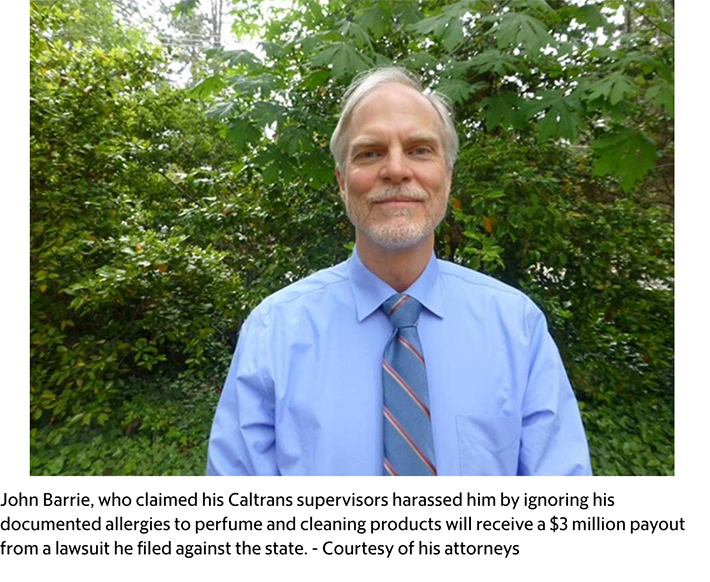 His supervisor at that time also allegedly called him an "idiot" and a "jerk." Other co-workers told him he was causing problems by filing complaints.
His attorney, Lawrance Bohm, said the case could have been resolved back then. Instead, he said, Barrie's managers continued to isolate him.
"I actually thought this would not end up being a case. It all seemed so obvious. Why are you doing this to this guy? He's a great employee. All you had to do was keep these chemicals out of the workplace and leave the guy alone," Bohm said
"And the reality is people just did not like him infringing on their personal right to wear perfume and have smelly objects in the workplace," Bohm said.
Liza Whitmore, a spokeswoman for the Caltrans district where Barrie works, said the department "has reviewed the decision and is weighing options for a possible appeal."
Barrie, 60, began working for Caltrans as a staff services analyst in 2005. He started experiencing trouble at work in 2010 when a new supervisor disregarded accommodations that Caltrans had been making for him, according to the legal complaint he filed in 2013.
From October 2010 until February 2011, he said in his lawsuit that he was exposed to chemicals a dozen times at work, mostly from cleaning products. The supervisor told him she didn't want to hear about his complaints, the lawsuit says.
In 2011, Barrie sought to restore his workplace accommodations by filing internal complaints to a regional office and later to an equal employment office. He filed medical paperwork in 2011 to document his allergies. A regional administrator affirmed his allergies that year, and wrote an order compelling workplace accommodations.
In early 2012, a surprise inspection validated his complaints, finding chemicals and scented products. A human resources manager's notes from that inspection showed that said Barrie's managers wanted to discipline him for contacting Caltrans' equal employment office, contending he had gone "outside the chain of command," according to Barrie's lawyer.
That year, Barrie's managers moved him to a cubicle in their office lobby and asked him to perform some reception duties. He viewed it as a demotion.
He also continued to notice perfume in his workspace. In one incident, he felt a lumbar pillow he kept at work had been soaked with perfume.
"To this day, (Barrie) finds his work space is often doused with perfume," the 2013 lawsuit reads. That was three years after he began complaining about perfume in his office.
As Barrie's lawsuit moved forward, Caltrans moved him again to an office in Marysville. He asked to work from home, which would spare him a commute from Nevada City. Caltrans denied that request until Barrie reported that a project at the Marysville office had disturbed asbestos fibers, according to his lawyer.
"Everybody knows his work is great," Bohm said. But co-workers thought "he was a lot of work because of all this drama. And part of that work was all of his complaints about his accommodation not being followed."
###
Note: Dr. Gary Namie provided expert witness testimony in this case.

Tags: ADA violation, bullying expert witness, California Department of Transportation, CalTrans, chemical sensitivity as disability, Gary Namie, John Barrie, Lawrance Bohm, refusal to accommodate disability
This entry was posted on Wednesday, May 17th, 2017 at 3:06 pm and is filed under Tutorials. You can follow any responses to this entry through the RSS 2.0 feed. You can leave a response, or trackback from your own site.