Archive for the 'HWB' Category
Wednesday, March 30th, 2016
On Jan. 1, 2015 California started mandating training in Abusive Conduct for supervisors (in employers with 50 or more workers). The definition was lifted verbatim from the WBI Healthy Workplace Bill (HWB) authored by Suffolk University Law Professor David Yamada.
WBI and its national network of volunteer State Coordinators has been lobbying for the complete HWB since 2001. Timid, business lobby-yoked state lawmakers are afraid to take a stand for workers who suffer health harm as the result of workplace bullying. Of course, the HWB does not include the phrase "workplace bullying." The term used is "abusive conduct."
California and Utah have mandated training. Utah's 2015 legislation is superior to California's, though it applies only to state agency employers. Utah requires that employers describe how they will provide protections to employees. California, at first, simply mandated the training. And the topic of abusive conduct, which is still legal until the full HWB is enacted into law in California, is to be added to mandated training on the employer's commitment to the prevention and resolution of illegal sexual harassment. Oops. This is confusing to nearly everyone. Many HR types hardly understand the power of having protected group status membership or not.
We worry that employees will conflate bullying (abusive conduct) with illegal forms of harassment, including exposure to a hostile work environment. They will falsely believe that abusive conduct is currently illegal because of the pairing with illegal forms of discrimination that violate state and federal laws.
Now comes an April 1 amendment to California Fair Employment and Housing Act Regulations. The section below shows the intended clarification regarding the content of the Abusive Conduct related to Government Code section 12950.1(g)(2).
The good news: the deleterious impact on the targets of abusive conduct must be discussed. Naturally, the negatives for the employer are to be included.
The bad news: the regulation lifts most of our HWB definition of abusive conduct but omits the critical element describing that personal health harm can be manifested. And time devoted to abusive conduct training should be "meaningful." Still vague.
Read the amended, clarifying regulation for yourself.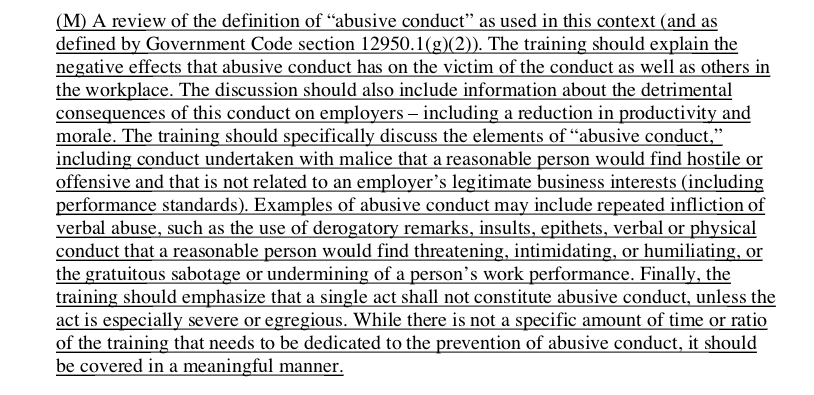 Tags: abusive, workplace bullying
Posted in HWB | No Archived Comments | Post A Comment () »
Wednesday, April 1st, 2015
Utah HB 216, sponsored by Rep. Keven Stratton, sailed through the House and Senate and was signed into law by Gov. Gary Herbert. The training mandate law drew its definition of abusive conduct from the WBI Healthy Workplace Bill:
"Abusive conduct means verbal, nonverbal, or physical conduct of an employee to another employee that, based on its severity, nature, and frequency of occurrence, a reasonable person would determine is intended to cause intimidation, humiliation, or unwarranted distress or results in substantial physical or psychological harm as a result of intimidation, humiliation, or unwarranted distress; or exploits an employee's known physical or psychological disability."
The law requires state agencies to train supervisors and employees about how to prevent abusive conduct. Biannual training must include the definition of abusive conduct, its ramifications, resources available and the employer's grievance process. In addition, professional development training will also cover ethical conduct and leadership practices based on principles of integrity. The law takes effect July 1, 2015.
Trace the bill's route through the legislative process. WBI thanks the sponsoring Representative, Sen. Ted Weiler who ushered the bill through the Senate, the Governor, and State Coordinator Denise Halverson and citizen lobbyists who participated in committee hearings.
Utah is the second state to pass a training-only law to begin to address abusive conduct in the workplace. Utah's bill is superior to Calfornia's training-only bill of 2014.
Here's the current legislative HWB map as of 4/1/15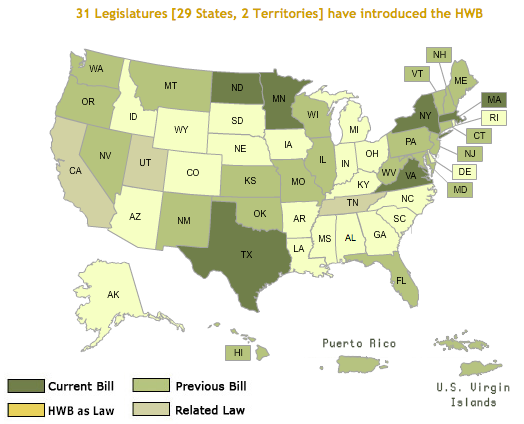 Tags: abusive conduct, bill, Denise Halverson, Healthy Workplace Bill, Keven Stratton, law, legislation, Utah, workplace bullying
Posted in HWB | No Archived Comments | Post A Comment () »
Wednesday, August 20th, 2014
Understanding Workplace-Bullying Legislation
By Randi Melnick
American Bar Association, August 13, 2014
Labor-and-employment attorneys hear countless tales of abuse suffered by employees in the workplace. Employees subjected to mean-spirited or degrading treatment can often feel helpless, or even if they are proactive and make a complaint to human resources, they may simply be told to toughen up, or find a new job. With the realities of today's increasingly stressful and competitive workplace, it is worth a moment of reflection to consider what level of civility should be expected in the workplace, and what the consequences should be, if any, for those who break such codes of conduct.
Workplaces can have tricky cultural norms, and some people will be more skilled than others at communicating. However, there is a difference between a manager or coworker who lacks tact and one who goes out of his or her way to purposefully target an individual. When one is verbally abused or intimidated, when work is sabotaged, or when humiliation is used as a tactic, that is bullying. And it is not always illegal in the United States.

Tags: abusive conduct, affirmative defenses, bullying defined, bullying law, Healthy Workplace Bill, lawyers, Randi Melnick, workplace bullying
Posted in HWB | No Archived Comments | Post A Comment () »