Archive for the 'Books' Category
Wednesday, December 13th, 2017
An incomparable amount of public attention has been fixed on sexual harassment in the latter half of 2017. It's a tsunami, a virtual revolution.
We are finishing a short book, a primer, a white paper on lessons and opportunities for bullied targets to apply from the new movement and changing employer landscape.
The publication will be available for sale at a nominal price in early January 2018.
Check back to get your copy.

Tags: #MeToo, abusive conduct, advice for targets, bullied targets, Gary Namie, MeToo Revolution, Ruth Namie, sexul harassment, workplace bullying
Posted in Books, Hear Ye! Hear Ye! 2, Media About Bullying, Products & Services, Tutorials About Bullying, WBI Education | No Archived Comments | Post A Comment () »
Friday, December 6th, 2013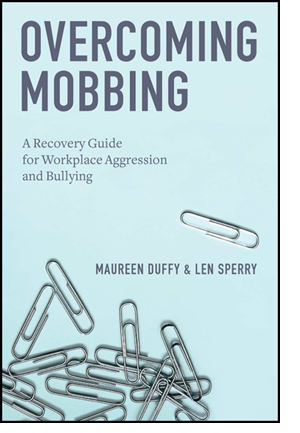 Overcoming Mobbing
A Recovery Guide for
Workplace Aggression
and Bullying
By Maureen Duffy & Len Sperry
A powerful, practical book that accurately reflects the entire bullying experience. These two clinicians, Duffy a clinical psychologist and Sperry a psychiatrist, demonstrate a deep understanding of bullied individuals and what it takes to heal them so life can be lived after bullying.The subtitle says it all — Recovery.
From the Foreword
Practical is the adjective to best describe this book. Though it is rich in citations and relies on science, applicability to real lives, real families and real organizations jumps off the pages. It tackles an admittedly complex subject with an accessible writing style that showcases illustrations and summary lists and tables. Points are driven home artfully with compassion for victims present throughout …
The blunt and truthful authors then describe how organizations create "shadow files" and do whatever it takes for administrators hide behind the myth that it is a "good and fair place to work." Hypocritically, those employers discard good employees as though they are dispensable resources using the tactics of mobbing fueled by the hurtful power of social exclusion, ostracism …
The authors do not leave the reader submerged in the dark side of the world of work. Ultimately, the book is about hope and inspiration. So, the seventh chapter signals the shift toward a discussion of recovery from mobbing. The valuable advice flows steadily and includes gems such as "don't make fighting the organization that mobbed you your next career." Their wisdom extends to selecting psychotherapists who practice "trauma-informed mental health care" by taking into account the organizational, cultural and power dynamics factors that instigated the mobbing experience rather than a focus on the victim's vulnerability …
The authors' defiantly critique the "bad apple," personality-dominated explanation for mobbing. They give the reader an introduction to work environments and their working parts. Personalities of perpetrators comprise only a small part …
Hooray for Duffy and Sperry's clarity in pronouncing that banishing bullies does not end the systemic problem. As the authors write "it takes an organization" to create it, and that's what it takes to stop it. ###
There is wisdom for organizational reps for those smart enough to apply the lessons contained inside. However, this book is primarily for bullied targets and the families who love them.
About the authors
Maureen Duffy, PhD, is a practicing family therapist and consultant specializing in workplace and school mobbing and bullying issues and an Affiliate with the Qualitative Research Graduate Program at Nova Southeastern University She provides trauma-informed psychotherapy to targets of mobbing and bullying and their families and consultation and training on workplace abuse to stakeholders including human resource managers and attorneys. She is the coauthor of Mobbing: Causes, Consequences, and Solutions.
Len Sperry, MD, PhD, is Professor of Mental Health Counseling at Florida Atlantic University and Clinical Professor of Psychiatry at the Medical College of Wisconsin. He has provided psychotherapy to mobbing victims and consulted with corporations on mobbing and bullying. He is the coauthor of Mobbing: Causes, Consequences, and Solutions.
Buy this book (along with the Lutgen-Sandvik book and, if they don't own it yet, our book, The Bully At Work) for those who need it most this Christmas season. They will be forever grateful.

Tags: bullied targets, Len Sperry, Maureen Duffy, Mobbing, organizational factors, self help, strategies, therapy, trauma, workplace bullying
Posted in Books, Bullying-Related Research, Good News, Hear Ye! Hear Ye! 2, Media About Bullying, Social/Mgmt/Epid Sciences, Tutorials About Bullying | 1 Archived Comment | Post A Comment () »
Thursday, December 5th, 2013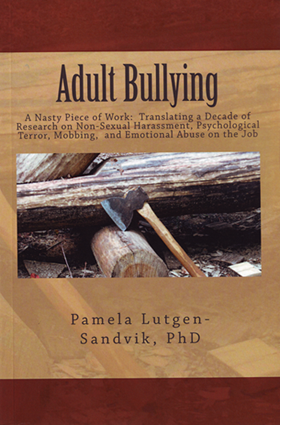 Adult Bullying
A Nasty Piece of Work:
Translating a Decade of Research
on Non-Sexual Harassment,
Psychological Terror, Mobbing,
and Emotional Abuse on the Job
By Pamela Lutgen-Sandvik, Ph.D.
North Dakota State University
Dr. Lutgen-Sandvik is arguably one of the most prolific American academic researchers on the topic of workplace bullying. She certainly is the best informed among academics, with few exceptions.
Here's why.
Pam is real. From her bio, prior to earning her doctorate in organizational communication at Arizona State she worked as a social service organization administrator, first in the field of women's advocacy and then in outpatient substance abuse treatment. Advocacy in the human services field is a rare background for academics.
Pam's practical, kick 'em in the shins approach to the esoteric world of academic research is revealed in the titles of some of her works — "Nightmares, demons & slaves" (can you hear Cher?), "Take this job and shove …" "Burned by bullying in America." And her style of collecting research data was to talk with bullied targets.
This book is a compilation of her work. It is not written by an egghead. The subtitle refers to her "translating" research into plainspeak. That's what she is profoundly good at doing well. Thus, it is ultimately readable.
The information found between the covers is useful if you are fighting a grievance, filing a complaint, embroiled in a lawsuit, or facing blank stares from HR.
The book covers many aspects of the bullying phenomenon with chapters on each — the prevalence, the stages of bullying, explaining the pain, the trauma and stigma of being bullied, how organizations become toxic, why women bully women, behavior of witnesses, and reversing the effects of bullying in individuals' lives.
Pam dedicates the book to all those bullied individuals who bravely participated in her research.
In 2013, she moved to North Dakota State (NDSU) in 2013 to join the Department of Communication in Fargo. She continues to research, publish, and teach in the area of organizational communication at NDSU and serves as the Director of the NDSU Communication Research & Training Center. Dr. Lutgen-Sandvik is married, has two children, and lives in Moorhead, MN.
Also, in 2013, Pam attended the WBI Workplace Bullying University® training for professionals in Bellingham, Washington to which she contributed mightily.
Pam declares that
All proceeds from book sales support scientific research that seeks to reduce workplace bullying, improve workplace communications and build more respectful workplace climates.
Where else can approx. $11 accomplish all that? Buy this book for yourself and as gifts for loved ones who have been bullied at work. While shopping, also buy Overcoming Mobbing by Duffy & Sperry new this holiday season 2013, and our book, The Bully At Work. They will be forever grateful.
With Pam, our admiration is personal. She came to Bellingham to meet us Namies in 2003 before her graduate studies were finished. She came to glean all she could from Dr. Ruth. So she is more than an intellectual colleague, she is a precious friend. We bought the book. You should, too.

Tags: bullied targets, emotional abuse, Len Sperry, Mobbing, non-sexual harassment, Pamela Lutgen-Sandvik, psychological terror, research, self help, workplace bullying, workplace bullying book
Posted in Books, Bullying-Related Research, Good News, Hear Ye! Hear Ye! 2, Media About Bullying, Social/Mgmt/Epid Sciences | No Archived Comments | Post A Comment () »
Thursday, September 12th, 2013
WBI colleague Dr. Matt Spencer has written his first book. He's applied his 32 years experience as a Superintendent, Associate Superintendent, teacher and coach in public schools to expose the problem of School Boards run amok. Here's a description.
Exploiting Children: School Board Members Who Cross the Line
By Matthew Spencer, Ed.D.
Published Sept. 22, 2013 by Rowman & Littlefeld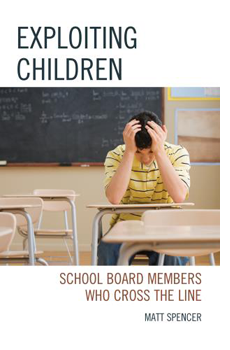 From the Foreword
Hold onto your hats, dear reader. This book is not for the faint of heart. Defenders of the status quo will be rattled. Similarly offended will be the apologists for scheming citizens who occupy seats on local school boards merely to have a pulpit for propagating their mix of anti-public school ideology and a naked desire for personal aggrandizement.
This book comes from the heart of a man with an indefatigable commitment to educating children. He has worked in districts that became the hell he describes in these pages. Authenticity and integrity leap off of every page.
Description
America's citizens want children to receive a high-quality education in clean, orderly and safe schools staffed with quality teachers, support staff and courageous educational leaders. In many communities, such a school experience is something the students will never have.
Why? One or more members of the governing board desire to use their elected position for personal gain. They are Exploiters. Some desire to exploit a little. Others crave total domination of the school system and become the petty tyrants of education.

Tags: board of education, exploiting children, Gary Namie, Matt Spencer, public schools, school boards, workplace bullying
Posted in Books, Events & Appearances, Media About Bullying | No Archived Comments | Post A Comment () »