Archive for the 'Tutorials' Category
Tuesday, April 14th, 2020
Conversations With A Coast Guard Whistleblower
by Kelly Richmond Pope, Forbes, April 13, 2020
Meet Dr. Kimberly Young-McLear
1. When did you know that you had to blow the whistle?
After enduring workplace bullying and harassment for two years with no relief informally from the command, in fact just the opposite, I ultimately decided to elevate my complaints to have a formal investigation into my allegations. Unfortunately, the Coast Guard assigned a biased and an unqualified investigator who had an existing working relationship with my perpetrator. The command, led by two Admirals, then subjected me to another humiliating investigation, violating my privacy while the harassment escalated, where they again assigned another biased and unqualified investigator who had a working relationship with the perpetrator. The results of the investigation delivered to me by the command, including an Admiral was extremely intimidating and they told me that the results were "unsubstantiated." As the psychological toll on me mounted and relationships turned against me for coming forward, I experienced suicide ideation at my lowest point after the two years of abuse, not feeling believed, and socially isolated. I knew that if I was experiencing these there were many others that were also. To make an analogy, there would be enough people who the reporting systems and chain of command failed to fill up an aircraft carrier. I made an intentional decision that if I was strong enough to speak up again then I would. I knew I had to blow the whistle when I realized that the issues were pervasive and systemic and that powerful individuals (Two Admirals) in the Coast Guard were intentionally abusing their power to sweep allegations under the rug and protect bullies. I knew it was our leadership that created toxic culture and that the toxic culture would continue to create more leaders emulating those behaviors. I spoke up to do my part to break the cycle. It's a culture that impacts thousands of people in the Coast Guard, and many serve in silence, many suffer a severe psychological toll, or they are otherwise pushed out of the service and the cycle continues.
2. Tell me about your job/responsibilities?
I am a cybersecurity professional and engineer in the Coast Guard. I am an active duty Coast Guard service member, and am currently detailed to the Dept of Homeland Security's Cybersecurity and Infrastructure Security Agency (CISA). CISA is responsible for protecting the Nation's critical infrastructure from physical and cyber threats.
3. How did your upbringing impact your decision to blow the whistle?
I was raised by two immigrant parents from Trinidad and Tobago. They both served almost 30 years each in the US Air Force. My parents taught me about ethics, compassion, and integrity. In my youth, I spent a lot of time in libraries learning about civil rights and social movements. They taught me to be observant and to intervene. Growing up around military bases I would interact with veterans from Vietnam, many were Black men, and I began to sense and understand that society seemed to discard older generations who have served and sacrificed. I internalized a sense of compassion and desire to want to pursue public service in part to honor their sacrifices as with the sacrifices of civil rights activists all the way to the atrocities that my ancestors endured from the Coasts of West Africa. This was reinforced when I studied at Florida A& M University, where I learned more about systemic racism. When I decided to blow the whistle after two years as a professor at the Coast Guard Academy, I reached a point when I decided "no more" not just for myself but for those whose voices and stories will never be known but also for our future generations who deserve better.
4. Who was most proud of you standing up and who was more disappointed in you standing up?
My family, other survivors, and ethical and compassionate colleagues and my students were the most proud. After I spoke up, it was revealed that 7 Admirals, 2 SES, several Captains, the legal staffs, and others despite having direct knowledge of my allegations of bullying, harassment, and discrimination, used their power to protect those who harmed me. The senior leadership of the Coast Guard continues to marginalize and silence me to this day. The Commandant of the Coast Guard, Admiral Karl Schultz, declined to provide me a formal written apology, meet with me to discuss ways in which our service can improve, and declined to hold anybody accountable for violating our core values, policies, and the Military Whistleblower Protection Act. I can only surmise that his lack of public appearance at the Congressional Hearing on Dec 11, 2019 and the above declinations, that he is the most disappointed that I stood up for a better Coast Guard and better military.

Tags: abusive work environments, Admiral Karl Schultz, Coast Guard, Congressman Elijah Cummings, Department of Homeland Security, health harm, Kimberly Young-McLear, toxic environments, whistleblower, workplace bullying
Posted in Tutorials | No Archived Comments | Post A Comment () »
Thursday, March 26th, 2020
At the time of this writing, in the U.S. we are several weeks into the COVID-19 crisis. The infected Grand Princess cruise ship passengers disembarked in Oakland, CA and were taken to Kaiser hospital there for treatment.
Kaiser Permanente is California's largest HMO. It is a tripartite system of "socialized medicine." It owns its hospitals and all ancillary services. It owns its own physician group that serves Kaiser patients exclusively. And it is an insurance company that serves only one network – Kaiser. It is known for its cost-cutting initiatives.
Anyone aware of ongoing circumstances knows well the tale of protective gear shortages in the U.S.
N95 Respirators, also in short supply, are protective devices designed to achieve a very close facial fit and very efficient filtration of airborne particles. According to the FDA, the 'N95' designation means that the respirator blocks at least 95 percent of very small (0.3 micron) test particles. If properly fitted, the filtration capabilities of N95 respirators exceed those of face masks.
The Trump Administration, led by an unscientific narcissist, in light of the shortages, has had the Center for Disease Control (the CDC) weaken its directives regarding difficult-to-find protective equipment for health care providers, including nurses. That is, the CDC issued instructions on how to reuse eyewear and masks, intended for single use, then disposal.
Reuse of masks, not N95 respirators, involves washing and sanitizing. With an ample supply, reuse would be considered unsanitary. These half-measures put the front-line providers at risk. However, during this crisis and bungled production, stockpiling, hoarding and failure to distribute, the industry has had to rely on inferior measures and the well intentioned production of masks by volunteers and clothing designers (kudos to Christian Siriano).
According to reporting by Akela Lacy in The Intercept, Kaiser, the employer adopted the CDC instruction to reuse protective masks dictated by shortages while ignoring the science of protection. Both patients and providers face greater danger of transmission with this protocol.
Nurses lucky enough to own their own N95 respirators are better able to protect themselves while treating patients with the virus. They are able to mitigate some of the risk themselves.
Inexplicably, Kaiser threatened to terminate nurses not following the weak and less safe CDC mask reuse policy if they dared to wear their superior personal N95 respirators! WTF! Further Kaiser only has gowns made with a permeable cloth that does not protect as traditional gowns do.
How ridiculous is the decision to terminate healthy nurses? Nurses will soon to be in short supply as they acquire the virus themselves and have to take time away from work. So, the mighty corporation decides to fire them for "insubordination."
Kaiser deserves national shame along with the feckless federal government and its inane, responsibility-dodging, "response" to this life-threatening crisis.
Kaiser nurses who are members of the California Nurses Association and National Nurses United are protesting. Here is their protest flyer.

Tags: abusive work, California Nurses Association, coronavirus protections, COVID-19, Kaiser Permanente, N95 respirators, NNU, nurse safety, nurses, punishing nurses, unions and bullying
Posted in Tutorials | No Archived Comments | Post A Comment () »
Monday, November 26th, 2018
From Reuters news service
Suicide Rate Rising Among U.S. Workers
By Lisa Rapaport
(Reuters Health) – Suicide rates are rising among U.S. workers, and the risk may depend partly on the types of jobs people do, government researchers suggest.
From 2000 to 2016, the U.S. suicide rate among adults ages 16 to 64 rose 34 percent, from 12.9 deaths for every 100,000 people in the population to 17.3 per 100,000, according to the study by the Centers for Disease Control and Prevention (CDC).
The highest suicide rate among men was for workers in construction and mining jobs, with 43.6 deaths for every 100,000 workers in 2012 and 53.2 deaths per 100,000 in 2015, the analysis found.
The highest suicide rate among women was for workers in arts, design, entertainment, sports and media, with 11.7 fatalities for every 100,000 workers in 2012 and 15.6 deaths per 100,000 in 2015.
"Since most adults spend a great deal of their time at work, the workplace is an important and underutilized venue for suicide prevention," said study co-author Deborah Stone, a behavioral scientist at the CDC in Atlanta.
While the study wasn't designed to prove whether or how specific types of jobs or workplace characteristics might contribute to the risk of suicide, lack of control over employment and a lack of job security can both be stressors that make suicide more likely, Stone said by email.
Many factors outside the workplace can also influence the risk of suicide, including relationship problems, substance use, physical or mental health, finances or legal problems, Stone added.
And ready access to guns and other weapons have a big impact on whether suicidal thoughts turn into actions with fatal outcomes, Stone said.
Guns may explain the higher suicide rates among men than among women, said Gary Namie, director of the Workplace Bullying Institute in Clarkston, Washington.
"In America, with ready access to guns, men make the choice of death by gun, but it is the less likely choice by females," Namie, who wasn't involved in the study, said by email. "Hence, it is possible that in moments of despair that might pass if friends or family could intervene, with a gun handy, the decision is too quickly implemented."
(more…)

Tags: abusive workplace conduct, bullying causes suicide, CDC, Gary Namie, suicide, workplace bullying, Workplace Bullying Institute
Posted in Tutorials | No Archived Comments | Post A Comment () »
Wednesday, November 14th, 2018
WBI in New Zealand 2018, a diary
The trip began with an Oct 22 appearance on NZ TV1 (Auckland) Breakfast show promoting the Oct 24-25 CultureShift Conference in Wellington.
---
Then came the 2-day conference hosted by CultureSafe NZ, the nation's only anti-bullying organization founded by Allan Halse.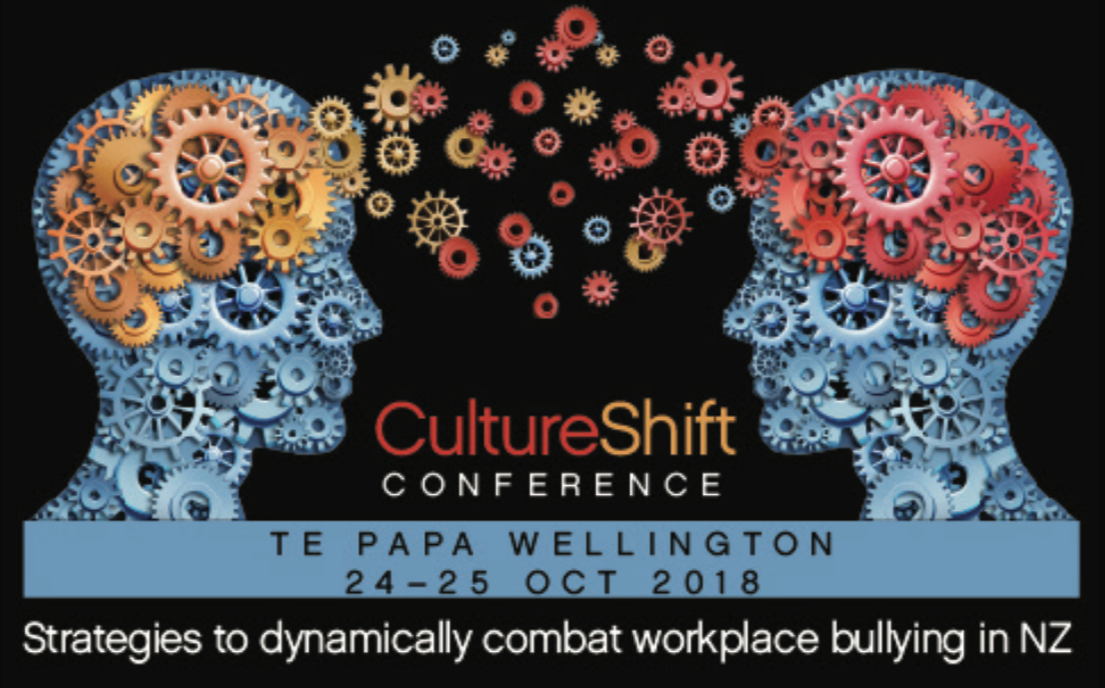 The event began with an indigenous people's Maori welcome.
There were two MeToo-related presentations which bracketed the conference. An early presenter, Olivia Wensley, is an activist lawyer whose publicly chronicled sexual harassment gained national notoriety. Her fight is with the Law Society that remains in denial about its professional members' bad behavior. The final speaker was Marni Stevenson, a business consultant who endured sexual assault in her workplace. Her presentation was her first MeToo revelation. Remarkably, her manager's initial response to the assault was to question her suitability for her job!
Bernadette Soares, a highly educated Indian, moved to NZ hoping for positive change only to face discrimination. Her tale was an inspiring story of entrepreneurship and how to move beyond mistreatment in the workplace.
There were two union presenters — Rachel Mackintosh and Brad Clark. Rachel spoke of on-the-ground tales successes against resistant public sector employers. Brad was a high-ranking officer of PSA, the largest union in NZ. He was disconnected from bullied members while claiming to have all the expertise on the topic the union needs. He spoke like a politician. A woman in the audience, a PSA member, spoke of the ignorance about bullying by union reps in the field.
Australian book author Jaq James spoke about the corruption within Aussie government agencies that dictates how they abuse workers further after complaining about being bullied. In particular, employers there use psychiatrists who consistently abuse the IME process and mis-diagnose bullied workers to absolve employers of responsibility for harming those workers.
Clinical psychologist Dr. Prudence Fisher, who understands bullying and regularly evaluates bullied workers in NZ in a way very differently than the Australians, chose one of her cases to illustrate the vastly different worldviews held by a bully and her target. Fisher dissected the divergent early family experiences and expectations about workplaces brought to the situation by the bully and target. She shed light on approaches to help both players find resolution.
Shaun Robinson, Director of the NZ national Mental Health Foundation, addressed the spate of suicides, representing the highest ever annual total. He linked suicide to bullying and primarily to the nation's high rate of domestic violence and sexual assault. Most important, he specified aspects of New Zealand's aggression-plagued culture. He also participated in a panel Q&A during which rugby as national sport, and thus central to NZ's national character, was discussed. Remarkably, according to Robinson, celebrity players from the national rugby team, All Blacks, appear in promotional advertisements decrying domestic violence and aggression.
There were three representatives from the national government. The Minister of Justice (from the majority Labour Party) Andrew Little opened the conference, lending endorsement from the Prime Minister. In place of traditional platitudes, Little recalled highlights of his career as union lawyer and fighting for social justice. Shortly after Little spoke, Nicole Rosie, Chief Executive, WorkSafe New Zealand took to the podium. Her agency is only 3.5 years old, founded in the aftermath of a coal mining disaster. She made two remarkable assertions — (1) that her agency does not focus on safety for individuals but cares most about systems used by employers, and (2) bullying is not part WorkSafe's mandate. She identified that cardiovascular diseases represent 20% of workplace deaths, but she did not feel compelled to explore the causal link with bullying. She was not fondly received by the audience. Her approach — deflection of responsibility to see workplace bullying as a workplace health hazard — was obvious and resented by the conference attendees.
By far, the most popular government representative was MP Scott Simpson, Spokesperson for Workplace Relations and Safety (for the opposition National Party). He outlined how to use the power of the opposition party to advance the anti-bullying cause in NZ. He dared the activists, led by CultureSafe NZ, with whom he regularly meets, to force the National Party to include workplace bullying on the party platform as a step toward national legislation in the future. He invited everyone to schedule meetings with all politicians.
There were two speakers from CultureSafe NZ, the conference host organization. Allan Halse, CultureSafe Director, was master of ceremonies for the conference. Dr. Joanna Bishop provided details of bullying incidents that actually occur. Her experience derives from a hundred cases being considered for ERA hearings. Iriaka Isaacs, a union organizer and CultureSafe volunteer educator colorfully described the stages of targethood through which nearly all bullied victims pass. Especially poignant was the plummet from a rosy "Honeymoon Period" after initial hire to the "Bottom of the Cliff," an unremitting state of despair.
Dr. Gary Namie spoke about what NZ should avoid based on lessons learned in the US. Download the presentation here.

---
Visiting Time
---
Then learning time … Oct 31 – Nov 2
Graduates …
The Trio … Gary & Ruth Namie, WBI and Allan Halse, CultureSafe NZ
---
Dr. Suzanne Henwood, a participant in University, produced a short video … Visit her website The Healthy Workplace
First Aid for Targets
---
Also, while at University, the New Zealand Herald interviewed me and published this report.
---
Then home …

Tags: abusive workplace conduct, Allan Halse, CultureSafe NZ, Employment Relations Authority, ERA, Gary Namie, health-harming mistreatment, New Zealand, Ruth Namie, TV1, Workplace Bullying Institute, Workplace Bullying University, WorkSafe
Posted in Tutorials | No Archived Comments | Post A Comment () »
Tuesday, July 31st, 2018
The author of this guest blog, Wayne Turmel, is co-author of the new book, The Long-Distance Leader: Rules for Remarkable Remote Leadership. We know Wayne from appearances on his podcasts The Cranky Middle Manager when he was kind enough to showcase our early work at WBI.

"As the authors point out, the evolution of remote work is unlikely to revert. Leadership training, if any is even given these days, has to take into account the remote workers paradigm. This book fills that void. Leadership of people unseen can be a cold, easily aggressive endeavor. Bullying likely accompanies situations where in-person communication cues are absent. Eikenberry and Turmel rightly prioritize the role of people skills which is often minimized as "soft skills." In remote leadership, the key is to achieve outcomes through others by overcoming barriers posed by technology without settling for mastery of those tools alone. The skills are not natural. For example, the authors implore leaders to forego a need to control and personal preferences in favor of an orientation toward the team, tailoring communications to maximize receptivity by them. They must be deliberately learned. The clear instructions in The Long Distance Leader provide the essential blueprint for success for leaders and teams. Bullying is preventable by skilled remote leaders.
Key features of the book I admire: (1) the proper balance of technology tools and caring for people, (2) calling for leaders to shelve their personal style in favor of tailoring communication with the team driven by team needs, (3) the call for leaders to unselfishly abandon their need to control others (at the heart of workplace bullying), and (4) that leadership is an earned position of trust rather than a position on an org chart."
Gary Namie, PhD
###
Bullying on Virtual Teams
by Wayne Turmel
Usually, when people think of workplace bullies, they think of those with whom they share a workplace. Physical intimidation and threats come immediately to mind. Working from home often sounds like a tempting way to avoid such situations. But as we know from far too many examples, cyber-bullying is common. Just because you don't share a cube-farm or a shop floor doesn't mean you can't be a victim of a workplace bully.

To be sure, working remotely and being connected electronically means that the ways in which negative interactions happen are different. Some of the most common bad behavior on remote or virtual teams include:

Exclusion – not inviting people to certain conference calls or meetings, or including them on vital information such as group emails and the like.

Withholding critical information. This can be as innocent as a simple "out of sight out of mind" example, or can be the first step to actively sabotaging someone's work or reputation.

Gossip and lying are common methods of controlling other people and cutting them off from support or aid.

Active hostility. This can take the form of belittling people on virtual meetings and conference calls, shutting down their contributions in front of others. It can also mean sending threatening texts or Instant messages.

The same ability to write horrible things without having to be in physical proximity to the victim that enables people to cyber-bullies and trolls free reign apply at work. When you don't have to look the victim in the eye, and can maintain anonymity, it's more likely such behavior will occur.

A 2005 study at DePaul University by Alice Stuhlmacher revealed that when people didn't know each other well but worked in a virtual environment (they were a name on an email distribution list or a disembodied voice on a conference call) there was increase in negative behaviors. These included lying, withholding information, escalating threats and social exclusion.

So what is an effective Long-Distance Leader supposed to do? Our role is to create a safe, productive workplace for every member of the team. The challenge when we aren't in the same physical location is recognizing the signs that such behavior is taking place, and facilitating steps to halt it. The leader needs to assess their team and identify bullying behavior, address the behavior and restore trust in the team.

In many ways, working remotely allows you to spot the most obvious examples of harassment. Abusive or inappropriate criticism on conference calls, team meetings and email are often obvious and jump out at us. The challenge for many of us is that we want to avoid conflict (after all, the bully is probably not a pleasant person to confront) and it is far easier to avoid direct face to face discussion and settle for weak, ineffective corrective measures. How is that strongly worded email working for you?

Whether we notice the harassing behavior ourselves, or it's brought to our attention by the victim or others, it's incumbent on leaders to investigate and then address such behavior directly. Failure to do so can poison the entire team dynamic.

When trust is broken on a team (virtual or co-located) it can be difficult to reestablish. This is true of trust between employees, but also between the victim of the bullying and their manager, who they looked to for protection that wasn't there. In The Long-Distance Leader: Rules for Remarkable Remote Leadership, we have a 3-point trust model that may help.
Trust is established when three factors are all true: there's proof that everyone is aligned around purpose and intent, there's proof that each person is competent, and proof that they are motivated positively. If any of these are out of alignment trust suffers.

The challenge on remote teams is that people may not have visibility to each other's work. For example, if someone is quiet on conference calls, or not very good at articulating their ideas, it's easy to dismiss the quality of their work. We may not give them credit for the quality of work they deserve. As a leader are you making it clear that they do good work and have your support? Are you sharing those thoughts with the team?

As effective leaders who want to create a non-threatening environment, we need to take the time to listen for signs of trouble, not ignore them when they arise, and actively help the team gain the positive input about their co-workers that eliminate many of the seeds of bullying. Often the bully is the most vocal and outwardly social person, while the victim is seldom heard. A manager who is rushed or distracted may not pick up on the distress signals until it is too late.

When the actions of team members rise to actionable levels, we can't let distance get in the way. We must be proactive in addressing both the behavior itself and the measurable actions to halt it.
Wayne Turmel is the co-founder of The Remote Leadership Institute and the author of many books, including ATD's 10 Steps to Successful Virtual Presentations. Wayne and Kevin Eikenberry have written the authoritative guide to remote leadership, The Long Distance Leader: Rules for Remarkable Remote Leadership.


Tags: bullying and virtual teams, Kevin Eikenberry, remote leadership, remote teams, The Long Distance Leader: Rules for Remarkable Remote Leadership, virtual teams, Wayne Trumel, workplace bullying
Posted in Tutorials | No Archived Comments | Post A Comment () »
Saturday, May 19th, 2018
Shoemaker Nike landed in the news for a good reason. CEO Mark Parker suddenly started listening to employees. The Board heard from departing female executives that Nike had a toxic work environment, at least for women. There was an internal anonymous survey about misconduct. It listened to other women acting as an internal #MeToo task force who called out the corporation for years of treating sexual harassment and coercion complaints with indifference. They outed their own version of Harvey Weinstein, Trevor Edwards, a man being groomed to succeed Parker. He was branded an undesirable sexual predator like so many other high-profile men. Despite having been shamed into expulsion, Nike gave Edwards a soft economic landing — $525,000 payout and almost $9 million worth of stock.
Edwards was allegedly responsible for "behavior occurring within our organization that do not reflect our core values of inclusivity, respect and empowerment," Parker wrote to employees. He saluted the "strong and courageous employees" who had come forward. The reporting attached below found that Nike has an anti-bullying policy that addresses misconduct in addition to legally mandated protections for special status group members. Hence, the negativity associated with disrespect.
Following the breaking news about the ejection of Edwards, a rarity in American business, Nike announced the termination of five others — including one woman executive. To WBI this meant that the MeToo complainants had reached beyond the narrow bounds of illegal sexual harassment. The primarily women complainants had had it with abusive practices by more people than Edwards, including the woman, Gina. By firing a woman on the advice of women employees, same gender abuse must have been practiced. That's workplace bullying.
We hope for two outcomes: (1) that the Nike awakening to the much more prevalent and damaging practice of generalized workplace abuse in addition to sexual harassment is real and sustainable, and (2) that American employers see the challenge posed by early adopter Nike and start to replicate the corrections in their own C-suites.
Purging high-level bullies will never likely be a fad, but it is certainly time that major corporations (and stagnant government agencies at all levels) discover bullying and choose to eradicate it for the psychological safety of the vast majority of its workers. Stop protecting and defending abusers.
Could this be an American employer awakening? We wait to see.
###
The Bloomberg News and France 24 reports about Nike …
Bloomberg
Companies Have an Aha! Moment: Bullies Don't Make the Best Managers
by Matthew Townsend and Esmé E Deprez, Bloomberg, May 9, 2018
Nike's ouster of a top executive casts new light on the hard-knuckled behavior common in many offices.
After Nike Inc. ousted a handful of male executives for behavior issues over the past few months, some media reports tied the departures to the #MeToo movement and its revelations of sexual harassment and assault. Interviews with more than a dozen former Nike employees, including senior executives, however, paint a picture of a workplace contaminated by a different behavior: corporate bullying. The workers say the sneaker giant could be a bruising place for both men and women, and that females did bullying, too. On May 8, Nike signaled as much when it confirmed four more exits stemming from an internal misconduct inquiry, including the departure of a woman with more than 20 years at the company.
The surprise announcement in March that 55-year-old Nike brand president Trevor Edwards—who had a reputation for humiliating subordinates in meetings—would leave following an internal investigation about workplace behavior issues suggests the coddling of tough guys may have come to an end. "Some companies are realizing that a bullying boss isn't the best way to manage a company," says David Yamada, a professor at Suffolk University Law School in Boston who's authored antibullying legislation. "Maybe we're starting to see a tipping point."
Gary Namie, co-founder of the Workplace Bullying Institute, who consults with businesses on workplace issues, says one reason some companies have long tolerated or even encouraged such behavior is that many American managers believe the workplace is by nature rough around the edges. "Bullying is inextricably interwoven with capitalism," he says. "It creates a zero-sum, competitive work environment where people feel they need to obliterate their competitors."
Some former employees say that was the case at Nike, particularly among managers who used abusive tactics to safeguard their own position or authority. "There are a lot of very talented people deeper in the organization who have been marginalized both by senior and middle management trying to protect their domain," says Shaz Kahng, who was a senior executive at Nike for six years through 2010. "People are often promoted based on relationships, not on results."
In response to complaints, including from departing female executives, Nike ousted Edwards, who'd been a favorite to become the company's next chief executive officer. Edwards, according to some of the former employees, at times bullied workers through insults and disparaging comments. More important, once he set the tone, other people mirrored his behavior, they say. A handful of executives who worked for Edwards have since left Nike.
"I've been disturbed to hear from some employees of behavior inconsistent with our values," CEO Mark Parker said in an emailed statement. "When we discover issues, we take action."
Nike also provided Bloomberg with the transcript of a town hall Parker held on May 3, in which he vowed the environment will change. "We all have an obligation—and it's non-negotiable—to create and cultivate an environment of respect and inclusion," he told employees. "And that starts with me. I apologize to the people on our team who were excluded. … We're going to move from a place where the loudest voices carry the conversation to [one where] every voice is heard."
The company declined to make Edwards available for an interview. He's acting as an adviser to Parker until he retires in August, when he'll receive a $525,000 payout, according to public filings.
Nike says it's reviewing how it deals with complaints, redesigning management training, and beginning unconscious bias awareness education for employees this year. It's also vowed to promote more women and minorities into leadership roles. Currently, managers are 38 percent women and 23 percent nonwhite.
Workplace bullying is often defined as behavior—including verbal abuse, derogatory remarks, humiliation, and undermining work performance—that results in physical or mental harm. About 1 in 5 Americans say they've been the target of it, according to a 2017 survey by Zogby Analytics that was commissioned by the Workplace Bullying Institute. Men make up 70 percent of the perpetrators and 34 percent of the targets. "It's a significant and still underreported problem," Yamada says. Surveys have shown such behavior is four times more prevalent than legally actionable sexual harassment, he says. "Bullying looms large."
Ironically, Nike is one of the minority of companies that has a formal antiharassment policy that calls out bullying behavior such as verbal abuse, intimidation, humiliation, and retaliation, according to a copy obtained by Bloomberg. It also notes that harassment not based on a legally protected characteristic, such as gender or race, can still violate company rules.
One reason few companies have specific antibullying policies is that there aren't federal or state laws in the U.S. outlawing the behavior, which makes America a laggard when compared with Western Europe, Canada, and Australia.
"Some companies are realizing that a bullying boss isn't the best way to manage a company"
A lack of legal protections greatly reduces the possibility of liability for employers. It's difficult to bring a lawsuit based on bullying, and businesses have worked to keep it that way. Over the past decade, antibullying bills were introduced in about 30 states, but they've all been defeated after opposition from corporate lobbying groups, Yamada says. A workplace bullying bill is gaining sponsors in Massachusetts' legislature, but its future is uncertain. If there were antibullying laws, companies would be liable and do more to deter the practice, according to Namie. "It's the only form of abuse that hasn't been addressed by law," he says. "It goes beyond gender to 'I'm powerful, I can do any damn thing I want.' "
When executives feel entitled or untouchable, that often leads to bullying and then to other inappropriate behavior, Yamada says. In many of the workplace environments that resulted in some of the high-profile #MeToo moments, such as that at Weinstein Co., an "undercurrent" of bullying created a belief that mistreatment would go unpunished, he says. "It's that bullying atmosphere that helps to enable and empower sexual harassment."
According to the former Nike employees, the lack of a fear of reprisal created an environment where male executives, many married, could pursue and have sexual relationships with subordinates and assistants—behavior Nike says it tries to prevent but doesn't prohibit. Many times the careers of those involved were unaffected, which only normalized the behavior, they say. And when there were repercussions, the men received little if any punishment, while women often faced consequences. In one instance several years ago, they say, an executive was caught having sex with his assistant on a conference table. He wasn't disciplined, some of the people say, but the woman was reassigned.
Several former female employees describe similar experiences of encountering several slights and offenses—not one egregious incident—that increased as they moved up the ladder. One woman says her boss, a senior director, had derogatory nicknames for female staffers and would overtly favor men on the team with better opportunities. A former female manager says a male colleague had multiple complaints of bullying made against him to human resources, but the only punishment meted out was a delayed promotion. Eventually, frustration with Nike's handling of such incidents persuaded several women to leave the company, they say.
The situation was particularly galling to employees who'd been drawn to Nike because of its cool and progressive reputation, burnished by such advertising slogans as "If You Let Me Play" and its T-shirts adorned simply with the word "equality." "We always wished the company would live up to its marketing," says one former female executive. "But it didn't."
BOTTOM LINE – Nike's marketing positioned the company as a promoter of self-expression and equality. But former employees say it allowed a culture of workplace bullying to flourish.
###
France 24
Five More Executives Fired as Nike Confronts Workplace Harassment
by Agence France-Presse (AFP), May 10, 2028
Nike has dismissed additional executives as it moves to address a workplace culture marred by sexual harassment and bullying, embarrassing a brand that has self-defined around equality and empowerment.
The latest departures, confirmed Wednesday by a Nike spokeswoman, consist of five executives, including one woman, and raise the total departures to around a dozen. This includes former president Trevor Edwards, who had been seen as a CEO in waiting.
Since Edwards' departure was announced in March, US media reports have chronicled myriad cases in which women were subjected to sexual harassment and often passed up for promotions in a boorish frat-like culture.
The revelations have come amid a broader rethink in US society over gender relations following the downfall of Hollywood mogul Harvey Weinstein and the ensuing #MeToo movement that has toppled numerous figures across business, politics and entertainment.
Remaining Nike brass have said little publicly about the staffing overhaul beyond chief executive Mark Parker's remarks in March emphasizing the need to address "some behavioral issues" that clashed with Nike's culture.
"I'm committed to ensure that we have an environment where every Nike employee can have a positive experience and reach their full potential," Parker said on a March 22 earnings conference call.

"Shocking" revelations
The upheaval comes as Nike has experienced sales stagnation in North America, offset in the most recent quarter by a strong performance in China and other overseas markets.
CFRA Research analyst Victor Ahluwalia said it was too soon to know if the problems would further dent North Americans sales, but he predicted the company's travails could trouble consumers.
Nike's famous "Just Do It" slogan emphasizes empowerment, as do sponsorships of iconic athletes such as Michael Jordan and Serena Williams.
"The company was viewed as progressive and kind of millennial friendly, so for something like this to happen with a brand that comes with that kind of a message was shocking," said Ahluwalia.
But Ahluwalia praised the company for "being proactive", in contrast to other companies that responded to workplace scandals only after problems publicly surfaced, usually in media reports.
"Clearly work needs to be done and I think it will take time," Ahluwalia said. "Being proactive does position the company much better for the future."
"It is just cruelty"
Since Edwards' departure was announced in March, others to leave have included top executives in digital marketing, diversity and inclusion and Nike basketball.
The housecleaning was spurred by a survey of frustrated female workers in Nike's Oregon headquarters who polled their peers, finding widespread sexual harassment and discrimination and presenting the data to CEO Parker, according to a New York Times expose.
The Times article also cited women who reported problems ranging from being cursed at by an abusive male boss to excluded from key meetings, and passed up for promotions.
The staff dismissals follow an initial investigation into workplace conduct launched in March, according to a person familiar with the matter.
The latest group of outgoing executives includes Helen Kim, a vice president for North America, whose departure suggested to some experts that Nike's focus was no longer strictly about addressing sexism but had broadened to countering the problem of bullying.
"The larger problem is the workplace bullying, or as we call it, abusive conduct in the workplace, because that ignores gender boundaries and it ignores race," said Gary Namie of the Workplace Bullying Institute. "It is just cruelty."
"Apparently Nike's workplace culture is a very competitive, aggressive one that may sometimes deteriorate into bullying behaviors and sexual harassment and discrimination," said David Yamada, a professor at Suffolk University Law School.
"Perhaps the departures signal a core shift in management philosophy and practice for the better, but it's obviously premature to make that determination."
Some analysts worry the problems will prevent Nike from reaching a target of $50 billion in annual revenues, compared with $34.4 billion in 2017.
"Any time you see a large group of senior people leave very quickly for any reason, you better hope they have a very strong bench that can step in quickly," said Sam Poser, analyst at Susquehanna Financial Group.

Tags: Agence France-Presse, Bloomberg, David Yamada, Gary Namie, Mark Parker, Nike, sexual harassment, Suffolk University Law School, Trevor Edwards, workplace bullying, Workplace Bullying Institute
Posted in Tutorials | No Archived Comments | Post A Comment () »
Friday, January 26th, 2018
Michigan Assistant Attorney General Angela Povilaitis addressed the court in Lansing before former USA Gymnastics and Michigan State University doctor Larry Nassar was sentenced to 40 to 175 years in prison by Judge Rosemarie Aquilina on Wednesday January 24, 2018.
You are encouraged to read her complete statement here. Thanks to CNN posting.
She's a hero to WBI as she pulled seven lessons from this horrific case. The lessons apply also to bullying. Bullied targets will see themselves in the list.
Nassar, the perpetrator, was a "master manipulator." Povilaitis said, "He manipulated victims and parents. He manipulated his community through the press and social media early in this case. And he tried to manipulate the police department in his interviews. He tried to manipulate prior investigators. … All while knowing the truth, that he did the things he was accused of doing." Most perpetrators are liars.
USA Gymnastics and Michigan State never held him accountable. Povilaitis said, "History gave him guidance for the future, every previous time there had been an allegation, nothing happened. His lies worked. This court heard from several women, some decades later, who were initially determined to be confused or to be liars. He was believed over these children. … And with each time he got away, he was empowered to continue and perfect and abuse even more."
On the lessons learned …
Povilaitis said, "we must start by believing … Research shows that false allegations are slim, that most perpetrators are serial offenders and that how a victim, especially a child, is treated when they disclose, if they are believed and supported and not blamed, can affect their well-being for years …"
"there are still people in this very community and elsewhere, I would imagine, who are saying that these women were all in it for the money or the attention. Are you kidding me? After 150 heart-wrenching, raw, graphic, visceral impact statements, how can anyone … believe that? Even to this day, even as this historic sentencing hearing is broadcast around the globe, there are still likely people who doubt."
"The second lesson ;;; is that anyone can be a perpetrator, anyone can be a serial sexual abuser. This defendant stole, cheated and lied. He stole these victims' innocence. He lied about his behavior and he cheated parents and the community and the world of the trust they held in doctors, prominent physicians and prominent community members. … The only person who sees this (hidden persona) side are his victims. Then the perpetrator goes back, shows only what he wants the world to see. This is how he got away with this for so long and got people to believe him over the many, many, many victims who reported."
"The third takeaway from this week is that delayed disclosure of child sexual abuse is not unique. In fact, it's quite the norm. "
"The fourth takeaway is that predators groom their victims and families. This is so confusing to so many women. He was so nice, he gave them presents and trinkets and desserts."
"The (fifth) takeaway, is we must teach our girls and boys to speak up. … It is easier to put up with discomfort than cause waves. And when they are brave, nothing happens. We teach our girls and daughters to be too nice, to just ignore and put up with uncomfortable situations, to stay silent when they should be allowed to be heard."
"The sixth takeaway from this week and a half is that police and prosecutors must take on hard cases … They cannot victim-blame or wait until they have the perfect case. They cannot wait until they have dozens of victims who have come forward. Police and prosecutors must also start by believing, be victim centered and offender focused in their work."

About the abuse …
"It seeps and oozes and permeates into every pore and crevice of a victim's life. It can alter their life's trajectory. We've seen that time and time again this week when we've heard mention of depression and anxiety and panic attacks, suicidal thoughts, self-medication, self-harm, question of self-worth, and even when we heard from Donna Markham some seven days ago about the suicide of (her daughter) Chelsey."
The fallout …
Michigan State University President Lou Anna Simon resigned but will be paid $750,000 for 2 years, then $562,000 per year afterwards if she returns to a faculty position. And she gets a 12-month paid research leave. Quite a soft landing for having treated complaints about Nassar with indifference. Read the story here.
On Jan. 26, the MSU Athletic Director, Mark Hollis, also resigned.
###
You are encouraged to read her complete statement here.

Tags: Angela Povilaitis, employer indifference to abuse, Larry Nassar, Lou Anna Simon, Michigan State University, Rosemarie Aquilina, sexual abuse, USA Team Gymnastics
Posted in Tutorials | No Archived Comments | Post A Comment () »
Wednesday, May 17th, 2017
State Worker's Bosses Ignored His Allergies. Now He's $3 Million Richer
By Adam Ashton, Sacramento Bee, May 17, 2017
A Caltrans employee in Nevada County who claimed his supervisors harassed him by ignoring his documented allergies to perfume and certain cleaning products will receive a $3 million payout from a lawsuit he filed against the state.
A Nevada County jury sided with John Barrie in a one-month trial that ended last week, upholding his claims that he experienced retaliation, that his employer failed to accommodate his disability and that he was subjected to a hostile work environment. He continues to work for Caltrans in a position that allows him to work from home.
(more…)

Tags: ADA violation, bullying expert witness, California Department of Transportation, CalTrans, chemical sensitivity as disability, Gary Namie, John Barrie, Lawrance Bohm, refusal to accommodate disability
Posted in Tutorials | 2 Archived Comments | Post A Comment () »
Thursday, March 30th, 2017
P.E.I. Widow Awarded Benefits After Husband's Death Linked to Workplace Bullying
By Sally Pitt, CBC News, March 30, 2017
A Prince Edward Island widow has been awarded benefits after her husband's death was linked to workplace bullying and harassment.
"I said that from the get-go," said Lisa Donovan. "I believe that Eric's workplace bullying and harassment was the reason that my husband had his heart attack."
Donovan got the ruling from the Workers Compensation Board of P.E.I (WCB) in December 2016, after three years of complex legal proceedings to decide whether the WCB or the P.E.I. Supreme Court should hear her claim, and then whether the bullying that was alleged could be considered a workplace accident.
Donovan's lawyer Jim Macnutt said, despite an extensive search, this was the first case in Canada he could find of any death being linked to workplace bullying or harassment.
'Twisted journey'
"It took me on this twisted journey that took me three years to navigate, and it was difficult and it was expensive and it was heart-wrenching, and frustrating," said Donovan. "It was an uphill battle all the way."
The benefits awarded by the Workers Compensation Board to Lisa Donovan have not been made public.
They include funeral costs, a lump sum for death benefits and monthly payments to cover survivor benefits, based on a percentage of his pensionable salary.
Without this decision, Donovan would have been eligible only for a percentage of his workplace pension.
Surrounded by memories of her late husband and the life they shared together with their two children in her Hazelbrook, P.E.I., home, Donovan reflected on her loss, and the journey she's been on since he died.
"I thought I would be more, I don't know, relieved, proving it," she said. "It still doesn't bring Eric back, it doesn't change what happened, but it does give me some sort of closure I guess, some acknowledgement that this experience has happened to us."
Eric Donovan was 47 when he died after a cardiac arrest. He'd spent 17 years with Queens County Residential Services (QCRS), a not-for-profit organization that runs nine group homes and a number of programs in Charlottetown for about 130 intellectually challenged adults.
According to his widow, he loved his job and had "a special way" with clients, helping them feel more comfortable and more involved in the community.

Tags: bully Nadine Hendricken, bullying linked to heart attack, cardiac arrest, Eric Donovan, health and workplace bullying, heart attack, P.E.I., QCRS Inc, Workers Compensation Board, workplace bullying
Posted in Tutorials | No Archived Comments | Post A Comment () »
Monday, November 9th, 2015
Here in America, employers claim that loyal, engaged, hard-working employees have disappeared or are extremely rare. Work, like many social functions operates on the notion of an implicit contract between the parties. In exchange for compensation, workers lend their talent to employers. Employers, in turn, have the exclusive right to optimize profit from the relationship. The deal should be a mutually beneficial one to both sides.
History shows that contempt for workers was common in the bad old days.

Tags: distrust, employee monitoring, employer-employee relationships, exploitation, feudal, flexispy, Gary Namie, surveillance, workplace bullying
Posted in Tutorials | No Archived Comments | Post A Comment () »