Archive for the 'WBI Education' Category
Saturday, May 19th, 2018

The nation's only comprehensive evidence-based training in the phenomenon of workplace bullying designed for professionals. Designed by the Drs. Namie and delivered since 2008. Come to San Francisco for the experience of a lifetime. It will change you forever.
Participants take home SOLUTIONS for their organizations and the requisite materials and resources to launch internal programs to prevent and correct workplace bullying.
Sessions facilitated by Dr. Gary Namie.
Professionals from the following disciplines attend:
– Healthcare — nurses and physicians
– Legal
– Unions
– Mental health — psychotherapists & psychologists
– Higher education
– Schools, K-12
– HR & Management
– Diversity management
– Risk management
– Government
– Life/Executive Coaches
In addition, well healed former bullied targets seeking to re-invent themselves as training, coaching or consulting professionals attend.
3 intensive days. July 20-22 or September 14-16. In San Francisco.
Tuition is discounted to $2,000 per individual. Time limited.
Visit the Workplace Bullying University website for program details.
Announcing a special Workplace Bullying University session co-presented with CultureSafe NZ in Auckland, New Zealand Oct. 30 – Nov. 1.

Tags: Gary Namie, workplace bullying training, Workplace Bullying University
Posted in Workplace Bullying University | No Archived Comments | Post A Comment () »
Thursday, December 14th, 2017
On a nearly daily basis, another man is accused of past sexual transgressions against a woman or women (Tavis Smiley and Russell Simmons among the most recent) and they lose their jobs or company.
Rather than commenting piecemeal on each new report we chose to write a short book on the topic. We are applying lessons from the MeToo phenomenon to workplace bullying situations. In this way, bullied targets can fight back capitalizing on MeToo successes. Watch for its Jan. 2018 release.
However one of the stories about politicians caught our attention. And it illustrates bullying, not simply sexual harassment.
The male idiot this time is U.S. Congressman Blake Farenthold (R-TX). He was targeted by Bill Maher in past years for being a stupid lawmaker. This is the same congressman who is the former owner of the domain "BlowMe.org," and who admitted in 2014 to "having wet dreams" about a staffer.
Now CNN has details of his abusive conduct while in office directed toward both women and men. The source is his former communications director Michael Rekola.
Rekola said that Farenthold routinely exploded with rage and anger, slamming his fists down, swept everything off his desk, leaving staffers to clean it up. He called staffers names — idiot or f**ktard. Rekola described the work environment as so toxic and stressful that he suffered a stomach ailment causing him to vomit daily. This, of course, is very familiar to bullied targets.
According to Rekola, Farenthold routinely made lewd comments about the appearance of women including reporters and lobbyists, remarking on the size of women's breasts and buttocks. There were references to the "redhead patrol," something which was also mentioned in the lawsuit Farenthold settled with over $80 million taxpayer dollars. Apparently Blake has a thing for redheads, or so he would like us to think.
To appease the MeToo proponents demanding his head, Farenthold has agreed to not run for re-election. That may well not be sufficient, given the zeitgeist. Farenthold must resign. This behavior is an unnacceptable abuse of power whether directed toward men or women.
What was required of Al Franken must be required of any lawmaker accused of such abusive conduct with an underlying sexual harassment history. Let's hear from Rep. Jackie Speier, Sen. Kirsten Gillebrand, Rep. Nancy Pelosi, and House Speaker Paul Ryan.
In these times, there is no other socially responsible position than to condemn abusive conduct.
This could strike a blow for justice for bullied, not just harassed, targets.

Tags: Blake Farenthold, MeToo Revolution abusive conduct, Michael Rekola, sexual harassment, US Congress, workplace bullying
Posted in Target Tale, WBI Education | No Archived Comments | Post A Comment () »
Wednesday, December 13th, 2017
Loading ...

Tags: poll relating sexual harassment and workplace bullying
Posted in WBI Education, WBI Surveys & Studies | No Archived Comments | Post A Comment () »
Wednesday, December 13th, 2017
An incomparable amount of public attention has been fixed on sexual harassment in the latter half of 2017. It's a tsunami, a virtual revolution.
We are finishing a short book, a primer, a white paper on lessons and opportunities for bullied targets to apply from the new movement and changing employer landscape.
The publication will be available for sale at a nominal price in early January 2018.
Check back to get your copy.

Tags: #MeToo, abusive conduct, advice for targets, bullied targets, Gary Namie, MeToo Revolution, Ruth Namie, sexul harassment, workplace bullying
Posted in Books, Hear Ye! Hear Ye! 2, Media About Bullying, Products & Services, Tutorials About Bullying, WBI Education | No Archived Comments | Post A Comment () »
Wednesday, December 13th, 2017
Battling Bullying in the Workplace
By Rebecca Koenig, U.S. News & World Report, Dec. 13, 2017
It's Monday morning and you're filled with dread. You have to present research at the office this afternoon, but the gnawing feeling in your stomach isn't just performance anxiety. Whenever you speak in front of your team, your boss interrupts to mock what you say. He questions your judgment, calls you an "idiot" and even mimics your voice in an unflattering way. Worse, a few of your co-workers have started to follow his lead, criticizing your work behind your back, and, increasingly, to your face.
You know your contributions are excellent – at least, you used to know. Lately, you haven't been so sure.
Welcome to the world of workplace bullying. That's right, the same sort of name-calling, intimidation and ostracism some children experience on the playground can take root among adults in their offices. When constructive criticism crosses a line, or a co-worker undermines your efforts, or your boss starts spreading rumors about your personal life, those are all examples of workplace bullying.
The effects of this abusive behavior can be serious: decreased self-esteem, worsened health and career deterioration. Read on to learn more about the phenomenon and how to combat it.

Understanding the Workplace Bullying Definition
Office bullying is defined as "repeated, health-harming mistreatment" that involves verbal abuse, work sabotage and/or humiliation and intimidation, according to the Workplace Bullying Institute, a research and advocacy organization.
It may occur one-on-one (between two co-workers or a supervisor and subordinate) or in a group setting. The latter, in which multiple people gang up on one person, is known as "mobbing."
Typically, a bully is "an aggressive person who strikes out at a particular person more than once over the course of months," says Nathan Bowling, a psychology professor at Wright State University.
Workplace Bullying Statistics
One-fifth of American adults have directly experienced abusive conduct at work, according to a 2017 Workplace Bullying Institute survey of more than 1,000 people.
More than two-thirds of office bullies are men, and both men and women bullies target women at higher rates. Hispanics report higher levels of bullying than members of any other race.
It's not uncommon to have a bully boss: 61 percent of targets reported bullying from people in more senior positions.
(more…)

Tags: David Yamada, Gary Namie, workplace bullying, Workplace Bullying Institute
Posted in Media About Bullying, Print: News, Blogs, Magazines, WBI Surveys & Studies | No Archived Comments | Post A Comment () »
Tuesday, November 14th, 2017
Written by Laurie Ruettimann after the Uber and Weinstein harassment scandals, but before Alabama's Roy Moore's misconduct.
Let's Face It. HR is Powerless to Help Women Who are Harassed.
I'm a 20-year Veteran of HR. Something Needs to be Fixed
By Laurie Ruettimann, Vox.com, Oct 18, 2017
Women are a human resources nightmare.
The national conversation has once again turned to women's experiences of sexual harassment. Nearly two weeks ago, the New York Times and the New Yorker published allegations of rape and sexual assault by Harvey Weinstein against actresses in Hollywood and beyond. These experiences go back decades, and they are often, but not exclusively, related to women who met Weinstein in a professional capacity and felt pressured, out of fear for their safety and their careers, to comply.
In other words, these women were harassed in the workplace.
Earlier this year, Susan Fowler blew the whistle on sexism and harassment at Uber. Fowler and her colleagues complained to Uber's leadership about the culture of harassment within the organization, and they were routinely dismissed by everybody — including the HR department.
It was only when Fowler wrote a viral blog post detailing her complaints that Uber got serious. The company hired former US Attorney General Eric Holder to launch an investigation to understand why so many women had such bad things to say about their employee experience. The report was damning, and more than 20 people were fired for inappropriate conduct, including allegations of sexual harassment and management ignoring multiple reports of sexist behavior and harassment. Former CEO Travis Kalanick, who was not accused of harassment himself but reportedly did nothing to stop it when allegations came in, as well as other sexist and toxic behavior, resigned under pressure from investors.
That could've been a watershed moment for women in the workforce, but it wasn't. That's because corporate America, and human resources in particular, don't care about women. They care about minimizing risk to enhance the value of a brand, which ultimately leads to greater revenue and stronger profits.
In short, nobody cares about women. Once the shock-and-awe of Harvey Weinstein is over, very little will change for the average worker in America. I know this because I'm a 20-year veteran of human resources. In that time, I worked at big organizations like Pfizer, Kemper Insurance, and Monsanto. I left my corporate job in 2007 and started writing and speaking about HR in an attempt to transform the entire function. I haven't done a very good job because HR still sucks.

Tags: HR, HR fails women, HR is useless, human resources, Laurie Ruettimann, sexual harassment
Posted in Employers Gone Wild: Doing Bad Things, Fairness & Social Justice Denied, Tutorials About Bullying | 1 Archived Comment | Post A Comment () »
Friday, October 27th, 2017
Burger King and Nobully.org, an organization focused on stopping school bullying, produced a clever test. Which was more likely to compel engagement by Burger King restaurant adult customers — the public bullying of a high schooler by peers or "bullying" a sandwich? Spoiler alert: smashing the sandwich led to complaints 95% of the time, while only 12% of witnesses intervened. Watch until the end to see the care shown by the few who assisted the bullied boy.
Very instructive.

Tags: Burger King, bystanders, nobully.org, school bullying, witnesses
Posted in Broadcasts: Video, TV, radio, webinars, Media About Bullying, Social/Mgmt/Epid Sciences, Tutorials About Bullying | No Archived Comments | Post A Comment () »
Tuesday, October 24th, 2017
Loading ...

Tags: aftermath of bullying, bullied targets, economic harm, psychological safety, survey, Workplace Bullying Institute
Posted in WBI Surveys & Studies | No Archived Comments | Post A Comment () »
Tuesday, October 24th, 2017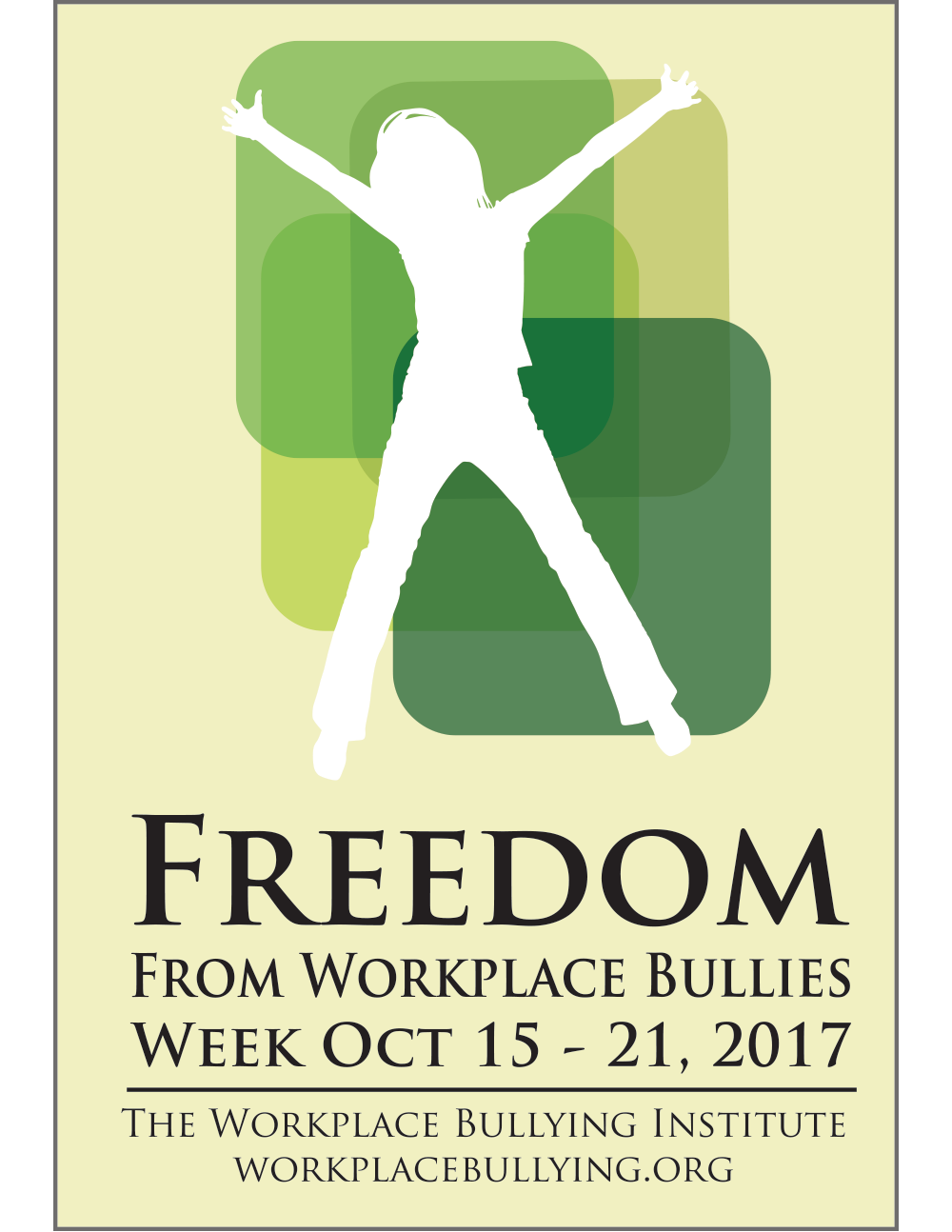 The California Healthy Workplace Advocates, CHWA, is one of the most active state-based groups in the nation. They are volunteer citizen lobbyists for the WBI anti-bullying Healthy Workplace Bill. They have members statewide. Monthly meetings are held in Sacramento. Details here.)
WBI established Freedom Week from Workplace Bullies Week, the third week in October during Domestic Violence Awareness and Bullying Prevention Month. CHWA routinely solicits proclamations from California cities and counties that declare the municipalities' endorsement of the following principles:
• government has an interest in promoting the social and economic well-being of its citizens
• that well-being depends upon the existence of healthy and productive employees working in safe and abuse-free work environments
• abusive work environments are costly for employers with consequences including reduced productivity, absenteeism, turnover, injuries
• protection from abusive work environments should apply to every worker, and not be limited to legally protected class status based only on race, color, gender, national origin, age or disability
Here are the cities and counties that proclaimed Freedom Week in 2017. Use links for viewing.

Tags: 2017 proclamations, abuse-free work environments, abusive conduct, california city proclamations, California Healthy Workplace Advocates, CHWA, Freedom from workplace bullies week, proclamations, worker well-being, Workplace Bullying Institute
Posted in Events & Appearances, Freedom Week, WBI Education | No Archived Comments | Post A Comment () »
Tuesday, October 17th, 2017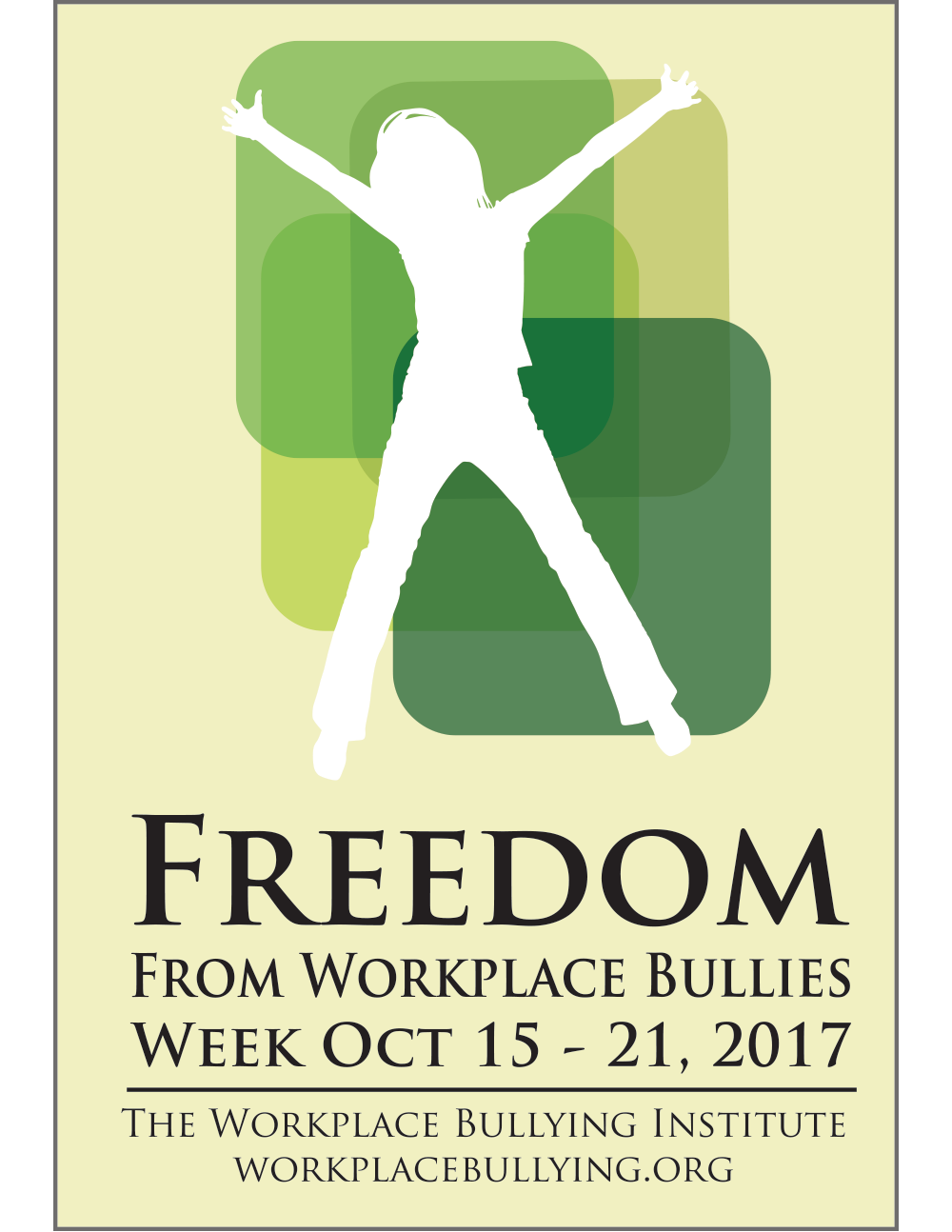 Tags: abusive conduct, Freedom from workplace bullies week, Freedom Week, workplace bullying, Workplace Bullying Institute
Posted in Freedom Week | No Archived Comments | Post A Comment () »