Archive for the 'Bullying & Health' Category
Tuesday, August 1st, 2017
The first glowing positive public headline read "Apple will make products (iPhones and iPads) in the U.S." Yea! Good news, right? Maybe not so. Reading the details revealed that one of Apple's major manufacturers in China, the Tawainese company Foxconn, was searching for an American location. Not Apple itself — its contracted manufacturer. Apple not only makes its gizmos offshore; it hoardes millions in profits offshore to avoid a US tax bill.
Foxconn, the astute reader remembers, was rendered infamous years ago when it coerced a spate of employee suicides. Investigations uncovered the fact that young workers were crammed into tiny employer-provided apartments too many for the space allotted. (Think factory towns under total employer control.) Then, at the worksite, the workers were forbidden to speak with one another on the Apple products assembly line. The prohibition extended to any talking, not gossip or non-work-related communications — any interpersonal contact!!!!
Worker have a fundamental human need to belong to groups, to be included. When that need is thwarted in cases of social exclusion or ostracism, individuals suffer social harm. Neuroscience research reveals that the social pain endured is real pain — the kind taking painkillers will reduce. Hence, the suicide by jumping off the roof of Foxconn buildings in China.
Foxconn institutionally abused its workers for some unknown reason. The solution to their suicide "problem" — probably considered nothing more than a public relations crisis — was to install netting to catch the jumpers before hitting the ground below. Great fix, huh? No need to attack the root cause — the Foxconn policy and practice. Better to simply minimize the deaths by suicide with "safety" nets. Stupid (or as Trump would say "Sad!).
Foxconn couldn't convince Pennsylvania to give them a substantial prize for the locating there. But union-busting Scott Walker delivered Wisconsin. As the following report from the Milwaukee Journal Sentinel states, the state will pony up $3 billion of taxpayer funds to entice the company to locate in either Racine or Kenosha counties. Further, the full-control Foxconn style practiced in China is likely to be replicated, or attempted, in Wisconsin. The newspaper story stated that the "factory project would involve a virtual village, with housing, stores and service businesses spread over at least 1,000 acres." That is, employer-controlled housing.
Will Americans be willing to cram 10-15 people into spaces designed for two or three? Or will the company simply provide gymnasium-size quarters with cots so workers can sleep up to 6 hours before getting back to the assembly line?
Most important, watch to see how they manage interpersonal relations in the factory. Will Foxconn prohibit workers from talking to one another as they did in China? There's not a single U.S. labor law to prevent it. [The Wisconsin legislature in the session immediately prior to Walker and the Republican takeover, not only sponsored the WBI Healthy Workplace Bill, it held hearings I attended. The bill did not pass, but at least workers' rights were on the lawmakers' agenda. Now, not so much.] And Walker and his Republican thugs have paralyzed once union-proud Wisconsites into fear of union organizing.
Watch for the proactive installation of nets to catch suicide leapers in Wisconsin. Why do we let this happen in America????
Read the Journal Sentinel article that follows.

Tags: abusive conduct, Apple, Foxconn, Gary Namie, institutional bullying, suicide, Wisconsin jobs, workplace bullying
Posted in Bullying & Health, Employers Gone Wild: Doing Bad Things, WBI Education | 1 Archived Comment | Post A Comment () »
Thursday, March 30th, 2017
P.E.I. Widow Awarded Benefits After Husband's Death Linked to Workplace Bullying
By Sally Pitt, CBC News, March 30, 2017
A Prince Edward Island widow has been awarded benefits after her husband's death was linked to workplace bullying and harassment.
"I said that from the get-go," said Lisa Donovan. "I believe that Eric's workplace bullying and harassment was the reason that my husband had his heart attack."
Donovan got the ruling from the Workers Compensation Board of P.E.I (WCB) in December 2016, after three years of complex legal proceedings to decide whether the WCB or the P.E.I. Supreme Court should hear her claim, and then whether the bullying that was alleged could be considered a workplace accident.
Donovan's lawyer Jim Macnutt said, despite an extensive search, this was the first case in Canada he could find of any death being linked to workplace bullying or harassment.
'Twisted journey'
"It took me on this twisted journey that took me three years to navigate, and it was difficult and it was expensive and it was heart-wrenching, and frustrating," said Donovan. "It was an uphill battle all the way."
The benefits awarded by the Workers Compensation Board to Lisa Donovan have not been made public.
They include funeral costs, a lump sum for death benefits and monthly payments to cover survivor benefits, based on a percentage of his pensionable salary.
Without this decision, Donovan would have been eligible only for a percentage of his workplace pension.
Surrounded by memories of her late husband and the life they shared together with their two children in her Hazelbrook, P.E.I., home, Donovan reflected on her loss, and the journey she's been on since he died.
"I thought I would be more, I don't know, relieved, proving it," she said. "It still doesn't bring Eric back, it doesn't change what happened, but it does give me some sort of closure I guess, some acknowledgement that this experience has happened to us."
Eric Donovan was 47 when he died after a cardiac arrest. He'd spent 17 years with Queens County Residential Services (QCRS), a not-for-profit organization that runs nine group homes and a number of programs in Charlottetown for about 130 intellectually challenged adults.
According to his widow, he loved his job and had "a special way" with clients, helping them feel more comfortable and more involved in the community.

Tags: bully Nadine Hendricken, bullying linked to heart attack, cardiac arrest, Eric Donovan, health and workplace bullying, heart attack, P.E.I., QCRS Inc, Workers Compensation Board, workplace bullying
Posted in Bullying & Health, Employers Gone Wild: Doing Bad Things, Media About Bullying, Print: News, Blogs, Magazines, Target Tale, WBI Education | No Archived Comments | Post A Comment () »
Tuesday, May 3rd, 2016
The cover story of Counseling Today magazine is about bullying. A significant portion of that article, written by Laurie Meyers, features an interview with WBI's telephone coach for bullied targets, Jessi Eden Brown. Jessi maintains a private practice in Seattle in addition to continuing to provide coaching for targets who seek her advice after discovering her services posted at this WBI website.
Jessi is the most expert advisor to targeted individuals in the U.S. Her fees are inexpensive and worth every penny. Time precludes offering free advice, so please don't insult her and ask. [Neither can WBI offer free advice by phone as it did for 18 years.] Here is Jessi's information page.
An excerpt from
Fertile Grounds for Bullying
Counseling Today, April 21, 2016
By Laurie Meyers
Bullying isn't confined to childhood or adolescence. Adults can experience bullying too, particularly in the workplace. Bullying in the workplace involves less obvious behavior than does school bullying and can be almost intangible, says Jessi Eden Brown, a licensed professional counselor and licensed mental health counselor with a private practice in Seattle.
"Bullying in the workplace is a form of psychological violence," says Brown, who also coaches targets of workplace bullying through the Workplace Bullying Institute (WBI), an organization that studies and attempts to prevent abusive conduct at work. "Although popular media theatrically portray the workplace bully as a volatile, verbally abusive jerk, in actuality, the behaviors tend to be more subtle, insidious and persistent."
Instead of shoving and name-calling, Brown says, workplace bullying includes behavior such as:
– Stealing credit for others' work
– Assigning undue blame
– Using public and humiliating criticism
– Threatening job loss or punishment
– Denying access to critical resources
– Applying unrealistic workloads or deadlines
– Engaging in destructive rumors and gossip
– Endeavoring to turn others against a person
– Making deliberate attempts to sabotage someone's work or professional reputation
"It's the fact that these behaviors are repeated again and again that makes them so damaging for the target," she explains. "The cumulative effects and prolonged exposure to stress exact a staggering toll on the overall health of the bullied individual."
What's more, those bullied in the workplace often stand alone, Brown notes. "While the motivating factors may be similar between workplace bullying and childhood bullying, the consequences for the bully and the target are unmistakably different," she says. "In childhood bullying, the institution — the school — stands firmly and publicly against the abuse. Teachers, staff, students and administrators are thoroughly trained on how to recognize and address the behavior. Students are given safe avenues for reporting bullying. Identified bullies are confronted by figures of authority and influence — teachers, administrators, groups of peers, parents. When the system works as intended, there are consequences for the bully, as well as resources and support for the target."
(more…)

Tags: abusive conduct, counseling, Gary Namie, helping bullied targets, Jessi Eden Brown, psychotherapy, Ruth Namie, telephone coaching, workplace bullying, Workplace Bullying Institute
Posted in Bullying & Health, Media About Bullying, Print: News, Blogs, Magazines, Products & Services, WBI Education, WBI in the News | 4 Archived Comments | Post A Comment () »
Tuesday, October 27th, 2015
escort bursa
escort eskisehir
erzurum escort
samsun escort

Tags: Career Source, Christine Garcia, pregnancy, Rick Beasley, woman-on-, workplace bullying
Posted in Bullying & Health, Media About Bullying, Print: News, Blogs, Magazines, WBI Education | No Archived Comments | Post A Comment () »
Thursday, October 22nd, 2015
Bullying in the workplace: How to recognize and address it
By Becky Parker, WDAZ-TV (Grand Forks, North Dakota), Oct. 22, 2015
Bullying is an issue people may think is reserved for the schoolyard, or even cyberspace.
But adult bullying in the workplace can have devastating effects on people's lives.
One in 10 U.S. workers say they are being bullied at their jobs.
Forty-five-percent say they've been bullied at some point during their career, and another 25% say they've witnessed workplace bullying.
We spoke to North Dakota State University professor and researcher Pam Lutgen-Sandvik, who has been studying workplace bullying for nearly 15 years. [Note: Dr. Lutgen-Sandvik is a WBI friend & colleague; her research is featured prominently in the WBI training for professionals, Workplace Bullying University.]
She defines bullying as persistent, hostile, aggressive behavior that can be verbal or non-verbal.
Research shows adult bullying can lead to depression, eating disorders, sleeping disorders, PTSD and physical ailments.
It also increases the person's stress levels and degrades their mental health by making them feel crazy, scared, and anxious.
"It also bleeds into families. When you're bullied and abused at work you go home and sometimes there's displaced aggression when you're screaming at your family members, sort of that, 'kick-the-dog' kind of thing. We do know for sure it reduces people's satisfaction with their personal lives," says Lutgen-Sandvik.
Here's what she says you should do if you are being bullied at work:
• Give it a name – define it as workplace bullying.
• Remember that it's not your fault – bullies often make the victim feel crazy.
• Get some social support – like a counselor – as bullying can degrade your mental health.
• Take some time off from work to regroup and figure out how to address the problem.
"Trying to make sense of it and figure out what you're going to do is really difficult when you're in the environment and you're constantly bombarded with this aggression and hostility. If it's possible, take some time off of work so you can kind of get your bearings and figure out, 'am I going to stay? If I'm not going to stay, what am I going to do here?'"
Many people in a bullying situation at work might want to fight back, but that can be risky.
Often, bullying situations at work involve an element of power. In the U.S., it's usually a manager, but can also be a peer.
If you do choose to fight back, Lutgen-Sandvik says the best way is to talk to someone who has power over the bully.
Bring specific examples of bullying, have other co-workers to back you up, and have a clear goal in mind.
Lutgen-Sandvik says it is not a good idea to confront the bully directly.
"They will escalate the abuse worse than it ever was before, and drive the people out of the workplace because now they've become serious threats to the perpetrator. So, directly confronting the perpetrator, it's really a very, I would say, dangerous thing to do."
###
This is Freedom from Workplace Bullies Week and October is Bullying Prevention Month and Domestic Violence Awareness Month.
Readers may click-to-purchase Adult Bullying, Pam's chronicle of her decade of research into workplace bullying, written in easy-to-understand prose.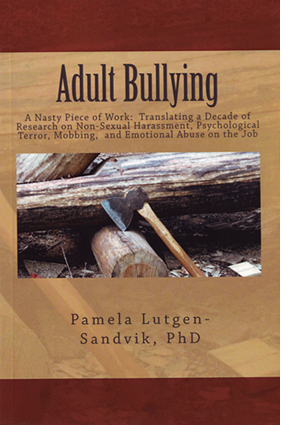 Tags: 2014 WBI U.S. Workplace Bullying Survey, abusive conduct, adult bullying, health harm, Lutgen-Sandvik, NDSU, professor, research, workplace bullying
Posted in Bullying & Health, Bullying-Related Research, Social/Mgmt/Epid Sciences, WBI Education, Workplace Bullying University | 5 Archived Comments | Post A Comment () »
Wednesday, September 23rd, 2015
At WBI, Dr. Ruth, I and several of the staff have listened to long-winded tales of misery endured at the hands of workplace bullies for many years. It amazes us that as many people survive the process as they do. It's a testament to human resilience.
Suicide is the abandonment of hope, of not seeing any future, of not perceiving alternatives. It happens. How often it is the choice of bullied workers is not known. The international pioneer of the movement, Heinz Leymann, wrote in the early 1990's that about 10% of those bullied do take their lives. It was his educated guess.
Now comes an important study from our Norwegian friends at the Bergen Bullying Research Group led by Stale Einarsen. The principal author of the study published Sept. 17 in the American Journal of Public Health is Morten Birkeland Nielsen.
The subtitle of the article is "A 3-Wave Longitudinal Norwegian Study." The key contribution made by the study is that it measured the same group of people during three different time periods. Its longitudinal approach clarifies the sequence of events. It was a test to determine which caused which — bullying at work or considering suicide (the academics and clinicians call it suicidal ideation). The one that preceded the other can be considered a cause of the second.
The study overcame a problem common to all cross-sectional studies (in which different groups of people are measured only once) — the question of correlation between factors. That is, if we ran a study here at the WBI website of bullied individuals and asked two questions — have you been bullied and have you considered suicide — and the two scores were highly correlated, we still could not say with certainty that bullying caused people to consider suicide. The Nielsen, et al., study solved that problem with its unique tracking of a single group over time — in 2005, 2007 and again in 2010. In wave 1, 2,539 (our of 4500 solicited from a national random sample) returned the researchers' surveys. By 2010, the sample was still at 1,291 individuals — the final group with three measurements.

Tags: American Journal of Public Health, Einarsen, Gary Namie, mental health, negative impact, Nielsen, suicide, workplace bullying, workplace bullying insititute
Posted in Bullying & Health, Bullying-Related Research, Social/Mgmt/Epid Sciences, WBI Education | 5 Archived Comments | Post A Comment () »
Saturday, April 25th, 2015
On April 25, 2005 at 9:19 am, a 7-car Japanese commuter rapid train 5418M derailed at high speed on a curved stretch of track and slammed into a parking garage of an apartment building. The train was operated by 11 month veteran driver 23-year old Ryūjirō Takami in front car. A second rail employee, the conductor, was in the rear car.
It was the second worst rail disaster in the country's history. 562 people were injured and 107 died, including Takami. 99 of the fatalities were in the front car. In all, four cars derailed.
Click here for the full story and details.
National Geographic recreated the events in an episode of Seconds from Disaster.

Tags: accident, culture, death, disaster, Nikkin Kyoiku, Ryūjirō Takami, torture, West Japan Railway Company, workplace bullying
Posted in Bullying & Health, Employers Gone Wild: Doing Bad Things, Tutorials About Bullying, WBI Education | No Archived Comments | Post A Comment () »
Sunday, April 12th, 2015
Minnesota leap frogs Tennessee with respect to having a state policy to thwart workplace bullying. First a bit of background. In 2014, Tennessee passed a law (Public Chapter 997) that assigned policy writing to a state commission (TACIR) comprised of elected officials with technical support from WBI-affiliated professionals. The group did produce a model policy. However, several lawmakers refused to allow the policy's implementation. The workplace psychological safety of public employees in that right-to-work state remains unresolved, treated as a political game.
Thus, the first state to implement a workplace bullying policy for all state workers is Minnesota. The successful story begins with the state employees union MAPE (Minnesota Association of Professional Employees) becoming aware of bullying-related problems for members in January 2012. Discussions of bullying surfaced in contract bargaining sessions. In February 2013, some bullying managers were removed in partnership with the union. Education accelerated in May 2013 when MAPE held a seminar for stewards with lessons gleaned from a public session sponsored by the Minneapolis Bar Association at which Dr. Gary Namie spoke.
Audio report:
Audio clip: Adobe Flash Player (version 9 or above) is required to play this audio clip. Download the latest version here. You also need to have JavaScript enabled in your browser.
By August 2013, MAPE had produced videos of their bullying experiences. In September, results of a membership survey revealed that 1 out of 4 members were either directly bullied or they had witnessed it. State. The state Department of Human Services Commissioner, Lucinda Jesson, signed an anti-bullying petition to ensure safe, retaliation-free reporting of bullying.

Tags: 2014 WBI U.S. Workplace Bullying Survey, abusive conduct, employee advocates, MAPE, Minnesota state, policy & procedures, Unions, workplace bullying policy
Posted in Bullying & Health, Good News, Unions, WBI Education | No Archived Comments | Post A Comment () »
Monday, January 5th, 2015
What doesn't kill you doesn't necessarily make you stronger
By Virgie Townsend, Washington Post, Jan. 2, 2015
WBI: In this frank and personally revealing essay, the author effectively counters the notion that all traumatic early experiences in life contribute to the construction of a stronger adult character. It's noteworthy that 44% of bullied targets admit experiencing prior familial abuse in their lives before their workplace experiences with abuse (WBI IP 2013-H).

When I was 15, I attended a writing workshop with a girl who had been sexually abused by a family member, trauma that she explored in her poetry. She said she was offended when people told her: "I'm really sorry that happened to you." She felt like they were saying they wanted to change her, so she'd reply: "Don't be. It made me who I am today."
I also grew up with violence, terrified of a parent who was verbally and physically abusive, and drove drunk with me and my siblings in the backseat. Sometimes this parent would threaten to choke me with a dog collar or would fire off shotgun rounds overhead for the fun of seeing the rest of the family cower. I am glad my classmate found a way to cope with her past, but I can't be grateful for mine.
I would have been better off without that dog collar, without those years of fear. After such episodes, I was so exhausted that I couldn't concentrate on my homework. I repeatedly failed state math exams. My immune system was weak. As a child, I had frequent, unexplained fevers, which baffled my pediatrician and led him to test me for cancer.
It was difficult for me to make friends because of the pressure I felt to keep my home life a secret. Between the abuse and my innate shyness, I mostly avoided other kids, which was easy because I was home-schooled until ninth grade. I tried to stay quiet around my peers; I didn't want to draw attention. And I constantly second-guessed how I acted around them, afraid that I might disgust or anger others, too.

Tags: abuse, child abuse, early life experience, illness, recovery, terror, trauma, verbal abuse
Posted in Bullying & Health, Media About Bullying, Print: News, Blogs, Magazines, Related Phenomena, WBI Education | 1 Archived Comment | Post A Comment () »
Sunday, December 21st, 2014
At WBI we consistently draw the analogy between domestic violence and abusive conduct at work (the most serious forms of workplace bullying). Our rationale is based on the following commonalities shared by these two forms of abusive relationships:
• The abuser has more power to wield over the abused person
• The abuser unilaterally controls when, where and what method
• Abusers objectify, dehumanize and show contempt for victims
• Society tends to blame victims for their fate
• Victims are expected to solve their problem themselves
• Witnesses rarely intervene
• Institutional responses are delayed, inadequate and not helpful
• Root causes, often embedded societal values, remain unexplored
Advocates working to end domestic, or partner, violence described the myriad of tactics used by abusers using the 8-factor Biderman "chart of coercion." Albert Biderman interviewed US Air Force pilots who had been captured and tortured during the Korean war. The Chinese taught interrogation techniques to the North Koreans. The piolots described their experiences and Biderman distilled the range of techniques to eight fundamental methods designed to break the will of, and brainwash, the pilots. In 1957, Biderman published his report "Communist Attempts to Elicit False Confessions From Air Force Prisoners of War." [Note that Biderman recognized that torture produces false confessions. The 8-factor report became the model for US torture of prisoners at Guantanamo.] That article was the origin of the Biderman Chart of Coercion.
Domestic violence and child abuse advocates use the Biderman Chart to describe abusers' tactics in their specialty domains.
Therefore, it is logical for us to apply Biderman's Chart to workplace bullying, given the parallels with domestic violence. In its most extreme forms, bullying is torture. See the chart below.

Tags: abuse victims, abusers, abusive conduct, abusive relationships, Biderman, Chart of Coercion, interrogation methods, torture, workplace bullying
Posted in Bullying & Health, Tutorials About Bullying, WBI Education | 2 Archived Comments | Post A Comment () »