Archive for the 'Target Tale' Category
Thursday, December 14th, 2017
On a nearly daily basis, another man is accused of past sexual transgressions against a woman or women (Tavis Smiley and Russell Simmons among the most recent) and they lose their jobs or company.
Rather than commenting piecemeal on each new report we chose to write a short book on the topic. We are applying lessons from the MeToo phenomenon to workplace bullying situations. In this way, bullied targets can fight back capitalizing on MeToo successes. Watch for its Jan. 2018 release.
However one of the stories about politicians caught our attention. And it illustrates bullying, not simply sexual harassment.
The male idiot this time is U.S. Congressman Blake Farenthold (R-TX). He was targeted by Bill Maher in past years for being a stupid lawmaker. This is the same congressman who is the former owner of the domain "BlowMe.org," and who admitted in 2014 to "having wet dreams" about a staffer.
Now CNN has details of his abusive conduct while in office directed toward both women and men. The source is his former communications director Michael Rekola.
Rekola said that Farenthold routinely exploded with rage and anger, slamming his fists down, swept everything off his desk, leaving staffers to clean it up. He called staffers names — idiot or f**ktard. Rekola described the work environment as so toxic and stressful that he suffered a stomach ailment causing him to vomit daily. This, of course, is very familiar to bullied targets.
According to Rekola, Farenthold routinely made lewd comments about the appearance of women including reporters and lobbyists, remarking on the size of women's breasts and buttocks. There were references to the "redhead patrol," something which was also mentioned in the lawsuit Farenthold settled with over $80 million taxpayer dollars. Apparently Blake has a thing for redheads, or so he would like us to think.
To appease the MeToo proponents demanding his head, Farenthold has agreed to not run for re-election. That may well not be sufficient, given the zeitgeist. Farenthold must resign. This behavior is an unnacceptable abuse of power whether directed toward men or women.
What was required of Al Franken must be required of any lawmaker accused of such abusive conduct with an underlying sexual harassment history. Let's hear from Rep. Jackie Speier, Sen. Kirsten Gillebrand, Rep. Nancy Pelosi, and House Speaker Paul Ryan.
In these times, there is no other socially responsible position than to condemn abusive conduct.
This could strike a blow for justice for bullied, not just harassed, targets.

Tags: Blake Farenthold, MeToo Revolution abusive conduct, Michael Rekola, sexual harassment, US Congress, workplace bullying
Posted in Target Tale, WBI Education | No Archived Comments | Post A Comment () »
Thursday, March 30th, 2017
P.E.I. Widow Awarded Benefits After Husband's Death Linked to Workplace Bullying
By Sally Pitt, CBC News, March 30, 2017
A Prince Edward Island widow has been awarded benefits after her husband's death was linked to workplace bullying and harassment.
"I said that from the get-go," said Lisa Donovan. "I believe that Eric's workplace bullying and harassment was the reason that my husband had his heart attack."
Donovan got the ruling from the Workers Compensation Board of P.E.I (WCB) in December 2016, after three years of complex legal proceedings to decide whether the WCB or the P.E.I. Supreme Court should hear her claim, and then whether the bullying that was alleged could be considered a workplace accident.
Donovan's lawyer Jim Macnutt said, despite an extensive search, this was the first case in Canada he could find of any death being linked to workplace bullying or harassment.
'Twisted journey'
"It took me on this twisted journey that took me three years to navigate, and it was difficult and it was expensive and it was heart-wrenching, and frustrating," said Donovan. "It was an uphill battle all the way."
The benefits awarded by the Workers Compensation Board to Lisa Donovan have not been made public.
They include funeral costs, a lump sum for death benefits and monthly payments to cover survivor benefits, based on a percentage of his pensionable salary.
Without this decision, Donovan would have been eligible only for a percentage of his workplace pension.
Surrounded by memories of her late husband and the life they shared together with their two children in her Hazelbrook, P.E.I., home, Donovan reflected on her loss, and the journey she's been on since he died.
"I thought I would be more, I don't know, relieved, proving it," she said. "It still doesn't bring Eric back, it doesn't change what happened, but it does give me some sort of closure I guess, some acknowledgement that this experience has happened to us."
Eric Donovan was 47 when he died after a cardiac arrest. He'd spent 17 years with Queens County Residential Services (QCRS), a not-for-profit organization that runs nine group homes and a number of programs in Charlottetown for about 130 intellectually challenged adults.
According to his widow, he loved his job and had "a special way" with clients, helping them feel more comfortable and more involved in the community.

Tags: bully Nadine Hendricken, bullying linked to heart attack, cardiac arrest, Eric Donovan, health and workplace bullying, heart attack, P.E.I., QCRS Inc, Workers Compensation Board, workplace bullying
Posted in Bullying & Health, Employers Gone Wild: Doing Bad Things, Media About Bullying, Print: News, Blogs, Magazines, Target Tale, WBI Education | No Archived Comments | Post A Comment () »
Monday, February 22nd, 2016
Over the years we have heard the personal tales of well over 10,000 individuals, met thousands more at speaking and consulting engagements and gone in-depth with litigants for whom I've provided expert witness services. So, forgive us for not personally bonding with many of those who have been bullied.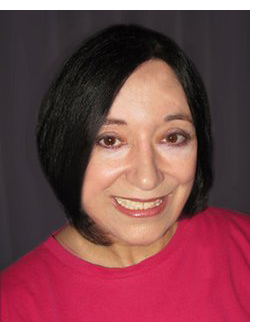 Emelise Francesca Aleandri was the exception and an extraordinary woman. Ruth and I came to know not only her plight but her spirit. Our relationship with her began with her 2004 legal case in federal court against the City University of New York (CUNY). The culprit was a jerk named Joseph Scelsa who directed the Calandra Italian-American Institute at CUNY. Scelsa's wrath impacted several people, including Emelise and her co-plaintiff Gloria Salerno, a clinical psychologist, who had counseled students for decades successfully and without interference until Scelsa meddled with her too. Both women claimed sexual harassment by Scelsa within CUNY before filing in court.
The definitive attributes that bonded Emelise to Gloria was their Italian heritage and their activity in women's advocacy group that Scelsa resented beginning in 1988. Perpetrator Scelsa had pledged to "get them big time." The Institute gained its autonomy in 1994 and Scelsa ran his kingdom with impunity. The diminutive petty tyrant was an autocrat who demanded unquestioning loyalty. And the married Scelsa had a mistress who used to engineer Emelise's downfall.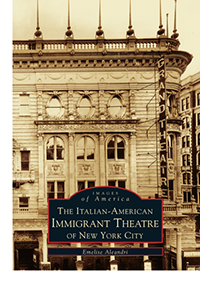 Emelise was the artist. She was born in Riva Del Garda, Italy, emigrating to the U.S. at age four. She was an actress, singer, folk dancer, author and theatrical producer and director of historical plays celebrating Italian culture and its contribution to American theater. Her major opus was the 14-volume book series on the Italian-American Immigrant Theatre, 1746-1899. She also wrote books on Little Italy.
With her MA (Hunter) PhD (CUNY) in Theater, she was the Director of the Center for Italian-American Studies at Brooklyn College (part of the CUNY system). Through my involvement in her legal case against Scelsa and CUNY, I learned that she was the creator and producer of the first nationally syndicated cable TV program about Italian-Americans: Italics: the Italian-American Magazine. She also produced documentaries about her heritage. Scelsa's mistress was the script typist for the Aleandri's CUNY show. The bullying Emelise experienced revolved around Scelsa stripping her from the TV show, putting the mistress-typist in charge!
However, her CUNY job did not define all that Emelise had become in a remarkable life. She was the Artistic Director of Frizzi & Lazzi The Olde Time Italian-American Music & Theatre Company, a not-for-profit group. She also was an actress who had roles in two Spike Lee films. She did TV commercials.
On Italian-American culture issues, she was the go-to expert for media. She gave walking tours of Little Italy in NYC. She lectured on Italian culture for the New York Council for the Humanities, in the tri-state area, nationally, and in Naples and Genova.
After her bullying experience and trial, WBI called on Emelise repeatedly to give articulate voice to the millions of bullied targets forced to the shadows. Here is a print version. For radio, among other shows, she helped WBI on The Takeaway with John Hockenberry. Here is an appearance she made on New York WPIX-TV.
She justifiably won several awards for her tireless advocacy on behalf of Italian-Americans. She was an Elena Cornaro Award Honoree(OSIA), New York State Woman of Distinction, and an Honoree of Leone de San Marco, Commission for Social Justice (OSIA), Lt. Joseph Petrosino Lodge (OSIA), Italian-American Educators.
It is little wonder that the jealous Scelsa felt threatened by her brilliance and absolute command of the Italian-American culture. I opined in the case brought by Aleandri and Salerno against Scelsa and CUNY:
Aleandri was the more invested of the two in the creative arts and was quite entrepreneurial prior to the Institute's status as an autonomous research entity under Queen's College. Scelsa interfered with, stole, or expressly prevented her role in the production of the Italics TV show that she had conceived. She was not given an office phone to conduct business. She had to use a hallway pay telephone on the floor below that afforded no working space for handling the phone duty associated with producing a TV show. She was a very public person as the creative producer and co-host of the show. Scelsa humiliated her in the eyes of guests by forbidding her to personally write thank-you letters. To the unknowing guest (and who could have known about Scelsa's dominating influence from outside the Institute?), she must have appeared unprofessional. The nefarious manner in which Scelsa replaced Aleandri with the show's technician (Schempp) and promoted the original script typist (Fosco) to a position higher than Aleandri had to have been degrading. She was then made to train the relatively unqualified staff that Scelsa hired to replace her. Ultimately, the theft of the master tapes for Festa and the copyright infringements compounded the insults.
The lawsuit was filed by both plaintiffs, Salerno and Aleandri, in 2001 [U.S. District Court for the Southern District of New York – 191 F. Supp. 2d 352 (S.D.N.Y. 2001)]. The two week trial in 2005 ended in a $1.4 million settlement for Emelise and Gloria. Though it never did provide the justice sought or deserved. It was never about the money, and in the end, after paying attorneys, there wasn't that much.
To its credit, the union, PSC (Professional Staff Congress), a higher education branch of the AFT, was supportive. You can read the union's summary of the case here.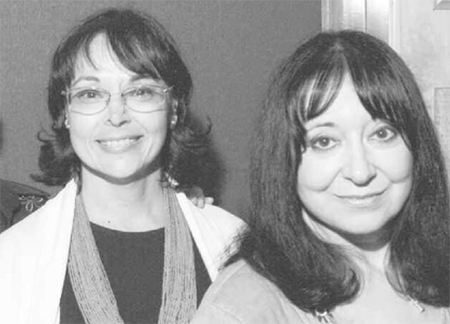 The bond between the two strong women, Emelise and Gloria, forged during the long internal struggle against Scelsa at CUNY and the nearly as long legal battle was further strengthened after the trial. After a few years, they decided to write the definitive account of what had happened to them. A publisher was found that agreed that the two would produce an unvarnished tale, naming names. However, after they completed the manuscript (not simply a book proposal), the cowardly publisher reneged, not wanting to offend CUNY backers of Scelsa. Again, the pair of advocates had been betrayed. Being lied to was becoming the institutional norm when dealing with straight shooters Salerno and Aleandri.
With CUNY and the publisher in the rear view mirror, the two began the next phases of their lives.
I made it a point to visit with Emelise every time there was a reason to be in New York City. She had moved north to Riverdale, but always drove into the city to graciously take me around. She was as warm and upbeat as ever. Her limitless energy drove her to engage in so many projects, she made this observer dizzy in amazement.
Though our own petty distractions keep us from reaching out to everyone we knew and loved, the infrequent trip to NYC or opportunity to ask Emelise to once again speak on behalf of all bullied targets brought us instantly close again. Despite the demonstrable accomplishments listed above, she was unpretentious. Her humanity leaped across the table from you, enveloping you like a warm blanket on a frigid day. She unabashedly showed her love.
Now we've come to learn that another of her battles of which she seldom spoke was her fight against cancer. Bouts of remission kept her going. On January 17, 2016 cancer treatment-related complications took her from us.
A beautiful soul was lost to us all. We were so lucky to have crossed paths, however briefly.
Requiescat in pace dear sweet Emelise.
Ruth & Gary Namie

Tags: CUNY, Emelise Aleandri, Gloria Salerno, lawsuit, workplace bullying
Posted in Target Tale, Unions, WBI Education | 1 Archived Comment | Post A Comment () »
Saturday, February 6th, 2016
Sam Harless and Texas State Rep. Patricia Harless, co-owners of Fred Fincher Motors, a used car sales lot is the place where former top salesman Bradley Jones was tortured by taser at the hands of coworkers.
Here's the Feb. 5, 2016 story on Inside Edition.

Tags: Bradley Jones, Fred Fincher Motors, Houston, Patricia Harless, Sam Harless, taser, torture, workplace bullying
Posted in Employers Gone Wild: Doing Bad Things, Humans abusing adult humans, Target Tale, WBI Education | 1 Archived Comment | Post A Comment () »
Friday, February 5th, 2016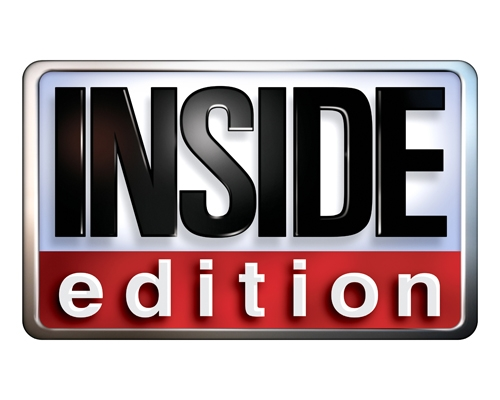 Texas tasered employee story re-visited by TV's Inside Edition.
Former best car salesman at Fincher Motors in Houston, Texas, Bradley Jones, is facing his day in Harris County Court next week. If you have forgotten, or never heard, his story, watch the KHOU-TV segment below.
Briefly, Jones worked for Fincher for nearly 9 years and was top performer during his entire time working there. Shortly after the co-owner and general manager, Sam Harless, acquired a taser, Bradley became the target of surprise assaults — at his desk in a glass-walled cubicle in front of customers and other employees and from behind — by two coworkers while Harless filmed the terrorization. In all, there were nearly two dozen attacks. Jones was involuntarily immobilized, unable to protect himself and often fell to the floor banging his head and limbs.
Let me repeat that. Harless and cohorts treated the weapon — originally created for law enforcement as an alternative to deadly force (shooting someone) that when held too long in contact with a person's body can cause cardiac arrest — as a instrument of humiliation for their own sadistic entertainment.
The TV show Inside Edition recently interviewed Bradley on the eve of his day in court at which it is hoped that Harless takes an oath and has to defend his cruel misconduct. The segment airs on Friday night Feb. 5. As they say, check local listings for air-time.
By the way, it was Bradley, the best salesman at the auto dealership, who was fired after his repeated tasings. Go figure.

Tags: Bradley Jones, Fincher Motors, Inside Edition, tasered on the job, weapons on the job, workplace bullying
Posted in Broadcasts: Video, TV, radio, webinars, Humans abusing adult humans, Media About Bullying, Target Tale, WBI Education | No Archived Comments | Post A Comment () »
Saturday, December 12th, 2015
I've pulled a comment posted to the suicide research post. It shows how quickly life can spiral down for an otherwise competent nurse. Some many to blame, including her family.
In her own words …
I'm an RN, I resigned unwillingly Sept.18 from the Veterans Affair. Its difficult for me to determine if I was experiencing bullying, harassment and or discrimination but the end result an attempt to end my life July, 30th, 2015, spending 12 days in the hospital.
I was diagnosed with PTSD and medicated for nightmares while hospitalized. I'm or I was a well functioning Bipolar II. I endured (from a newly arrived nurse manager, moreover the was not my manager) bullying/harassment for 14 months,mid Jan 2014-Mar 2015 and on March 26th 2015 – June 17th she and another official came at me with a vengeance. On June 16th 2015, around 4:30 pm after entering human resources and reading false accusations, a co-worker's description of me and a sticky on top of the charges "AL, can we ask for fitness of duty, reprimand or suspension" (I had no write-ups prior to these false charges) I started crying, I was devastated, shocked.
I have no memory of leaving the HR office, driving into work the next morning, my next memory was approx. 12:45-2:30 pm my work schedule 8-8pm. Instead of management or co-workers looking for me or being concerned, they accused me for patient abandonment from 12n-2pm and escorted me off the unit.
On July 20th after reading the fact findings of the charges against me, I called my EAP counselor, because I knew she could clear my name. I whaled as I heard her tell me, "xxxx, you called at 11am. again at 12n." There are no words to describe what I was feeling, I paced, cried, cried, could not eat, sleep and on the July 30th, I gave up. The pain, fear, was unbearable.
On the day of discharge from the hospital, I was in group and my counselor states "Well xxxx, you've got some family issues to work on." I had no idea what he was talking about. The counselor said my brother had called asking them to block my mom's number and to stop allowing me to use the phone (day 4 of admit), my brother accused me of verbal abuse on my mom!!!! I do not remember doing this, my nurse then informs me, on the day if my discharge, says, after 5 days of admission I ask the nurse "how can you give me medication if you don't know me." The nurse acknowledged my concerns of memory loss.
I can't believe or comprehend these unfathomable events, I'm lost. How can this all be happening. I suffered/suffer fear, anxiety, terror, pain, uselessness, worthlessness, impending doom, shame and guilt!!!!!!. My livelihood was taken from me.
I'm in the first stage of foreclose of my home, I can't find a job due to, no reference, attempting suicide. I live in severe fear so much so, I tie ropes from one door handle to the other so no one can come through the other bedrooms , I then wind the rope around my bed post as a brace to each bathroom doors, finally I tie off the double doors to my bedroom. I literally have to go under the rope to get in bed.
HOW IN GOD'S NAME CAN ONE WOMAN HAVE THIS MUCH POWER. This woman was able to turn my co-workers of 8 years from me, I was shunned daily, I don't know what this woman said to the other official because she and I were friends prior to March 26th 2015 but she came at me with such rage. My life I had and who I was, has disappeared. I'm numb, I live in disbelief and there are times I want to give up, there are times
I'm afraid I may hurt myself, but do it right this time, my heart is broken, I'm broken. I can't be treated for the PTSD, no insurance. HOW CAN THIS BE HAPPENING, I DON'T UNDERSTAND?!!!
While in the hospital my sister came into my house and took what she wanted and made a huge mess and drove my car wherever she wanted, I've sold everything in my house except my bedroom and tv, my brother stole $500, After being released from the hospital Aug.12, my brother has come to see me twice, my dad has not called nor come to see me. I've left my house only twice. I'VE BEEN TREATED LIKE TRASH!!!!!!!!!!!!!!!!!!

Tags: economic harm, health harm, nurse, PTSD, Veterans Affairs hospital, workplace bullying
Posted in Target Tale, WBI Education | 1 Archived Comment | Post A Comment () »
Thursday, April 2nd, 2015
WBI: Justice is about to be meted out in Madison Wisconsin three years after Philip Otto took his own life though he was close to retirement from the WI Department of Corrections. Otto had transferred from one facility to another. The climate at Oakhill represented by the actions of several coworkers and led by one supervisor was extremely toxic and unwelcoming. After his death, investigations were conducted leading to terminations of key coworkers. The supervisor was allowed to retire. One captain was reinstated. Other workers filed an appeal with the Wisconsin Employment Relations Commission asking for reinstatement. The hearing examiner Stuart Levitan heard testimony during 16 days in 2013. I reviewed the record and testified on behalf of the State concluding that the fired employees (Rachel Koester, Matthew Seiler and Justyn Witscheber) had demeaned, harassed, bullied and disgraced their peer, Mr. Otto, who had transferred recently to their facility — new to the place, but a veteran corrections officer. Progress in the case reported below is that the hearing examiner ruled Rachel Koester was justly terminated, according to a pending decision released on March 4. … Gary Namie
###
Examiner: Firing of Oakhill Guard Following Suicide Was Proper
By Dee J. Hall, Wisconsin State Journal, March 31, 2015
A hearing examiner has determined that the state Department of Corrections properly fired a guard who allegedly shunned and belittled a fellow officer who later committed suicide.
Philip Otto, 52, killed himself in March 2012 after what his wife, daughter and co-workers described as a pattern of bullying by fellow employees at Oakhill Correctional Institution.
The 20-year DOC veteran's death came just months before he planned to retire with full benefits, his wife, Peggy Otto, told the State Journal in 2012.
In the proposed decision dated March 4, Wisconsin Employment Relations Commission examiner Stuart Levitan found the firing of correctional officer Rachel Koester was justified. He cited an internal investigation launched after Otto's death in which dozens of Oakhill staffers were interviewed.

Tags: bullying, coworkers, Oakhill, Philip Otto, Rachel Koester, suicide, Wisconsin Dept of Corrections
Posted in Rulings by Courts, Target Tale, WBI Education | 1 Archived Comment | Post A Comment () »
Wednesday, April 1st, 2015
Dispatch from WBI colleague Francesco A. Portelos, New York City teacher
Sometimes workplace bullying affects only the victim. Sometimes it propagates to surrounding colleagues, morale and family members. In all cases though, the work is negatively affected. As you can imagine, when workplace bullying hits schools, the students are hurt as well.
Recently, a group of bullied New York City educators, known as Don't Tread on Educators (DTOE), got together and created a list of administrators that have been known to bully and harass their employees. The Administrators in Need of Improvement (ANOI) list has grown in recent months and is now at about 85 administrators throughout New York's five boroughs. It even has an interactive map to locate these bullies by geographic area. The list has given teachers a platform to share their stories and concerns about workplace harassment. The curtain has been pulled back and the harassment exposed.
Many of these stories are similar and show a pattern of harassment that exist in the NYC Department of Education. The ANOI list gives teachers who are being bullied the power to hit administrators where it hurts. ON SOCIAL MEDIA. Visit the DTOE website.
###
Hear Francesco's personal story

Tags: abusive conduct, administrators, ANOI, DTOE, educators, Francesco Portelos, New York City schools, perpetrators, teachers, workplace bullying
Posted in Guest Articles, Hear Ye! Hear Ye! 2, Target Tale, WBI Education | 10 Archived Comments | Post A Comment () »
Tuesday, March 31st, 2015
This Time, It's Personal
Will legislation to protect employees from workplace bullying stifle demanding managers?
By Steven Yoder, Comstock's, March 31, 2015
Carrie Clark, 63, says bullies aren't confined to playgrounds. Sometimes, they run the whole school. 
In 1995, Clark directed an English as a Second Language program in West Sacramento's Washington Unified School District. An influx of foreign students was forcing her staff to work ever-longer hours. She wrote several reports to the district superintendent documenting the extra load and asking for more help. She got no response, she says. So her teachers union representative suggested she put together a petition signed by program staff.
That got a reaction, but not the one she wanted. The superintendent took Clark off of the school's committee of department chairs and canceled and consolidated classes. Clark says he called her house and left an odd, garbled message, and one day after a meeting, he followed her into an empty hallway. Towering over her, his face a foot from hers, he screamed that he wanted "no more petitions!"
Scared, Clark quit a few weeks later. She developed tremors in her right side, which she still has, started having heart palpitations and couldn't sleep. Today, when she talks about what happened, her speech slows to a crawl and her voice quavers like a warped record. A Sacramento occupational medicine specialist diagnosed her with a post-traumatic stress disorder related to her job. After a 20-year teaching career, she'd never set foot in a classroom again. In 2002, she won a $150,000 workers' compensation claim against the district.
There's evidence that the superintendent targeted others who crossed him. He took a job in a district near Yuba City, and in January 1999 the teachers association president there told The Valley Mirror that the superintendent verbally threatened her and that she'd asked a court for a restraining order. She also told a reporter that she was having panic attacks for the first time in her life. (The superintendent, now retired, keeps an unlisted phone number and didn't respond to a certified letter sent to his address requesting an interview.)

Tags: AB 2053, abusive conduct, Ann Wrixon, bill, Carrie Clark, Gary Namie, Healthy Workplace Bill, HR, Independent Adoption Center, legislation, Michael Kalt, SHRM, workplace bullying
Posted in Healthy Workplace Bill (U.S. campaign), Media About Bullying, Print: News, Blogs, Magazines, Target Tale, WBI in the News, Workplace Bullying Laws | No Archived Comments | Post A Comment () »
Wednesday, June 18th, 2014
Canadian TV on the CBC show The National investigated workplace bullying by telling the tale of one brave woman's Wal Mart case. Key points made — employers ignore bullying and ignore evidence when presented by bullied targets and choose to not resolve it until pushed by lawsuits and the difficulty of proving intentional infliction of emotional distress. Also noteworthy is that the in-depth story was 9 min. long. (Are you paying attention US TV with your shallow 2 min. segments???)

Tags: intentional infliction of emotional distress, Wal-Mart, workplace bullying
Posted in Broadcasts: Video, TV, radio, webinars, Media About Bullying, Target Tale, Tutorials About Bullying, WBI Education | No Archived Comments | Post A Comment () »