Archive for the 'Rulings by Courts' Category
Friday, January 26th, 2018
Michigan Assistant Attorney General Angela Povilaitis addressed the court in Lansing before former USA Gymnastics and Michigan State University doctor Larry Nassar was sentenced to 40 to 175 years in prison by Judge Rosemarie Aquilina on Wednesday January 24, 2018.
You are encouraged to read her complete statement here. Thanks to CNN posting.
She's a hero to WBI as she pulled seven lessons from this horrific case. The lessons apply also to bullying. Bullied targets will see themselves in the list.
Nassar, the perpetrator, was a "master manipulator." Povilaitis said, "He manipulated victims and parents. He manipulated his community through the press and social media early in this case. And he tried to manipulate the police department in his interviews. He tried to manipulate prior investigators. … All while knowing the truth, that he did the things he was accused of doing." Most perpetrators are liars.
USA Gymnastics and Michigan State never held him accountable. Povilaitis said, "History gave him guidance for the future, every previous time there had been an allegation, nothing happened. His lies worked. This court heard from several women, some decades later, who were initially determined to be confused or to be liars. He was believed over these children. … And with each time he got away, he was empowered to continue and perfect and abuse even more."
On the lessons learned …
Povilaitis said, "we must start by believing … Research shows that false allegations are slim, that most perpetrators are serial offenders and that how a victim, especially a child, is treated when they disclose, if they are believed and supported and not blamed, can affect their well-being for years …"
"there are still people in this very community and elsewhere, I would imagine, who are saying that these women were all in it for the money or the attention. Are you kidding me? After 150 heart-wrenching, raw, graphic, visceral impact statements, how can anyone … believe that? Even to this day, even as this historic sentencing hearing is broadcast around the globe, there are still likely people who doubt."
"The second lesson ;;; is that anyone can be a perpetrator, anyone can be a serial sexual abuser. This defendant stole, cheated and lied. He stole these victims' innocence. He lied about his behavior and he cheated parents and the community and the world of the trust they held in doctors, prominent physicians and prominent community members. … The only person who sees this (hidden persona) side are his victims. Then the perpetrator goes back, shows only what he wants the world to see. This is how he got away with this for so long and got people to believe him over the many, many, many victims who reported."
"The third takeaway from this week is that delayed disclosure of child sexual abuse is not unique. In fact, it's quite the norm. "
"The fourth takeaway is that predators groom their victims and families. This is so confusing to so many women. He was so nice, he gave them presents and trinkets and desserts."
"The (fifth) takeaway, is we must teach our girls and boys to speak up. … It is easier to put up with discomfort than cause waves. And when they are brave, nothing happens. We teach our girls and daughters to be too nice, to just ignore and put up with uncomfortable situations, to stay silent when they should be allowed to be heard."
"The sixth takeaway from this week and a half is that police and prosecutors must take on hard cases … They cannot victim-blame or wait until they have the perfect case. They cannot wait until they have dozens of victims who have come forward. Police and prosecutors must also start by believing, be victim centered and offender focused in their work."

About the abuse …
"It seeps and oozes and permeates into every pore and crevice of a victim's life. It can alter their life's trajectory. We've seen that time and time again this week when we've heard mention of depression and anxiety and panic attacks, suicidal thoughts, self-medication, self-harm, question of self-worth, and even when we heard from Donna Markham some seven days ago about the suicide of (her daughter) Chelsey."
The fallout …
Michigan State University President Lou Anna Simon resigned but will be paid $750,000 for 2 years, then $562,000 per year afterwards if she returns to a faculty position. And she gets a 12-month paid research leave. Quite a soft landing for having treated complaints about Nassar with indifference. Read the story here.
On Jan. 26, the MSU Athletic Director, Mark Hollis, also resigned.
###
You are encouraged to read her complete statement here.

Tags: Angela Povilaitis, employer indifference to abuse, Larry Nassar, Lou Anna Simon, Michigan State University, Rosemarie Aquilina, sexual abuse, USA Team Gymnastics
Posted in Employers Gone Wild: Doing Bad Things, Media About Bullying, Print: News, Blogs, Magazines, Rulings by Courts | No Archived Comments | Post A Comment () »
Wednesday, May 17th, 2017
State Worker's Bosses Ignored His Allergies. Now He's $3 Million Richer
By Adam Ashton, Sacramento Bee, May 17, 2017
A Caltrans employee in Nevada County who claimed his supervisors harassed him by ignoring his documented allergies to perfume and certain cleaning products will receive a $3 million payout from a lawsuit he filed against the state.
A Nevada County jury sided with John Barrie in a one-month trial that ended last week, upholding his claims that he experienced retaliation, that his employer failed to accommodate his disability and that he was subjected to a hostile work environment. He continues to work for Caltrans in a position that allows him to work from home.
(more…)

Tags: ADA violation, bullying expert witness, California Department of Transportation, CalTrans, chemical sensitivity as disability, Gary Namie, John Barrie, Lawrance Bohm, refusal to accommodate disability
Posted in Media About Bullying, Print: News, Blogs, Magazines, Rulings by Courts | 2 Archived Comments | Post A Comment () »
Friday, July 29th, 2016
By Darrell Smith, Sacramento Bee, July 28, 2016
with WBI commentary inserted
Sacramento jurors, in a $1.1 million verdict Wednesday, sided with a state corrections employee who claimed her higher-ups did little or nothing to protect her from threats made by one of her subordinates, then retaliated against her when she complained of the threatening treatment.
The threat was a death threat, of bringing a gun to work, not a minor act.
Jurors awarded Onalis Giunta, a supervising dental assistant at Folsom State Prison when she filed the 2012 lawsuit against California Department of Corrections and Rehabilitation, $990,000 for noneconomic losses and mental suffering along with another $107,000 in past and future earnings, in their verdict, court documents showed.
It was not known Thursday whether there were plans to appeal the verdict.
Giunta in the lawsuit characterized the man identified in court documents as Serge Protsyuk, as a problem employee who often ran afoul of California Department of Corrections and Rehabilitation rules and regulations.
Protsyuk was a former coworker of the newly promoted supervisor, Giunta. He never respected her authority and was coddled by two male supervisors of hers who undermined her role. He aggressively disobeyed rules that he felt did not apply to him, daring her to discipline him.
Giunta alleged that the employee threatened to bring a gun to work after disciplinary action in November 2010. Protsyuk followed the alleged gun threat with months of more intimidation, the lawsuit alleged, forcing Giunta to take a yearlong, doctor-ordered stress leave.
Yes, you read that correctly. After he threatened revenge on her for an unfavorable evaluation by bringing a gun to work, the warden and security staff who had been told of the threat that night planned to search him the next morning when Protsyuk arrived for work. NO ONE ever called Giunta that night to warn her of the threat made against her. Protsyuk was frisked the next morning and allowed to go work as usual. Giunta was told about the threat AFTER she saw Protsyuk walk past her office window! No suspension. No punishment. And Giunta had to work with him for another six months without his removal.
Giunta was traumatized. All the while, the warden had decided that no violation of the strict zero-tolerance Violence Prevention Policy had occurred. No investigation of Giunta's complaint about the violation was undertaken.

Tags: bullying, California Department of Corrections & Rehabilitation, Folsom State Prison, Gary Namie, Lawrance Bohm, Onalis Giunta, Protsyuk, Robert Boucher, trial, violence policy
Posted in Expert Witness, Fairness & Social Justice Denied, Rulings by Courts, WBI in the News | No Archived Comments | Post A Comment () »
Tuesday, March 29th, 2016
Today, well ahead of the expected June decision, the U.S. Supreme Court split 4-4 in the decision regarding Friedrichs v. California Teachers Association.
The SCOTUS is short one member since the passing of Antonin Scalia. The tie vote allows previous appellate court verdicts to stand. As described in earlier posts — here and here, the cocky anti-union plaintiffs were so confident of using SCOTUS to bankrupt public sector unions that they asked both trial and appellate courts to rule against them so they could expedite the process to get to the Supreme Court.
Justice Scalia's death was unexpected. His vote would have delivered an anti-union majority vote. The tie, however, allows the lower court decision (made at plaintiffs' request with no evidence ever presented as in a real trial) to stand. The anti-union plaintiffs lose. Unions win (for now). Here is the entire SCOTUS decision.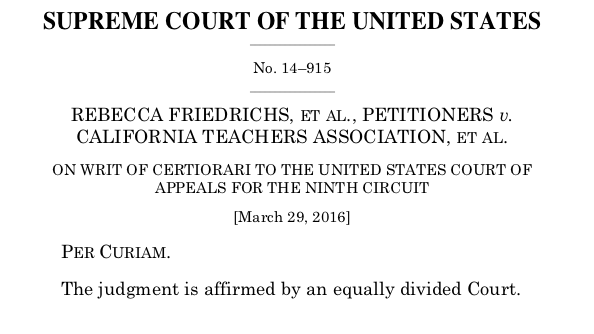 (more…)

Tags: bullying unions, Friedrichs, SCOTUS, Unions
Posted in Rulings by Courts, Unions | No Archived Comments | Post A Comment () »
Thursday, January 21st, 2016
On January 11, SCOTUS heard oral arguments in a case designed to overturn a 39-yr. precedent involving public sector unions. Since the 1977 Abood decision, government workers had the right to enjoy all the benefits of union membership without paying all of the dues owed to unions. That is, Abood split dues into "fair share" fees and expenses ostensibly not related to collective bargaining and the mere protection of workers' rights. Non-members were to pay only the bargaining-related fees.
The Friedrichs case found 10 California teachers who wanted to claim the right to refuse to pay any dues, even costs associated with protecting their workplace rights. Right-wing, anti-union groups used the case to bring to the pro-corporate/pro-employer Roberts SCOTUS to put what might be the final nail in the coffin of the strongest unions left in the country, public-sector unions.
You can read the NY Times SCOTUS watcher, Linda Greenhouse, as she interprets the oral testimony.
Details of the case can be read here.
You can read the entire transcript here.
Or listen to the audio of the oral arguments.
Audio clip: Adobe Flash Player (version 9 or above) is required to play this audio clip. Download the latest version here. You also need to have JavaScript enabled in your browser.
Decision is expected in June.

Tags: agency fees, collective bargaining, fair share fees, freeriding, Friedrichs v. California Teachers Association, government workers, public sector, public sector unions, teachers, U.S. Supreme Court, Unions
Posted in Rulings by Courts | No Archived Comments | Post A Comment () »
Monday, January 11th, 2016
A most important 80 minutes of oral argument is heard today, Jan. 11 2015 by the nine justices of the U.S. Supreme Court. The case is Friedrichs v. California Teachers Association (CTA), Docket No. 14-915.
The case was brought by a group of California teachers who don't want to pay any fees to unions for anything. Essentially, they want to enjoy benefits of having a contract — wages and other work condition protections (alas, not full protection from bullying yet) that are negotiated — for free. The CTA represents teachers in public schools; public school districts are government employers.
There are 39 years of history dealing with this issue. A May 1977 unanimous U.S. Supreme Court (SCOTUS) decision, Abood v. Detroit Board of Education [431 U.S. 209 (97 S.Ct. 1782, 52 L.Ed.2d 261)] divided union dues into two parts. One part is costs associated with providing union workers with a contract, the collective bargaining agreement with the employer, and its administration, the subsequent services of representation at adversarial meetings with management, grievances and arbitrations. Fees for those services are called "fair use" or "agency" fees. In other words, Abood said that non-members who benefit from union services have to help cover costs.
The second part of union dues is "expenditures for ideological causes not germane to its duties as a collective-bargaining." This has been dubbed the political activity of the union, including overt politicking, lobbying lawmakers for specific legislation and financial support for political candidates. People who object to this part of union activity can refuse to pay that portion of dues to the union.
In the specific case before SCOTUS today, Friedrichs, plaintiffs are challenging California law. If a teacher wants to protest the political portion of the CTA dues, she or he can give the union a written objection — an "opt out" declaration. That portion of the contested fee is then refunded or a portion is reduced. The anti-union plaintiffs want that teacher to have to "opt in" and agree to the fees. Plaintiffs frame the issue as one of free choice and the First Amendment (whether or not the non-administrative fees constitute speech).
The Case's Strange Origin
The union-busting groups, typically with a libertarian or right-wing political bent, found this case in order to abolish the last bastion of unionization in America — in government. The private sector unionization rate is now under 7%. If government, public sector, unions can be further weakened, the U.S. labor movement will be effectively gutted.
According to Maryann Parker, SEIU Associate General Counsel, speaking at an American Constitution Society expert panel, Friedrichs v. California Teachers Association made it to the Supreme Court in two fast years without any facts associated with the case. The reason is that the plaintiffs filed the case in both District and Appellate courts and asked for a verdict against them just so they could take the case to the Supreme Court. Since the union-busting groups are well funded, the case raced to the Roberts pro-employer court. Unlike any other case, no facts have been argued in court before a judge or jury. No discovery of evidence on either side was completed.
The only facts have come via several amicus briefs written by advocates for both sides. The list of briefs filed before the Nov 6, 2015 deadline can be found here. On the anti-union side are organizations such as Pacific Legal Foundation
National Right to Work Legal Defense Fund, Mackinac Center for Public Policy, Goldwater Institute, Former California Governor Pete Wilson, Cato Institute and the NFIB. On the defense side, briefs were filed by Kamala Harris, California Attorney General (who also argued the case before SCOTUS today), California State Employees Association, and several California and New York cities that, as government employers, described the benefit of having a unionized workplace.
The other unusual aspect of the origin of the case is that the five majority justices in the 2014 Harris v. Quinn decision called for a reconsideration of Abood. In other words, the doctrine of stare decisis, of letting earlier case decisions stand, is betrayed by calling out for a case to challenge Abood.
The Anti-Union Argument
Here's the argument by the union busters in Friedrichs v. California Teachers Association. Collective bargaining in the government context is inherently political because government worker wages are public funds. Therefore, if the government compels "fair use" fees collection, it is a violation of a worker's First Amendment rights. It forces an association with a political cause (bargaining with the state) with which a worker might not agree.
Abood had separated the functions of the union, administrative work versus political activity. Fredrichs says that ALL activity of unions is political.
If the Supreme Court decision agrees with Friedrichs, it will overturn Abood. It will end the practice of a "union shop." The absence of any requirement to pay unions for services rendered will make it too easy to be a "free rider." In turn, unions will wither and die from not having a budget.
Remember, even with a negotiated union contract, employers — only governments in this case — are entitled to all rights over workers which are not covered in the contract. With this line of reasoning, without unions, employers will have unchallenged, unbridled control over workers with no ability to contest mistreatment or abuse.
The undermining of unions, the only organizations that advocate for rights of workers, will contribute to the Republican-led state legislatures' move to right to work laws. Currently 25 states have right to work provisions. The RTW advocates characterize states where unions represent government workers as "forced-unionism" states.
Advocates for "free bargaining" states label the right to work as the "right to work for less." The quality of life for workers in RTW states is lower than in public sector union states — lower wages, more low wage jobs, higher rates of workers without health insurance, higher poverty and infant mortality rates. And if working in a RTW state, you have a 54% higher chance of dying at work.
Finally, by gutting union budgets, opponents will also thwart overt political activity by unions. Unions support Democratic candidates. Union-busting groups are partisan. By reversing Abood, the law of the land since 1977, Republicans will be able to reduce funding for Democratic opponents. However, this is not a realistic fear by Republicans. It seems closer to a zero-sum game in which Republicans want to eliminate all opposition. According to the Center for Responsive Government, 2015-16 interest group donations to the upcoming elections finds that labor has given to date a total of $19.2 million compared to $839.6 given by donors other than unions. Non-labor groups outspend unions by 43.7 times. A successful Friedrichs SCOTUS decision would nearly eliminate the influence of unions on candidates. Rights of workers will be driven further underground buried in a corporate post-Citizens United deluge of cash.
If the Court does not overturn Abood, the plaintiffs could still win a partial victory. Its a nuanced part of the practice in California. Contained in the fees charged to non-members are other expenses not involved with the costs of collective bargaining. If a teacher wants to protest that portion of the fee, she or he can give the union written objection — an opt out declaration. That portion of the contested fee is refunded or a portion is reduced. The anti-union plaintiffs in the case also argue that an employee should have to "opt in" and agree to the fees.
Stay tuned. The decision should be announced in June.
###
You can listen to the oral arguments and read the transcript of Jan. 11 hearing here.

Tags: agency fees, collective bargaining, fair share, free-riding, Friedrichs v. California Teachers Association, right to work, U.S. Supreme Court, Unions
Posted in Fairness & Social Justice Denied, Rulings by Courts, Unions | No Archived Comments | Post A Comment () »
Monday, August 3rd, 2015
Workplace bullying is endemic in healthcare and education, including higher education, for reasons discussed elsewhere at the WBI website.
Now comes a story of an inept community college administration, at Weatherford College, unwilling to even consider complaints from a long-time faculty member. Professor Karen Lopez Austen about the abusive conduct she faced in the Athletics Department.
The WBI 2014 U.S. Workplace Bullying Survey revealed that most employers deny complaints or justify them. In Austen's case, they never considered the evidence she had assembled for the Board. An outsider can easily infer that the Administration, led by Kevin Eaton, had decided to not renew Dr. Austen's contract, despite the legitimacy of her complaint.
So, as was her right, Dr. Austen filed a civil suit claiming sex and ethnicity discrimination along with retaliation for daring to hold the college accountable to operate lawfully and according to internal policies. She probably, like most bullied targets, especially highly educated individuals, expected to find justice in court. We constantly warn targets that justice is rarely found and almost never in court.
Remember, the college administrators refused to hear her complaint. The trial court judge did not allow Dr. Austen her day in court. Judges possess ultimate authority to grant access to their courts.
Judges have two avenues to end cases before they start — dismissal or summary judgement. Targets are typically plaintiffs who sue their employers, the defense. The defense files the motion to dismiss. Dismissal is based on technical details of the case that have not been addressed ensuring that the law cannot relieve the problem — e.g., "including lack of subject matter jurisdiction, lack of personal jurisdiction, improper venue, insufficiency of process, insufficiency of service of process, failure to state a claim upon which relief can be granted, or failure to join a necessary party."
When the defense files a motion for summary judgement, it is saying that if the parties don't dispute the material facts of the case, then the judge can determine whether the defendant is liable based simply on the pre-trial evidence assembled, if any exists. In the case Austen v. Weatherford College, there was no such agreement. The civil case was all about the disputed facts. The college said nothing happened. Dr. Austen said otherwise. Guess what. The judge in Federal District Court agreed with the college and threw out the case based on summary judgement.
In most cases, financially strapped terminated and unemployed targets go no further. But Dr. Austen filed an appeal with the federal Fifth Circuit. It was no surprise that the Appellate Court upheld (agreed with) the pro-administration ruling of summary judgement. Remember, no entity had yet considered the evidence that plaintiff Austen had put together to prove her complaint of discrimination.
Austen's attorney, Mark Robinett, at the Austin Texas firm of Brim, Arnett & Robinett. P.C., was shocked by the 5th Circuit Court's ruling of a 3-judge panel (Judges Smith, DeMoss and Higginson). What he found appalling was that his client's evidence did not matter. In a general letter to the public, attorney Robinett wrote:
… the Court of Appeals held that her evidence did not matter, that she had failed to present a "prima facie" case or "rebut the legitimate reasons for termination (sic nonrenewal) offered by the college. The court also holds, as if it has some basis for making a fact finding (which is a "no-no" for an appellate court) that "(t)he six serious, documented instances of misconduct from the semester after the settlement agreement were the primary reasons for termination (sic nonrenewal).
Robinett, quoting the appellate court's ruling stated
What matters is not the truth of the underlying complaints and reports, however, but rather whether the college could legitimately have relied on them in deciding to terminate Austen. The college could do so.
In fact, the college president, Eaton, mis-characterized Dr. Austen's complaint to the Board. The Board never heard Austen's perspective.
The injustices Austen faced was compounded by the 5th Circuit with its pro-institutional bias that claimed evidence did not matter. Robinett concluded that the court was doing a trial jury's job without the benefit of live testimony or assessing the credibility of the Weatherford College administrators.
Read Attorney Robinett's letter countering the assertion that Dr. Austen was not renewed for just reasons. She never got to tell her side of the story to an impartial court.
Read the ruling by the three judges that back legal scholarship and justice by decades.
Justice in America?

Tags: 5th Circuit Court of Appeals, abusive conduct, dismissal, justice, Karen Lopez Austen, summary judgement, Weatherford College, workplace bullying
Posted in Fairness & Social Justice Denied, Related Phenomena, Rulings by Courts, WBI Education, Workplace Bullying Laws | 1 Archived Comment | Post A Comment () »
Thursday, April 2nd, 2015
WBI: Justice is about to be meted out in Madison Wisconsin three years after Philip Otto took his own life though he was close to retirement from the WI Department of Corrections. Otto had transferred from one facility to another. The climate at Oakhill represented by the actions of several coworkers and led by one supervisor was extremely toxic and unwelcoming. After his death, investigations were conducted leading to terminations of key coworkers. The supervisor was allowed to retire. One captain was reinstated. Other workers filed an appeal with the Wisconsin Employment Relations Commission asking for reinstatement. The hearing examiner Stuart Levitan heard testimony during 16 days in 2013. I reviewed the record and testified on behalf of the State concluding that the fired employees (Rachel Koester, Matthew Seiler and Justyn Witscheber) had demeaned, harassed, bullied and disgraced their peer, Mr. Otto, who had transferred recently to their facility — new to the place, but a veteran corrections officer. Progress in the case reported below is that the hearing examiner ruled Rachel Koester was justly terminated, according to a pending decision released on March 4. … Gary Namie
###
Examiner: Firing of Oakhill Guard Following Suicide Was Proper
By Dee J. Hall, Wisconsin State Journal, March 31, 2015
A hearing examiner has determined that the state Department of Corrections properly fired a guard who allegedly shunned and belittled a fellow officer who later committed suicide.
Philip Otto, 52, killed himself in March 2012 after what his wife, daughter and co-workers described as a pattern of bullying by fellow employees at Oakhill Correctional Institution.
The 20-year DOC veteran's death came just months before he planned to retire with full benefits, his wife, Peggy Otto, told the State Journal in 2012.
In the proposed decision dated March 4, Wisconsin Employment Relations Commission examiner Stuart Levitan found the firing of correctional officer Rachel Koester was justified. He cited an internal investigation launched after Otto's death in which dozens of Oakhill staffers were interviewed.

Tags: bullying, coworkers, Oakhill, Philip Otto, Rachel Koester, suicide, Wisconsin Dept of Corrections
Posted in Rulings by Courts, Target Tale, WBI Education | 1 Archived Comment | Post A Comment () »
Friday, December 19th, 2014
"Protection" of Title VII of the Civil Rights Act of 1964 extends to claims of discrimination based on an individual's gender identity, including transgender status. Of course, "protection" actually means the right to file a complaint alleging disparate treatment based on one's transgender status.
In a Dec. 18 memo, Attorney General Eric Holder made identity as a transgender individual a protected group. In order for anyone to claim discrimination, the person must be a member of a protected status group.
This new decision extends the 1964 federal civil rights law. Read the memo.
With respect to bullying in the workplace, according to the 2007 WBI U.S. Workplace Bullying Survey, 20% of bullying cases involve a recognized claim of discrimination. This means that in 1 of 5 bullying cases, targets can compel their employer's attention to the problem because of possible illegal discriminatory conduct.

Tags: bullying, civil rights law, discrimination, transgender
Posted in Rulings by Courts | No Archived Comments | Post A Comment () »
Tuesday, July 15th, 2014
WBI friend Lewis Maltby wrote convincingly in his book, Can They Do That?, that American workers have very few rights. Without a union bargained contract, all rights are owned by management unless state or federal laws provide specific protections. Among the industrialized nations (members of the OECD), US workers have the fewest rights.
Robert Fuller, another WBI friend, speaks and writes eloquently about somebodies and nobodys, the hierarchy in our lives. For him, the issue is rankism. It makes good sense in our nation of ever-expanding income inequality.
From the work of stress guru, Robert Sapolsky, Stanford University professor and researcher, we learn that simply organizing social groups in hiearchical ways with rank playing a role in how all resources are unevenly divided is stressful. Those dominated by others are doomed to lives of ongoing stress. Social subordination generates distress, that in turn, triggers major life-threatening diseases through disruption of the adrenocortical, cardiovascular, reproductive, immunological, and neurobiological systems (Sapolsky, 2005).
Workers bullied by higher ranking bosses (56% of all targets) will find it nearly impossible to avoid contact. That toxic contact is the exposure to stress that causes health harm.
I say all this to put into context the June 30, 2014 decisions by the U.S. Supreme Court (SCOTUS). By majority votes of the conservative-dominated court, the rights of company owners were expanded. The (chief justice) Roberts Court has never ruled against corporate interests.
The two cases decided upon were Sylvia Burwell, Secretary of HHS v. Hobby Lobby Stores, Inc. (13-354) and Conestoga Wood Specialties Corporation v. Sylvia Burwell, Secretary of HHS (13-356) — jointly dubbed the Hobby Lobby decision.

Tags: California Healthy Workplace Advocates, distress, Hobby Lobby, Lewis Maltby, Robert Fuller, Robert Sapolsky, SCOTUS, stress, US Supreme Court
Posted in Bullying-Related Research, Rulings by Courts, Social/Mgmt/Epid Sciences | 1 Archived Comment | Post A Comment () »