February 26th, 2013
Counseling Today article featuring Jessi Eden Brown
Here is an excerpt of the Counseling Today article by Lynne Shallcross entitled Grown-up bullying. WBI coach Jessi Eden Brown, MS, LMHC, contributed to the section about bullying in the workplace:
---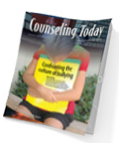 Unfortunately, graduating from college still doesn't guarantee an end to bullying. A 2010 survey commissioned by the Workplace Bullying Institute (WBI) found that 35 percent of the U.S. workforce — an estimated 53.5 million Americans — report being bullied at work. An additional 15 percent said they had witnessed co-workers being bullied.
These statistics are all too familiar to Jessi Eden Brown, who serves as WBI's administrator and also runs a private counseling practice in the Seattle area. About half of her clients deal with issues related to workplace bullying.
One such client, a 51-year-old woman, came to Brown's counseling practice after receiving the first negative performance evaluation in her 20-plus-year career. "She told me she had a new supervisor — a woman in her 30s who seemed overeager to please executive management from the start," says Brown, a member of ACA. "My client mentioned the relationship with her supervisor started out well, but within six weeks, she noticed a distinct shift in the supervisor's behavior toward her."
The client's workload increased dramatically, and her relationships with her husband and kids began to suffer as long nights at the office became the norm. The supervisor started criticizing the woman's work in staff meetings and threatening to demote her if all of her tasks weren't completed on time and free of errors. After receiving the negative evaluation, Brown says, her client was given an improvement plan and was required to meet twice weekly with her supervisor. The client reported to Brown that, among other things, the supervisor berated her behind closed doors and isolated her from her co-workers.
"By the time the client sought my help, she was in a state of crisis," Brown recalls. "Her blood pressure was dangerously elevated, she was unable to sleep most nights, she'd gained over 15 pounds, and she reported symptoms of severe anxiety related to work, including tremors and vomiting during her morning commute. My client's relationship with her husband was so strained that he'd recently brought up the idea of divorce with intent to seek custody of the kids. She told me she'd missed so many of her children's recitals, soccer games and special events that she felt they were beginning to resent her."
After listening to the client's story, Brown thought it was clear that workplace bullying was an important contributing factor to the situation, so she began educating her client on the topic. "You could see a rush of relief wash over her," Brown says. "All this time she thought she wasn't working hard enough. She'd worried that she had lost her mind."
Like many targets who experience workplace bullying, this client blamed herself, Brown says. "In truth, her work performance wasn't the problem — it was her boss," Brown says. "She consulted with an attorney, but because the harassment wasn't age related and they were both women, my client's legal remedies were limited. She approached human resources (HR) and her supervisor's boss, but they were not helpful. There was not a policy against what was happening, and my client said HR and upper management discounted her report immediately. They stood behind the improvement plan and reminded my client of the possibility of termination if she was noncompliant."
Brown says her work with the client focused on addressing her health, finding a sense of safety at work and reestablishing connections at home. "I worked closely with her doctors as they introduced antianxiety and blood pressure medications into her treatment regimen," Brown says. "We explored the client's options for creating safety at work, but in the end, it was clear the best choice would be to help her move on from that job. We worked on her self-esteem, practiced coping skills and also focused on her relationships at home. Her husband and children attended a couple of sessions so we could address the strain and conflict introduced into the home by my client's job-related stress. We also worked on fine-tuning her résumé, soliciting letters of recommendation, honing interviewing skills and other specific tasks designed to boost her confidence and facilitate the process of securing new employment."
After a couple of months, Brown's client found a new job. "During that transition, the client's husband and children noticed her efforts to change the situation at work, which subsequently reduced the stress at home," Brown says. "Also, she described a greater degree of support and understanding from her family after they learned about workplace bullying. My client tells me she is much happier now. A few months ago, she emailed to inform me she'd won an award at her new job."
Abuse with little recourse
According to Brown, WBI's definition of workplace bullying includes repeated, health-harming mistreatment of one or more targets by one or more perpetrators in the form of verbal abuse, offensive conduct or behaviors that are threatening, humiliating or intimidating, and/or work sabotage, which prevents work from being done.
Unfortunately, Brown says, workplace bullying is illegal in only about 20 percent of cases, such as when the behavior violates civil rights or whistle-blower protections. In most other cases, workplace bullying is considered status-blind harassment, for which there is no legal recourse, she says. "Few employers have specific policies to address workplace bullying, so internal remedies are often limited as well," says Brown, who in her role with WBI provides professional coaching services over the telephone each year to hundreds of individuals — nationally and internationally — who have experienced workplace bullying.
Brown calls workplace bullying a form of psychological violence. "Although popular media frequently portray the workplace bully as a volatile, verbally abusive boss, in actuality, the behaviors tend to be more subtle, insidious and persistent," Brown says. "Examples include stealing credit for others' work, assigning undue blame, using highly public and humiliating criticism, threatening job loss or punishment, denying access to critical resources, applying unrealistic workloads or deadlines, engaging in rumors and gossip, endeavoring to turn others against a person and deliberate attempts to sabotage someone's work or professional reputation."
Stacee Reicherzer, the assessment coordinator for Walden University's School of Counseling and Social Service, echoes Brown in saying that workplace bullying tends to be based in nonphysical forms of aggression. "Whereas physical violence does of course occur, these types of incidents are generally less problematic over the long term because companies tend to have policies that address workplace violence, in addition to the legal consequences that occur for people who commit assault," says Reicherzer, a member of ACA who has also done consulting work with organizations on this topic.
One common form workplace bullying can take is relational aggression, in which bullies use tactics such as gossip to create experiences of rejection and diminished worth, Reicherzer says. When a target's supervisor is involved in the gossip, Reicherzer says, this can lead to the target feeling that he or she has no power to remedy the situation.
Certain environmental factors in the workplace can add fuel to the fire, Brown says. For example, professional climates and cultures that emphasize competition for resources and status may end up rewarding workplace bullies with public recognition and promotions. Additionally, the current high level of job insecurity across many industries, combined with demands for increased productivity, can create "boiler room" environments that heighten stress and set the stage for bullying, Brown says.
Reicherzer agrees that the economic tumult can bring out the worst in people in the workplace. What further complicates the situation, she says, is that in this economy, those who are targets of workplace bullying often feel they can't simply leave a bad situation because it won't be easy for them to find a new job.
It is the fact that these bullying behaviors are repeated again and again that make them especially damaging, Brown says. "The cumulative effects and prolonged exposure to stress exact a great toll on the bullied individual," she says.
"There is a significant body of research linking workplace bullying to physical, mental, social and economic health harm for the bullied target," Brown says. Studies have linked repeated exposure to stressful events such as bullying to severe physical ailments, including cardiovascular disease, gastrointestinal problems and increased levels of cortisol, among other things, Brown says. The psychological harm from bullying can be just as devastating. "Panic disorder, general anxiety disorder, major depression, substance abuse and dependence, acute stress disorder and posttraumatic stress disorder are but a few of the diagnoses encountered when working with targets of workplace bullying," Brown says.
And then there are the effects on the targeted person's relationships outside of work. "WBI conducted an online study of targets in 2010 to examine the effect of the bullying on the target's primary support relationship — spouse, parent, child, best friend, etc. The majority of respondents — 76 percent — reported negative consequences for that relationship, indicating it was marked by more conflict and stress or had been completely dissolved since the onset of the bullying."
'Believe them'
It is rare for a company to invite a counselor to assist with a comprehensive response to workplace bullying because in most cases, Brown says, employers and employees look to HR for a solution. But she points out that a recent WBI online survey found that respondents who identified as targets of workplace bullying said HR helped them satisfactorily resolve the situation only 4.7 percent of the time.
A more likely entry point for counselors, Brown says, will be through individual counseling, which bullying targets may seek on their own as they deal with the stress of the bullying or as a result of being referred by a concerned physician.
Brown says counselors have the empathy and skills necessary to help these clients. "First, and most importantly, we can believe them when they tell us about the mistreatment at work," she says. "The stress and exhaustion that targets endure is often isolating and paralyzing. After all, it is generally the bully's goal to disempower the target. Even when they do speak up, targets of workplace bullying tell us their employers, family and friends do not often believe them nor understand how it could be so distressing. As counselors, we can listen to the story, convey a sense of belief and offer a distinctly different response than the target has received thus far."
It is imperative not to blame these clients in any way for the abuse they have experienced, Brown says. "In most cases, the target has done nothing to deserve the treatment [he or she is] receiving," she says. "The bully chooses the target, timing and tactics. Also, the target may have very little control or influence over these factors. The responsibility to stop the abusive behavior rests with the employer. Teaching your client to be more assertive or to stand up to the bully is not the answer. Most of the time, this only makes the situation worse. Remember, 72 percent of bullies are bosses, and standing up to the boss can easily be misinterpreted as insubordination."
The therapeutic recipe is fairly simple, according to Brown. "The best support a counselor can offer targets of workplace bullying is to help them prioritize their health, explore ways to heal from the psychological injuries associated with the abuse and examine realistic solutions to the problems they face," she says. "Do not ask too much from these clients. The unrelenting stress they've experienced may be quite debilitating. Be patient, be accepting, be encouraging [and] be a resource for them."
Promoting self-care and enhancing social support are imperative, Brown says. "This may mean helping the client figure out a way to take time off from work, teaching new coping skills and encouraging time spent with loved ones — time that is deliberately not focused on recounting the situation at work."
Counselors can also offer psychoeducation to clients, Brown says, allowing them to learn about the phenomenon of workplace bullying, giving a name to what they have been experiencing and helping them to find relevant resources. In working with these clients, it is also important for counselors to keep the focus on the present and the immediate future, Brown says. "Many of the targets that come to counseling arrive in a state of crisis. Their physical and emotional health, personal relationships, finances and job may be in jeopardy. Counseling approaches that focus heavily on the past — family of origin, childhood memories, etc. — will not provide the immediate support and direction these clients need," she explains.
Taking a goal-directed and strengths-based approach will also prove helpful, Brown says. She advises counselors to listen for the client's assets, strengths and past successes, and then design interventions that keep the client in touch with those qualities.
Reicherzer also advocates for a strengths-based approach and adds that the particular course of counseling will vary by client. "When we have an understanding of the client's demonstrated strengths and resources across her or his history, it's helpful to draw from these in reminding the client of personal capabilities," she says. "Remedying a bullying situation is really based on the needs of the client. For some, it's simply beginning a new job search and making a plan to leave the current job. For others, it's about having the courage to report the problem to a manager or human resources or to pursue legal action when the organization has failed to resolve the matter satisfactorily."
Brown adds that she does a fair amount of role-playing with her clients. "In session, they try out new responses, process the success or failure of the steps they are taking to address the situation at work, rehearse coping skills we've identified, etc. I strive to create a safe place to practice and experiment with new skills and behaviors."
WBI research indicates that once targeted, an individual has a 77.7 percent chance of losing the job, Brown says. "After exhausting their options, many targeted workers choose to transfer or quit," she says. "The decision to leave on one's own terms can be empowering and frequently results in better emotional health than being fired or laid off."
Not surprisingly, Brown says, career counseling techniques can play a vital role in working with these clients because the approach helps them to explore alternative career possibilities and plans for seeking employment elsewhere.
But perhaps no intervention is as effective or helpful as simply listening. "Targets tell us few people really listen to them," Brown says. "There is immense power in this simple act."
Brown encourages both new and seasoned counselors to get relevant training before working with clients who are experiencing workplace bullying. Clinical supervision may be helpful as counselors develop knowledge and skills specific to this population, she says, and ongoing consultation is a good idea.
Simply being mindful as a counselor that workplace bullying exists is crucial, Brown says. "In the U.S., there are deep connections between one's career and his or her identity," she points out. "Work-related stress is a common topic of discussion in the counseling relationship. With nearly half of all working Americans reporting direct experience or witnessing bullying in the workplace, it cannot be overstated how important it is for counselors in all settings to be aware of this phenomenon."
###

Learn more about WBI's personalized coaching by Ms. Brown

Tags: coaching, Counseling Today, eden therapy, help for bullied targets, Jessi Eden Brown, WBI, workplace bullying
This entry was posted on Tuesday, February 26th, 2013 at 1:42 pm and is filed under Products & Services, WBI Education, WBI in the News. You can follow any responses to this entry through the RSS 2.0 feed. You can leave a response, or trackback from your own site.