August 22nd, 2018
October New Zealand Conference on Workplace Bullying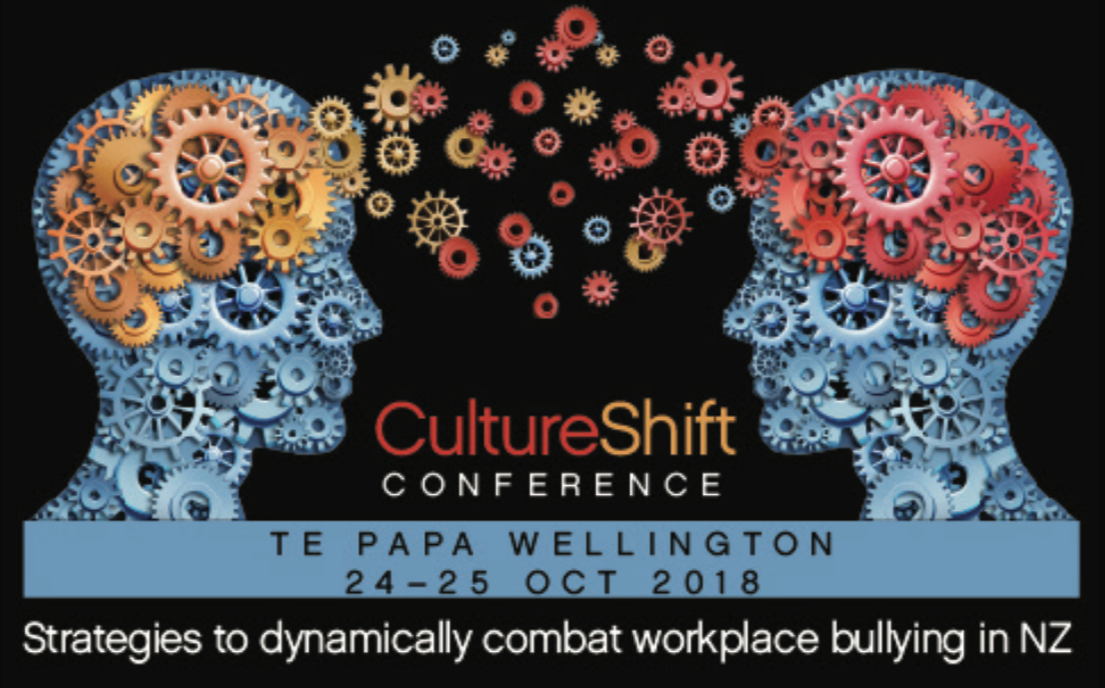 WBI is honored to attend and present at this conference.
Join us in Wellington Oct. 24-25 at the Museum of New Zealand, Te Papa.
Conference Presenters
Olivia Wensley, Legal Disruptor and #Metoo Advocate

Olivia is a former Lawyer, who has been an active advocate against sexual harassment and bullying in the workplace. Olivia made headlines earlier this year by "whistle-blowing" on the endemic sexual harassment in the legal industry after she wrote a blog titled We Need to Talk About Law's Dirty Little Secret which went viral. Since then, she has been using her platform to enact change for good. Olivia is a proponent for change, and has been advocating on behalf of victims throughout New Zealand who have suffered such abuses in the workplace. She has been a vocal critic of current practices by the Law Society and New Zealand employers, and has been pushing for reform to legislation-particularly, banning the use of Non-Disclosure Agreements to hide unlawful activity in the workplace. Since Olivia has spoken out, huge change has already been enacted, with sexual harassment being put into the centre of the conversation. The impact of the #METOO movement has meant employers are now taking this issue seriously, and ensuring their workplaces are safe.
Nicole Rosie, Chief Executive, Worksafe New Zealand

Nicole is a passionate New Zealander who cares deeply about people. She joined WorkSafe because she believes transforming New Zealand's health and safety performance is critical to reducing harm to our people and to sustaining and accelerating New Zealand's economic success. She wants to make a difference, and leading the health and safety system to world- leading best practice is the best way she can do that.
Nicole is driven by the adage, "Good health and safety practise makes good business sense." She has 15 years executive experience in large New Zealand businesses including Fonterra, KiwiRail, Toll, Fletcher Forest and ACC. In these roles she built and led improvements in business performance through a focus on leadership, care for people and systematic improvement in health and safety systems, culture and outcomes. Recently Nicole has been in roles with Fonterra leading major business transformation. Before this she was Director of Health and Safety for Fonterra's global business in 52 countries.
Rachel Mackintosh, E tū National Director of Organising (& Vice-President CTU)/em>

Rachel was elected Vice-President of the CTU in October 2015. She is also National Director of Organising at E tū, the largest private sector union in the country.Rachel's involvement in the union movement began when she was working as a copy-editor in the publishing industry and became site delegate for the EPMU. She started as an EPMU official in 2003. As an organiser, she worked across media and manufacturing industries. She co-ordinated the EPMU's plastics industry strategy for several years, before becoming a director of organising, a post she held for four years before taking up her current role, when E tū was formed in October 2015. In 2015, Rachel completed the Harvard Trade Union Program in Cambridge, Massachusetts. She has served as a trustee for Kotare Trust and as a member of the executive of PaMPITO, the plastics industry training organisation, now part of Competenz. Rachel represented New Zealand workers at the International Labour Organisation annual conference in Geneva this year – contributing to the debate to set up an international convention to end violence and harassment in the world of work. Rachel's Union, E tū, worked with the PSA and NZNO for the 2017 equal pay victory for care workers. In her role as CTU Vice-President, Rachel has also been involved with public sector unions in negotiating gender pay principles for the public sector – to address systemic causes of pay inequity that affect all women workers – not just those in female-dominated work.
Dr. Prudence Fisher, Clinical Psychologist

Prudence has worked for many years in the area of bullying and with the physical and psychological impact on individuals and organisations. She has worked in primary health settings and women's health over the past four decades as a Registered Nurse, Supervisor, Researcher, Educator and Consulting Clinical Psychologist. She completed her PhD in 2010 at Massey University which examined how covert power operates within relationships and peer groups. Prudence's clinical practice is informed by her family and cultural background in social justice as well as social psychology, clinical psychology and critical health psychology. She critically examines how power operates within specific social and family contexts and how cultural ideologies may work to support individuals who choose to misuse power against others in the workplace. Her specific background helps Prudence understand the association between specific organisational cultures and how this enables or restrains the wellbeing of workers and effective work practices.
Dr. Gary Namie, Director, Workplace Bullying Institute

Gary is a social psychologist and widely regarded as North America's foremost authority on Workplace Bullying. He won university teaching awards. Since 1997, he directs the Workplace Bullying Institute, the organisation he and Dr Ruth Namie founded in response to her bullying by an abusive supervisor. Together, they authored the books, The Bully-Free Workplace (Wiley, 2011) and The Bully At Work 2nd ed. (Sourcebooks, 2009) and chapters in Workplace Bullying and Mobbing in the US (Praeger, 2018). WBI commissioned four national scientific surveys 2007-2017. WBI also directs a national campaign to enact workplace anti-bullying legislation in the US, introduced in 30 states to date. International media regard Dr Namie the go-to expert on the topic of workplace bullying. He is credited with originating workplace bullying consulting in the US and counts government agencies, corporations, nonprofit organisations and unions as clients. He is a union member Local 1981 UAW/AFL-CIO. Gary serves as expert witness in state and federal courts and arbitrations.
Allan Halse, Director, CultureSafe NZ

Allan set up CultureSafe NZ in February 2014 and has since become a pioneer in the field of employee advocacy by specialising in workplace bullying and its prevention. With over forty years' experience in the workplace, in a variety of roles, Allan has seen it all. As a Union representative, Allan supported his fellow employees and revealed the scale of bullying in one prominent Hamilton organisation by acting as 'whistle-blower' and successfully representing himself in his own lengthy and very public workplace bullying case. This experience and Allan's natural tendency to 'seek justice' and support his colleagues and friends has led Allan to his current crusade; to highlight the insidious nature of work- place bullying it, and initiate solutions to prevent and deal with bullies in the workplace. When Allan is not representing employees at mediations or Employment Relations Authority and Employment Court hearings, he is making regular appeals to governing bodies who are failing to ensure New Zealand employees are safe and free from harm incurred at work to recognise and acknowledge workplace bullying and enact change.
AND THESE SPEAKERS …
Marni Stevenson, Researcher Writer, Consultant: Building Positive Workplaces
Dr. Joanna Bishop, Researcher and Employment Advocate, CultureSafe NZ
Shaun Robinson, CEO, Mental Health Foundation
Iriaka Isaacs, CultureSafe NZ
Brad Clark, Former CEO, Starship Foundation
Bernadette Soares, Managing Director, Brand Value Ltd
Jaq James, Author
Read the biographies of all speakers here.
Visit the Conference website.
TO REGISTER
---
We will be offering the WBI Workplace Bullying University training for professionals in Auckland on October 30-31-Nov 1.

Tags: abusive conduct, Allan Halse, Bernadette Soares, Brad Clark, Culture Shift conference, CultureSafeNZ, Dr. Joanna Bishop, Dr. Prudence Fisher, Gary Namie, Iriaka Isaccs, Jaq James, Marni Stevenson, New Zealand, Nicole Rosie, Olivia Wensley, Rachel Mackintosh, Ruth Namie, Shaun Robinson, workplace bullying, Workplace Bullying Institute
This entry was posted on Wednesday, August 22nd, 2018 at 1:38 pm and is filed under Events & Appearances, Hear Ye! Hear Ye! 2. You can follow any responses to this entry through the RSS 2.0 feed. You can leave a response, or trackback from your own site.