December 6th, 2013
The second great new workplace bullying book in time for Christmas 2013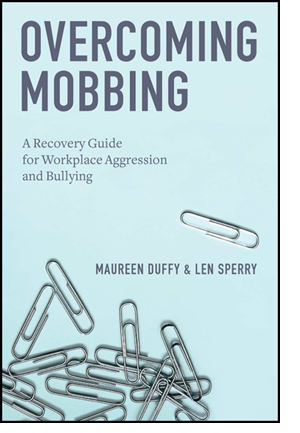 Overcoming Mobbing
A Recovery Guide for
Workplace Aggression
and Bullying
By Maureen Duffy & Len Sperry
A powerful, practical book that accurately reflects the entire bullying experience. These two clinicians, Duffy a clinical psychologist and Sperry a psychiatrist, demonstrate a deep understanding of bullied individuals and what it takes to heal them so life can be lived after bullying.The subtitle says it all — Recovery.
From the Foreword
Practical is the adjective to best describe this book. Though it is rich in citations and relies on science, applicability to real lives, real families and real organizations jumps off the pages. It tackles an admittedly complex subject with an accessible writing style that showcases illustrations and summary lists and tables. Points are driven home artfully with compassion for victims present throughout …
The blunt and truthful authors then describe how organizations create "shadow files" and do whatever it takes for administrators hide behind the myth that it is a "good and fair place to work." Hypocritically, those employers discard good employees as though they are dispensable resources using the tactics of mobbing fueled by the hurtful power of social exclusion, ostracism …
The authors do not leave the reader submerged in the dark side of the world of work. Ultimately, the book is about hope and inspiration. So, the seventh chapter signals the shift toward a discussion of recovery from mobbing. The valuable advice flows steadily and includes gems such as "don't make fighting the organization that mobbed you your next career." Their wisdom extends to selecting psychotherapists who practice "trauma-informed mental health care" by taking into account the organizational, cultural and power dynamics factors that instigated the mobbing experience rather than a focus on the victim's vulnerability …
The authors' defiantly critique the "bad apple," personality-dominated explanation for mobbing. They give the reader an introduction to work environments and their working parts. Personalities of perpetrators comprise only a small part …
Hooray for Duffy and Sperry's clarity in pronouncing that banishing bullies does not end the systemic problem. As the authors write "it takes an organization" to create it, and that's what it takes to stop it. ###
There is wisdom for organizational reps for those smart enough to apply the lessons contained inside. However, this book is primarily for bullied targets and the families who love them.
About the authors
Maureen Duffy, PhD, is a practicing family therapist and consultant specializing in workplace and school mobbing and bullying issues and an Affiliate with the Qualitative Research Graduate Program at Nova Southeastern University She provides trauma-informed psychotherapy to targets of mobbing and bullying and their families and consultation and training on workplace abuse to stakeholders including human resource managers and attorneys. She is the coauthor of Mobbing: Causes, Consequences, and Solutions.
Len Sperry, MD, PhD, is Professor of Mental Health Counseling at Florida Atlantic University and Clinical Professor of Psychiatry at the Medical College of Wisconsin. He has provided psychotherapy to mobbing victims and consulted with corporations on mobbing and bullying. He is the coauthor of Mobbing: Causes, Consequences, and Solutions.
Buy this book (along with the Lutgen-Sandvik book and, if they don't own it yet, our book, The Bully At Work) for those who need it most this Christmas season. They will be forever grateful.

Tags: bullied targets, Len Sperry, Maureen Duffy, Mobbing, organizational factors, self help, strategies, therapy, trauma, workplace bullying
This entry was posted on Friday, December 6th, 2013 at 9:53 am and is filed under Books, Bullying-Related Research, Good News, Hear Ye! Hear Ye! 2, Media About Bullying, Social/Mgmt/Epid Sciences, Tutorials About Bullying. You can follow any responses to this entry through the RSS 2.0 feed. You can leave a response, or trackback from your own site.