April 1st, 2017
Bullies are too expensive to keep

We at WBI have labored to convince employers that if they view bullying through their "loss prevention" perspective, the only rational action is to purge the one or two destructive individuals who have tormented many more others over the years. It is the rational choice because it stops the losses and prevents future ones.
Still, American employers who face no legal workplace bullying standard are safe to ignore it, when and if they wish. Ignoring and treating it with indifference or flat-out denial that bullying happens on their watch are the typical responses. They do so out of loyalty to the abuser. Simultaneously this sends the message that everyone else is expendable, dispensable and worthless.
We list the following tangible bully-related costs: undesirable turnover, absenteeism, increased utilization of healthcare-workers comp-diability insurance, and litigation-related expenses. This is not simply theoretical.
The New York Times reports that Fox News has paid out over $13 million in case settlements to five women who claimed that network host Bill O'Reilly sexually harassed them. Some of the women worked for him; others were guests on his show.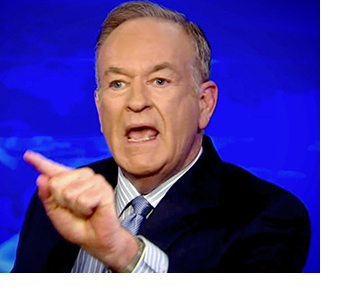 According to the women, he spewed verbal abuse, lewd comments, made unwanted advances, made phone calls in which it sounded as if Mr. O'Reilly was masturbating, and berated a young producer in front of newsroom colleagues. Much of this could be considered bullying (remember, in 20% of bullying cases there is an underlying, simultaneous discriminatory component to the misconduct). But since the perpetrator was male and the targets female, the targets could use corporate nondiscrimination policies and threaten, or actually file, sexual harassment lawsuits.
The problem for the harassed women is that O'Reilly is the cash cow for Fox News. He has generated billions of dollars since he joined Fox in 1996.
O'Reilly's defense is spelled out in a statement from his attorney:
"Just like other prominent and controversial people, I'm vulnerable to lawsuits from individuals who want me to pay them to avoid negative publicity. In my more than 20 years at Fox News Channel, no one has ever filed a complaint about me with the Human Resources Department, even on the anonymous hotline.But most importantly, I'm a father who cares deeply for my children and who would do anything to avoid hurting them in any way. And so I have put to rest any controversies to spare my children."
Therefore, he denies the harasser's charges and instead brands them golddiggers. His lawyer suggests in the NY Times article that O'Reilly might go on the offensive to sue the harassers.
The corporate position is to protect their asset — O'Reilly. Fox is embroiled in settlement discussion with another former on-air personality. To them, it is simply the cost of doing business when harassers are considered indispensable.
Though the scale of the Fox-O'Reilly experience is huge, the pattern mirrors what happens in most bullying situations. The corporation (agency) backs the harasser/bully/abuser and eats the financial losses. The abusers "thrive." The abused ones are banished. Only if rich enough to file lawsuits do targets extract settlements. Without the lawsuits or threat of them, targets are disappeared for much smaller sums of cash (if any severance is even offered) and silenced with a gag order so no one else learns about the pathology in workplaces where predators operate with impunity.
Stay tuned to see if the employer, Fox, ever terminates their harasser.

Tags: Bill O'Reilly, bullied targets, Fox News, payouts, settlements, sexual harassment
This entry was posted on Saturday, April 1st, 2017 at 5:45 pm and is filed under Employers Gone Wild: Doing Bad Things, Media About Bullying, Print: News, Blogs, Magazines, Tutorials About Bullying. You can follow any responses to this entry through the RSS 2.0 feed. You can leave a response, or trackback from your own site.