April 24th, 2014
9th anniversary of Japanese train disaster caused by workplace bullying
On April 25, 2005 at 9:19 am, a 7-car Japanese commuter rapid train 5418M derailed at high speed on a curved stretch of track and slammed into a parking garage of an apartment building. The train was operated by 11 month veteran driver 23-year old Ryūjirō Takami in front car. A second rail employee, the conductor, was in the rear car.
It was the second worst rail disaster in the country's history. 562 people were injured and 107 died, including Takami. 99 of the fatalities were in the front car. In all, four cars derailed.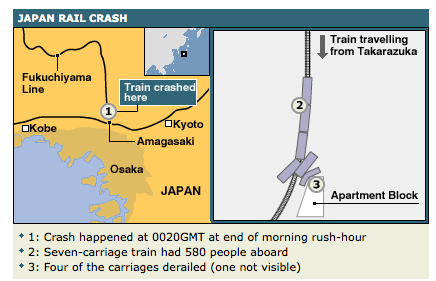 The morning commute to Osaka on the West Japan Railway Company (JR West), the end of the rail line, was over and the train was heading in the other direction. On the way to the Itami station, an alarm sounded that the train was over the speed limit, traveling at 120 km/hr. Takami was speeding. As the station approached, Takami applied the emergency brake. The train overshot the platform by three cars, about 30 meters. Takami reversed the train to align the cars with the platform.
The conductor warned Takami that he would have to immediately report the mistake to headquarters from the phone on the train. Takami asked him to lie, to minimize the distance overshot. The conductor said that he called in an 8-meter mistake. Mistakes of 5 meters bring company punishment.
Takami knew JR West punishment. When Takami was in his third week of driving a train ten months earlier, he was subjected to 13 days of Nikkin Kyoiku, re-education, for having overrun a platform by 100 meters. Overshooting the Itami platform had to have filled his mind with horror, anticipating another round of Nikkin Kyoiku.
Nikkin Kyoiku is psychological abuse by Japanese employers. It is described euphemistically as "re-education" or "retraining," but it has nothing to do with learning or improving performance. It is pure psychological abuse characterized by verbal aggression, humiliation, demeaning menial tasks (made to clean up pigeon droppings or hand scrub the rails), writing endless reports about repentance for wrongs committed, and financial penalties Punished workers are not told when the torture ends and when they can return to paying work. In other words, it is severe workplace bullying.
Being 1 min. 20 sec. behind schedule, as Takami was coming out of the Itami station, was also grounds for punishment. So, Takami sped up the train bound for Amagasaki station. Surviving passengers and the conductor recall that the train began to rock, rumble and shake violently. The train's data recorder indicated that Takami hit the curve at 116 km/hr (72 mph). Then disaster hit.
The stressed and worried Takami made a critically wrong decision. He applied the regular service brake but not completely only 4 seconds before derailment. He did not engage the emergency brake. You see, simply using the emergency brake at JR West requires another report to headquarters and the prospect of Nikkin Kyoiku.
It cost Takami his life and 106 others. The investigation identified two principal contributing factors:
• The company culture at JR West emphasized punctuality because Japanese passengers demand timeliness within seconds. All company policies, including the inhumane Nikkin Kyoiku, centered on profit and timeliness. Passenger safety and worker well being were ignored. In June 2005, the man in charge of JR West's train punctuality resigned because it had been recognized as a major contributor to the accident by putting unnecessary stress on drivers.
• Driver Takami was so stressed in anticipation of Nikkin Kyoiku, he made several otherwise avoidable mistakes. It was train driver error, but errors caused by the company's practice of torture vs. education.
In Dec 2005, the JR West president at the time of the disaster resigned. His successor was taken to court in 2009 along with two executives for negligence and resigned. They were exonerated by the courts in 2012. Not much genuine change seems to have occurred at JR West.

Tags: accident, culture, death, disaster, Nikkin Kyoiku, Ryūjirō Takami, torture, West Japan Railway Company, workplace bullying
This entry was posted on Thursday, April 24th, 2014 at 10:44 pm and is filed under Bullying & Health, Employers Gone Wild: Doing Bad Things, Tutorials About Bullying, WBI Education. You can follow any responses to this entry through the RSS 2.0 feed. You can leave a response, or trackback from your own site.