January 25th, 2013
Life expectancy longest for the richest in America
The richest and most powerful Americans — corporate titans — are working together to deprive the oldest and poorest Americans of a social safety net created in the 1930's — Social Security — and extended in the 1960's — Medicare and Medicaid. Shamelessly making the false connection between SS and the national deficit, the corporate front group, Fix the Debt, wants to "reform" the two indispensable programs for the elderly sick and poor. One suggestion is to raise the retirement age to beyond age 65. Reformers glibly state "everyone is living longer." Turns out to not be true.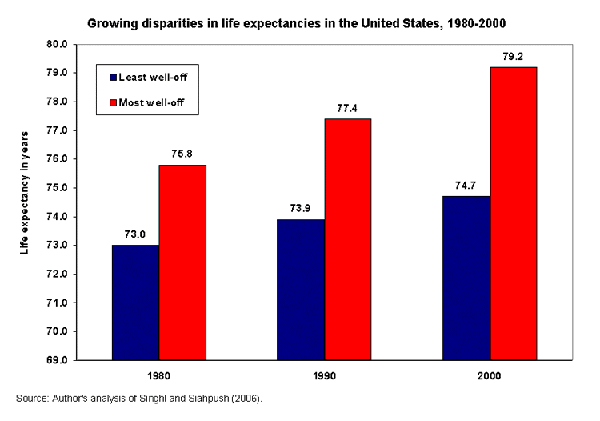 Epidemiologists Gopal Singh and Mohammad Siapush showed that how long you can expect to live depends in large part on government differences based on geography. The measure used in their study was a "deprivation index." That index takes into account educational opportunities, labor force skills, wealth, income distribution, poverty and unemployment rates, and the quality and distribution of housing. All U.S. counties were ranked according to level of deprivation. The top 20 least-deprived were the richest and found in the SF area, metropolitan DC, metro NYC and Nantucket, MA (where the median house value is $993,000) while the bottom 20 most-deprived counties were in Texas, Alabama, Kentucky and South Dakota (Starr County, TX is the lowest ranked).
The gap between average life expectancy in the richest and poorest counties increased from 1980 to 2000. In 1980, the gap was 2.8 years (75.8 years for the rich vs. 73 years for the poor). In 2000, the gap widened to 4.5 years (79.2 vs. 74.7). The differential in life expectancy men was greater for men (7.6% relative rate) than for women (4.2% relative rate) over the 20-year period. In other words, if poor, men lost more years than did women when compared to their rich counterparts. In 2000, the infant mortality rate for the poorest was 1.63 times greater than for the rich (in 1980, it was 1.43 times greater).
The researchers stated:
Health inequalities in the US, particularly those in all-cause, cardiovascular, and cancer mortality, have continued to widen despite the launch of the national health initiative in 1990 to reduce and ultimately eliminate such inequalities.

Increasing inequalities in life expectancy parallel the rising trend in US income inequality and may reflect increasing polarization among deprivation groups with respect to material and social conditions.
County-level deprivation levels are strongly associated with lower local government spending on a variety of infrastructural resources (such as public safety, fire protection, social and welfare services, education, affordable housing, and employment) as well as with higher smoking and obesity rates and rates of non- health-care coverage (data not shown).29,30 The fact that the area deprivation groups differ significantly in their levels of urbanization and racial composition suggests that racial/ethnic discrimination, social segregation, and labour market discrimination, in addition to the material, social, and medical care factors identified above, may partly account for socioeconomic inequalities in life expectancy shown here.

Behavioural and social policy interventions (e.g. smoking reduction, tobacco regulation and advertising, cancer screening, prenatal care, and universal health care coverage) have the potential to reduce health inequalities among deprivation groups.

However, reducing geographical inequalities in education, income, poverty, unemployment, housing, transportation, and labour market opportunities, the most fundamental determinants of such health inequalities, must be an important public policy goal towards halting the current trend of increasing inequalities and bringing about substantial reductions in the magnitude of existing inequalities in US life expectancy.
Source: Singh, G.K. & Siapush, M. 2006. Widening socioeconomic inequalities in US life expectancy 1980-2000. International Journal of Epidemiology, 35, 969-979.
Download the Singh & Siahpush article.

Tags: deprivation index, epidemiology, Gary Namie, Gopal Singh, life expectancy, Mohammad Siahpush, retirement age, social security
This entry was posted on Friday, January 25th, 2013 at 3:51 pm and is filed under Commentary by G. Namie, Fairness & Social Justice Denied, Social/Mgmt/Epid Sciences. You can follow any responses to this entry through the RSS 2.0 feed. You can leave a response, or trackback from your own site.