Posts Tagged 'abusive workplace conduct'
Monday, November 26th, 2018
From Reuters news service
Suicide Rate Rising Among U.S. Workers
By Lisa Rapaport
(Reuters Health) – Suicide rates are rising among U.S. workers, and the risk may depend partly on the types of jobs people do, government researchers suggest.
From 2000 to 2016, the U.S. suicide rate among adults ages 16 to 64 rose 34 percent, from 12.9 deaths for every 100,000 people in the population to 17.3 per 100,000, according to the study by the Centers for Disease Control and Prevention (CDC).
The highest suicide rate among men was for workers in construction and mining jobs, with 43.6 deaths for every 100,000 workers in 2012 and 53.2 deaths per 100,000 in 2015, the analysis found.
The highest suicide rate among women was for workers in arts, design, entertainment, sports and media, with 11.7 fatalities for every 100,000 workers in 2012 and 15.6 deaths per 100,000 in 2015.
"Since most adults spend a great deal of their time at work, the workplace is an important and underutilized venue for suicide prevention," said study co-author Deborah Stone, a behavioral scientist at the CDC in Atlanta.
While the study wasn't designed to prove whether or how specific types of jobs or workplace characteristics might contribute to the risk of suicide, lack of control over employment and a lack of job security can both be stressors that make suicide more likely, Stone said by email.
Many factors outside the workplace can also influence the risk of suicide, including relationship problems, substance use, physical or mental health, finances or legal problems, Stone added.
And ready access to guns and other weapons have a big impact on whether suicidal thoughts turn into actions with fatal outcomes, Stone said.
Guns may explain the higher suicide rates among men than among women, said Gary Namie, director of the Workplace Bullying Institute in Clarkston, Washington.
"In America, with ready access to guns, men make the choice of death by gun, but it is the less likely choice by females," Namie, who wasn't involved in the study, said by email. "Hence, it is possible that in moments of despair that might pass if friends or family could intervene, with a gun handy, the decision is too quickly implemented."
(more…)

Tags: abusive workplace conduct, bullying causes suicide, CDC, Gary Namie, suicide, workplace bullying, Workplace Bullying Institute
Posted in Tutorials | No Archived Comments | Post A Comment () »
Wednesday, November 14th, 2018
WBI in New Zealand 2018, a diary
The trip began with an Oct 22 appearance on NZ TV1 (Auckland) Breakfast show promoting the Oct 24-25 CultureShift Conference in Wellington.
---
Then came the 2-day conference hosted by CultureSafe NZ, the nation's only anti-bullying organization founded by Allan Halse.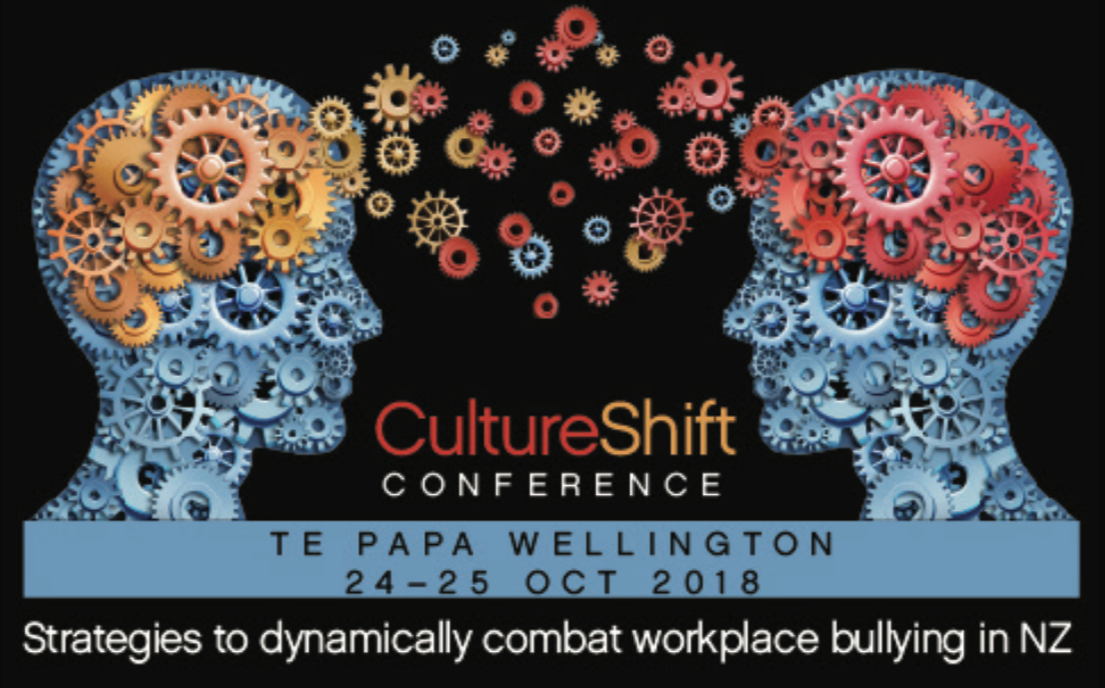 The event began with an indigenous people's Maori welcome.
There were two MeToo-related presentations which bracketed the conference. An early presenter, Olivia Wensley, is an activist lawyer whose publicly chronicled sexual harassment gained national notoriety. Her fight is with the Law Society that remains in denial about its professional members' bad behavior. The final speaker was Marni Stevenson, a business consultant who endured sexual assault in her workplace. Her presentation was her first MeToo revelation. Remarkably, her manager's initial response to the assault was to question her suitability for her job!
Bernadette Soares, a highly educated Indian, moved to NZ hoping for positive change only to face discrimination. Her tale was an inspiring story of entrepreneurship and how to move beyond mistreatment in the workplace.
There were two union presenters — Rachel Mackintosh and Brad Clark. Rachel spoke of on-the-ground tales successes against resistant public sector employers. Brad was a high-ranking officer of PSA, the largest union in NZ. He was disconnected from bullied members while claiming to have all the expertise on the topic the union needs. He spoke like a politician. A woman in the audience, a PSA member, spoke of the ignorance about bullying by union reps in the field.
Australian book author Jaq James spoke about the corruption within Aussie government agencies that dictates how they abuse workers further after complaining about being bullied. In particular, employers there use psychiatrists who consistently abuse the IME process and mis-diagnose bullied workers to absolve employers of responsibility for harming those workers.
Clinical psychologist Dr. Prudence Fisher, who understands bullying and regularly evaluates bullied workers in NZ in a way very differently than the Australians, chose one of her cases to illustrate the vastly different worldviews held by a bully and her target. Fisher dissected the divergent early family experiences and expectations about workplaces brought to the situation by the bully and target. She shed light on approaches to help both players find resolution.
Shaun Robinson, Director of the NZ national Mental Health Foundation, addressed the spate of suicides, representing the highest ever annual total. He linked suicide to bullying and primarily to the nation's high rate of domestic violence and sexual assault. Most important, he specified aspects of New Zealand's aggression-plagued culture. He also participated in a panel Q&A during which rugby as national sport, and thus central to NZ's national character, was discussed. Remarkably, according to Robinson, celebrity players from the national rugby team, All Blacks, appear in promotional advertisements decrying domestic violence and aggression.
There were three representatives from the national government. The Minister of Justice (from the majority Labour Party) Andrew Little opened the conference, lending endorsement from the Prime Minister. In place of traditional platitudes, Little recalled highlights of his career as union lawyer and fighting for social justice. Shortly after Little spoke, Nicole Rosie, Chief Executive, WorkSafe New Zealand took to the podium. Her agency is only 3.5 years old, founded in the aftermath of a coal mining disaster. She made two remarkable assertions — (1) that her agency does not focus on safety for individuals but cares most about systems used by employers, and (2) bullying is not part WorkSafe's mandate. She identified that cardiovascular diseases represent 20% of workplace deaths, but she did not feel compelled to explore the causal link with bullying. She was not fondly received by the audience. Her approach — deflection of responsibility to see workplace bullying as a workplace health hazard — was obvious and resented by the conference attendees.
By far, the most popular government representative was MP Scott Simpson, Spokesperson for Workplace Relations and Safety (for the opposition National Party). He outlined how to use the power of the opposition party to advance the anti-bullying cause in NZ. He dared the activists, led by CultureSafe NZ, with whom he regularly meets, to force the National Party to include workplace bullying on the party platform as a step toward national legislation in the future. He invited everyone to schedule meetings with all politicians.
There were two speakers from CultureSafe NZ, the conference host organization. Allan Halse, CultureSafe Director, was master of ceremonies for the conference. Dr. Joanna Bishop provided details of bullying incidents that actually occur. Her experience derives from a hundred cases being considered for ERA hearings. Iriaka Isaacs, a union organizer and CultureSafe volunteer educator colorfully described the stages of targethood through which nearly all bullied victims pass. Especially poignant was the plummet from a rosy "Honeymoon Period" after initial hire to the "Bottom of the Cliff," an unremitting state of despair.
Dr. Gary Namie spoke about what NZ should avoid based on lessons learned in the US. Download the presentation here.

---
Visiting Time
---
Then learning time … Oct 31 – Nov 2
Graduates …
The Trio … Gary & Ruth Namie, WBI and Allan Halse, CultureSafe NZ
---
Dr. Suzanne Henwood, a participant in University, produced a short video … Visit her website The Healthy Workplace
First Aid for Targets
---
Also, while at University, the New Zealand Herald interviewed me and published this report.
---
Then home …

Tags: abusive workplace conduct, Allan Halse, CultureSafe NZ, Employment Relations Authority, ERA, Gary Namie, health-harming mistreatment, New Zealand, Ruth Namie, TV1, Workplace Bullying Institute, Workplace Bullying University, WorkSafe
Posted in Tutorials | No Archived Comments | Post A Comment () »