Posts Tagged 'bystanders'
Friday, October 27th, 2017
Burger King and Nobully.org, an organization focused on stopping school bullying, produced a clever test. Which was more likely to compel engagement by Burger King restaurant adult customers — the public bullying of a high schooler by peers or "bullying" a sandwich? Spoiler alert: smashing the sandwich led to complaints 95% of the time, while only 12% of witnesses intervened. Watch until the end to see the care shown by the few who assisted the bullied boy.
Very instructive.

Tags: Burger King, bystanders, nobully.org, school bullying, witnesses
Posted in Broadcasts: Video, TV, radio, webinars, Media About Bullying, Social/Mgmt/Epid Sciences, Tutorials About Bullying | No Archived Comments | Post A Comment () »
Saturday, September 27th, 2014
There is a raging epidemic of sexual assaults on US college campuses. Reliable estimates claim that between 16% and 25% of college women face the risk of rape or some other assault, according to the spring 2014 report by the White House Task Force to Protect Students from Sexual Assault. The Obama Administration's goal is to understand the problem then propose legislative, behavioral and institutional changes to eradicate the problem.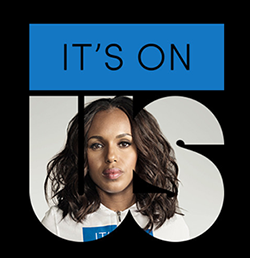 On Sept. 23, 2014, the government launched a new public education campaign featuring celebrities (ostensibly the only credible Americans with the right to suggest that the public change its behavior) — It's On Us. The message attempts to increase the responsibility felt by witnesses of assaults to intervene and disrupt.
In school bullying initiatives, it's called making "upstanders" out of bystanders. Witnesses are known to not intervene in emergencies of all kinds. The reluctance is called the "bystander effect," and followed a 1964 rape and murder of Kitty Genovese in Queens New York witnessed by 38 neighbors, each of whom failed to call the police in time to save her life. The explanations that emerged from subsequent research (led by social psychologists John Darley and Bibb Latane starting in the 1960's). Bystander reticence is usually based on fear — of retaliation, of botching a rescue, of being the sole helper, of being the next victim.

Tags: bystander effect, bystanders, campus sexual assault, Columbia University, It's On Us, White House Task Force to Protect Students from Sexual Assault, witnesses, workplace bullying
Posted in Fairness & Social Justice Denied, Media About Bullying, Print: News, Blogs, Magazines, Tutorials About Bullying, WBI Education | 2 Archived Comments | Post A Comment () »
Tuesday, November 5th, 2013
The inaction of witnesses is an underreported aspect of the media saturation coverage of the Martin-Dolphins-Incognito bullying case.
As all bullied targets are aware, witnessing coworkers do little to help. In less than 2% of cases they spring to action to help bullied colleagues. [See the WBI 2008 Coworker Response survey] They are fearful — of being next, of betraying the bully and of getting harmed when intervening.
In the Dolphins locker room, there were many 300 pound witnesses to Richie Incognito's mistreatment of Jonathan Martin. Why didn't they simply stomp Incognito into the ground?
Here are some reasons.
(1) Incognito had "leader" status among the players. By some he was revered. Remember a coach called him a "model citizen." He was the NFL personified.
(2) Incognito had a history of aggression with some. In the past he might have made them his targets. Burned once, former targets lay low.
(3) Cowardly witnesses — professional athletes and accountants alike — don't want to get involved, reasoning it safest for them to stay out of others' disputes. These are the do-nothing enablers. They are the "good Germans" Hitler depended on to tame the nation.
(4) Witnesses rationalize their failure to stand by colleagues hurt by relationships within the team by believing that the bullied target somehow deserved his fate. Martin must have angered Incognito for Incognito to have ridden him for a full season and one-half. This blame-the-victim tendency is not restricted to sports organizations or workplaces in general; it is societal. It is called the Fundamental Attribution Error.
(5) The target deserved his fate. Martin is not a full participant in the macho NFL culture as practiced in the Dolphins locker room.
We observers of bullying in our workplaces declare that we would intervene because it is the right thing to do. However, this optimism is balderdash. When circumstances call for intervention, we are all cowards.
To date, Martin is alone in walking out. He should not expect much public support, though friends will call confidentially. Incognito's sycophants will Twitter his virtues for the world to read.
Follow the full story in the Category list in the sidebar: NFL: Jonathan Martin

Tags: bullied targets, bystanders, coworkers, Gary Namie, Joe Philbin, Jonathan Martin, Miami Dolphins, NFL, Richie Incognito, witnesses
Posted in NFL: Jonathan Martin, Tutorials About Bullying, WBI Education | No Archived Comments | Post A Comment () »
Wednesday, October 5th, 2011
Christine Jarvis
October 4, 2011
Suite 101
Sticks and stones may break my bones…but words won't break my spirit!
Research conducted by the U.S.-based Workplace Bullying Institute is interesting. According to WBI, "35 percent of U.S. workers report being bullied at work…15 percent have witnessed it…68 percent of bullying is same-gender harassment; 58 percent of targets are women; and 80 percent of the time, female bullies target other women…"

Tags: bystanders, Christine Jarvis, Gary Namie, suite 101, workplace bullying, Workplace Bullying Institute
Posted in WBI in the News | 17 Archived Comments | Post A Comment () »