Posts Tagged 'Counseling Today'
Tuesday, February 26th, 2013
Here is an excerpt of the Counseling Today article by Lynne Shallcross entitled Grown-up bullying. WBI coach Jessi Eden Brown, MS, LMHC, contributed to the section about bullying in the workplace:
---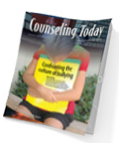 Unfortunately, graduating from college still doesn't guarantee an end to bullying. A 2010 survey commissioned by the Workplace Bullying Institute (WBI) found that 35 percent of the U.S. workforce — an estimated 53.5 million Americans — report being bullied at work. An additional 15 percent said they had witnessed co-workers being bullied.
These statistics are all too familiar to Jessi Eden Brown, who serves as WBI's administrator and also runs a private counseling practice in the Seattle area. About half of her clients deal with issues related to workplace bullying.

Tags: coaching, Counseling Today, eden therapy, help for bullied targets, Jessi Eden Brown, WBI, workplace bullying
Posted in Products & Services, WBI Education, WBI in the News | No Archived Comments | Post A Comment () »
Tuesday, May 8th, 2012
WBI Coach, Jessi Eden Brown, teaches her fellow counselors about workplace bullying and clears up misconceptions held by therapists in their work with bullied clients. Her letter to the editor of "Counseling Today," the monthly publication for the American Counseling Association, was published in the May 2012 issue. With a readership of more than 46,000 mental health professionals, Counseling Today is a great way for us to raise awareness about workplace bullying! You can learn more about Jessi's work at her private practice website.

Tags: coaching, Counseling Today, eden therapy, Jessi Brown, Jessi Eden Brown, workplace bullying
Posted in Products & Services, WBI in the News | No Archived Comments | Post A Comment () »